Currently one of the most distinctive luxury property listings on JamesEdition, 401 El Cerrito Avenue in the affluent community of Hillsborough, California, bears a striking resemblance to the Executive Mansion in Washington, DC complete with manicured grounds and a grand neoclassical Georgian facade.
The stately home was masterminded by George Hearst, the son of media magnate William Randolph, and it served as an upgrade to the previous property which stood on the three acre plot.
Hearst contracted celebrated architect Julia Morgan – who had previously designed the legendary Hearst Castle – to spruce up his home in 1930 and it resulted in what is now dubbed the 'Western White House'.
Over the decades, the decadent estate has been owned by a string of high-flyers, including Shailesh Mehta, the former chairman and CEO of credit card giant Providian Financial.
After changing hands in 2022 for $15 million it is now seeking a new owner and commanding more than double the price thanks to a complete refurbishment.
Alex Buljan of Compass is currently handling the listing and he anticipates it will draw attention from buyers around the globe.
A more manageable version of the White House
While the real White House sits on 18 acres of land and serves up 132 rooms over 55,000 square feet, thewest coast version is a little more manageable in size.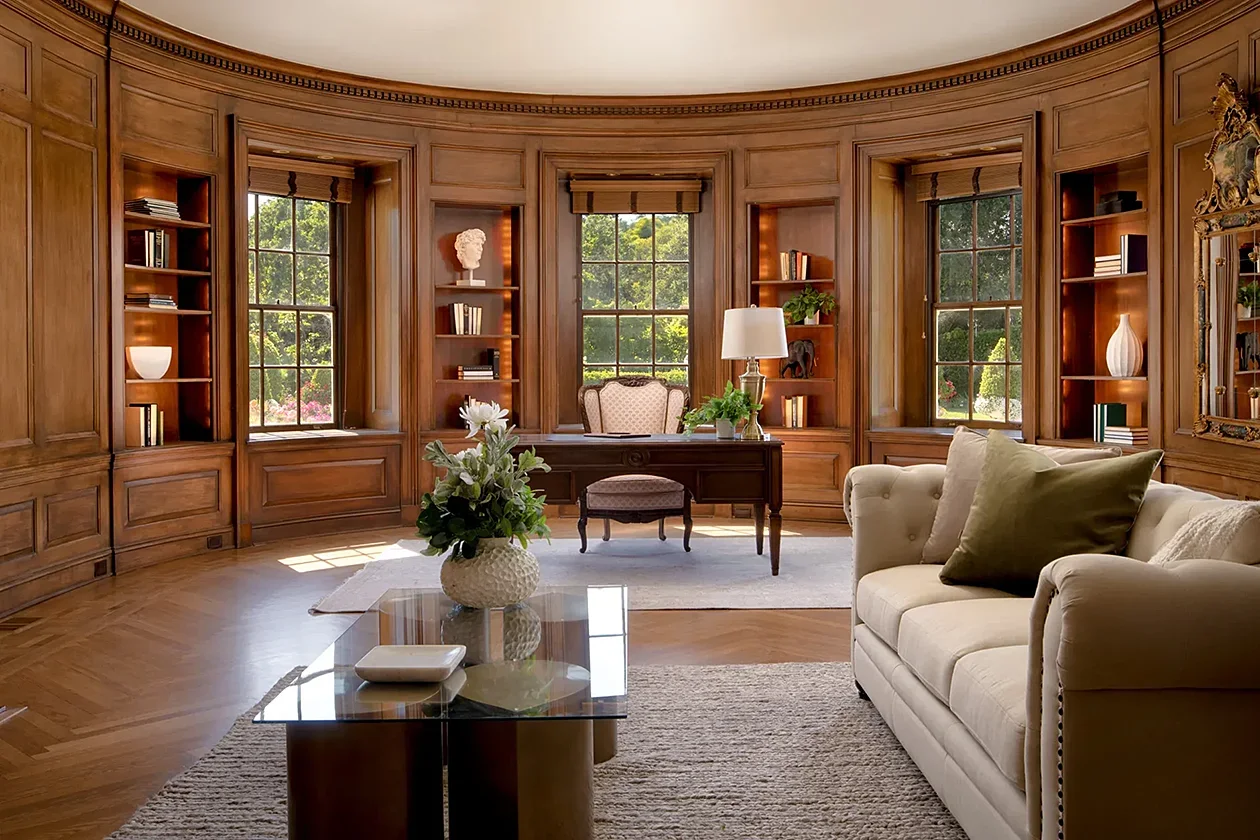 The picture perfect abode serves up 24,350 square feet over four levels, with a total of 11 bedrooms, nine full bathrooms and five half-baths.
Some of standout spaces includes a wood paneled library modeled after the Oval office, a generously proportioned kitchen complete with a marble-topped breakfast bar and an informal dining area and a master bathroom decked out with a freestanding top and walk in rain shower.
Making it the perfect space for entertaining, there are multiple lounge areas with soaring ceilings, a home cinema room, a formal dining room and a wine cellar.
In terms of the interiors, a crisp white colour scheme runs throughout with period detailing and dozens of chandeliers creating a grandiose look.
Following the recent facelift, the rooms have been finished with a mix of contemporary and antique style furnishings, which give it a more livable feel over the formality of the real White House.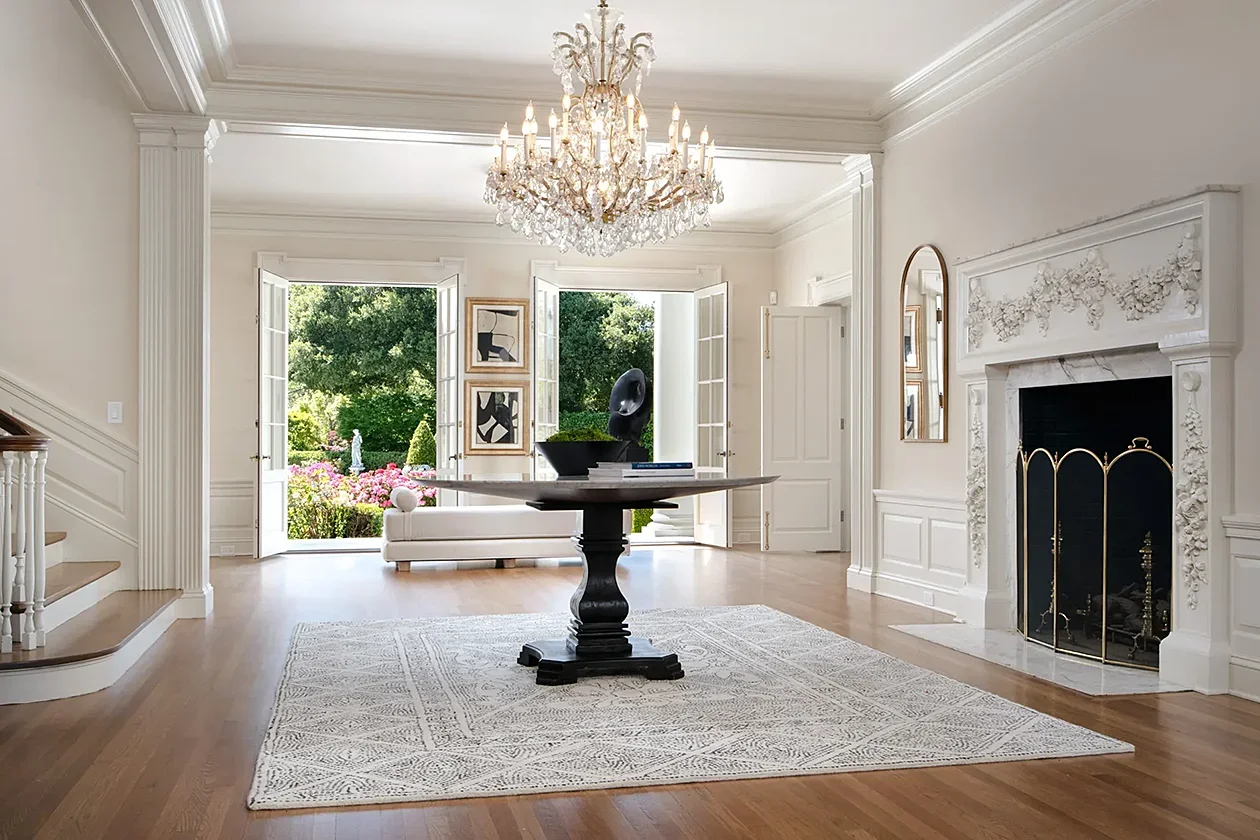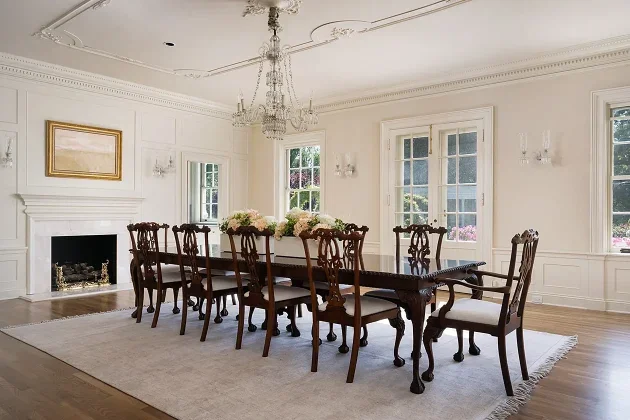 Moving outdoors, the grounds are equally as exquisite as the interiors with a classical rose garden, and swathes of lawn flanking a swimming pool.For daytime and evening soirees, there is plenty of patio space, and there is a pavilion for special occasions.
Thanks to an abundance of mature trees, the property enjoys year-round privacy and neighbouring properties are hidden from view.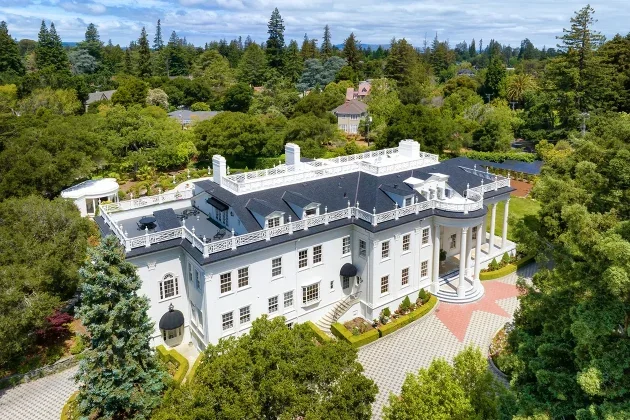 In terms of location, the Western White House is situated around 17 miles south of San Francisco, with a spread of amenities on the doorstep from fine dining restaurants to private golf courses.
Real estate experts say that now is a good time to buy in the Hillsborough area following a dip in the housing market.
According to Walletinvestor, a long-term increase is expected and for a five-year investment the profit is expected to be around +31.4 per cent making the Western White House and even more attractive proposition.