How does a waterside position, oodles of history, and five-star amenities sound? That's exactly what this sizeable Sardinian residence offers, plus more. Situated on the northwest coast, the exclusive and secure property sits on a private promontory and boasts spectacular views out to the Gulf of Alghero – one of the most enchanting bays in the Mediterranean.
The property's location on the upscale island of Sardinia is one of its biggest draws. Not only is the estate just a short walk from the charming medieval port city of Alghero, it's also within driving distance of the protected area of Capo Caccia, prestigious Porto Cervo, and the glamorous Emerald Coast. Alghero international airport is a 15-minute drive away, Olbia airport is an hour and a half eastwards by car, while Cagliari airport is two and a half hours to the south.
Inside, the four-floor Liberty-style palace spans 20,699 square feet (1,923 square meters). Originally owned by the Count of St. Elias, the capacious house features 25 en-suite bedrooms, including four with balconies and sea vistas, and a master suite with park views from its terrace. Refined yet welcoming, the classically decorated property is multifunctional – suitable for relaxation and pleasure, as well as hosting large social gatherings, should the need arise.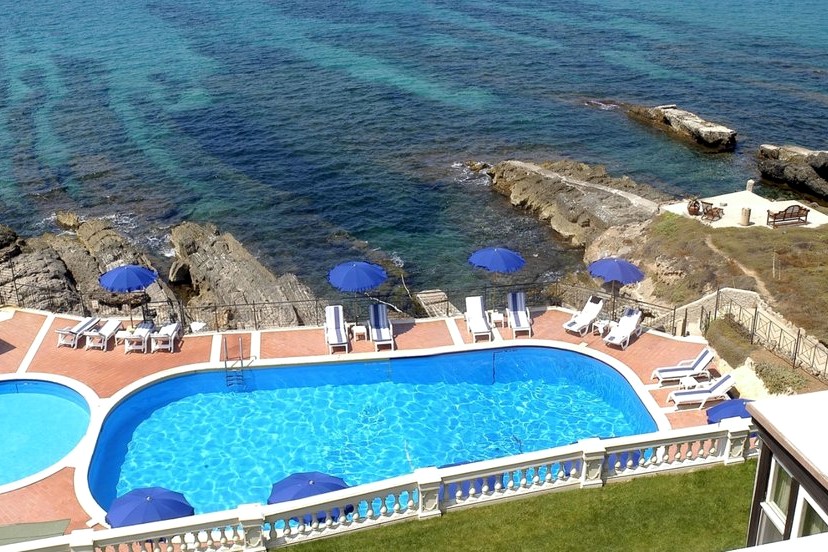 The property features seafront pools with views over the Gulf of Alghero, a heated indoor pool, and jacuzzi tubs on sunbathing terraces.
Intriguing history and five-star amenities
The substantial plot houses an annex covering 5,296 square feet (492 square meters). Head there and be greeted by a spa with a fitness and beauty area, a heated indoor swimming pool with a sauna, a Turkish bath, showers, and changing rooms. There's also a separate apartment for guests or staff.
Outside in the gardens is a decked pool area with fabulous sea views, as well as a large car park, a helipad, and a 4.4-hectare park bordering the water to the north, west, and south. Furthermore, the surrounding coastline – a whopping 30,043 square feet (2,791 square meters) – is home to a private beach and docks. Arrive by air, sea, or land and enjoy the wonderful amenities this property has to offer.
Alongside these attributes, the impressive palace is also steeped in history. Built in 1880 by Alessandro, the third Count of Saint Elias, the land was originally home to a watchtower. To suit the tastes of his wife Lady Rosamond Marke Wood, Alessandro requested the structure resemble a medieval castle, reflecting the trends of the time and rank of the family.
The pieds dans l'eau villa can be reached by yacht or by helicopter.
Back then, Alghero was already a high-end holiday spot for nobles. And when Count Brother Alberto rose to the ranks of Chamberlain for Pope Pius XI and Pius XII, the estate's reputation was cemented as a meeting place for high society, with Romanov Princesses among the esteemed guests. Fast forward to the mid-twentieth century, and Antoine de Saint Exupéry frequented the property.
In 1959, Francesco Arborio Mella – fifth Count of Saint Elias – sold the villa to its current proprietors. They've skillfully renovated the residence, adding a storey. Even today, regular visitors range from aristocrats to well-known personalities from the worlds of business and entertainment.
Alghero, a "little Barcelona" of Sardinia, and the center of the Riviera Coral
Alghero itself was founded in 1102 by the Doria family, conquered by Aragonese-Catalans in the 14th century, and handed over to the Spanish Crown in the 17th century.
The Catalan language, culture, and traditions are still present today, with locals calling the city 'Barcelloneta' (little Barcelona). Home to around 40,000 inhabitants, Alghero is busy and lively, and unlike Costa Smeralda, the area offers leisure and entertainment across all seasons, not just the summer.
Besides an endearing historic center and a large marina, Alghero is also part of the Riviera Coral coastline, where you can find beaches of fine white sand such as Le Bombarde, Lazzaretto, and Mugoni. On top of that, the area is a first-rate spot for water sports like windsurfing, sailing, and fishing. Other popular activities include bird watching, underwater archeology, cycling, and horseriding.
What else does the region offer? Be sure to check out the surrounding countryside, famed for olive trees, pine forests, and vineyards. And don't miss Grotte di Nettuno (Caves of Neptune), 50,000-hectare Porto Conte Regional Natural Park, and Isola Foradada. There's much to explore, before heading back to your seafront palace – should you take the plunge and buy it.