Home to countless vineyards and charming hilltop towns, the scenic region of Chianti spans the area between Florence and Siena. Sprinkled with eye-catching castles, striking 19th-century residences and ancient farms, the undulating landscape is also dotted with an array of picturesque villages such as Montefioralle, Radda in Chianti, and Panzano.
Indeed, Castelnuovo Berardenga and Gaiole in Chianti are part of the Slow City movement, where a relaxed pace of life and sustainability are paramount.
Well-being is an increasingly key consideration for high-net-worth buyers. The ability to spend time in a peaceful environment is deemed a new type of luxury. As a result, rural castles are catching the eyes of home seekers and investors.
"But finding gems like these takes time," says Moira Mancini, founder of Coldwell Banker Chianti Heritage. "It's true that Italy has an abundance of UNESCO World Heritage Sites, with many in Tuscany: Renaissance Florence, Piazza dei Miracoli in Pisa, the quaint town of San Gimignano with its medieval towers, the historical centers of Siena and Pienza, Val d'Orcia with its unparalleled landscape, the Medici Villas and Gardens, and the spa town of Montecatini Terme. However, finding landmark real estate in a culturally and historically rich area is a different matter, requiring skill and integrity".
With that in mind, we talked to Moira Mancini about why people are drawn to buying a historic property in the Italian countryside, how they're being used, and the ways they can transform an owner's lifestyle.
Coldwell Banker Chianti Heritage currently has two unique historic castles listed: this four-story white stone residence in Gaiole In Chianti and this one-of-a-kind residential fortress in Poggibonsi.
Four reasons to own a fairytale-like castle
It's true that purchasing a castle isn't an everyday occurrence, but it doesn't have to be a fantasy either. These rare and grandiose buildings attract a certain type of buyer – someone interested in the past coupled with the desire to own a truly unique structure.
Indeed, castles come in many shapes and sizes. Most boast outstanding original features and many have outbuildings – starting points from which you can create a special (and sizable) home that will undoubtedly give you an immense sense of pride.
Not only that, but you'll also play a part in preserving a culturally and historically relevant site. And even after repairs and renovations, it's likely the castle's price will increase, offering you a valuable return on your investment.
Of course, if your focus isn't on living year-round in Italy, it's possible to convert a castle into a boutique hotel. Restored to its former glory and with the modern amenities discerning travelers expect, it's easy to picture Tuscan holidaymakers checking in and using the property as a base from which to explore the wonderful food and wine of the region.
Top vineyards in the area include Marchesi – one of the oldest producers in Tuscany – Castello di Albola, Castello di Querceto Antinori, Fattoria Montemaggio, and Castello di Verrazzano Meanwhile, Panzano is home to the famed butcher Dario Cecchini, whose premium Florentine steaks and nose-to-tail philosophy attract visitors from all over the world. And across the region, there are 39 Michelin-starred restaurants to discover.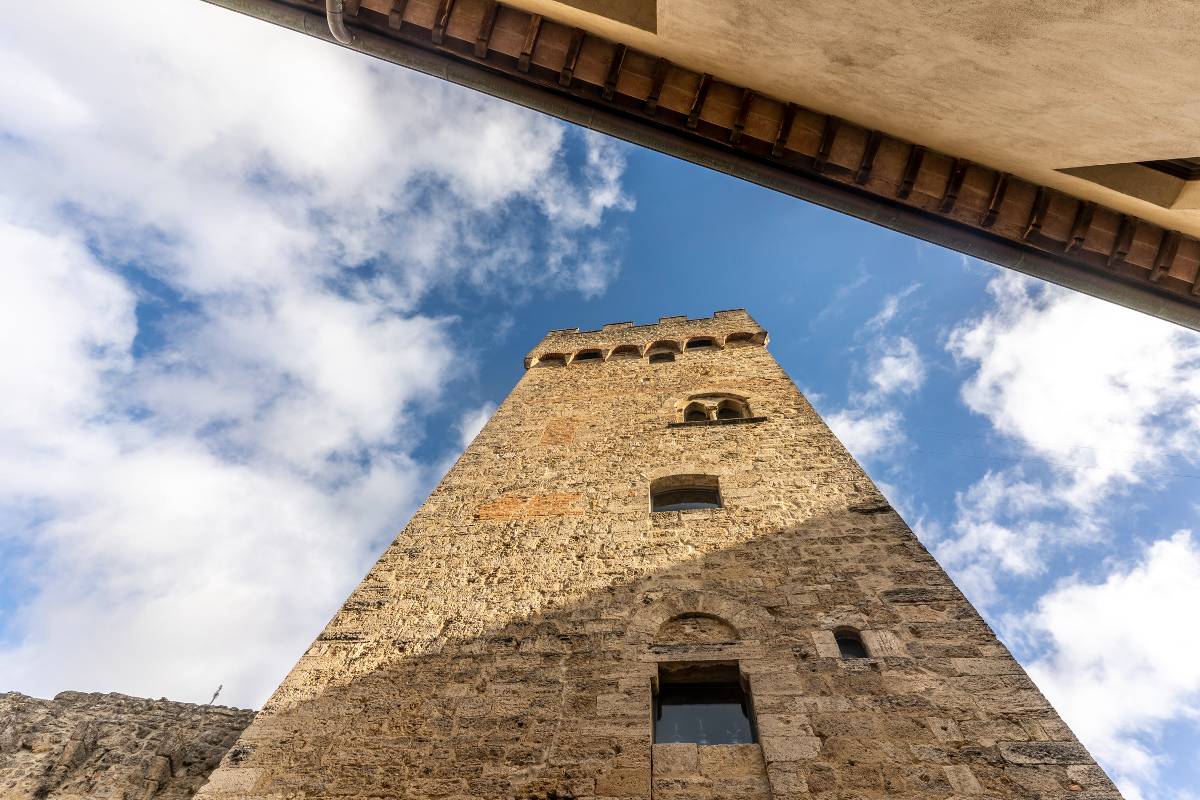 But if tourism isn't for you, additional reasons to buy a castle range from transforming it into a corporate headquarters to setting up a philanthropic center of excellence.
Unique medieval castles for sale
If you're interested in buying a castle, Moira Mancini recommends you take a closer look at these striking historic estates, marketed via Coldwell Banker Chianti Heritage.
Vertine Castle
On the market for  €3,400,000 is this seven-bedroom property with 1000 years of history. Spanning 15,070 square feet, there's a tower, a deconsecrated church (currently used as an art studio), a two-story annex, a wine cellar, and a garage. Furthermore, the tranquil grounds are surrounded by three hectares of agricultural land and olive groves, accessible via two independent entrances: the town and the gardens.
Located in the heart of the Chianti Classico region, Vertine Castle is steeped in history, playing a part in the early church and the Guelf/Ghibelline wars of the 1200s. In more recent years, the estate was owned by Albini Trissino Dal Vello d'Oro, one of Italy's oldest noble families.
Step inside the main hall and you'll notice the antique stairs leading up to the tower; on level one there's a large kitchen with access to a terrace. You'll also spot a small apartment with a private entrance – connected to the main building, this houses a kitchen-living room with a fireplace, a bedroom, and a bathroom.
Up again, and you'll be greeted by two living areas with original fireplaces, and on the third floor there are three en-suite bedrooms. The top level houses the master suite, which comes complete with a terrace and 360-degree panoramic countryside views. And out in the grounds, there's an inviting pool and more of those glorious vistas.
Staggia Castle
This 9,580-square-foot fortress is listed for €3,500,000 and dates back to ancient times. Fast forward to the Middle Ages, and the castle stood firm while the war between the Republics of Florence and Siena raged. Owned by the Franzesi, one of the most powerful and most prosperous families of the time, the prestigious estate was the site of notable diplomatic events, and known far and wide.
Reorganized in the 1400s by craftsmen who worked on Opera del Duomo in Florence under the guidance of Renaissance architect Filippo Brunelleschi, the structure is made up of several buildings that still stand today, and is enclosed by agricultural land.
Currently a tourist attraction – a prime example of early medieval fortified architecture – the castle represents an intriguing opportunity for savvy investors and affluent individuals looking for a project.
For more information about these unique and historic Tuscan castles, contact Coldwell Banker Chianti Heritage.