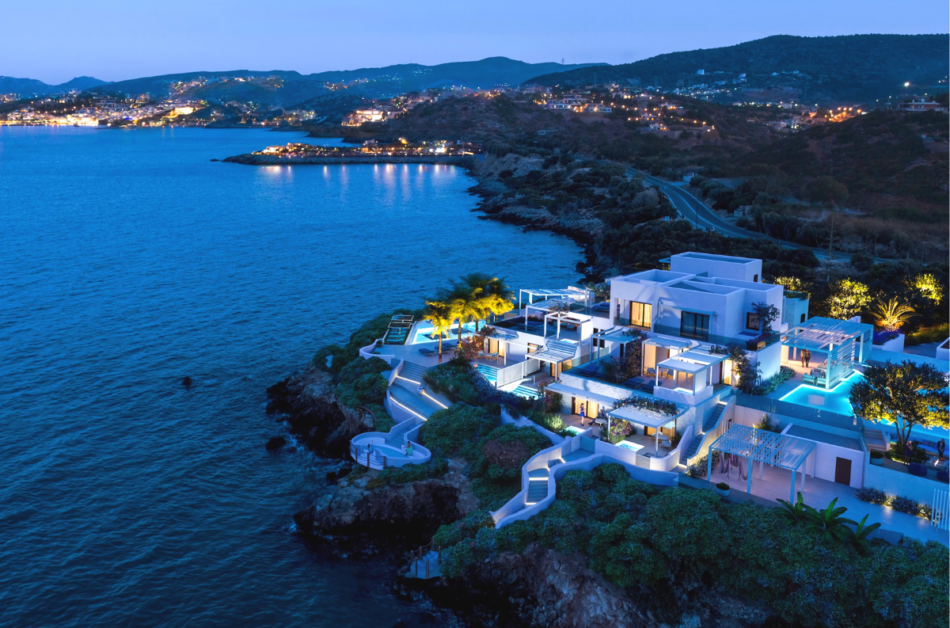 Contemporary estate in Agios Nikolaos, Greece, $12,618,690
View listing
The coming summer months are not the only reason the housing market is heating up all over the world. Homes seem to be flying off the market faster than you can book a viewing. We've gathered up the most exciting opportunities this week, a combination of architectural excellence, ideal location and competitive pricing. We're taking you on a journey from the seaside splendor of Saint-Tropez to the ultra extravagant marinas of Miami.
1. Gorgeous waterfront home in Grimaud, France
$13,227,115
Listed By: Grimaud Immo by Mariette
This energy-efficient home in Grimaud is an extraordinary space combining an ultra sleek & chic interior with local architectural style as it pairs beautifully against the backdrops of the French countryside. Constructed to the finest quality standards, the property is an opulent house in an outstanding and desirable location without the inflation of more desirable area codes.
Concealed right in the center of picturesque Grimaud, enjoy the charm of small-town living while exploring local attractions One can discover nearby outdoor adventures, and be blown away by panoramic views of the sea and Saint-Tropez when choosing to make this home apart of your new lifestyle.
2. Luxurious English house in London, United Kingdom
$28,675,299
Listed By: Strutt & Parker
Finding a gem with all the amenities in the heart of London is no small feat. We open the doors and welcome to an impressive home within the relatively quiet, secure, and prestigious borough of Kensington and Chelsea, mere minutes from trendy Notting Hill.
Behind the building's historical Georgian façade lies a comfortable and grand interior nods to the classic english heritage, along with the very best of the latest modern amenities to offer any family making London their home a luxury. The own private driveway and carriage makes it easy to store multiple cars for weekend getaways in the countryside. With ample space in the backyard one can host gatherings and barbeques to entertain your guests in the coming summer months.
3. Authentic villa on the Balearic Islands, Spain
$7,819,398
Listed By: Ibiza Country Villas
Alabaster stone home interior and exposed beam work could not be more on trend. This atmospheric house is uniquely positioned on one of the most distinctive Balearic Islands, Ibiza. A desirable location that allows you to enjoy all the advantages of the island as it is close to everything, yet still has the atmosphere of a personal paradise.
Situated on a rare 44,760 sq ft seafront lot, this 7-bedroom Ibicencan style home boasts panoramic Mediterranean views from all angles. Whether you are relaxing in the pool or cooking up a meal on the outdoor fire; this home is destined to make your escape a classic Ibiza experience.
4. Contemporary Italian Renaissance Mansion in Miami, USA
$59,995,000
Listed By: Premier Estate Properties
One of the most magnificent Miami properties we've seen in a while. Mar Pietra is a Miami compound designed by acclaimed Delray Beach Architect Randall Stofft, with custom finishings by award-winning Martyn Lawrence Bullard. The attention to quality and detail is sheerly incredible.
Sitting atop the Delray dunes, this retreat directly opposes the 100'± pristine Atlantic Ocean beachfront, you could not imagine a location more ideal. The views combined with window treatments in the bedroom are near perfection.
Special highlights are the resort-like outdoor area with an infinity-edge spillover pool with an adjoining spa, the piazza-style statuary fountain, the 1,000+-bottle wine cellar and much more. The property offers almost everything you can imagine for entertaining.
5. Impressive modern estate in Agios Nikolaos, Greece
$12,618,690
Listed By: Greece Sotheby's International Realty's
The contemporary Villa L'île is located not far from the charming coastal town of Agios Nikolaos, Greece, and enjoys a magical Minoan sea view.
The property offers several high-end amenities; including private sea access, a full gym and jacuzzi, and several fantastic pools. Designed to offer elegant style and a wonderful sense of escapism, this whitewashed, waterfront home has its very own sandy beach as well.
The unparalleled accommodation within the villa extends to some 10,225 sq ft and provides 15 bedrooms, so on your next adventure there is nearly no limit to the amount of guests joining you.