With an abundance of sunshine, beautiful countryside, and 250 km of variable coastline, the Algarve, Portugal, has always been a desirable destination for affluent buyers. Recently the trend is shifting from not only vacation properties but residential homes too.
The Algarve coast offers very diverse architecture, different lifestyles, and varying scenery, from laid-back authentic rural areas to bustling tourist hot spots and luxury manicured resorts.
Buyers looking to make Portugal their home country can also be drawn in by attractive tax regimes (Non-Habitual Residence), the Digital Nomad and D7 visas (both suitable for remote working). This is alongside a rich cultural history, great reputation for safety and security, high living standards, an exceptional health care system.
The Algarve area benefits from being close to Faro International as well as a private airport (with three airfields and five heliports) – a boon, as travelers often choose Lisbon Airport and suffer through the two-hour drive to Algarve.
Yacht owners and marine enthusiasts alike can enjoy the four marinas and three ports in the area. In regards to healthcare, three public hospitals and multiple private hospitals make worries about finding medical care a lesser stress.
If education is a major factor in choosing a location, the Algarve benefits from many public schools, six international schools, and multiple universities. Unwinding is a matter of choosing between the thirty available golf courses, numerous sporting activities, and other facilities.
Our partner, Abloom Boutique Real Estate, has given us the lowdown on four stunningly constructed Algarve villas that offer a one-of-a-kind living experience for buyers.
Spacious Galé mansion with beach access
Price: € 21.500.000
Location: Galé
This property is in an unbeatable oceanfront location. Immediately striking, this imposing mansion boasts a sprawling plot with nearly 8000 square meters of land and offers direct access to a secluded beach cove. The construction and finishes of this traditional-style exterior villa have been well-built and maintained.
The quiet cul-de-sac location is very private and the living quarters are wide and expansive, in a modern open-plan style. A one-of-a-kind feature stairway and the floor-to-ceiling windows frame the sensational sea view, create an even more capacious open living space with white marble flooring that further accentuates the sheer size of the rooms.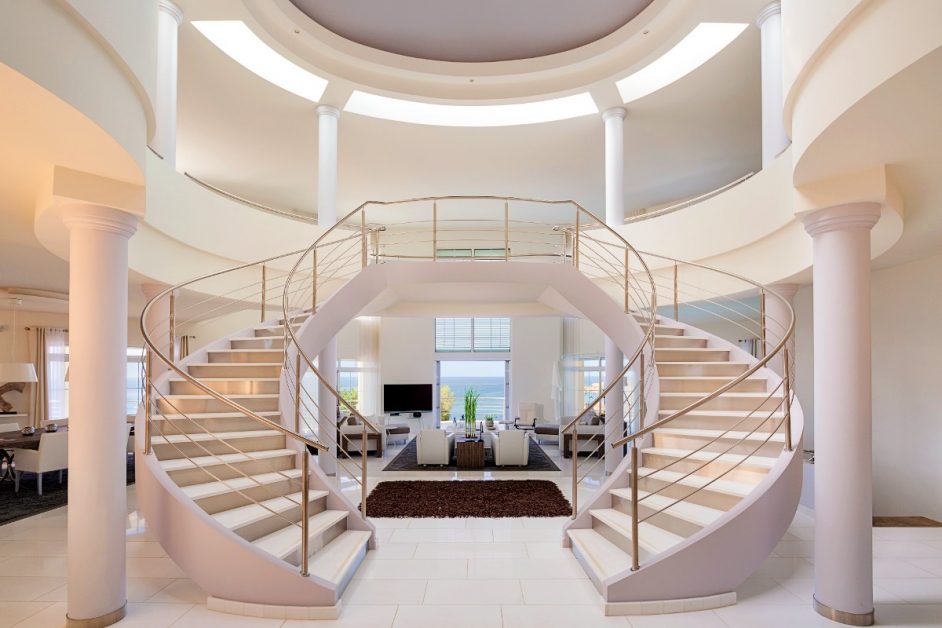 The entrance hall at Villa Gale features a grand double staircase and a dome ceiling
The property also offers numerous exceptional outdoor living spaces with bright, sun-catching, south-facing terraces across all three levels of the property. Outside, a heated infinity pool overlooks the Atlantic Ocean, and a BBQ cabin on the lower lawn level with steps leading down to the beach.
The Galé Coast
Secluded and exceptionally picturesque, the Galé coast is a quiet affluent area with crystal clear azure seas, and dramatic rock formations, which is fairly rare in comparison with the rest of the Algarve coast  There is a marina just around the corner, and the property is conveniently only 35 minutes from Faro Airport and 2.5 hours from Lisbon Airport.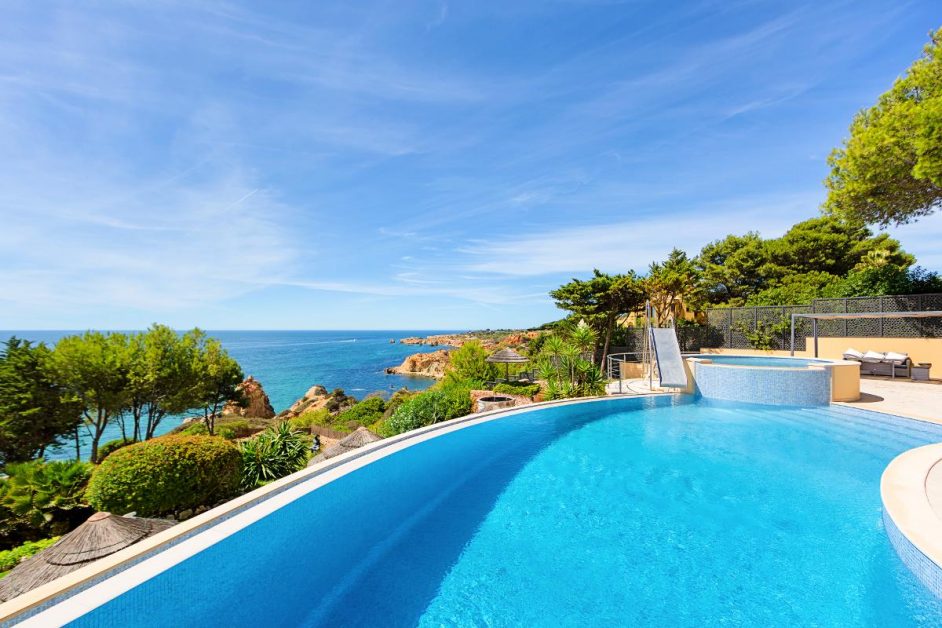 Outdoor pool at Villa Gale
With an array of watersports, world-class golf courses, bars and restaurants of sorts, a very popular vibrant nightlife area, and other activities, life can be as active as you like. Besides large international supermarkets, the upmarket Apolonia is a firm favorite for many foreigners.
Minimalist villa in an idyllic setting
Price: €3,190,000
Location: Agostos, Santa Bárbara de Nexe
This unique property can be better described as a truly purposeful artwork, the estate is composed of two adjoined villas which are perfectly suited to be a single home too. The villas feature very unique architectural designs, where lines, shapes and shadows form the centerpiece of every space of this residence.
A well-known, award winning Lisbon architect masterfully created these properties minimalist style that perfectly complements the protected surrounding countryside. Large windows and various terraces superbly capture the beauty and privacy of the landscape. The property is mostly white with sugar-cubed step design elements all lending themselves well to the perfection of this design.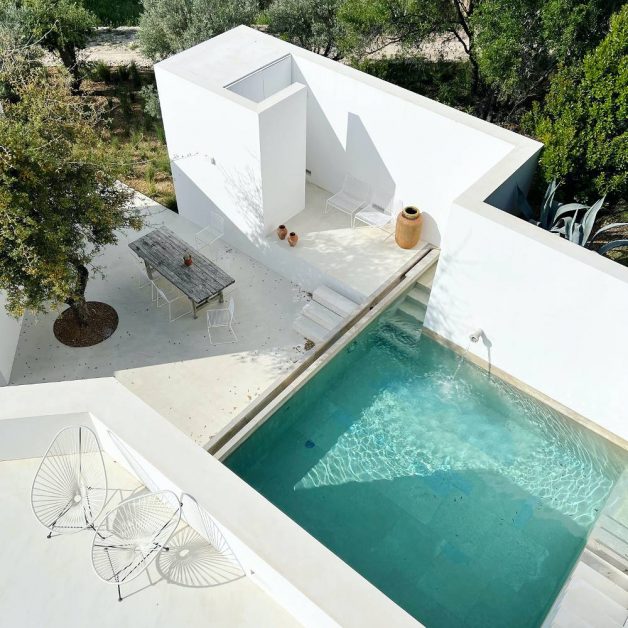 The property design by an award-winning architect is mostly white, with sugar-cubed step design elements
Notably, the property also offers 2 pools: the first privately set in a flawless magazine-appropriate courtyard, whilst the other, a lap pool of 13 meters, is set in a manicured garden overlooking the amazing green valleys and hills of the area.
Agostos, Santa Bárbara De Nexe
Agostos is a peaceful rural area,  desirable for those looking for privacy, peace, and beautiful countryside. The main village of Santa Barbara is only 10 minutes away, with all amenities on site, wonderful restaurants and bars, a pretty church, and other historical sites.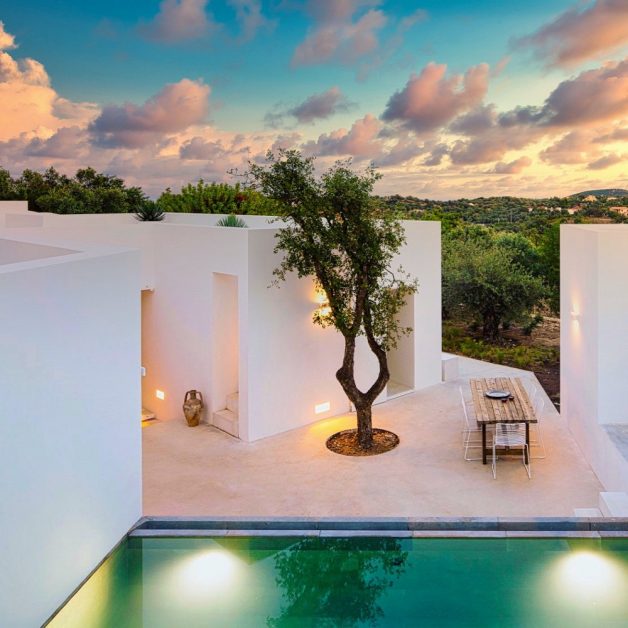 The minimalist style perfectly complements the rustic countryside of Agostos
Shopping malls are 15 minutes away, and incude all the well-known international shops. Both malls have private clinics and cinema complexes on site, and thirty minutes from both the largest town in Faro and the airport.
Moorish-inspired mansion with sea view
Price: € 3.650.000
Location: Fuzeta – Tavira area
With a unique Moorish-inspired exterior, this exceptional villa has an eclectic warmth and truly unique character. Set on the backdrop of the Ria Formosa and the shimmering Atlantic Ocean, the property benefits from manicured Mediterranean gardens (with over 50 olive trees), a large pool, and a welcoming covered fully equipped exterior dining terrace which simply adds to the Bohemian charm of the home.

The barbeque area and the garden at the Fuzeta villa
A striking detailed combination of the traditional and modern makes this home one-of-a-kind, with modern comforts, open-plan living, and stylish rich reclaimed wood and bold patterned tiles combined cohesively for elegance and charm. The layout of the property flows seamlessly with the entrance hall leading through to a library space, open plan dining room, and stunning modern kitchen. As well as four ensuite bedrooms, the property also offers a two-bed annex perfect for guests, staff, or rental use.
Fuzeta
This property is located in Fuzeta in the Eastern Algarve, an area with more of a rustic feel than those of the manicured golf resorts or urbanizations. Fuzeta has a delightful mix of higher-end villas and traditional-style properties, including quaint cozy island-style homes. This villa is within walking distance to serene beaches and the more busy main beach of Fuzeta where you'll find traditional cafes, restaurants, and any amenities you may need.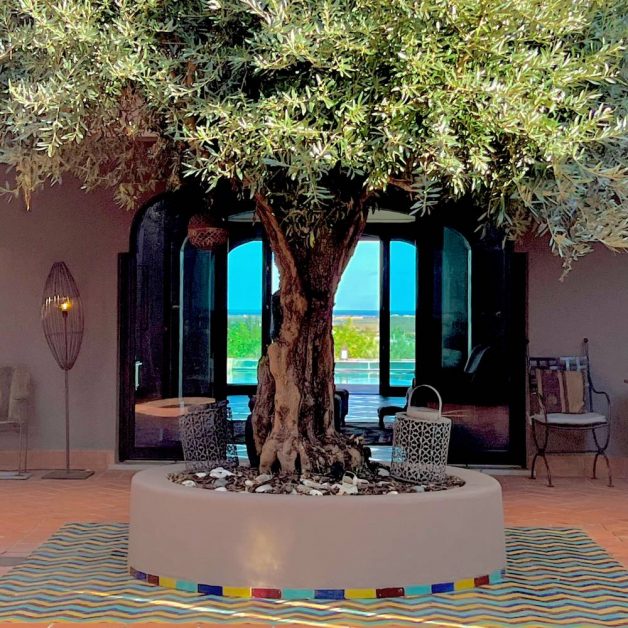 Villa Fuzeta: a courtyard of distinction
The bustling town of Tavira is just to the east, with many more opportunities to enjoy Portuguese culture including great restaurants and many boating activities. Residents may also want to visit nearby Olhão — a traditional fishing village that has expanded to include modern facilities like a a large waterfront promenade and harbor where visitors can book trips out to the islands of Culatra and Armona.
Whilst Faro, the capital of Algarve, is only 30 mins away with an International Airport, marina and shopping mall. The popular town of Seville in Spain just across the river border attracts many residents for a fun day trip or weekend getaway
Hilltop turnkey villa with sea view
Price: € 3.500.000
Location: Goldra, Loulé area
A traditional style design crafted by one of the area's best-known architects, this beautiful home perches high upon a hilltop within an urbanization and benefits from lovely sea views. This villa has one other exceptional benefit, you can still choose your finishes and extras to perfectly complement your style. The urbanization offers 24-hour security and a private tennis court for its residents. The villa is set across two floors plus a basement and offers five bedrooms including a private studio apartment, ideal for providing older teens, relatives or live-in carers with more independence and space.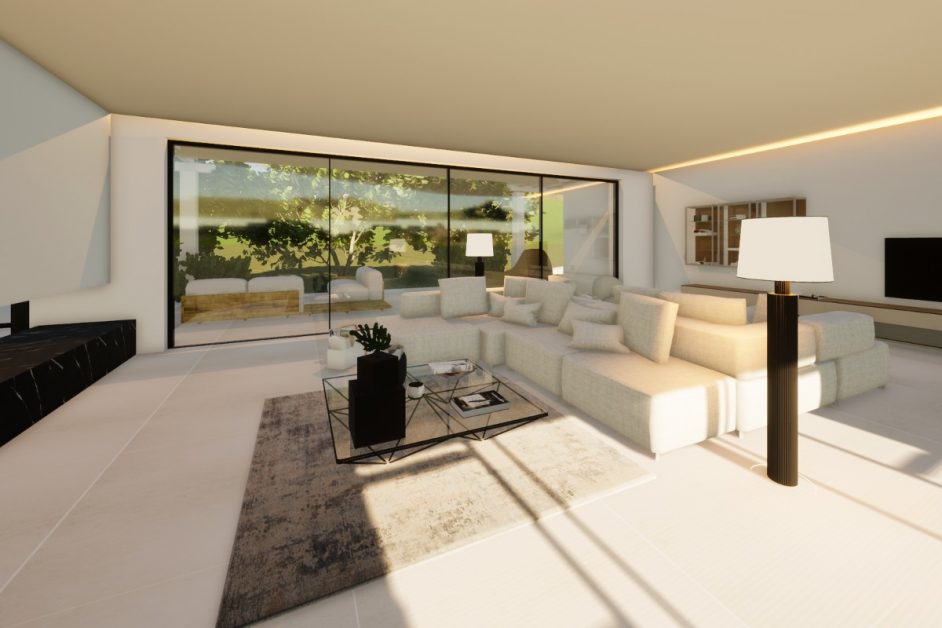 Living room at Villa Goldra
The layout has been designed to maximize the sea view and every care has been taken to improve practical flow; ensuring a home perfect for family and entertaining.
Goldra and Loulé
The villa is conveniently located in the Goldra Urbanisation, which is comprised of high-quality villas creating a safe, warm and private community atmosphere. Local amenities are also readily available, as the property is just five minutes from the bustling town of Loulé and there are 2 Shopping Centres, which features many in-demand amenities in a single location, including designer shops, cinema complexes, private clinics, and outdoor leisure opportunities.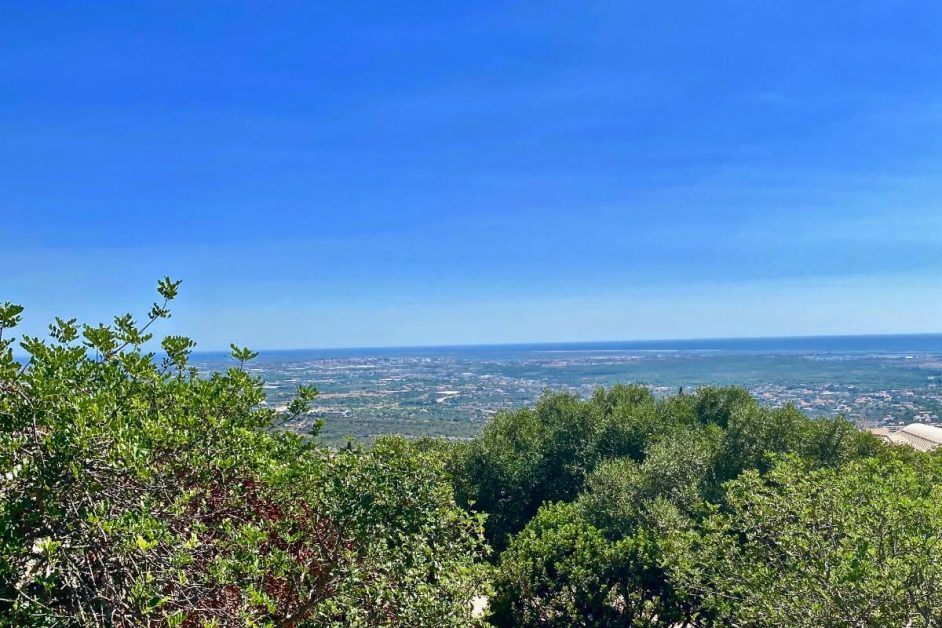 View from Villa Goldra
The property is also just 10 minutes from the exclusive Golden Triangle of Quinta do Lago and Vale Do Lobo Golf Resorts and only 25 minutes from Faro Airport. There is an abundance of choice of both private and public schools too.
To find out more about these exceptional properties and discover all the benefits the locations have to offer, please contact our partners Abloom Boutique Real Estate.