Far away from hectic city life lies scenic Portonovi resort, a tranquil retreat surrounded by emerald green hills and untouched nature. Enviably located at the entrance of the fjord-like Bay of Kotor – also known as Boka Bay – this Adriatic haven offers low-rise upscale coastal living and a thriving community in a peaceful, laid-back environment.
Exclusive Portonovi is just a 45-minute drive from the coastal town of Tivat and an hour from Croatia's Dubrovnik – both are home to international airports.
At the heart of the resort lies Portonovi village, providing a true Mediterranean experience where narrow, cobblestone streets mingle with towering palm trees. During summertime, Portonovi Beach is a one-of-a-kind sandy stretch, while in winter, there's skiing to enjoy in Durmitor.
Portonovi is also home to a world-class 238-berth marina, should residents wish to dock their yacht in style.
Meanwhile, additional first-rate amenities and facilities include high-end fashion stores and art galleries, a gourmet supermarket, beauty salons and an international kindergarten, plus an array of cafés, bars, and restaurants.
In terms of wellness, look no further than Chenot Espace medical spa at the deluxe Europe's first One&Only resort, one of Travel + Leisure's top hotels for 2022. Offering a "transformative journey of detoxing and resetting the body based on the Chenot Method ®", each program is tailored to individual needs and aims to increase vitality, stimulate the body, and activate energy channels.
Famed for its history, culture, and wild natural beauty, there's also much to discover in the surrounding area, including visiting the medieval UNESCO-designated town of Kotor, adventuring in Lovćen National Park, and yachting around the picturesque Riviera coastline.
Come evening, admire the sun as it sets over ancient Perast, the Venice of the Adriatic.
Portonovi's thriving real estate market
Montenegro is attractive for foreign investment, especially when it comes to property. Why? Inheritance and estate tax are set at a highly competitive 3%, while transfer and rental income tax compare favorably to other parts of Europe like Portugal and Spain.
Regarding real estate in Portonovi, home seekers and investors have the opportunity to buy pre-furnished apartments decorated stylishly with meticulous attention to detail. Equally, if unfurnished is preferred, there are top-notch listings to pursue in that category too.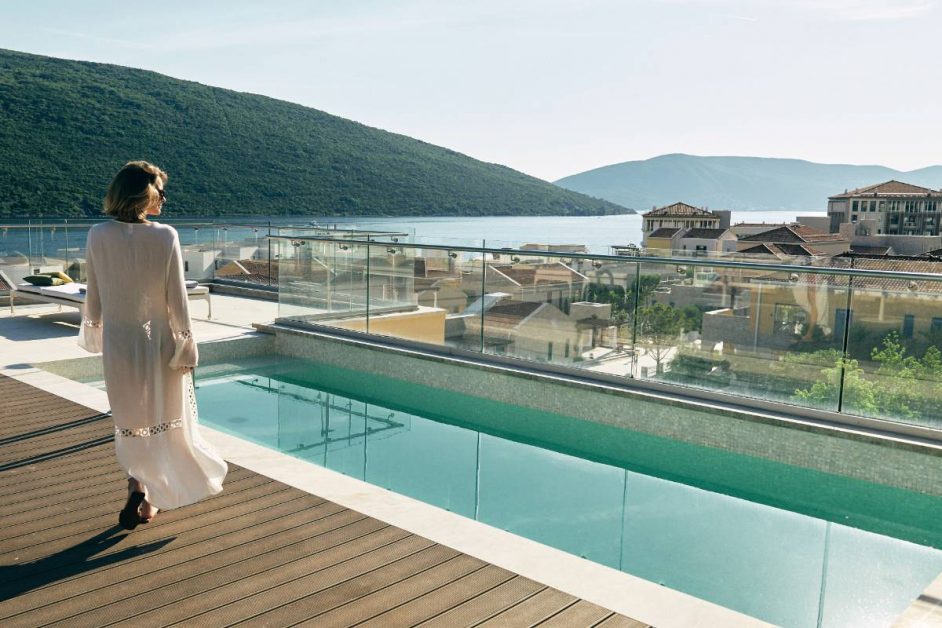 Villa for sale in The Village, one of the most exclusive residential areas in Portonovi
Spanning 26 hectares and with 1.8 kilometers of coastline, Portonovi resort features 218 residences for sale or rent, ranging in size from studios to four-bedroom apartments and villas. Many come with private landscaped gardens and pools, and they're all equipped with the latest technology.
Choose from a carefully curated selection of properties spread across The Village Residences, The Marina Apartments and Sky Villas. Each has its own identity, but they all offer luxury living, the highest levels of comfort, and glorious  Boka Bay panoramas.
A trio of best-in-class properties to look out for in Portonovi
The high-end resort of Portonovi has an eclectic mixture of homes available to buy, from a €545,000 one-bedroom apartment with sea and mountain views to this four-bedroom condo or the modern duplex with sea views listed at about €2,880,000.
Modern high-ceilinged apartment in The Village
Price: €545,000
This capacious (and unfurnished) one-bedroom flat lies at the heart of the Portonovi community. Spanning 88 square meters, it boasts an inviting terrace that's accessible from both the kitchen and bedroom. Appliances are by Miele, while the bathroom is fitted with Villeroy & Boch and Grohe. Ideally positioned on the third floor, there are glorious vistas out to the sea, promenade, surrounding hills, and the Montenegrin mountain, Lovcen. There's also a communal pool to dip in and the nearest beach is just 200 meters away.
Spacious four-bedroom condo in The Marina Residences
Price: €2,880,000
Designed by London-based Harrods interiors studio, this contemporary apartment covers 223 square meters and is less than five minutes from Portonovi Beach. Situated on the second floor, the master suite overlooks the marina, while the remaining three guest rooms benefit from fabulous Lovcen Mountain views. Each bedroom features an en-suite decked out with Villeroy & Boch and Grohe, and the sunlit terrace can be reached via the well-equipped kitchen and light-laden living space. Built-in appliances are by Miele, and the furniture was custom made in Italy and Turkey.
Chic and uber-comfortable duplex in The Village
Price: €2,765,000
This two-story 382 square meter apartment is ideally located in The Village, one of the most exclusive residential areas in Portonovi.
Close to the beach, restaurants, and a range of shops, the modern four-bedroom condo boasts wonderful Adriatic Sea vistas. On the first level, there's a generously sized dining room, an open-plan kitchen and two guest suites, each with an ensuite and a dressing room. Meanwhile, head up and be greeted by two more bedrooms. The icing on the cake? A capacious private terrace with a pool, pergola, and BBQ zone, plus more of those phenomenal Boka Bay panoramas.
Thinking about buying a property in Portonovi resort?
Contact the developer at +382-67-994-994, email them at enquiries@portonovi.com or visit their page at  Properties.portonovi.com