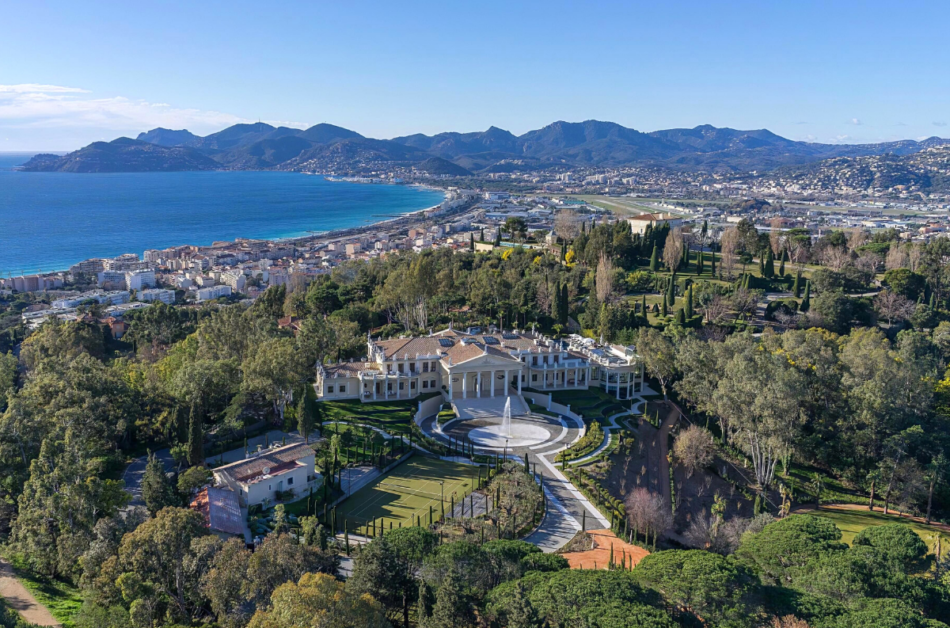 According to the press reports, the world's most valuable house is thought to be Buckingham Palace worth $1.55 billion. Another historical property, Villa Leopolda in the French Riviera, is valued at an impressive $750 million. But, cultural assets aside, what are the most expensive houses in the world which are up for sale on the open market in 2020?
To answer this question, we found 22 of the world's highest-priced homes currently available to purchase. These impressive properties are located in the top neighborhoods of Los Angeles, Miami, Cannes, Paris, London, NYC, Singapore, and Hong Kong. And, apparently, the abundant wildlife of California, Colorado, and Wyoming also boosts real estate prices.
Let's take a closer look at this list of the most expensive houses in the world listed for sale in 2020 and discover why these homes deserve the highest price category.
22. Contemporary house with views over Cannes Bay
House in Vallauris, approx. US$45,897,148 (Cannes, France)
Situated on the heights of Cannes, this exclusive property enjoys spectacular views over the famous, picturesque bay.
The main highlight of the house, a sumptuous, 181 sq. m swimming pool, emphasizes the exceptional design of the property.
Conceived according to the rules of the Californian style, the home stands out for its modern lines, volumes, and uncommon elegance. It features the most luxurious materials and state-of-the-art technology which are sure to meet the expectations of the most demanding clients.
21. Neoclassical, palace-style villa in French Riviera
Luxury property with sea view, approx. US$48,839,272 (Cannes, France)
Located on a hilltop overlooking the Mediterranean Sea, this villa offers a privileged view of the sea and Cap d'Antibes.
Recently renovated, this property is equipped with every luxury amenity, combining private comfort and modernity. Entirely secured, thanks to the fences surrounding the estate, this villa promises a calm and magical stay.
The garden is beautifully decorated with multiple statues in the middle of the garden and offers incredible sunset views. Once here, you immediately understand why this villa is among the most expensive houses for sale in the world.
20. Grand compound in Bel Air's East Gate
East Gate Compound, US$49,900,000 (Los Angeles, US)
An impressive compound just inside the noted Bel Air East Gate and mere minutes from Beverly Hills.
Concealed behind private gates on a rare, flat acre, it is a guarded compound, providing the perfect environment for high-end living. Imagine, an approx. 20,000 square foot entertainment space, which includes a resort-style spa and pool, with a massage room, sauna, and steam bath. The property also boasts game rooms, a bowling alley, an expansive cinema and even a basketball and racquetball court.
19. 1900s palace 20 min. from Paris
Palace in Le Vésinet, approx. US$56,488,797 (Paris, France)
The sublime Palais Rose is serenely luxurious and located only 20 minutes west of Paris.
Nestled among the beautiful mansions of Ibis Parc of Le Vésinet, inspired by the Grand Trianon (Palace of Versailles), and listed as a historical monument, this magnificent property provides 2000 sq. m of family and entertaining space spanning the lower ground, garden level, and ground floor.
Built in 1900 by the shipowner Arthur Schweitzer, The Palais Rose was the home of the great poet Robert de Montesquiou from 1908 until 1921. And, more importantly, General de Gaulle stayed at the hermitage of the Palais Rose from May 12-15 in 1940.
18. An architectural masterpiece in Singapore
The Harbour View House, approx. US$56,699,314 (Singapore)
The Harbour View House is located on the northern side of Sentosa Cove and enjoys a spectacular view across the sea towards the soon-to-be Greater Southern Waterfront of Singapore's mainland.
Designed by renowned SCDA Architects, this 2-story, seaside bungalow has two wings connected by an entry pavilion and a stone bridge. The details of the exotic architecture and interiors are so precise and the employment of harmonious materials so generous throughout the house, that the Harbour View House truly goes beyond the definition of luxury.
17. Mediterranean-style villa with a private pier in Coral Gables
Waterfront Villa, US$58,807,191 (FL, US)
Exceptional Mediterranean-style, waterfront villa in guard-gated Gables Estates, the most exclusive neighborhood in Coral Gables, Florida.
This home sits on 2.38 acres of the most lavish landscaping, including 674 different plants, palms, and trees with 250 ft. of waterfront reaching to Biscayne Bay.
The villa itself, designed by renowned architect Rafael Portuondo, offers six bedrooms and nine bathrooms, as well as a separate guest villa. The property's interior architecture also features large hallways, natural light throughout the home, marble and wood floors, a full summer kitchen, a movie theatre, and extraordinary views of the waterway.
16. Former home of Jacqueline Kennedy
Martha's Vineyard Estate, US$65,000,000 (MA, US)
Jackie Kennedy's former house in Martha's Vineyard sits on a 340-acre, Cape Cod style estate and is rightly among the top 20 most expensive houses on our list.
The gorgeous, 6,456 square foot, cedar-shingled residence was constructed overlooking the Atlantic Ocean. The floor plan is designed perfectly, so that all rooms (except for the dining room), face the beach. The interiors and decor, curated by the Dean of the Yale School of Architecture, complete the uniqueness of the compound. The home also boasts a house pool, a tennis court, and even vegetable gardens.
15. Penthouse with the best wrap-around terrace in Manhattan
Private, Corner Penthouse, US$65,000,000 (NYC, US)
Magnificent, 590 sq.m residence with modern interiors situated high above Central Park. It's, with no doubt one of the best examples of state-of-the-art Manhattan penthouses — and the most contemporarily designed home within our top list of the most expensive houses.
The property features modern renovations and dramatic, unsurpassed park and city views from its large picture windows facing east, south and west.
The penthouse itself is 590 sq.m with an additional 1,071 sq. ft of outdoor living space — including a terrace that nearly wraps around the entire 18th floor. Needless to say, the location is unrivaled: mere steps away from the finest dining and shopping venues.
14. Top floor residence at the Time Warner Center
5-Bedroom Apartment, US$75,000,000 (NYC, US)
Extraordinary penthouse on the top floor of the South Tower at the Time Warner Center in Manhattan, New York City.
This approx. 8,500 sq. ft. apartment is a rare combination of grand space, dramatic views, excellence in design, and high-end amenities. Residents enjoy full-time, attentive staff; a massage room; Mandarin Oriental's five-star Zen spa services; a state-of-the-art fitness center; and a swimming pool with stunning NYC views.
13. Stunning estate dominating famous La Californie
Villa Alang Alang, approx. US$75,475,525 (Cannes, France)
Situated in the heart of celebrities' beloved sector La Californie, this estate benefits from an extraordinary location, providing breathtaking sea views from Cannes Bay to the reliefs of the Estérel Massif.
A prestigious property of over 1,600 sq.m, its majesty can only be compared to the Villa Leopolda in Villefranche-sur-Mer.
Outdoors, an ambiance of ultimate relaxation pervades; there you'll find an unequaled, disappearing-edge pool with an unusual and sophisticated tile pattern, and the most captivating view over Cannes that you'll ever find. Furthermore, the property offers residents all possible luxury amenities: a SPA, a cinema, a wine cellar, and a cutting-edge fitness center.
12. Contemporary mountain retreat surrounded by forests
Casteel Creek Retreat, US$78,000,000 (CO, US)
Casteel Creek Retreat is nestled in a secluded location between the town of Edwards, Beaver Creek Ski Resort, and the prestigious Vail Mountain Club.
The residence definitely deserves to be placed among the top 20 most expensive and impressive houses in the world. One of its central highlights is a dramatic $1,000,000 bridge, which immediately sets the tone of the estate. After crossing the bridge, the imposing 32,000 sq.ft. main house clad in copper, steel, glass, and stone boldly presents itself.
Inside, the living quarters come fully furnished with designer touches throughout.
With this billionaire retreat as your home base, you will experience the best of Vail Valley without ever leaving home.
11. The perfect place to connect with nature and enjoy wildlife
House in Jackson, US$80,000,000 (WY, US)
Located just north of the town of Jackson in the Bar B Bar Ranch community, this jewel in the crown of the American property market provides Snake River frontage and superb views of the Grand Teton and Jackson Hole Mountain Resort.
Bar B Bar Ranch is a gated community whose owners take pride in caring for and enjoying the abundant wildlife including elk, deer, moose–even the occasional bear–and much more.
Within this paradise, recognizing the ideal location, no expense was spared to create the setting of this exquisite home. The building was designed by renowned Jackson Hole builder RAM Construction, which specializes in chalet style homes. Small wonder the house landed on our list of the most expensive houses in the world for sale.
10. Classic mansion with high-tech facilities in London
Mansion in St. John's Wood, approx. US$98,501,981 (London, UK)
The most expensive British property listed on JamesEdition is located in St. John's Wood, widely recognized as one of the prime, residential neighborhoods in London.
St. John's Wood boasts some of the highest valued and prestigious properties. Moments away, chic boutiques, restaurants, and cafés make this one of the city's most desirable areas–especially among those seeking to enjoy green, open spaces alongside customary, urban amenities. Calmer living and a slower pace replaces frenetic city life, creating the perfect balance for a wonderful lifestyle.
87 Avenue Road has been meticulously designed and built to accommodate a high-end, contemporary lifestyle: offering everything from a fully equipped, twelve-seat cinema to a state-of-the-art, biometric security technology room.
9. Avant-garde villa with infinity pool on the French Riviera
Villa in Théoule-sur-Mer, approx. US$106,668,815 (France)
The 9th place in the top 10 of the most expensive houses listed for sale on JamesEdition rightfully belongs to this architectural masterpiece.
This avant-garde villa is located at the gateway to Cannes and was developed by a world-renowned architect. Situated on 1.2 Ha of landscaped park which was designed by Jean Mus and is mere meters from Pierre Cardin Palais Bulle (Bubble Palace), this most incredible estate will seduce you with its unique character and unparalleled vista. The main highlight, a 50- meter by 30-meter swimming pool, provides a 240-degree view over the Côte d'Azur. A spa with hammam, sauna, gym, and massage areas completes the impression of luxurious tranquility.
8. Property positioned within the unique ecosystem of Gaviota Coast
El Rancho Tajiguas, US$110,000,000 (CA, US)
The unparalleled El Rancho Tajiguas represents two of the finest estates to be found in the world and is set within the Crown Jewel of Southern California: Santa Barbara's Gaviota Coast.
El Rancho Tajiguas is the perfect marriage of utmost luxury and natural beauty, with its two, ocean-facing, hilltop estates, surrounded by complete serenity, on approximately 3,500 acres of extensive, cultivated, agrarian land; hundreds of acres of orchards; an active cattle range; and vast areas of open space. The uniqueness of the property is emphasized by its unusual location; it is positioned within the only, coastal, Mediterranean ecosystem in North America.
7. Oceanfront estate with a private beach in Malibu
Compound Mar de Amor, US$115,000,000 (CA, US)
Mar de Amor or Sea of Love is a magnificent and timeless modern compound on approximately 2.6 luxuriant oceanside acres.
The house was built using innovative building techniques and materials, embodying a high-tech architectural concept that seeks to provide comfort and security at the maximum level. The compound's main feature is its seemingly endless floor to ceiling windows, providing views of the infinity pool and beyond. Highlights also include private access to the beach and a 20-seat home cinema.
6. LA house with a history of celebrity owners
Owlwood Estate, US$115,000,000 (Los Angeles, US)
Owlwood Estate is a majestic, Italian Renaissance style property and the largest compound in Holmby Hills.
The iconic, nine-bedroom, ten-bathroom home was built by renowned architect Robert D. Farquhar in 1936 and has been owned by Cher, 20th Century Fox chairman Joseph Schenck, and Hotel Bel-Air founder Joseph Drown. With the exclusive Los Angeles Country Club next door, the estate still exudes an exquisite luxury and Hollywood heritage. Today, this world-class house, awaiting its next chapter, occupies sixth place within the top 10 of the most expensive houses for sale in the world.
5. Large house with a pool in Hong Kong
Fei Ngo Shan Single House, approx. US$126,447,533 (Hong Kong)
The top five of the most expensive houses in the world listed on JamesEdition for sale opens with an impressive, classic style mansion located in Hong Kong.
Situated on Fei Ngo Shan, a hilly road within a high-end residential area, the property provides an excellent view of Victoria Harbor. Inside the house, the extravagant interior decor complements stunning floor to ceiling windows and a grand staircase. It's a one of a kind house where a family can indulge in an enviable, luxurious lifestyle away from the big, hectic city.
4. The best waterfront property in south Florida (with 30 bedrooms)
Gemini Estate in Manalapan, US$137,500,000 (FL, US)
Gemini, a 15-acre, ocean-to-lake estate with more than 30 bedrooms, stands out from all of the other luxury estates in Palm Beach due to its beauty, privacy, high-end amenities, and sheer scale.
The estate offers a remarkable combination of around 1,200 ft. of dune-lined beach on the Atlantic seaboard and 1,300 ft. of frontage on Lake Worth. Perched atop a dune, with 360-degree views, it is the only, true, oceanfront home within sight, yet it is only minutes from Worth Avenue. Gemini offers an array of the most wonderful recreational amenities, including a swimming pool, PGA standard golf area, regulation tennis court, half basketball court, fitness center, and spa.
3. Venetian-style palace in Cannes
Palais Vénitien, approx. US$142,500,044 (Cannes, France)
A magnificent (and very expensive) residence inspired by the architecture of Byzantium and Venice, the Palais Vénitien.
Featuring monumental columns and exquisite moldings, this home faithfully reflects the elegance and grandeur characteristic of Venetian-style architecture. 2.4 Ha of land encompasses a wealth of luxurious outdoor amenities, including a lake and an exceptional pool with a captivating panorama of Cannes and the Mediterranean.
It is also worth noting that there is a nightclub and wine cellar with exceptional wines on the premises. What can we say?  This property appropriately ranks high on our 2020 list of the world's most expensive houses.
2. Italian-style villa in Beverly Hills
Authentic Italian Villa, US$165,000,000 (CA, US)
Another villa ranking within the top three most expensive houses but with a slightly more contemporary take on Venetian style; the estate is the largest found in Beverly Park.
In the most prestigious enclave for high-end, residential real estate in Los Angeles, on over seven acres, and accessed via its own street, sits this one of a kind property. Despite its  proximity to magnificent properties (with an average price of US22M) of some of the richest entrepreneurs and celebrities, this Italian palazzo still stands out. Expansive gates open to a 30- car, front courtyard surrounded by 40-foot tall, Canary Island palms. Inside the approximately 20,000 sq. ft. mansion, every imaginable amenity can be found: from high ceilings to large and formal gathering areas to small and intimate spaces.
1. The most expensive house in the world in 2020: the 1930s Bel Air mansion
Casa Encantada, US$225,000,000 (Los Angeles, US)
Having secured the title of Most Expensive Mansion in America, Casa Encantada also deservedly occupies first place on our list.
The Georgian-style, 1930s, Bel Air mansion sits on eight acres above the Bel Air Country Club, and boasts an astonishing 60 rooms. The grand reception hall with its epic, 18-foot ceilings, created by renowned designer T. H. Robsjohn-Gibbings, set a new standard for home interiors.
The exterior is equally impressive with its lighted tennis and basketball courts. Two other highlights are the bowling alley and ornamental helicopter. The richest man in the world, Jeff Bezos, is rumored to be considering this property for his new LA compound.
Offering every possible luxurious amenity and occupying the most advantageous and most coveted position in the trendiest area of ​​LA, it is no surprise that this home is the most expensive house in the world as of 2020.
Exclusive luxury insights
for newsletter subscribers only
Delivered every week to your inbox