Montenegro's reputation as a haven for the world's wealthiest individuals is evidently clear in the beauty and exceptional class of Porto Montenegro. Located on the country's North East Coast, the area has built up a reputation as the new Monaco, with billionaire visitors owning and enjoying exceptional properties in the area. We're pleased to say three luxury penthouses in this prime location have just hit the market.
Let's explore Porto Montenegro in more depth before looking closely at the stunning Elena Residences complex, home to all three of these luxurious apartments.
Porto Montenegro
Porto Montenegro has developed into one of Europe's leading luxury resorts. Known as the sanctuary of Montenegro, the extensive development is the brainchild of Canadian mogul Peter Munk, who first purchased the former shipyard in 2006 with the aim of building a superyacht marina to rival all other destinations.
By 2021, this dream had been realized. The 450-berth dock has since received the title of best superyacht marina and is the world's first Platinum-rated marina.
The beautiful resort offers both exceptional mountain views and ocean vistas and is located in the UNESCO-protected Boka Bay. Residents and holidaymakers benefit from the most idyllic setting as well as the finest level of amenities.
Porto Montenegro also offers convenient access to the wider world, with three international airports, Tivat, Podgorica and Dubrovnik, all within a manageable distance. The marina is also perfect for those preferring to travel by boat, who are afforded easy access to the Mediterranean's most luxurious cruising grounds.
The country's rich culture and history is also ever-present. Boka Bay is home to many beautiful and historic sites, including the ancient town of Perast, once home to a fleet of 1,000 Venetian ships, and Kotor, a traditional fortified town with 4km of ancient city walls to explore.
Today, Porto Montenegro is the ideal playground for the most affluent, and these stunning penthouse apartments provide the perfect living space.
Elena Residences
Elena Residences offers the perfect combination of peaceful tranquility and convenient access to the bustling heart of Porto Montenegro's South Village. The high-end residential complex is less than 100 meters from the world-renowned marina and has a stylish and modern architectural finish inspired by the waterfront properties of the Italian Riviera. Elena Residences affords its residents' breath-taking views of the marina and the Montenegrin mountains.
Just a stone's throw away are exquisite fine dining restaurants, relaxed cafes and designer shopping boutiques from Dior to Max Mara and Rolex to Bvlgari.
There are over 80 bars, restaurants and retail outlets to enjoy within minutes of the Elena Residences penthouses. After hours spent enjoying the convivial atmosphere of South Village, residents can return to the private sanctuary of their penthouse apartment.
The Penthouses
There are currently three high-end apartments available in Elena Residences. The properties available are:
Residence 501: with three bedrooms and almost 438 square meters of floor space, the penthouse features two terraces on the lower level, plus a rooftop terrace and infinity pool.
Residence 504: a similar specification to 501, with three bedrooms and the same square meter floor space.
Residence 502: a larger property with four bedrooms and 565 square meters of floor space. The penthouse features a private sauna, walk-in closet, rooftop terrace and pool directly overlooking the marina.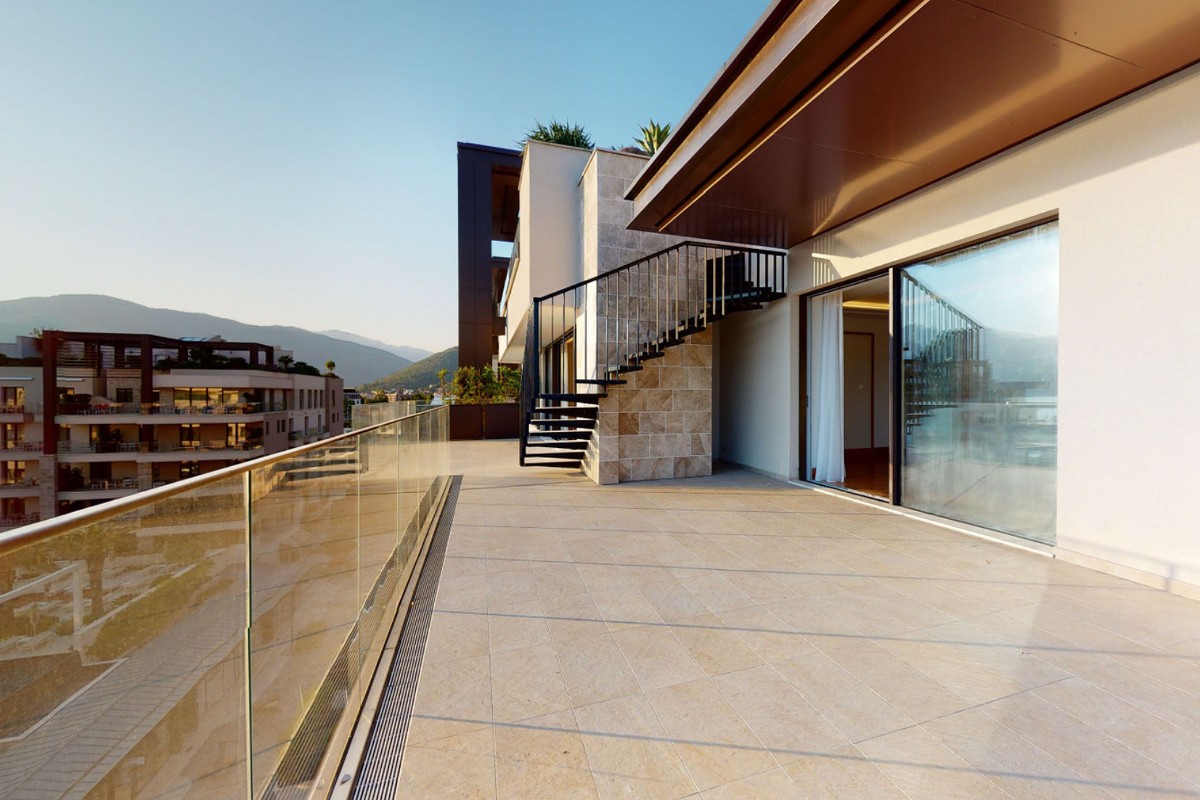 These three luxury penthouses form part of the larger complex of 50 apartments and stand out from the competition due to their exceptional high-end design and private infinity pools – a rare luxury in Montenegro.
All apartments have a spacious and open-plan design that residents can customize to their taste, and awe-inspiring floor-to-ceiling windows and retractable glass doors ensure every apartment is flooded with light. Residents also benefit from access to the exclusive owners' club and lifestyle team along with a residents' only pool, gym access, and a 24-hour concierge service.
Interested parties can take a virtual tour of any of the properties via the property brochure and get a real feel for each space. For more information, please get in touch with Porto Montenegro.