Harbor Island Beach Club, Melbourne Beach, for sale by Curri Kirschner Real Estate Group.
Florida's unparalleled and diverse Space Coast boasts over 115 kilometers of shoreline, running from southern Melbourne Beach up to Cape Canaveral. Home of NASA and SpaceX, the Space Coast area is known for both mainland and waterside communities.
Perhaps the most recognizable city within the Space Coast is Melbourne, a place that has always maintained a reputation for its aerospace companies and proximity to The Kennedy Space Center but also for serene beaches. Visitors and home owners are constantly wowed by multiple rocket launches that occur each month, easily visible from anywhere along the area's coast.
While Miami, Orlando and Tampa are most notably the main cities associated with the state of Florida, the greater Melbourne area has grown exponentially over the last decade and has become a centralized hub between Florida's major cities as a result of its accessibility, exclusivity and incomparable real estate opportunities.
Space Coast boasts over 115 kilometers of shoreline, running from southern Melbourne Beach up to Cape Canaveral, home of NASA and SpaceX.
The greater Melbourne area and Space Coast also feature the most affordable luxury waterfront real estate in the state of Florida. Located 3 hours north of Miami, 2.5 hours from Tampa and 45 minutes southeast of Orlando, this central Atlantic-facing metropolis has a charming downtown, an art district, retail centers, business corridors as well as pristine beaches.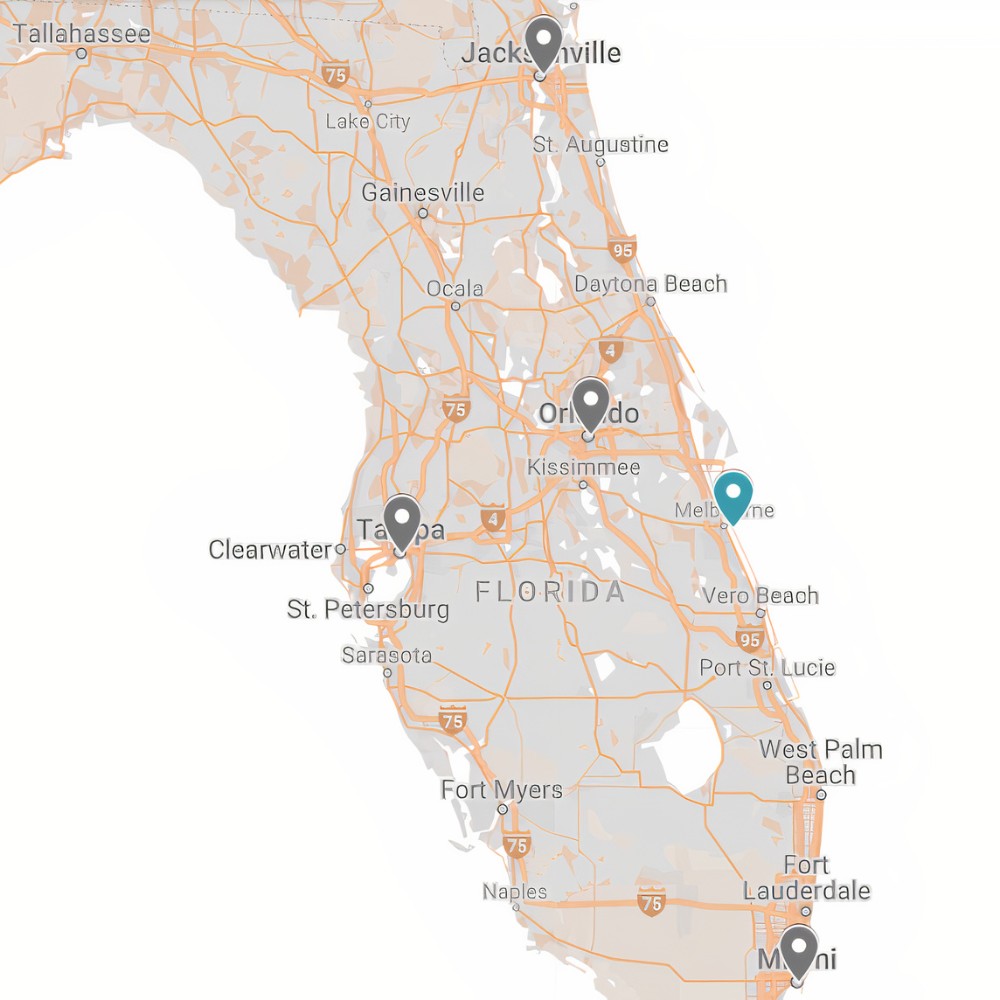 We spoke with the Curri Kirschner Real Estate Group – one of the leading agencies operating in the Space Coast – to find out more about the housing market and the most exciting property listings and opportunities.
Housing market in Melbourne: More value per dollar invested 
As Melbourne continues to be discovered, the demand to own real estate in the area continues to grow. This increase is a direct result of the huge benefits buyers reap for their investments; in short, Melbourne offers a better investment opportunity than other upscale Florida locations, such as Tampa and Miami. Moreover, with little to no opportunities to buy land or build custom homes in any other major Florida city, Melbourne gives buyers a rare chance to purchase or build custom brand-new homes without compromising the accessibility aspect that major Florida cities offer.
According to Curri Kirschner Real Estate, in November 2021, the sold average price per square foot for an oceanfront home in Miami Beach was $2,814, while in Melbourne the average price per square foot for a comparable ocean front home was $696.64. Similarly, a waterfront home with private dock and boat-slip access in the greater Tampa Bay area averaged $670 per square foot; in Melbourne, comparable sold homes averaged $371 per square foot. The reality is that big city real estate is not only limited in inventory, land and opportunity, but monetarily, Melbourne presents the only logical alternative without compromising value, luxury or unreasonable accessibility.
Dive deeper into Melbourne
Located in Brevard County, Melbourne is one of the gateways to the 48-mile long barrier islands stretching from Cape Canaveral to Sebastian Inlet, making it a sportspersons paradise.
Orlando Melbourne International Airport was named the most scenic airport in North America in a poll by charter jet booking company PrivateFly for the coastal view passengers enjoy on takeoff and landing. The airport is going through a multimillion-dollar expansion as well which will include three new jet bridges, a spacious new departure area with fresh, local restaurant and retail options. It will also feature a four-lane security checkpoint, modernized ticking counters, an expanded U.S. Customs Federal Inspection Station facility, an International Welcome Center and a new terminal apron.
Yachting is also extremely popular in the area as it is nestled along the Intracoastal Waterway, which leads out to the Sebastian Inlet, where boaters are only 235 nautical miles (436 kilometers) from The Bahamas. Other activities to enjoy range from offshore fishing and paddleboarding to surfing. In fact, the most decorated professional surfer in the world, Kelly Slater, hails from nearby Cocoa Beach.
From a cultural standpoint, the Space Coast's arts and entertainment community is thriving, with the historic Cocoa Village Playhouse, Henegar Center for the Arts, and Titusville Playhouse all worth visiting.
Rocket launches can be seen from virtually anywhere on the Space Coast.
But what Melbourne is undoubtably best known for internationally is NASA. An aerospace hub, where industry leaders in tech, space, and federal defense contractors continue to colonize and expand.  NASA's Kennedy Space Center and SpaceX have conditioned the area's residents to view rocket launches and space missions as a part of their daily lives, as the rest of the world sees airplanes fly over their homes. For example, in December 2021, two expeditions were planned: SpaceX Commercial Resupply Mission-24 and James Webb Space Telescope. The area is a dream destination for aerospace fans as these launches can be seen from virtually anywhere on the Space Coast.
Top homes for sale along the Space Coast
As one of the leading agencies operating in the Space Coast,  Curri Kirschner Real Estate Group is a result of the powerful partnership between David Curri and Stan Kirschner, both local to the area for the majority of their lives and two names that carry an exceptional reputation across Brevard County. For over 20 years David has led a team of luxury waterfront property specialists and always maintained the status of one of the best-performing independently owned real estate offices in the Space Coast Area. Stan Kirschner, the owner of Kirschner Construction, is among the most sought after custom home designers and builders in the area. Together, the dominating forces founded the Curri Kirschner Real Estate Group.
Brand-new waterfront home in Melbourne's luxury community Adelaide
In addition to competitive market prices, driving Melbourne's increasing popularity, the area itself appeals to a variety of consumers. The greater Melbourne area is made up of several smaller cities that make up the entirety of Florida's Space Coast. Top listings Curri Kirschner currently have on their books include properties in two developments: Adelaide in Viera and Harbor Island Beach Club in Melbourne Beach.
A 460-acre gated community: Adelaide, Viera
Newly constructed home in Adelaide, Viera
Viera is located 11 miles inland west of the beaches, and is known for its new construction of premier properties and estates. Viera is ever-expanding and acts as a bridge between Orlando and Melbourne's beaches.
Adelaide, a top-tier, newly constructed development, features over 120 plots for custom single-family homes and estate houses with wonderful lakefront and preserve views. Located down the street from Viera's array of shops and dining options, Adelaide provides residents with scenic parks, playgrounds and jogging trails, combining  privacy with easy access to a host of amenities.
Plots range in size, from half-acre to over an acre, with the majority offering far-reaching views out to the water. Divided into four 'neighborhoods', The Reserve, The Preserve, The Lakes, and The Park, there's a real community spirit to the complex.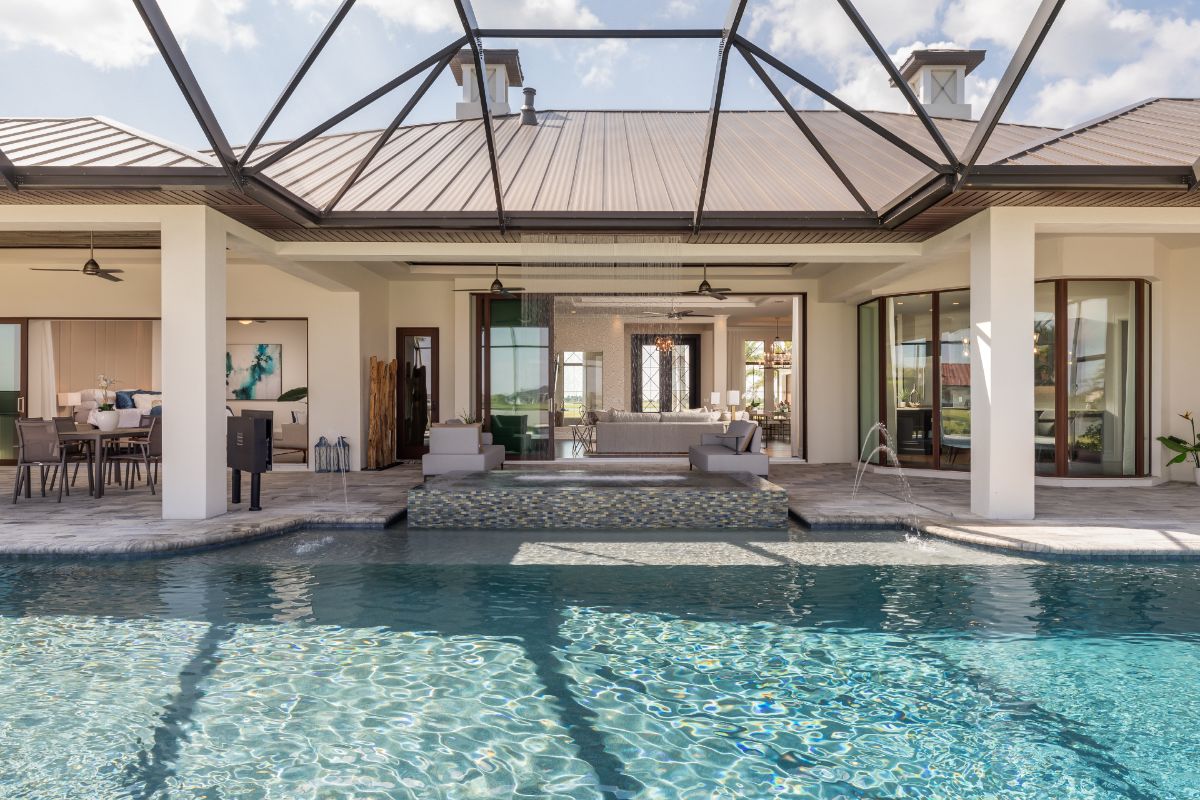 Adelaide offers custom homes that combine privacy with easy access to a host of amenities.
Custom homes range from chic three-bedroom houses with decorative beams, vaulted ceilings, and a covered lanai, to architecturally-striking four-bedroom residences, with open living spaces, integrated indoor and outdoor living environments, and clean lines.
Facility-wise, you couldn't ask for more, with a five-acre park to enjoy, as well as 25-acre water-to-wetlands, and a 120-acre lake – around which many of the plots lie. Sports enthusiasts have access to tennis, basketball and boating facilities.
Adelaide is a mere 15 minutes from the area's lovely beaches and in close proximity to an array of golf courses and country clubs, which appeals to its exclusive residents. Most impressive is that Adelaide in Viera is located only 45 minutes from Walt Disney World and Orlando's attractions, opening up endless opportunities for a seamless commute to and from, one of Florida's major cities.
Waterfront gated community: Harbor Island Beach Club, Melbourne Beach
Harbor Island Beach Club, Melbourne Beach, for sale by Curri Kirschner Real Estate Group
East of Viera is Melbourne's barrier island, a strip of land approximately 25 miles long separating the mainland areas and rivers from the Atlantic Ocean. Offering both riverfront and oceanfront living, Melbourne Beach's latest luxury development and the only development in the area with resort zoning, The Harbor Island Beach Club. This community presents future residents with brand new condominiums, villas and homes surrounded by tropical landscaping and glorious views in every direction.
Property-wise, Harbor Island Beach Club houses contemporary three to eight bedroom units spanning riverfront condos, Atlantic-facing villas, and single-family homes, with floor plans to suit different needs and lifestyles. Interiors are light, airy and floor-to-ceiling windows allow owners to make the most of the fantastic views.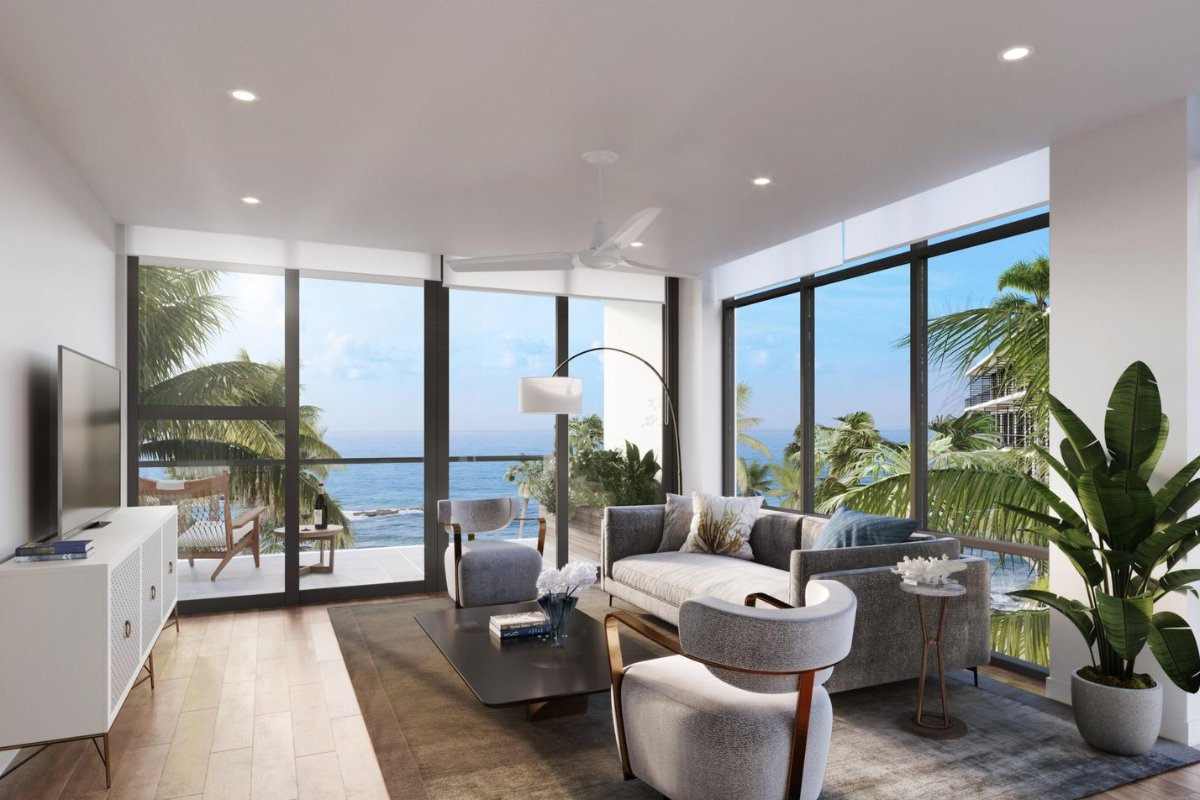 The Harbor Island Beach Club houses riverfront condos, Atlantic-facing villas and single-family homes, with floor plans to suit different needs and lifestyles.
Four-story deluxe riverfront condominiums overlook the Indian River and are built for barrier island durability. Units are three bedroom and three bathroom, ranging from 1,700 to 2,300 square feet. Each day, residents can admire the sunrise over the ocean, from the front breezeway, and watch as it goes down from the rear balcony, over the river. Elegant and refined, the interiors feature upgraded tile flooring, custom wood cabinets, quartz countertops, and eye-catching lighting. However, Harbor Island offers several options to meet different buyer preferences, and its modern villas appeal to those looking for more square footage.  These villas offer four bedrooms, 4.5 bathrooms and a one-car garage, across 2,600 square feet.
Within two miles of the community, you'll reach a range of bars, restaurants, and shops – prime location is an understatement. From the entrance of the community, running North and South, are miles of extra-wide bike paths for the convenience and safety of adventuous  cyclists.  The Harbor Island community is only a mile from the Spessard Holland Golf Course and only eight miles from the Aquarina Country Club, for both scenic and competitive play.
The community features a resort-style swimming pool and a private marina for 42 boats with direct access to the Intracoastal Waterway.
Back at the complex, first-rate communal amenities include a resort-style swimming pool and riverfront privileges. With a private marina, there's space for 42 boats and direct access to the Intracoastal Waterway – a 4,800-kilometer inland waterway from which you can explore parks and discover all manner of wildlife. Located just a few miles from the Sebastian Inlet and Cocoa Beach, the exclusive community is a water sport fanatic's paradise and full-time luxurious staycation.
Melbourne and the Space Coast area as a whole, seem to have a solution for any request a home buyer could need or want. While maintaining reasonable commutes to all major cities in Florida, Melbourne acts as an exclusive sanctuary for anyone seeking luxury real estate, for a relatively minimal cost.
David Curri, broker and owner of Curri Kirschner Real Estate Group, explained that the Melbourne area "still possesses its original small town charm, and there is a lot of pride that accompanies that." He went on to explain that "our area's roots, its originality and character, is what ultimately converts visitors into residents; and those roots have never been overshadowed by the exponential growth we have seen over the years." It's safe to say that the two communities highlighted are only a taste of what the Space Coast has to offer and apparent that the Curri Kirschner team is eager to show you more.
Why the Curri Kirschner Real Estate Group?
The Curri Kirschner Real Estate Group is dedicated to bringing their clients the most premier luxury waterfront properties in Melbourne, Florida and the surrounding areas. The brokerage comprises over 30 staff and real estate agents, operating more like a family than a business. The Curri Kirschner Group is tight-knit and optimizes their exceptional knowledge of the area to ensure the highest levels of both success and client satisfaction. They are always looking to expand, evolve, and adopt the newest technologies and training practices to equip their team with all the necessary components, to build and grow their network and real estate footprint within the area. The Curri Kirschner Real Estate Group prides themselves on building confidence through relationships and are eager to exceed your real estate expectations.
Thinking about buying a home in Florida? Look closer at the Space Coast's various waterfront real estate options. To find out more, contact the Curri Kirschner Real Estate Group at +321-300-5409, email them at sales@waterfrontbrevard.com, or visit their website at Waterfrontbrevard.com.