'One of the last great unclaimed spaces in New York City' is up for grabs. The Woolworth Building penthouse – aka The Pinnacle – is back on the market for $79 million.
Located in Manhattan's Tribeca neighborhood – one of the borough's most desirable – the iconic terracotta structure is bounded by Broadway and City Hall Park to the east. Park Place is northwards, and Barclay Street sits to the south. The 30-floor base is topped by a 30-story tower, with the latter housing condos, collectively known as the Woolworth Tower Residences.
The Pinnacle penthouse sits at the top of the Woolworth Building NYC. Spread across five levels, it's described by some as a 'castle in the sky'. Previously listed back in 2014, no buyers emerged at that point. Relisted in 2017 for a whopping $110 million, speculators thought the bullish price would find its level.
Fast forward to present day, and the Woolworth Building penthouse is back on for a sizeable $31 million discount. Let's take a look…
Tour the Woolworth Building penthouse
Developed by Alchemy Properties, The Pinnacle penthouse starts at 727 feet up. With 125 windows, 24-foot ceilings, and a private elevator, the apartment spans 9,680 square feet and boasts an observatory terrace covering 408 square feet.
Being sold as a white box blank canvas, the space is customizable, with impressive floor plan renderings from architects and designers Thierry W Despont and David Hotson.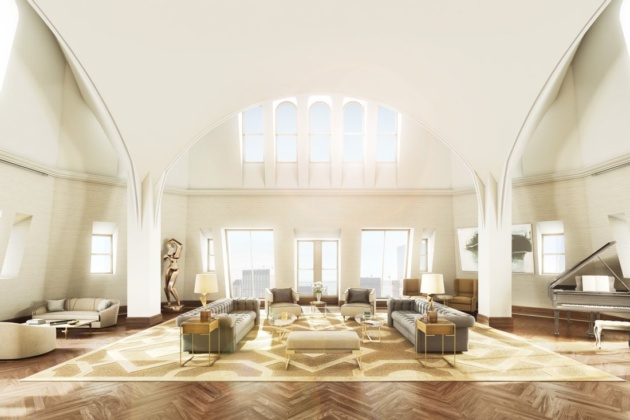 The Pinnacle's interior project. View Gallery >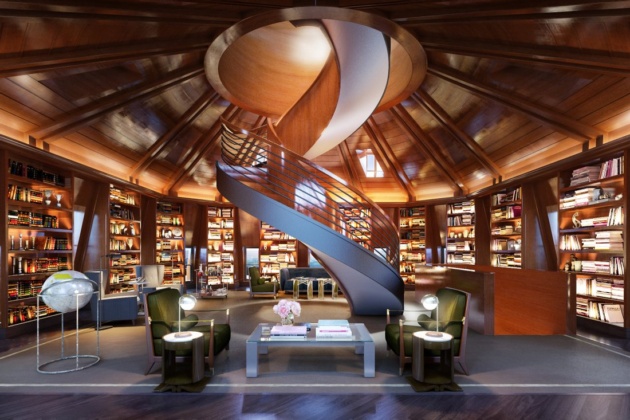 The Pinnacle's interior project. View Gallery >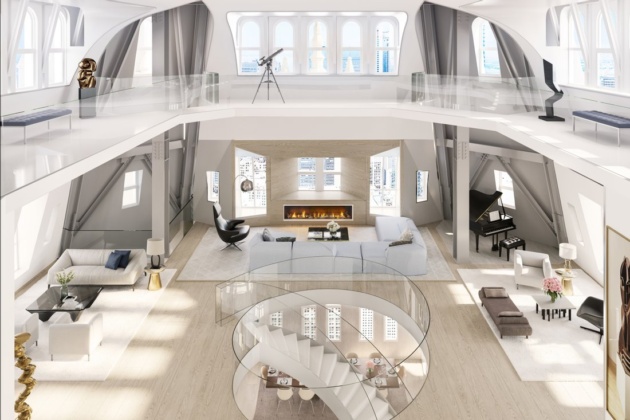 The Pinnacle's interior project. View Gallery >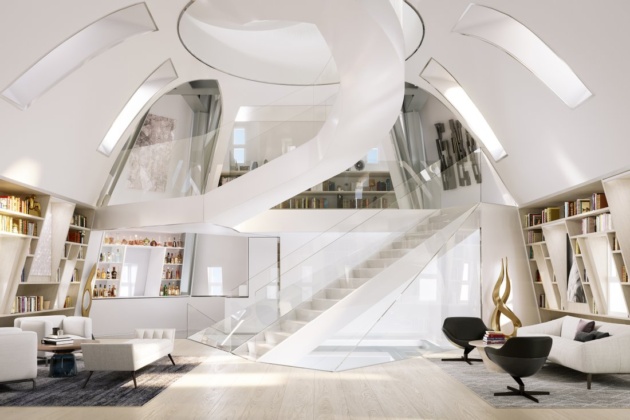 The Pinnacle's interior project.
Their ideas will help potential buyers visualize living in the uniquely shaped cylindrical space. The plans propose a central floating staircase, and the feel is light, bright, and airy – it isn't hard to imagine yourself residing there.
Despont and Hotson are renowned for their work. The former for his remarkable restorations, lavish private estates, and world-class hotels. Previous projects include bringing the Statue of Liberty back to life, The Ritz in Paris, and residential skyscraper 220 Central Park South. Private clients include Bill Gates and Calvin Klein.
Hotson is just as acclaimed, with his work on the Skyhouse Penthouse at 150 Nassau Street awarded 'Best Apartment of the Decade' in Interior Design Magazine.
Sitting in Lower Manhattan, The Pinnacle penthouse has East River views to one side, and the Hudson River to the other. It's just a 10-minute stroll to the Brooklyn Bridge and a 15-minute walk to The Battery, a 25-acre park.
Starting on the 50th floor, the apartment boasts Big Apple panoramas. Down below on the cobblestone streets, you'll find award-winning eateries such as one Michelin-star L'Appart and Crown Shy, and two-star Atera. And there are tons are independent boutiques.
Whoever buys the unique property will also have access to communal facilities including a subterranean 50-foot pool finished in Bisazza Mosaico, plus a fitness center, sauna, hot tub, lounge with a billiards table, personal mail delivery, and a wine cellar complete with a tasting room.
The key thing every real estate enthusiast needs to know about the Woolworth Building NYC
Situated in a prime location on 233 Broadway, NY 10007, the Neo-Gothic style structure is an early American skyscraper designed by Cass Gilbert, a prominent architect. Construction began in 1910 and finished in 1912, and from 1913 to 1930 it held the title of tallest building in the world, at a height of 792 feet. A century later, the Woolworth Building NYC still sits in the top 100.
Originally conceived as the HQ for F. W. Woolworth's five-and-ten-cent stores, the skyscraper was jointly planned with Irving National Exchange Bank. Bought by the Witkoff Group in 1998 for $146 million, the top 30 floors were sold in 2012 for $68 million and converted into 32 luxe residencies whose address is 2 Park Place.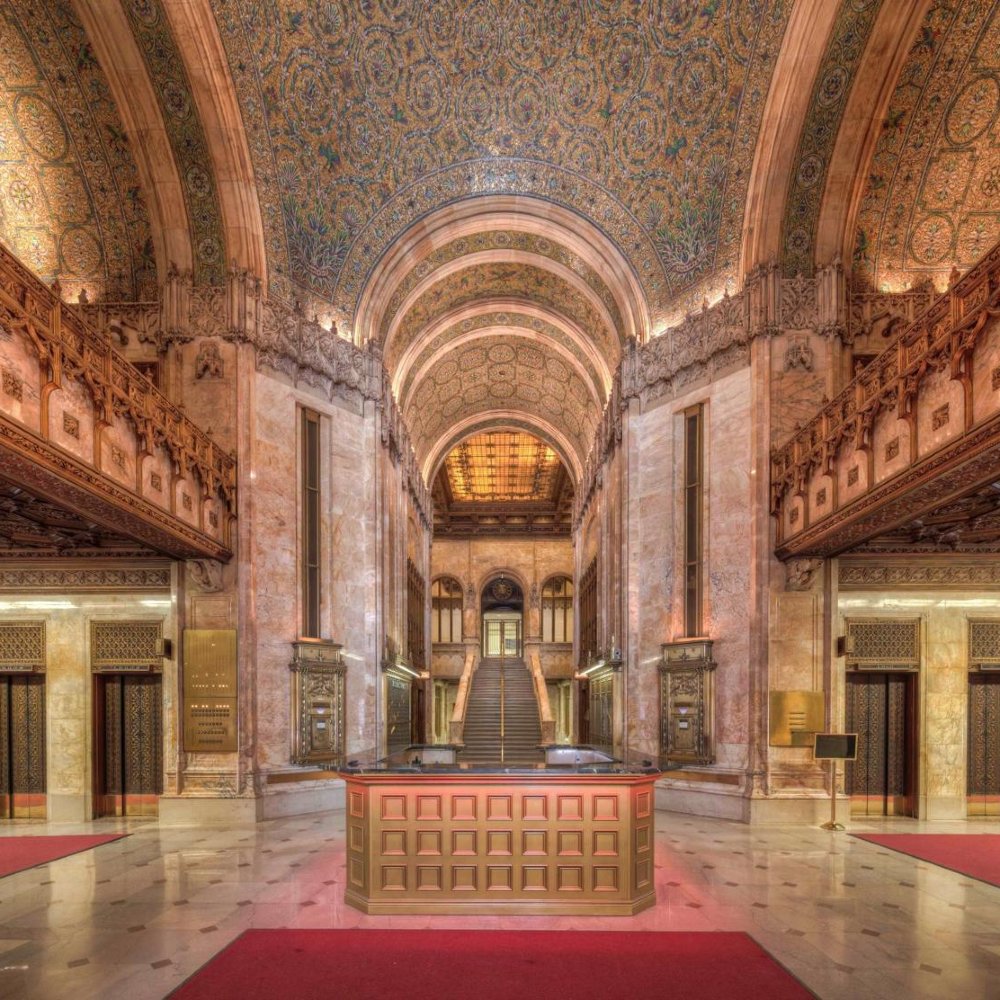 Lobby space in the Woolworth Building, NYC.
Who bought the 30 floors? Ken Horn of Alchemy Properties, real estate developer Joel Schreiber, and WeWork co-founder Adam Neumann.
The landmark renovation that followed was worked on by Despont and inspired by Gilbert. As part of the project, a new private lobby was built for residents, with the coffered ceiling from F.W. Woolworth's personal 40th-floor office relocated there.
Staffed 24/7 by a doorman and full-time concierge, think marble floors and maple-panelled walls. Plus, super high-speed elevators exclusively servicing the tower residents.
The façade of the building? Comprising 7,500 tons of terracotta with intricate detailing and sculptures such as gargoyles and animal carvings, the lower section is limestone. And in 1927, the pinnacle was painted green.
Cleaned in 1932, there was extensive renovation worked between 1977 and 1981. More recently, Alchemy worked on revamping the façade, at a cost of around $22 million.
Inside, the ornate, cruciform lobby is home to sculptures such as Cass Gilbert holding the Woolworth Building. Other decorations include patterned glass mosaics, intricately painted ceilings, and Gothic-style features. Described as cathedral-like, the space consists of a pair of two-story passageways with barrel-vaulted ceilings. Outside, the building is dotted with thousands of windows.
In 1966, the building was named a National Historic Landmark, and in 1983, a New York City Landmark. Over the years, many tenants have had offices in the building. Columbia Records, inventor Nikola Tesla, Scientific American magazine, the Marconi Wireless Telegraph Company, Joseph Altuzarra's fashion brand, and SHoP Architects to name just a handful.
Oh, and during World War II, the Kellex Corporation – part of the top-secret Manhattan Project – was based there.
Woolworth Tower Residences: Apartments for sale
JamesEdition has five properties listed in the Woolworth Tower Residences. At the lower end of the price scale is 33B, a two-bedroom, three-bathroom apartment for $5,450,000.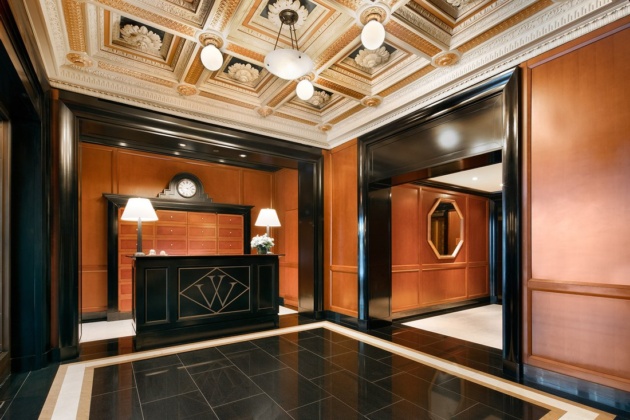 Lobby in the Woolworth Tower Residence. View Gallery >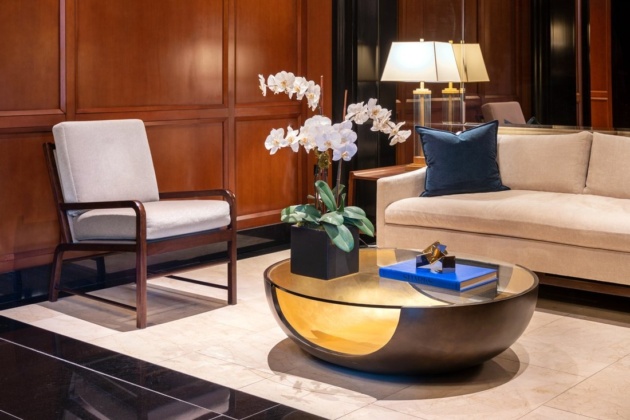 Lobby in the Woolworth Tower Residence.
This significant duplex at 6,711 square feet has an equally meaningful price tag of $25,906,000. Located on the 29th floor and with five bedrooms and six bathrooms plus a duo of powder rooms, think Tribeca loft meets historic penthouse. Oh, and did we mention the 22-foot ceilings and duplex terrace spanning 2,770 square feet?
Our other listings include 43A, a three-bedroom four-bathroom apartment with river views, at $12,628,500. Also, three-bedroom four-bathroom 38A, with a sun-flooded kitchen and a 36-foot corner Great Room (lounge) spread over 3,282 square feet. The price tag? $7,337,500.
And of course, there's The Pinnacle penthouse, at $79 million.