Meet Las Cárcavas, a beach-facing development on Uruguay's south coast comprised of 24 plots and 16 turnkey bungalows. Overlooking the ocean on the glorious Rocha coastline, the complex is just 15 minutes from José Ignacio and an hour from Punta del Este international airport.
Where did the name come from? 'Cárcavas' are small gullies formed by water erosion. More than 140,000 years old, they give the region a lunar-like landscape and are carefully protected.
Las Cárcavas: An ideally positioned gated community in José Ignacio focused on sustainability and privacy
The upscale community is set against a UNESCO Biosphere Reserve. Looking out to the Atlantic, Las Cárcavas is all about the natural environment and tranquility.
And yet José Ignacio – a former fishing village turned prestigious resort – is just 15 minutes away. Where New Yorkers have The Hamptons, Uruguayans have José Ignacio – chic and elegant yet relaxed. A mecca for the affluent and celebrities, acclaimed Chef Francis Mallmann put the beach town on the map in the 70s with his charming restaurant Posada del Mar.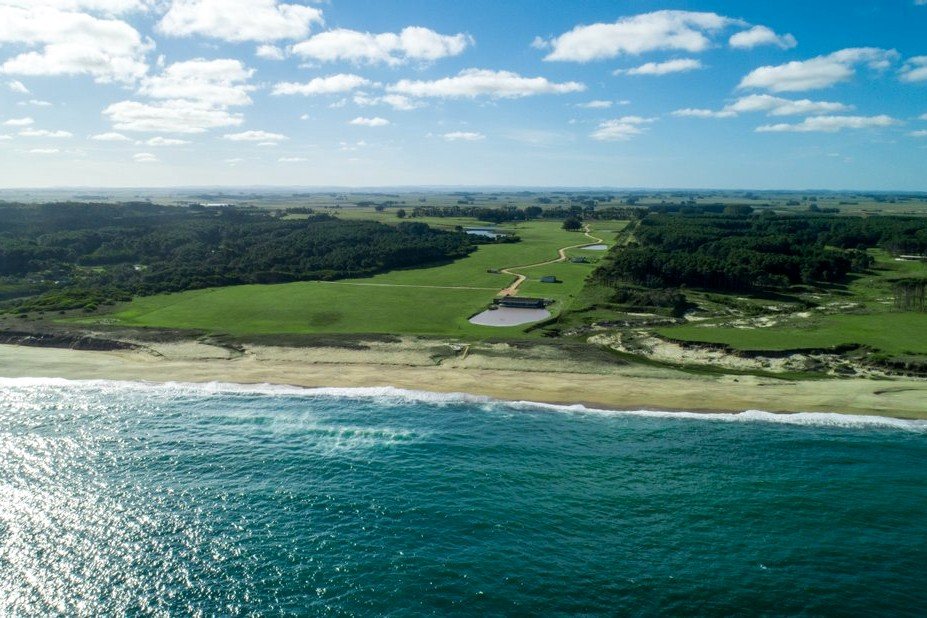 Aerial view of Las Cárcavas
The bohemian area quickly became known as a place for people who have seen the world and want to get away from it for a while. These days, Mallmann still has a vested interest in the region, with a lauded eatery at Bodega Garzón in nearby Maldonado.
Fishermen's huts and grand mansions sit side by side in José Ignacio, and the lighthouse offers fabulous South Atlantic vistas. Food-wise, there's no shortage of quality restaurants, with Parador La Huella sitting at number 16 in Latin America's 50 Best Restaurants.
During the low season, there's a laid-back and peaceful vibe to the town. And in the summer months from December to March, the area comes alive. Second home buyers can make the best of both, depending on when they visit.
On top of that, an array of beaches are within easy reach, from Brava and Playa del Faro to Mansa and Bahia Vik. There's kitesurfing to be had at nearby Laguna Garzon and nature aplenty at Laguna José Ignacio. If you're a sealife enthusiast, keep an eye out for Franca whales between July and November.
'Toprical modernism' in the gated community of Las Cárcavas, José Ignacio, Uruguay.
View listing
Las Cárcavas is also just a 45-minute drive eastwards along the coast from Punta del Este. Known as the Saint Tropez of South America, the seaside hotspot attracts uber-rich visitors, with multimillion-dollar yachts vying to dock in the marina. Slightly further afield is the capital – Montevideo – for some city action, while Santa Teresa National Park offers 1400 hectares of forest filled with more than two million exotic and native trees.
Real estate in José Ignacio, one of the most expensive towns in South America
José Igancio is often called The Hamptons of South America, with oceanfront properties achieving significantly higher prices than the country's average. According to JamesEdition data, the resort town has the median house price of $2.5 million per listing, with only 11 homes available, while the median price country-wide is $1.3 million.
Since the beginning of the pandemic, the real estate segment has transitioned from a buyer's to a seller's market, with people from Europe and the US leaving crowded cities and fleeing to Uruguay's top locations – most of them looking to purchase a home on a large plot of land.
In José Ignacio, it's rare to spot anything under $1 million, and even less likely to find a property with generous outdoor space. That makes the new gated development of Las Cárcavas a truly outstanding opportunity.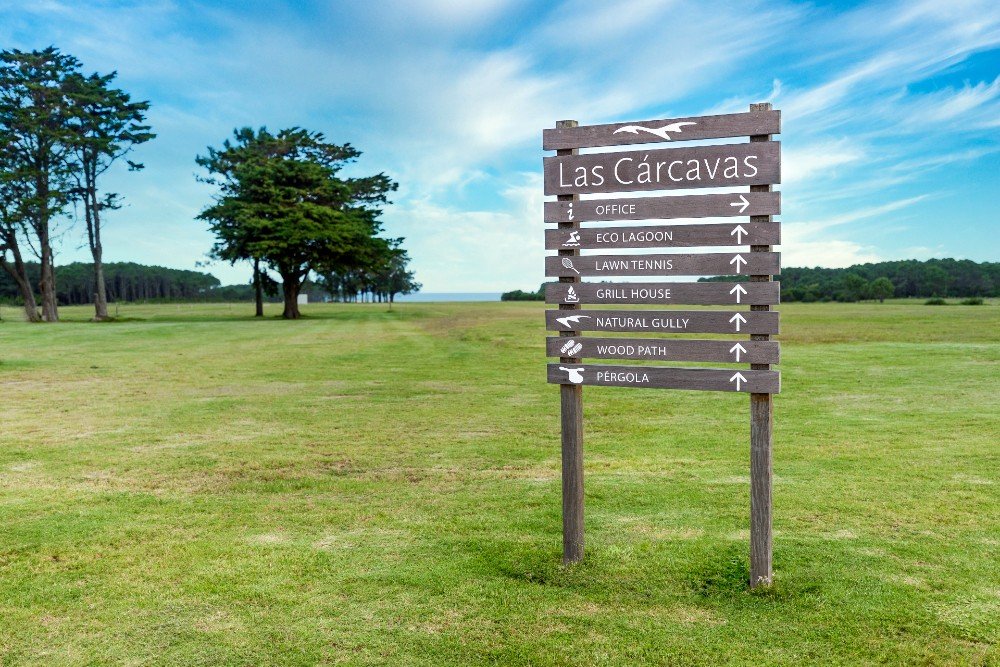 Green spaces, exclusivity, and high-end amenities
Las Cárcavas offers buyers a host of first-rate facilities, from a beach club and an oceanfront sundeck to a natural grass tennis court. There's also a swimming pool to relax in and a spacious, landscaped vegetable garden to wander around. And for the more adventurous, there's horseriding to enjoy. Dine at the onsite restaurant, or wander to the grill house in the woods for al fresco barbeques.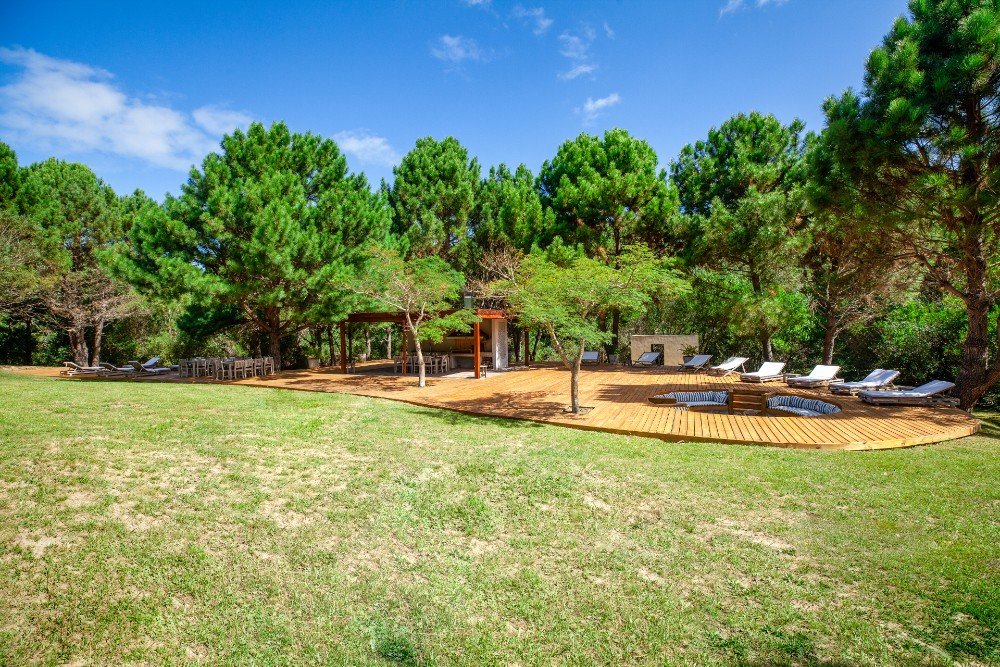 Las Cárcavas spans 50.2 hectares, with over half devoted to common spaces and an ecological reserve.
Throughout, landscaping was developed at the hands of the late John Brookes, plus Argentines Martina Barzi and Jose Casares. Preserving the natural environment and prioritizing low-maintenance local species were kept firmly in mind; the responsible use of water and encouraging native fauna were also high on their agenda.
In total, Las Cárcavas spans 50.2 hectares. With over half devoted to common spaces and an ecological reserve, nature and outdoor lovers will be in their element.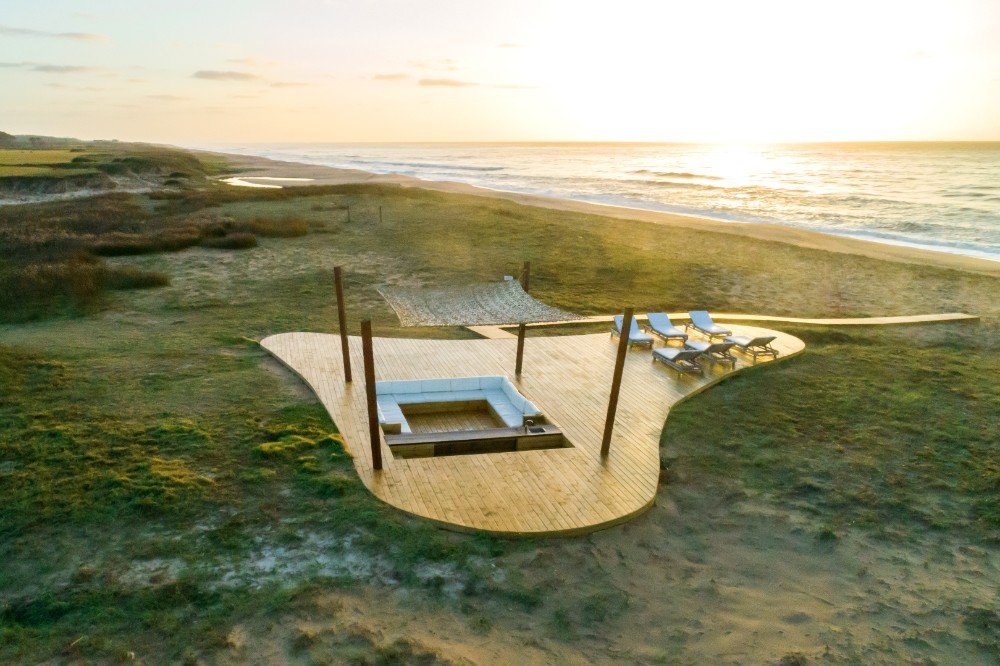 In Las Cárcavas, a buyer can purchase not only bungalows but also land plots (known locally as 'chacras'), including oceanfront spaces – a rarity in Uruguay.
The 24 ranch plots range in size, with lots of 7,676 square meters priced at $537,320 and 10,060 square meters on the market for $3,200,000. The latter will purchase you an oceanfront space – a rarity in Uruguay. Known locally as 'chacras', the land is ready for development, representing a fantastic opportunity if you're looking for a project.
Cuisine by Michelin-starred chefs 
The clubhouse restaurant has two big-name chefs at the helm: Martin Lavecchia and Lucia Calasso. After a decade working in Michelin-starred kitchens in Barcelona, Lavecchia returned to Uruguay to develop culinary knowledge of his homeland. And so, FOC was born, setting a tasting menu trend.
Lavecchia restaurant in Las Cárcavas
After 8 years, Lavecchia closed FOC's doors to start a new venture at Las Cárcavas with his partner and right-hand person – pastry chef Lucia Calasso. With the slogan "enjoy eating", the restaurant – Lavecchia – will focus on contemporary haute cuisine using locally and ethically sourced produce.
Residing in a superior ocean-facing location, the eatery is immersed in the nature and ecology of Rocha. With minimalist architecture and design, the inviting space will offer a tasting menu and tapas dishes, and be open days a week. Where better to enjoy world-class food while watching the sun go down?
Tropical modernism: Striking homes for sale in Las Cárcavas
Meanwhile, the fully-equipped bungalows offer inside space of around 200 square meters. Construction follows pre-established architectural guidelines (not always a given in this part of the world), ensuring harmony with the natural surroundings.
Innovative and esteemed Brazilian architect Isay Weinfeld designed them – his second project on the Uruguayan coast after the world-famous Fasano Hotel in Punta del Este. With experience spanning luxury shops, restaurants, hotels, and upscale residences in São Paulo and New York, his résumé is impressive.
Bungalows in Las Cárcavas are designed by innovative Brazilian architect Isay Weinfeld.
View more
Weinfeld's work fuses what he calls 'tropical modernism' with a tendency towards minimalism. His aim with Las Cárcavas was to combine 'nature with lifestyle comforts', keeping environmental responsibility in mind. The capacious bungalows scream privacy and appreciation of nature, boasting woodland views, a large open-plan living room and kitchen, and spacious ensuite bedrooms.
This two-bedroom two-bathroom deluxe bungalow was built using top-quality materials, with respect for the land and the geography of the region. Sitting in a plot of 1500 square meters, the family-friendly residence is surrounded by countryside, beaches, and nature. Listed at $910,500, it's ready to move straight into.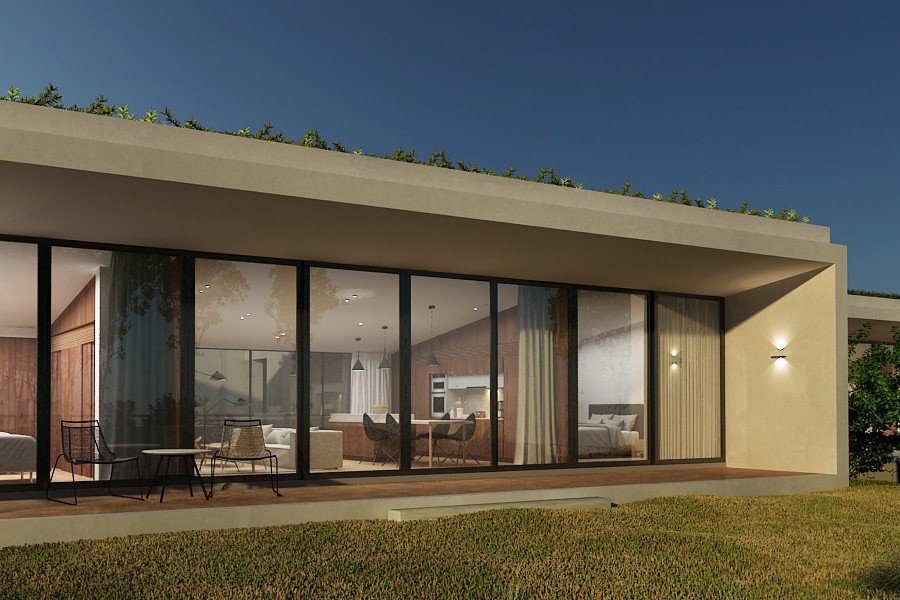 Modern bugalows for sale in Las Cárcavas.
View more
Interior-wise, there's "Lapacho" wood paneling on the walls, eye-catching square floor tiles throughout, and statement lighting. Open the sliding doors and head out into the grounds, or make your way to the inner courtyard complete with a grill. Other talking points include a caretaker or 'casero', who's been looking after the entire site since it was an estancia.
The remaining bungalows in Las Caravacas will range in price from $910,000 to $1,010,000, and land plots will range from $ 537,320 to $3,200,000.
Thinking about buying a home in Uruguay? Look closer at Las Cárcavas or contact TEAM HAVERKATE by email at bettina@realestate-in-uruguay.com.