Not only does Villa Ibiscus offer privacy, tranquility, upscale living, and four bedrooms all with their own terrace, but it's also in an unparalleled location, boasting scenic Old Town and sea views. Enviably positioned in exclusive Saint Jakob (Sveti Jakov), the chic residence spans over 700 square meters and sits on a plot of 1,209 square meters. And the listing price? The exceptional getaway is on the market for an undisclosed sum.
Dubrovnik is growing as a high-end destination for second homeowners, and Sveti Jakov houses some of the city's most exclusive properties. Most open lots are sold, and house values are expected to grow rapidly.
Striking architecture and design
Nestled on a hillside surrounded by cypress and pine trees, this impressive and sizable four-bedroom and bathroom house is named after a flower that symbolizes strength and respect and is a sign of hospitality – how apt.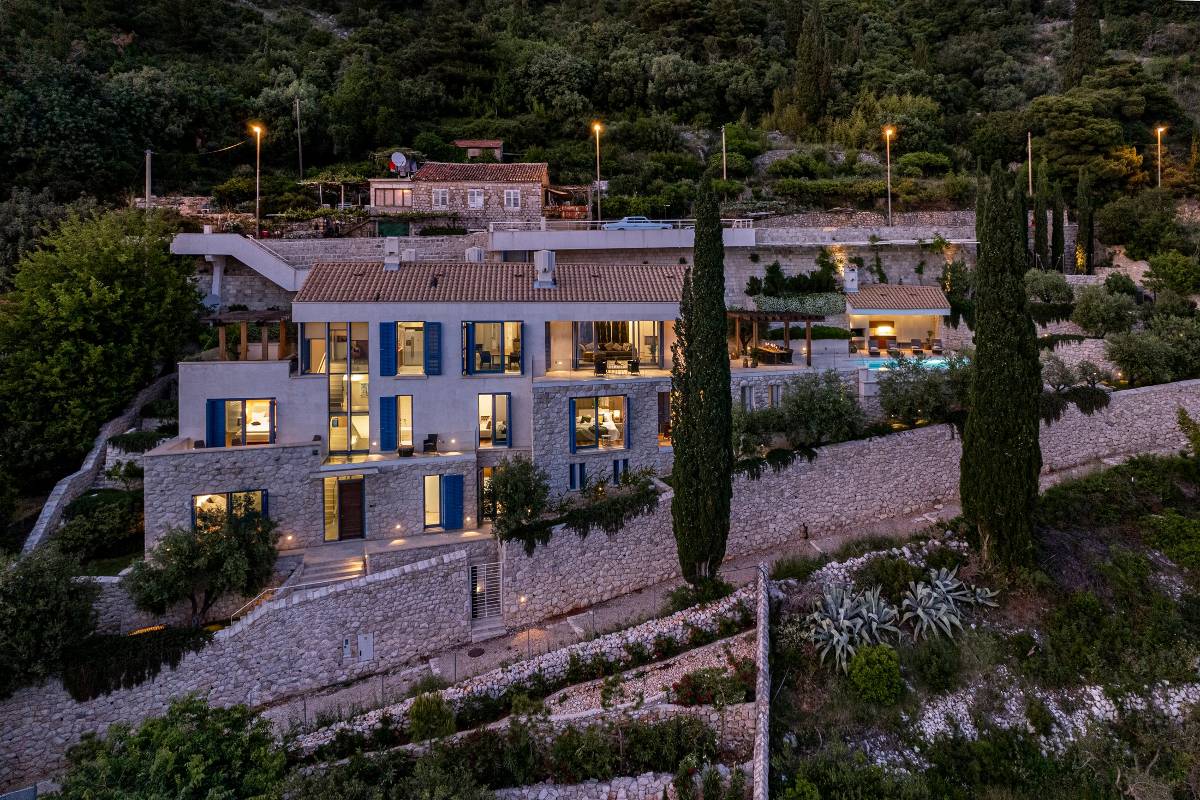 Standing proudly, the three-story building is eye-catching from the exterior with its royal blue shutters; inside, it oozes style. The ground level is dominated by glass walls leading out to a terrace complete with a sea view infinity pool and sundeck overlooking the Adriatic. Come evening, it's the ideal spot to watch the breathtaking sunsets the area is known for.
Constructed using the finest handpicked materials and equipped with sophisticated high-tech equipment such as glass elevators both inside and out, Villa Ibiscus is a harmonious combination of traditional Mediterranean and contemporary.
Upscale décor and amenities
Villa Ibiscus' high-end features include a wine cellar, a Finnish sauna, an outdoor kitchen (plus a dining table seating eight under a pergola), and no less than four terraces. Style-wise, expect painted beams, crisp white walls, and wood paneling.
The top (main) level, houses the dining and living space complete with a fireplace and artwork by acclaimed Croatian contemporary artist Dubravka Lošić, plus a fully-equipped kitchen. All in all, that floor covers over 108 square meters. Furthermore, sliding patio doors on the south and west sides connect to capacious balconies.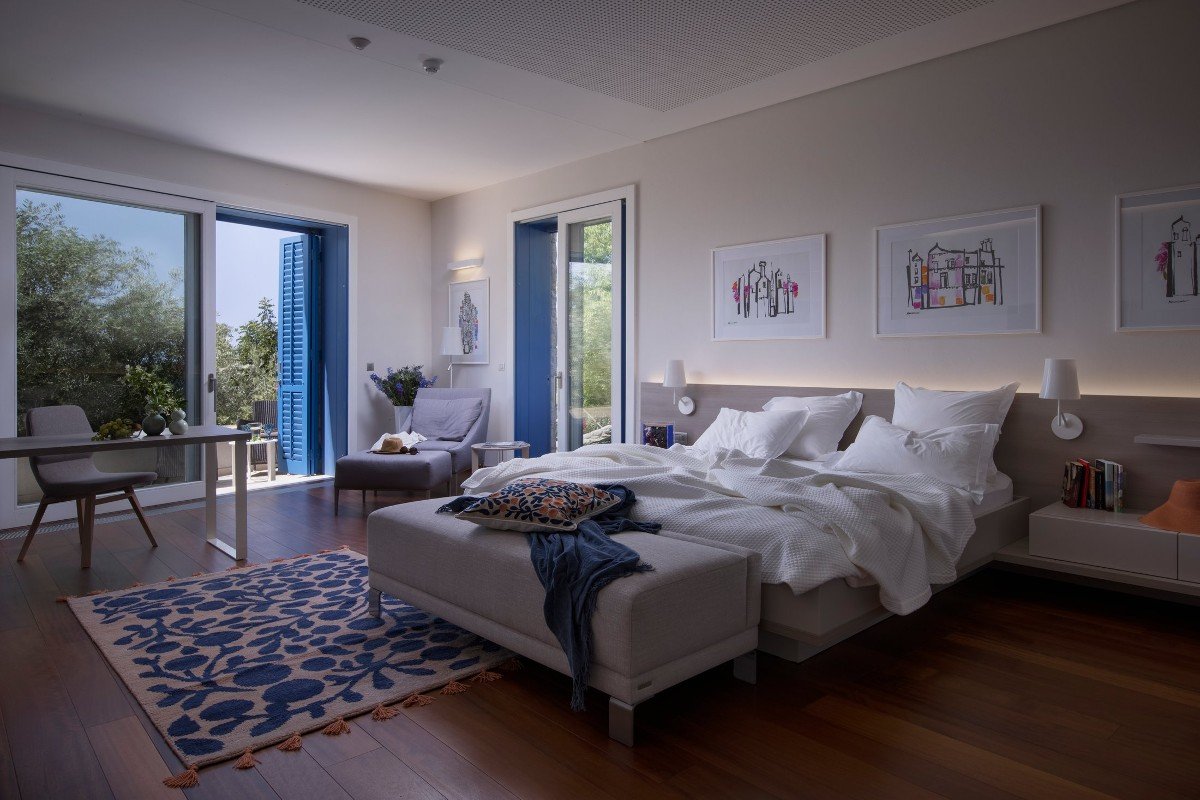 The middle story is home to a pair of superior bedrooms – each has a separate bathroom and a private terrace. There's also the 50-square-meter master with lounge and work areas and an ensuite tub with fabulous panoramas. Downstairs comprises the fourth spacious guest room, a massage room, a kitchenette, and a utility room. And outside in the grounds, there's private parking and a security fence.
Whether you're indoors or outside, exceptional vistas to take in include the magical island of Lokrum and its Benedictine monastery and the Gothic-Renaissance church of St. James. And closer to home in the cascading gardens there's an array of lush greenery to admire such as olive trees, herbs, and fragrant local plants, as well as hidden meditation corners to discover.
Sought-after location
Dubbed the pearl of the Adriatic, Dubrovnik is known for its beauty and charm, and the well-preserved medieval Old Town has been UNESCO-designated since 1979. More recently, the picturesque small city is the backdrop for blockbusters like Game of Thrones, Succession, and Star Wars: Episode VIII – The Last Jedi.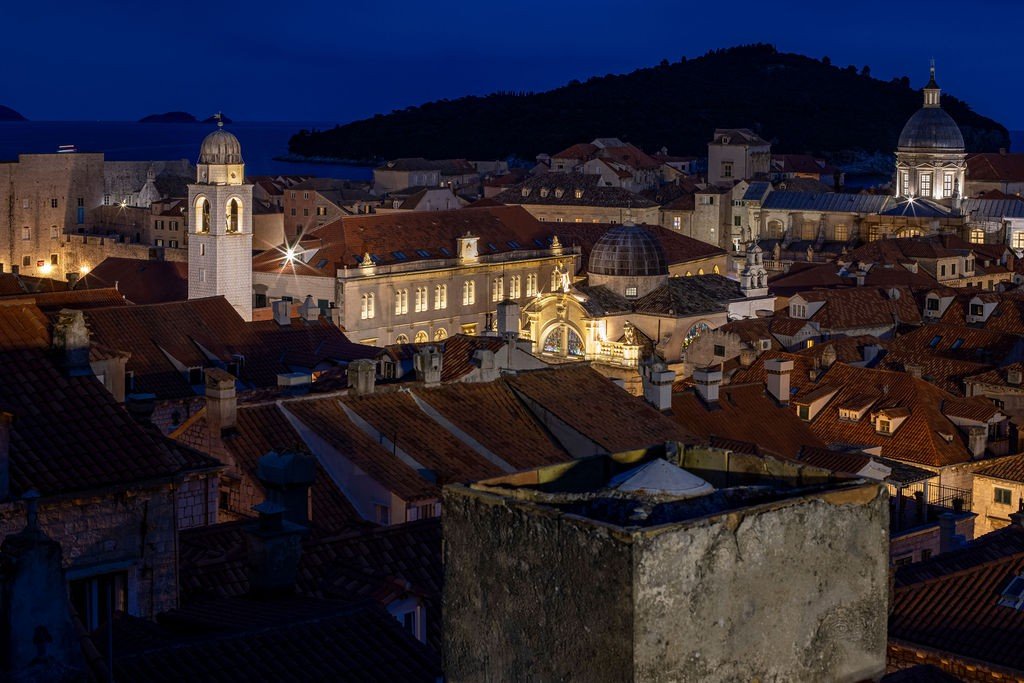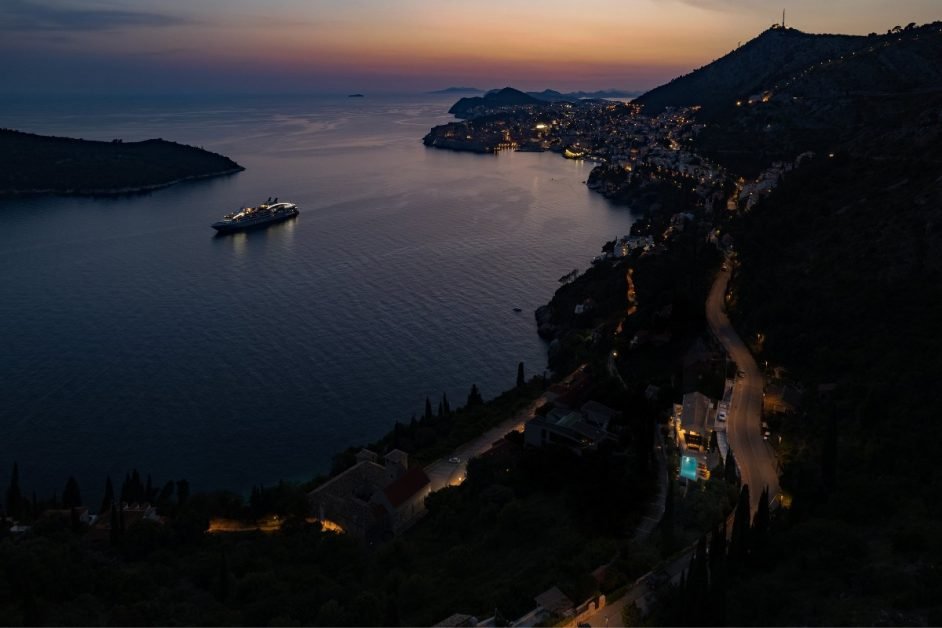 Villa Ibiscus boasts scenic views over the sea and the Old Town of Dubrovnic.
Villa Ibiscus is ideally positioned in Sveti Jakov on the edge of a natural amphitheater, a 20-minute stroll from the hustle and bustle of the Old Town. Head in and walk the city walls, taking in five fortresses alongside 16 towers and bastions, or ride the cable car to Mount Srđ.
Also check out Stradun, the limestone-paved pedestrianized street, and the surrounding cobbled passageways. Dotted with shops and eateries, be sure to book a table at Restaurant 360 for modern and creative cuisine, if Michelin-star dining is the order of the day.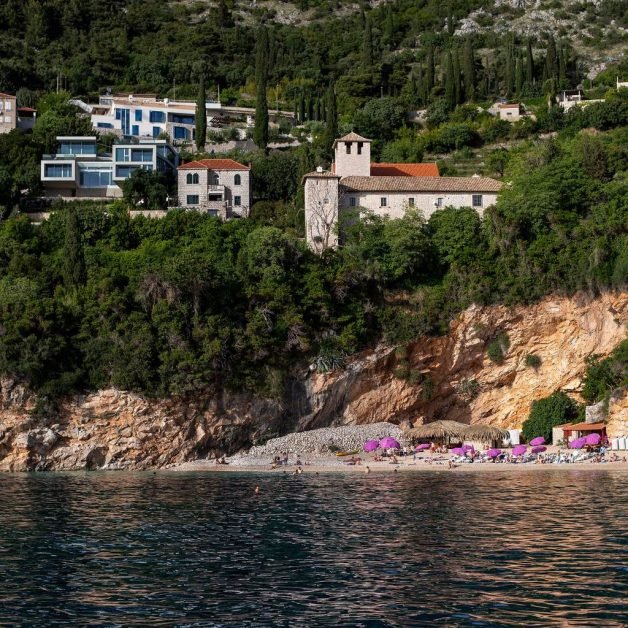 St. Jacob Beach is just a short 150-meter walk downhill form Villa Ibiscus.
Back at the house, St. Jacob Beach – among the most beautiful in Europe – is just a short 150-meter walk downhill. Meanwhile, the international airport is a mere half an hour away by car.
For more information about this unique opportunity, contact Katarina Hrdalo by email or call +385 98 428 362 / +385 20 428 362.