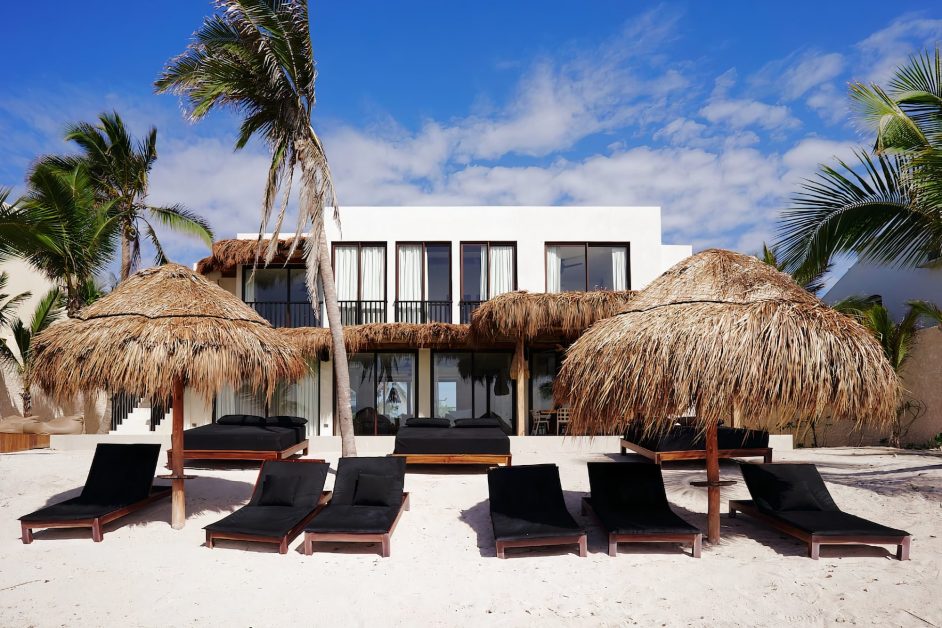 Villa Zama
, Tankah Bay, Riviera Maya, $478,500 – for 1/8 co-ownership stake
The sharing economy has disrupted various industries, including car rides, private jet travel, home rentals, and now, vacation home ownership.
In a bid to shake up the luxury vacation property market, Kocomo is a startup that makes buying upscale real estate abroad much easier and affordable through shared ownership.
The forward-thinking company, which recently raised $56 million in equity and debt financing, lists envy-inducing properties for sale and vets co-owners, so a group of sun-seekers is formed.
While it is currently focused on high-end vacation real estate in Mexico, it's set to expand to the Caribbean, Central American and European markets soon.
How it works: All the benefits of owning a home with none of the headaches
Kocomo has invested heavily in technology to offer a 'fuss-free', fully-tailored service from start to finish, with everything from professional property management to legal services looked after.
All of the properties are attractively presented online and they have eight owner stakes available per listing (and up to four stakes available for a single owner). This means if you invest in a $1million home, you will put $125k into the pot.
Kocomo also makes the buying process simpler and faster as it goes seamlessly through the LLC structure.
Along with becoming a co-owner, you will gain six weeks of usage per year which can be booked at the click of a button. If you don't want to use your allowance, you can also choose to rent the property with the income going straight into your pocket.
In terms of maintenance and the upkeep of the property, Kocomo is responsible for this so you do not have to deal with the usual stresses of property ownership.
Finally, the resale option is also available on the Kocomo marketplace (or any other real estate channel).
Co-ownership: Making the dream possible at a fraction of the price
With Kocomo, a home is co-owned by no more than eight beneficiaries while Kocomo acts as a neutral third-party administrator to ensure transparency and fairness among co-owners.
Today, Kokomo's curated home collection consists of more than 20 luxury villas in highly sought-after destinations, designed with resort-style luxury in mind, and having the enduring potential to appreciate in value over time. The startup plans to scale up its real estate portfolio to meet the growing sharing economy trend.
The homes from Kocomo collection are worth $1.6 – $6 million but available for 1/8 of its total value. All the properties boast coveted coastal locations, impressive architecture and spacious interiors. A beautiful outdoor space with a pool, a terrace with a sea view or a private garden is a must-have feature.
Here's an example of five stunning homes you can buy with Kocomo today via JamesEdition.
1. Villa Zama
Location: Tankah Bay, Riviera Maya
$478,500 – for 1/8 co-ownership stake
Central to the beachfront of Tankah Bay in the Riviera Maya, this slick contemporary-styled Kocomo home is the perfect place to let your cares wash away. The whitewashed property, which is set over two floors, has five bedrooms serving up superb ocean views and plenty of space for entertaining. Other perks include a private dipping pool and a paddle court to keep you on your toes. The calm waters around Tankah Bay are truly sublime and the fish-filled reef makes it ideal for snorkeling, kayaking or swimming. If you're looking for more hustle and bustle, Tulum is just 20 minutes away.
2. Villa Corasol
Location: Playa del Carmen, Riviera Maya
$251,688 – for 1/8 co-ownership stake
Feel at one with nature, at this unique design-style Kocomo home which brings the outdoors in thanks to sliding doors and floor-to-ceiling windows. Spread over three floors, Villa Corasol has somewhat of a contemporary industrial feel which is softened by its lush jungle surroundings. The lust-worthy lair has four bedrooms and vast communal spaces, with an attractive sandstone and cream color scheme running throughout. The crowning jewel is a sweeping rooftop, which serves up views of the treetops and the neighboring golf course. This property is part of an exclusive enclave called Palm Villas, which has established itself as Riviera Maya's premier lock-and-leave ownership community.
3. Casa Serenidad
Location: Puerto Escondido, Oaxaca
$470,481 for a 1/8 co-ownership stake
Lap up prime ocean views at this impressive beachside Kocomo villa. The sprawling property, which features an attractive blend of contemporary and Mexican influences, has a bright and breezy atmosphere thanks to an open plan design and patio doors leading from most spaces. This property makes for a fantastic place to entertain friends or family, with six spacious bedrooms, large relaxation areas, and a generously sized ocean-facing pool. In terms of location, this home is in the heart of Puerto Escondido, which is known for its rolling surf waves, dolphin watching, and breathtaking mountainous landscape.
4. Casa Arroyo
Location: Todos Santos, Baja California
$188,968 for a 1/8 co-ownership stake
Revel in a sense of privacy at this ultra-slick desert lair, which is set on a prime plot close to the artsy town of Todos Santos. On one side of the three-bed property, you can see the rolling mountains, and on the other side, the rolling ocean beyond. Floor-to-ceiling windows wrap around the property, offering unbeatable views – even from the shower. An industrial chic feel runs throughout, and polished concrete surfaces are complemented by natural wood detailing. Outside there are multiple terrace spaces and a swimming pool, which makes for a top spot to watch the dreamy sunsets.
5. Villa Aquamarina
Location: Cabos, Baja California
$582,306 for 1/8 co-ownership stake
Land yourself a slice of prime real estate in Mexico with this Kocomo purchase. Villa Aquamarina is set within the exclusive One&Only Palmilla Community in San Jose del Cabo. The dramatic eight-bed property blends into the undulating jungle landscape, with a dark wood infrastructure and thatched roofing. The simple and sophisticated interiors let the magnificent views do the talking and all of the rooms open out onto outdoor spaces. Other perks of this property include a gated entrance, three spacious garages, a swimming pool, and direct beach access.
Looking for your perfect second home by the sea at an affordable cost? Explore the curated selection of vacation villas in Mexico or contact Kocomo at chad@kocomo.com / +1 617 233 6385 for more information.