Affluent international investors and second-home seekers are flocking to Piedmont.
Diletta Giorgolo Spinola, Head of Residential Sales at Italy Sotheby's International Realty, in her comment to the Wall Street Journal, estimates the number of Americans inquiring about properties in the region jumped around 50% over the past two years.
JamesEdition's data revealed that saved listings in Piedmont grew 20% in January 2023, compared to January 2022. Total demand for Piedmont properties skyrocketed by 114% in 2022 compared to 2021, with US residents representing the second largest group searching for real estate in the area, behind Italian natives and up from fifth the year before. The share of American users grew by over 10 percentage points, from 4.5% to 14%.
Other countries with a keen interest in Piedmont include the UK, Netherlands, and Belgium, and the most popular residences are vineyard villas, historic castles, and characterful farms.
Piedmont: Known for fine wines and a laidback atmosphere
Reasons behind the increasing demand range from high-net-worth individuals taking advantage of the dollar's strength to people desiring a sense of adventure. Often, they're looking for estates in traditional villages like Barolo, where grape varieties like nebbiolo, barbera and moscato grow.
The UNESCO-designated "Vineyard Landscape" spans Langh, Roero, and Monferrato and covers five wine-growing districts. Piedmont also birthed the slow food movement and is a hotspot for white truffles – the prized tubers grow wild in the forests around Alba.
On JamesEdition, properties for sale in Piedmont have an average price of $1,283,830, ranging from $492,134 to $16,047,878; the average price per square meter is $2,852. In-demand areas include Turin, Mongreno, Stresa, and Colombaro Ferraris.
Most popular listings in scenic Piedmont
Which Piedmont properties have attracted buyer interest in the past 12 months? These homes with the highest number of pageviews boast beneficial locations from Lake Maggiore to Alba, and premium amenities including vineyards, water-facing pools, and historical value.
Striking four-story villa in a panoramic position above Verbania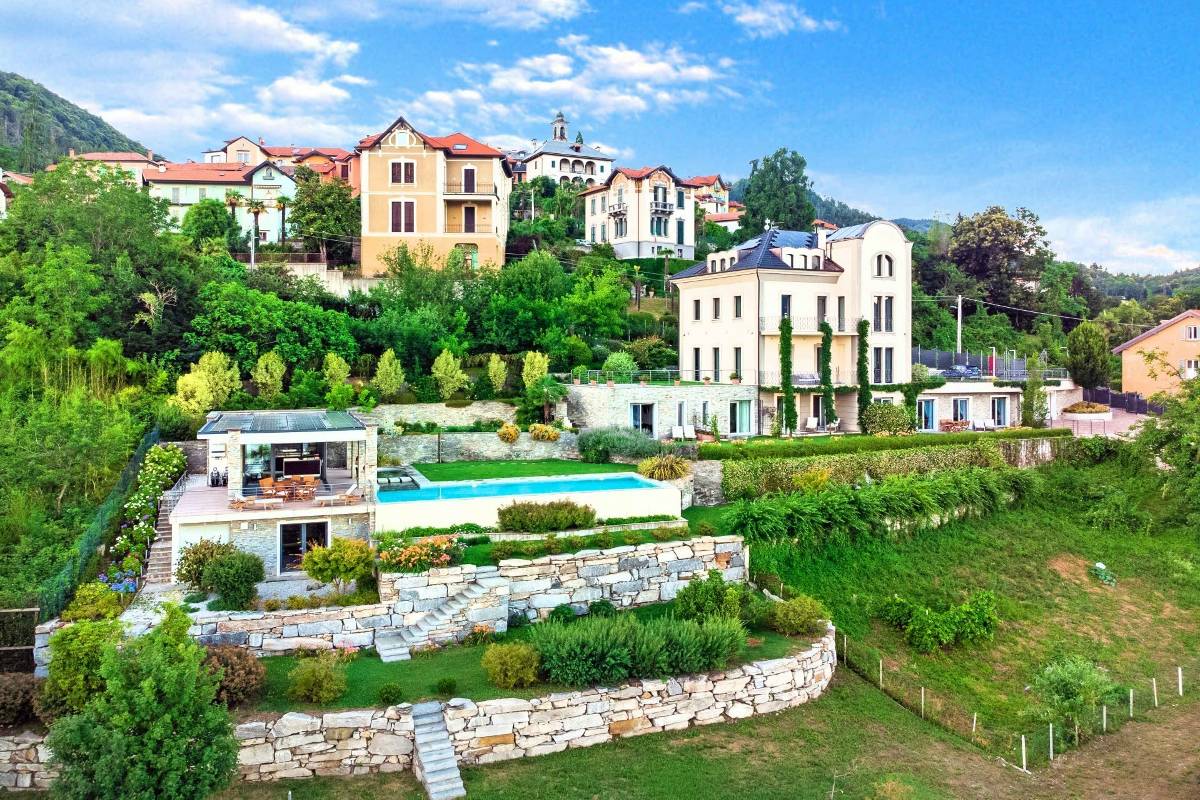 This charming nine-bedroom abode is ideally located in a diminutive residential neighborhood in hillside Bee, and wows with 180-degree views of Lake Maggiore. Surrounded by a lavender-laden park spanning 5,000 square meters, the house was completely renovated in 2015, yet the exterior retains authentic charm. The interior, on the other hand, is contemporary all the way, featuring state-of-the-art technologies and high-end materials.
Currently, three levels are dedicated to the owner's home, while the basement boasts an independent apartment for friends and family, or could be used as a B&B. Outstanding highlights include sunny terraces looking out to the water, frameless external doors and windows letting in maximum light, and a helical staircase, plus an infinity pool and a Jacuzzi in the substantial grounds. There's also a pool house with a summer kitchen, dining area, and gym.
Ten-bedroom castle in the heart of a UNESCO World Heritage Site
Price: €1,250,000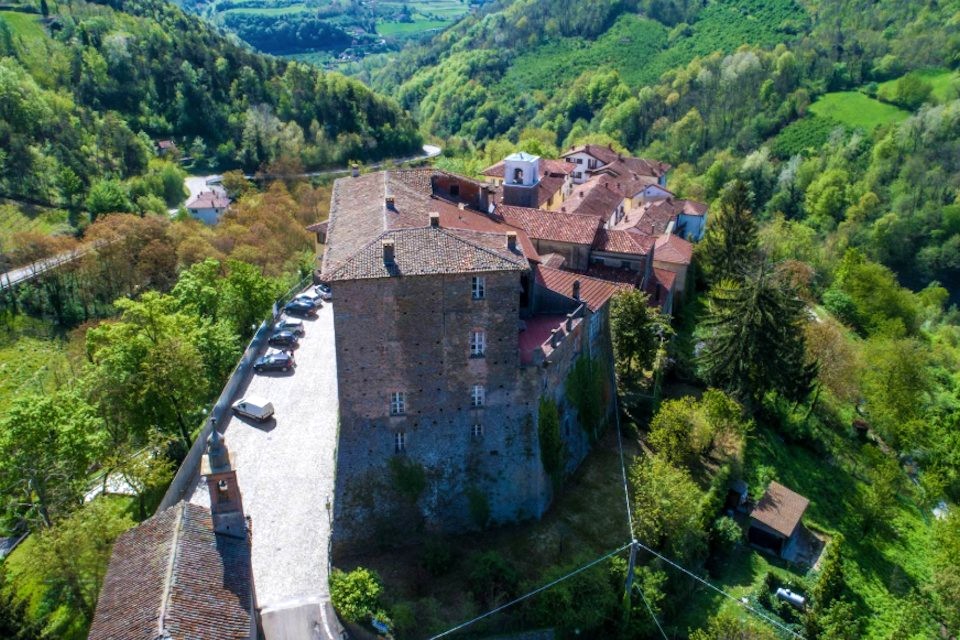 Enviably situated between Alba and the Alta Langa hills is this 16,146-square-foot mansion on a two-acre lot, in an area known for outstanding natural beauty and world-class vineyards. Suitable as a private residence or for conversion into a luxury hotel or holiday accommodation, the estate sits in the hamlet of Borgomale and comes complete with an array of features such as an elevated covered walkway, an internal courtyard and garden, and wine cellars. The next owner will also enjoy high vaulted ceilings, fireplaces, and a magnificent stone central staircase leading to a panoramic rooftop terrace with glorious countryside vistas.
The structure recently underwent considerable structural renovation and roof repairs, and makes for an exciting investment project.
Hilltop "Royal Castle" with guest quarters in the former stables
Price: €2,800,000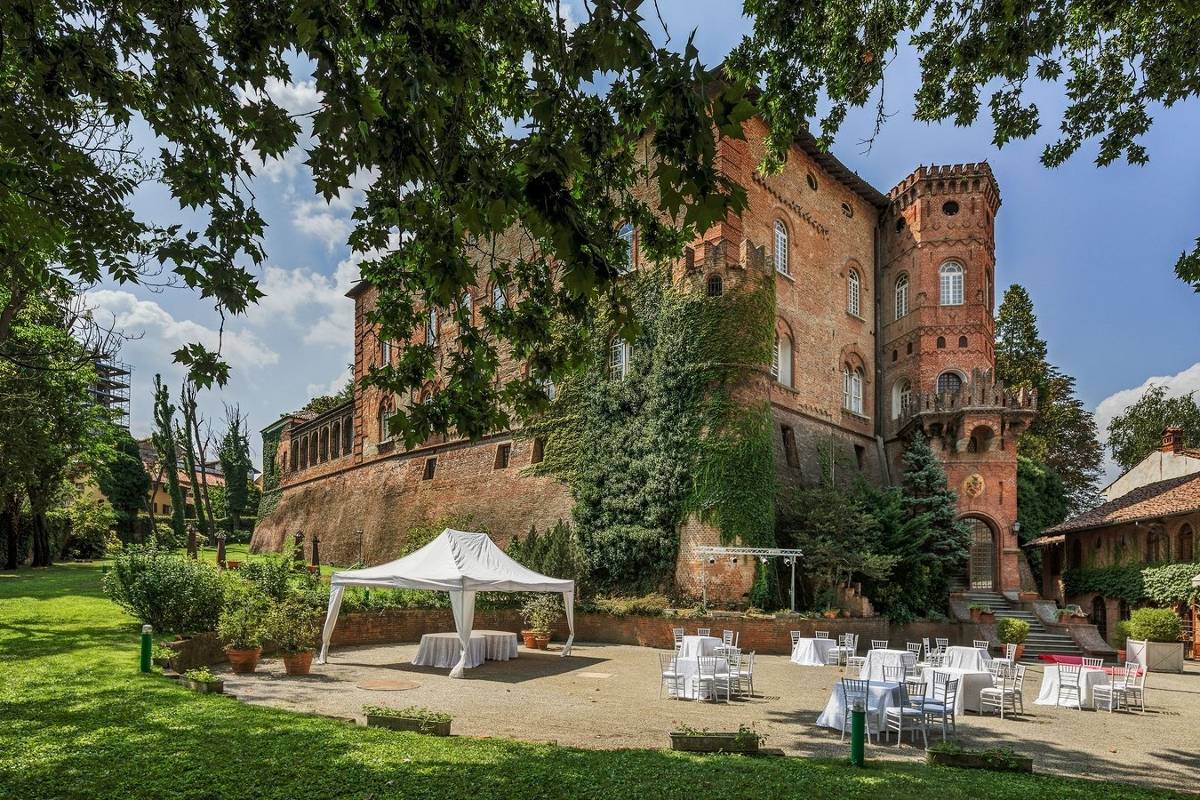 In the province of Alessandria lies this eye-catching four-floor nine-bedroom castle with 18,299 square feet of interior space and a two-acre plot. Purchased by Her Majesty Queen Cristina di Borbone in centuries gone by, today, the structure retains its original defensive walls and is surrounded by a verdant park with water features, shaded areas, and ancient trees. In 1908, the Royal Castle was declared a valuable national monument.
Inside the totally renovated property, there's historical charm aplenty across the reception hall with its coffered ceiling, frescoes from the early 1800s, and a loggia leading to the deconsecrated chapel. Location-wise, Asti is 25 kilometers away, Alba is 51, and Milan is 100.
If you're looking for a property in the region, visit our luxury homes for sale in Piedmont page.