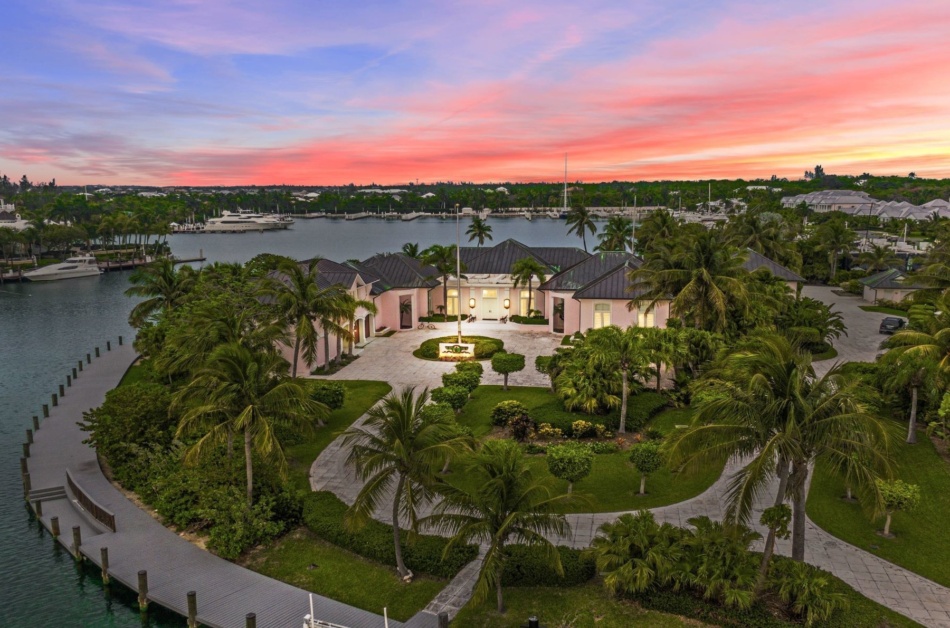 Canalfront Estate in the luxury gated community of Lyford Cay, $29,500,000
View the listing
If the warm temperatures, crystal-clear water, and proximity to the US are not good enough reasons to consider a move to the Bahamas, a community of like-minded people should be. Luxury gated communities in the Bahamas may offer not only a round of golf or cocktails at sunset but also a shorthand for a club of folks sharing the same interests. But how much for a ticket to this exclusive club?
Today, the most expensive home situated within the gated community of Lyford Cay, Nassau, comes with a price tag of $45,000,000 while the most affordable apartments in Nassau cost about $490,000.
In this article, we help you navigate residential areas, property listings, prices, and real estate market trends in The Bahamas.
Who buys property in luxury gated communities in the Bahamas?
While the Bahamas consistently attracts visitors and home buyers from all over the world, the largest number of people looking for vacation homes tend to be from the United States, Eastern Canada, Western Europe, and the UK.
With an increase in new direct flight routes from Canada, the U.S., and Europe, The Bahamas is extremely easy to get to, making it a top destination for the second and third home market.
Property experts predict that real estate in luxury gated communities in the islands will continue to be in demand, thanks to limited inventory, an amazing lifestyle, currency tied to USD, and ease of access with international flights.
Today, buyers can choose not only from traditional colonial estates or Caribbean-style villas but also from contemporary properties with access to five-star resort amenities.
According to real estate experts, the average house price in the upmarket segment of The Bahamas is around US$ 2.5M. At the same time, the highest and the lowest prices can reach US$ 25M (for a 12 bedroom villa with 246 feet of beach) and $US 1M (for a 2 bedroom condo in a new resort-style development).
Lyford Cay: the most expensive gated community with a world-famous golf course since the 1950s
Considered one of the world's wealthiest and most exclusive residential areas, Lyford Cay is an ultra-private, gated community featuring an exclusive club with its own security service and catering to a diverse cross-section of prominent social and business leaders from around the world.
Likened to "playing golf in a magnificent tropical garden," the ultra-exclusive Lyford Cay Club was built in the late 1950s, refurbished in 2006, and remains one of the most elite golf courses in the Bahamas.
Encompassing an 18-hole golf course, championship tennis facility, marina, and world-class restaurants, the club also has guestrooms and meeting facilities.
The community is home to Lyford Cay International School, one of only two schools in The Bahamas to implement the International Baccalaureate curriculum schoolwide.
Old Fort Bay: one of the top waterfront communities with picturesque canal views
Tucked away along the northern shore of New Providence just east of Lyford Cay and approximately 10 minutes from Lynden Pindling International Airport, Old Fort Bay is one of Nassau's premier private waterfront communities. Landscaped with picturesque canals surrounded by native mature trees, this luxury residential enclave reflects elegant Bahamian living at its best.
Residents of Old Fort Bay are eligible for membership at The Club at Old Fort Bay, which includes a restaurant, gym, and swimming pool, as well as access to Old Fort Beach–arguably one of the best beaches in New Providence.
Nearby schools include the aforementioned prestigious Lyford Cay International School, the only school on New Providence to implement the International Baccalaureate curriculum schoolwide; and, Windsor Preparatory School which offers a curriculum based on the Cambridge system.
The community is a short drive from some of Nassau's finest dining such as Island House, Sapodilla, and Cocoplum Bistro.
Exclusive luxury insights
for newsletter subscribers only
Delivered every week to your inbox