Nestling along the Montenegrin coast, upscale Portonovi is an idyllic, Mediterranean-style resort, eons away from the stresses of city life. Overlooking the Adriatic Sea, the peaceful oasis is surrounded by verdant hills and unspoiled nature.
Our partner, Portonovi, lists an eclectic mix of properties in this charming resort town, from The Village Residences to The Marina Apartments, luxurious Sky Villas, and One&Only Private Homes. Each has its own identity, yet all share the essence of Portonovi, with ample space to relax, socialize and entertain – and easy access to the site's many cafés, shops, gyms, and bars.
Presently, there are two remarkable sea-view penthouses available for sale: this chic duplex in The Village and this capacious, contemporary space with a wow factor terrace in The Marina.
Appealing to high-net-worth individuals and investors seeking primary and second homes and people wishing to reconnect with their motherland, Portonovi offers low-rise living by the sea and a buzzing community, where residents can enjoy a tranquil, laid-back environment and glorious scenery.

Top-Class Portonovi Penthouses
These exceptionally appointed properties, each crafted by world-renowned architects, have been meticulously designed to harmonize effortlessly with their natural surroundings. Anticipate open-plan layouts, the use of natural materials, and a Mediterranean aesthetic, all converging to form the most coveted residences along the Adriatic coast.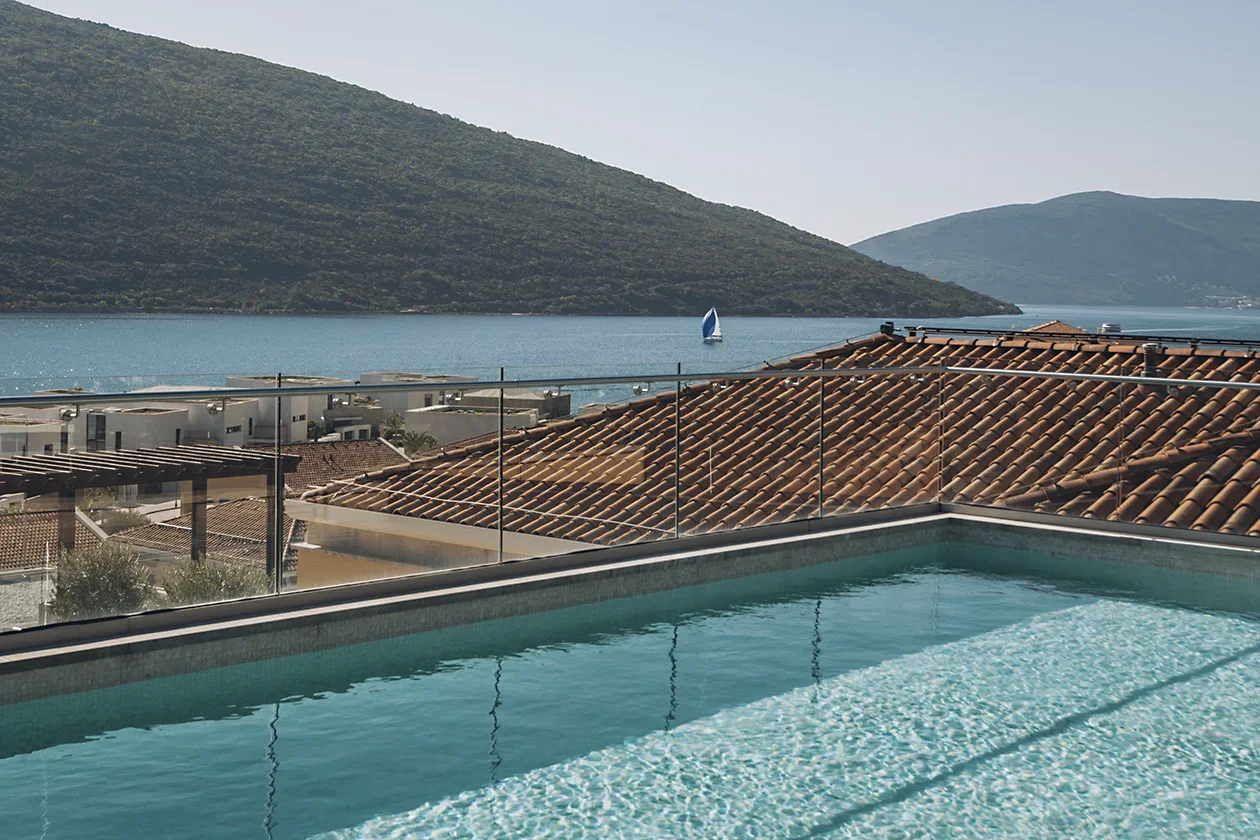 This modern sea-facing unit is priced at €3.113 million and has 338 square meters of space. With three bedrooms, top-of-the-line furnishings, and an 83-square-meter terrace with a pool, there's plenty of place for a family.The property boasts a first-class waterfront location with direct access to the world-class marina, and panoramic sea and mountain views. Located within The Marina Residences, it rewards an owner with a unique experience of Mediterranean living. With shopping, dining, entertainment, recreational, and leisure options just minutes away, this residence is perfect for those who love to be in the epicenter of social life.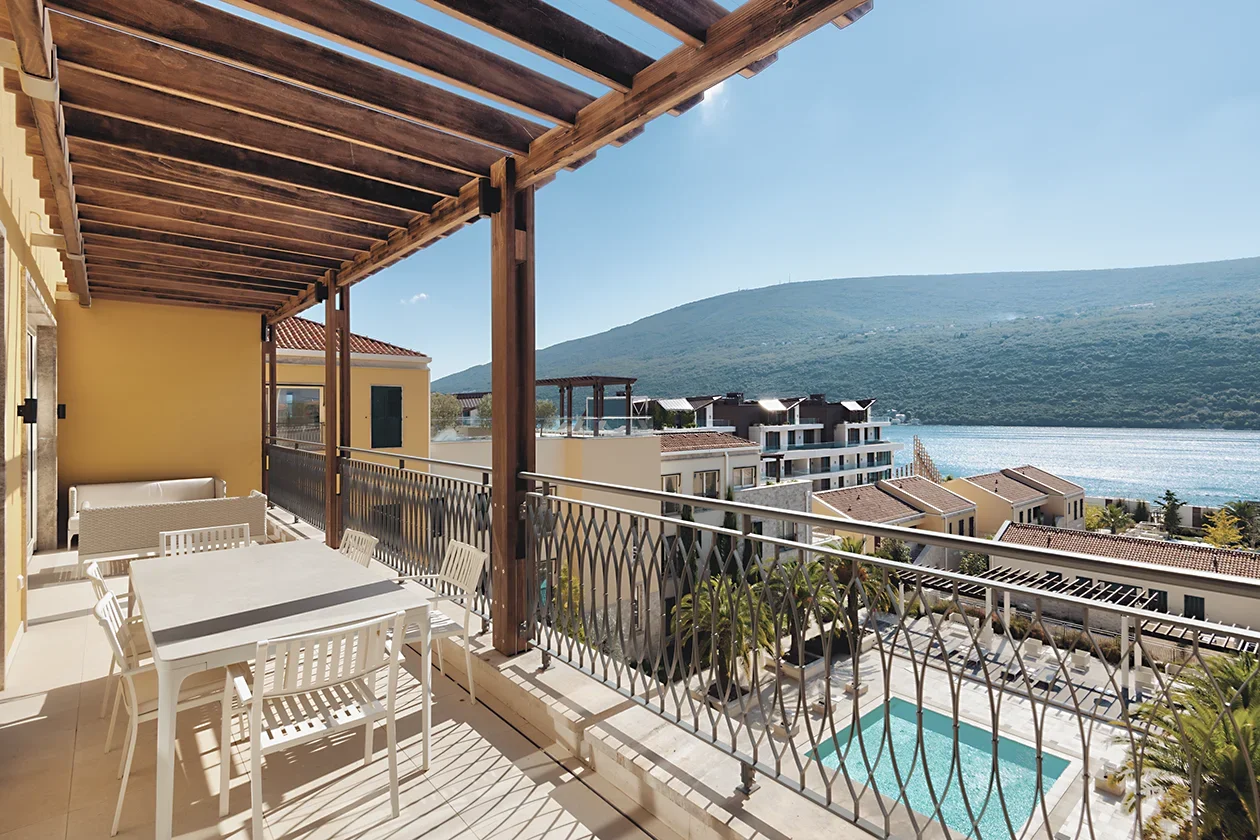 Meanwhile, this stylish two-bedroom and bathroom penthouse in the Village Residences. This low-rise district is located in the southern part of the resort, blended with the natural surroundings to ensure privacy and calm. A typical day in the area includes strolling through peaceful surroundings, enjoying the sun in a meticulously landscaped park, or eating too-good-to-be-true ice cream in the original Italian parlor.
The 338 sqm property is on the market for €2.41 million. It boasts an outdoor area covering a whopping 184 square meters and boasting a pool, the ideal spot for entertaining and gatherings. Spread across two floors, it comes unfurnished, allowing the next buyer to put their stamp on the place.
Unveiling an Exclusive Resort Town
Portonovi spans 26 hectares, boasts 1.8 kilometers of coastline, and is enviably located in the municipality of Herceg Novi at the entrance of fjord-like Boka Bay – also known as the Bay of Kotor. Just 45 minutes from Tivat and an hour from Croatia's Dubrovnik (both have international airports), Portonovi village sits at the heart and is home to narrow, cobblestone streets and towering palm trees, and there's a world-class 238-berth marina for docking in style.
Other highlights range from art galleries, high-end boutiques, and beauty salons to an array of cafés, bars, and restaurants. There's an international kindergarten, too, and in terms of wellness, check out Chenot Espace medical spa at the One&Only complex. In the summer months, head to sandy Portonovi Beach or amble around the charming town of Herceg Novi; in winter, there's skiing to enjoy in Durmitor, just 2.5 hours northwards.
Portonovi (and Montenegro in general) is regarded as safe and welcoming, and with 240+ days of sunshine a year, an affordable cost of living, and delicious local food, it's no wonder over three million people visit annually.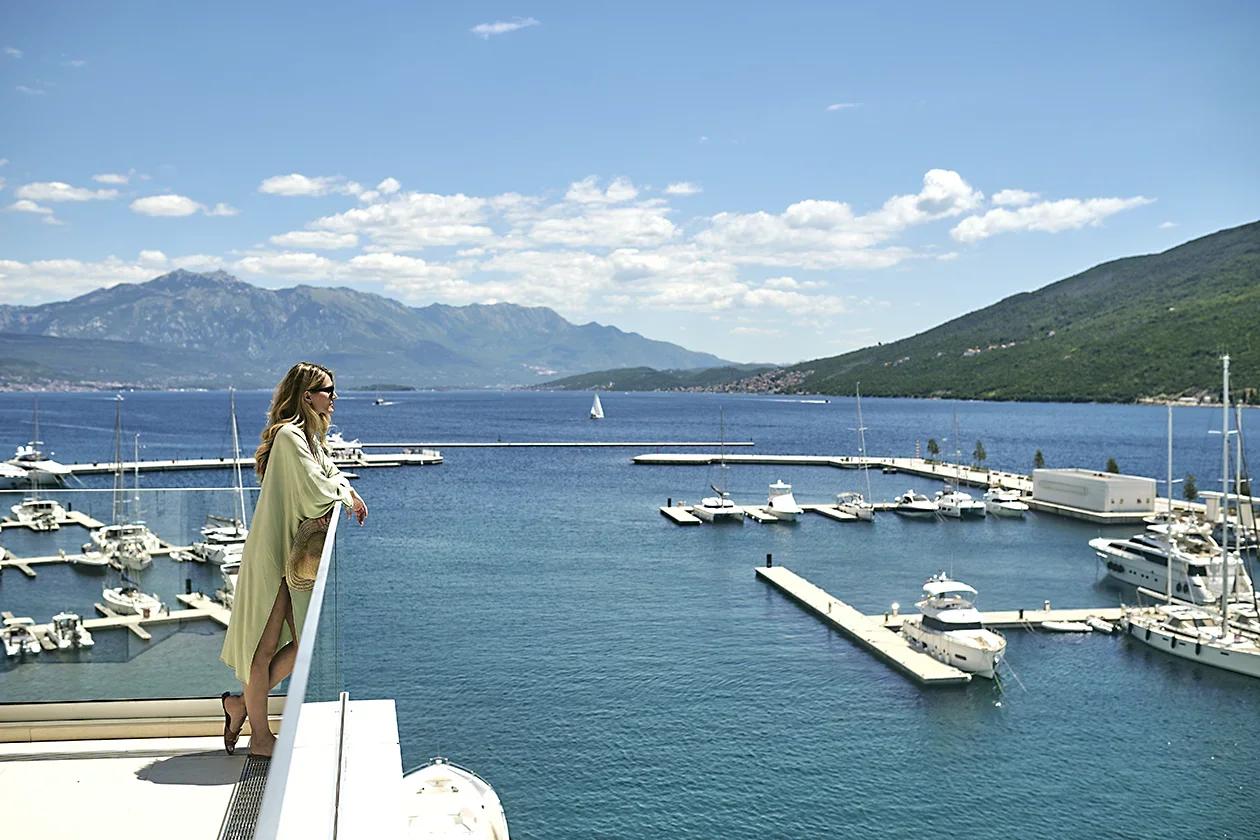 Poised for EU membership within five years, the country is attractive when it comes to foreign investment – particularly real estate – because property transaction tax is a highly competitive 3%, and annual taxes on homes are low (0.1-1%).
Alongside having its own village, marina, and yacht club, plus an elite One&Only resort – the first European outpost for the five-star brand – Portonovi also organizes high-class events, from music concerts to glitzy New Year celebrations.
The Place to Unwind and Recharge
Offering residents untouched nature, a relaxed environment, and breathtaking Boka Bay outlooks, it's easy to see the appeal of Portonovi. On top of that, there are favorable tax regimes, plus easy access to international airports and a superyacht marina for boat enthusiasts. For more information about real estate in this picturesque area, contact our trusted and experienced partner, Portonovi.