The stars feel a little less far away at Thunder Ridge estate, a property perched on acres of quintessential Colorado landscape, west of Denver, and guarding the "Gateway to the Rockies".
This stand-apart building, built by the former race car driver and Yellow Pages heir Richard Berry, is distinctive largely due to its extensive automotive hangar, ideal location, grand architecture, and retreat-reminiscent features. Its handpicked, tranquil location simultaneously welcomes peace and balances the need for nature with more refined comforts.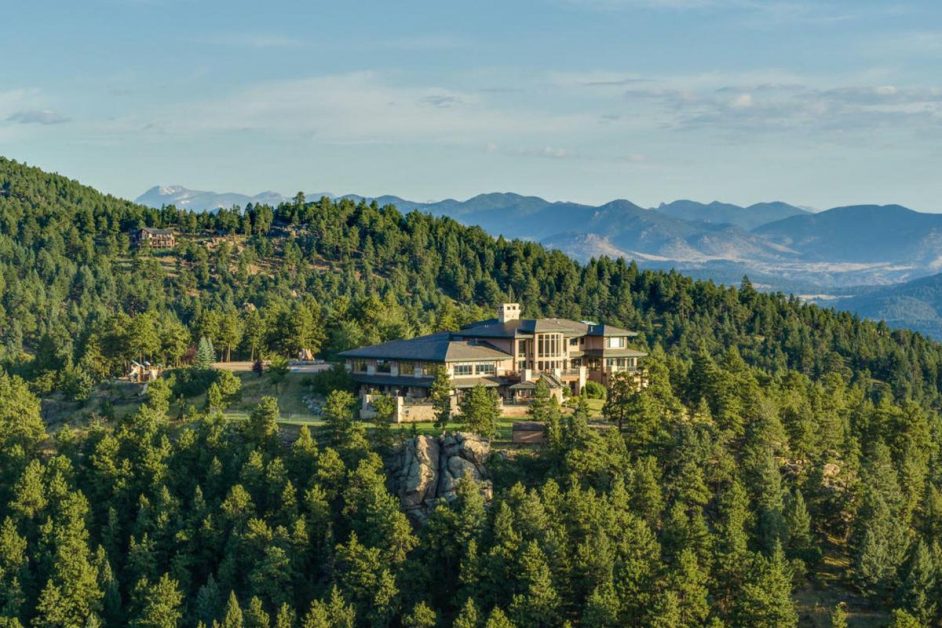 Thunder Ridge estate
Aware of the rarity of finding a property with such unique features, JamesEdition spoke to Heather Graham and Sean Endsley at LIV Sothebys International Realty. We sourced insider information on the architecture, location, and distinctive elements that make Thunder Ridge one of a kind.
Lush Colorado with views of the Cosmos
Inspired by Frank Lloyd Wright, the 79 acres of Thunder Ridge allow residents and visitors to take in the legendary continental divide just to the west – with the fresh, snowtopped mountains of Mt Evans, Mt. Rosalie, and the Rampart Range close enough to identify with a glance.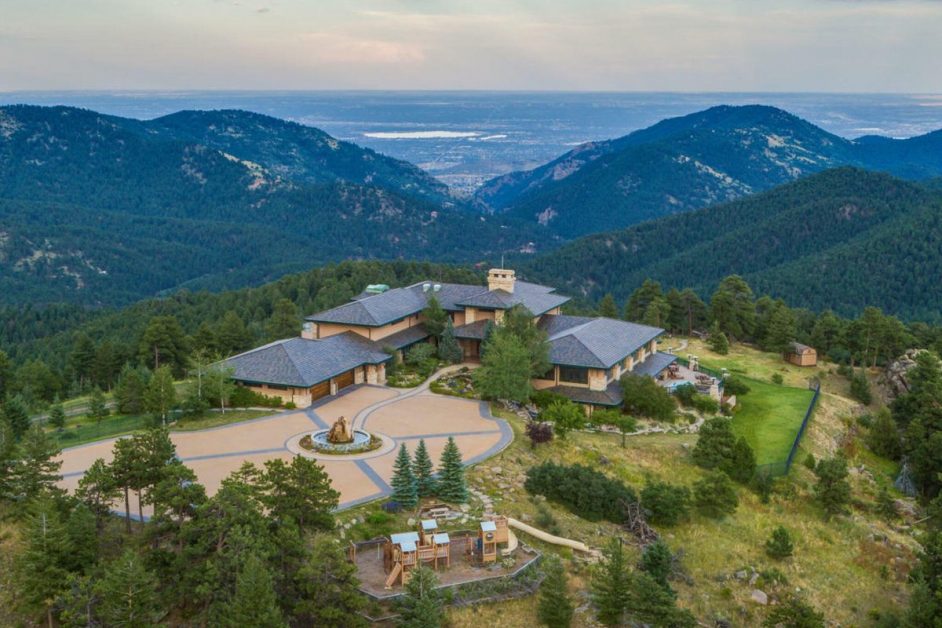 Thunder Ridge features views over the mountains of Mt Evans, Mt. Rosalie, and the Rampart Range
To the east lies Denver International Airport, and the city lights of Denver, which are near indistinguishable from the stars on clear nights. With 360-degree vistas stretching to the horizon in all directions, there is no shortage of natural beauty.
Evergreen Colorado is a picturesque 29-mile commute to Denver International Airport, and conveniently close to the Mile High Stadium, the downtown shopping and dining areas, as well as mountain recreational destinations – all within a 30-minute drive.
Grand architecture atop a mountain
The Thunder Ridge estate's architecture is ideal for those with a vision of living an extraordinary life. The home is rich with exotic woods and contemporary stone, precision engineered with high-end fixtures and finishes, delivering excellence that lives up to the home's caliber.
Multiple Koi ponds and heated decks stud the property, with attention to detail continuing outside the property, with an extensive outdoor kitchen and excellent green views punctuated with rocky outcrops.
The estate comes with six bedrooms and fourteen bathrooms, ideal for hosting guests. The Master suite sprawls across the entire upstairs and is designed as a serene retreat to foster peace. The bedroom boasts panoramic windows, a Carrera marble finish, and a transparent fireplace shared by the master bath.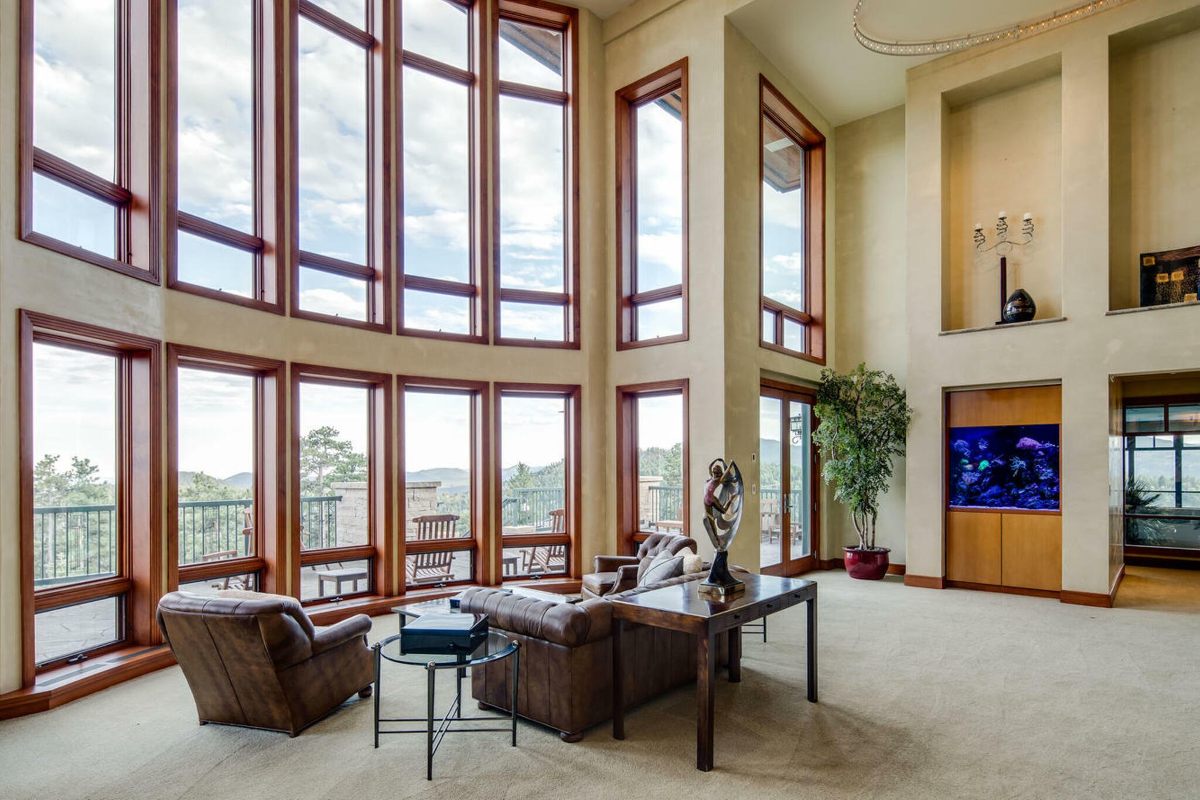 The master bath in question benefits from four vanities, a jetted oversized tub, a lavish marble shower with both a large rain head and fourteen shower heads, and a hot tub off a private deck.
A special small theatre and kitchenette lie adjacent to the master suite, with a 110" screen, microwave, ice maker, and dishwasher.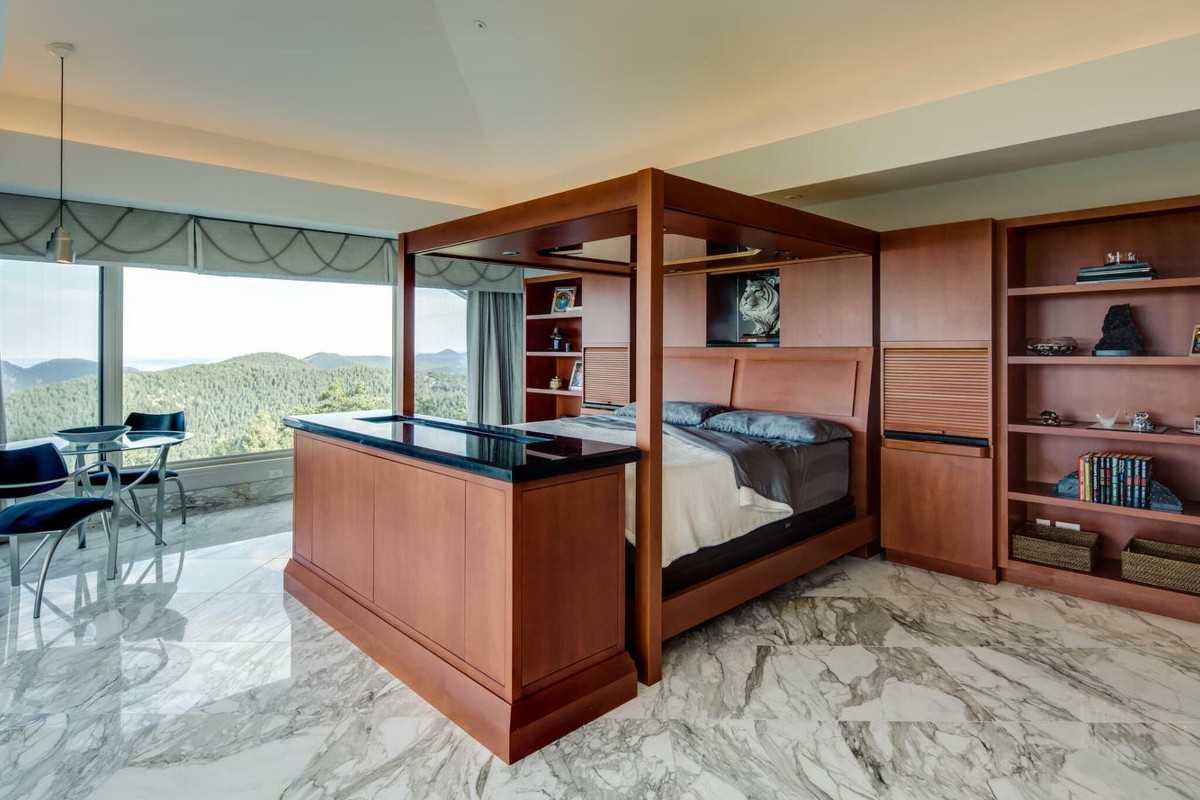 To separate work from play, an executive office warmed and organized by granite and exotic wood sits far enough away from the leisure rooms to facilitate productivity when needed.
An automotive hangar fit for a racer
Occupying over 27,000 square feet, this lavish garage was clearly built by a car enthusiast. Whether restoring classic cars or keeping a collection in optimal condition, Thunder Ridge's nearly 30,000 square ft, the climate-controlled auto hangar is suitable for year-round use.
Alongside state-of-the-art, professional-grade garage equipment, the hangar offers storage for up to 100 vehicles, has a concert-quality sound system, kitchen, exceptional lighting, an office, and living quarters.
World-class home theatre experience
Alongside the smaller theatre in the Master Suite, Thunder Ridge also features a super-advanced home theatre system, inspired by the sweeping curves and warm interior of Star Trek's USS Enterprise D. With a 4K system displayed on a 198" screen, lights and sound controlled by "AMX", and an "R.I.T." certified control system accessible via personal devices, this Home Theatre puts the luxury of the cinema experience in the home.
12 Martin lights dot the room, alongside Mac 250 entertainment venue lighting, and high-end JBL professional-grade speakers make the experience as authentic as possible. With D-Box Emersion motion seating, soundproofing, and R8 doors, this theatre gets as close to full immersion as possible.
A retreat within the home
High-end luxury is at the forefront of the property, with retreat-style features like a tropical indoor pool with a dreamy starscape, an outdoor pool, a beauty salon, and large saltwater aquariums. When hosting, Thunder Ridge offers bars and abundant wine cellar space to celebrate in style.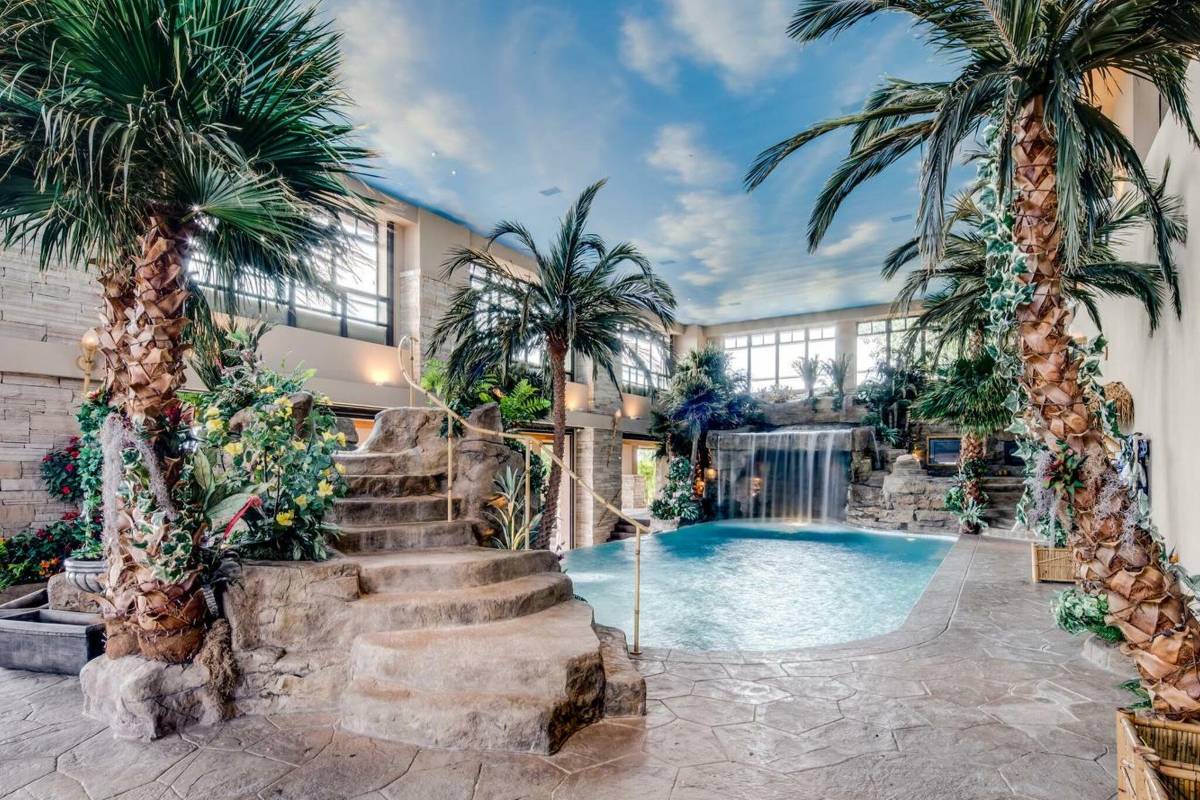 Contact Heather Graham and Sean Endsley at LIV International Realty to find out more about the unique lifestyle Thunder Ridge provides.