Buying a castle for private purposes and everyday living may seem an unusual choice for a second home buyer. But in reality, a modern, carefully renovated castle can become a comfortable country or coastal family home.
Looking through the property listings featuring castles for sale on the market, a buyer can definitely spot an asset to suit their personal tastes and habits. Properties vary greatly in  size and architectural style, from a 3-bedroom estate in the Loire Valley, France to a 20-bedroom castle in Italy, from Medieval and Renaissance, to Baroque and Art Nouveau.
Country-wise, Italy and France remain the key markets for castles on the continent followed by Belgium, Switzerland and Spain, while Ireland and the United Kingdon form a market across the channel. Occasional offerings are popping up in Portugal, Netherlands, Austria, Hungary, and Slovenia.
Countryside properties prevail, but it's also possible to  finda castle-style estate by the seaside, most likely in Italy, Spain or Portugal. Castles that neighbor lakes are hidden mostly in Italian Piedmont and Lombardy.
Castles: The rarest properties on the market
The exclusivity of owning a castle ties not only to their historic value and provenance but also to the fact that this style of home is a rare find and the most unique type of residential property. With only 500 castles currently for sale, they constitute less than 0.5% of all luxury real estate listings on JamesEdition.
The most expensive castle-style homes come with price tags ranging from US$20 to 30 million, like this historic property in Lucca. But there are also plenty of modestly priced castles.
According to JamesEdition, the average price for a castle-style property may reach US$8,000,000 in Italy. This figure is lower in France averaging $2,400,000 thanks to the number of affordable castles scattered over the countryside of the Loire Valley. A 15-bedroom stone manor in the Nièvre department, surrounded by forests and thermal baths can cost around $540,000.
To help you navigate through the inventory of modern-day castles available on the market, we've selected the best houses that would offer a unique, enviable lifestyle.
Top 15 medieval and modern castles for sale
1. Middel Age castle near Orvieto in Umbria, Italy
Price: on request
27 Beds, 30 Baths, 3,500 sqm, 16 Ha lot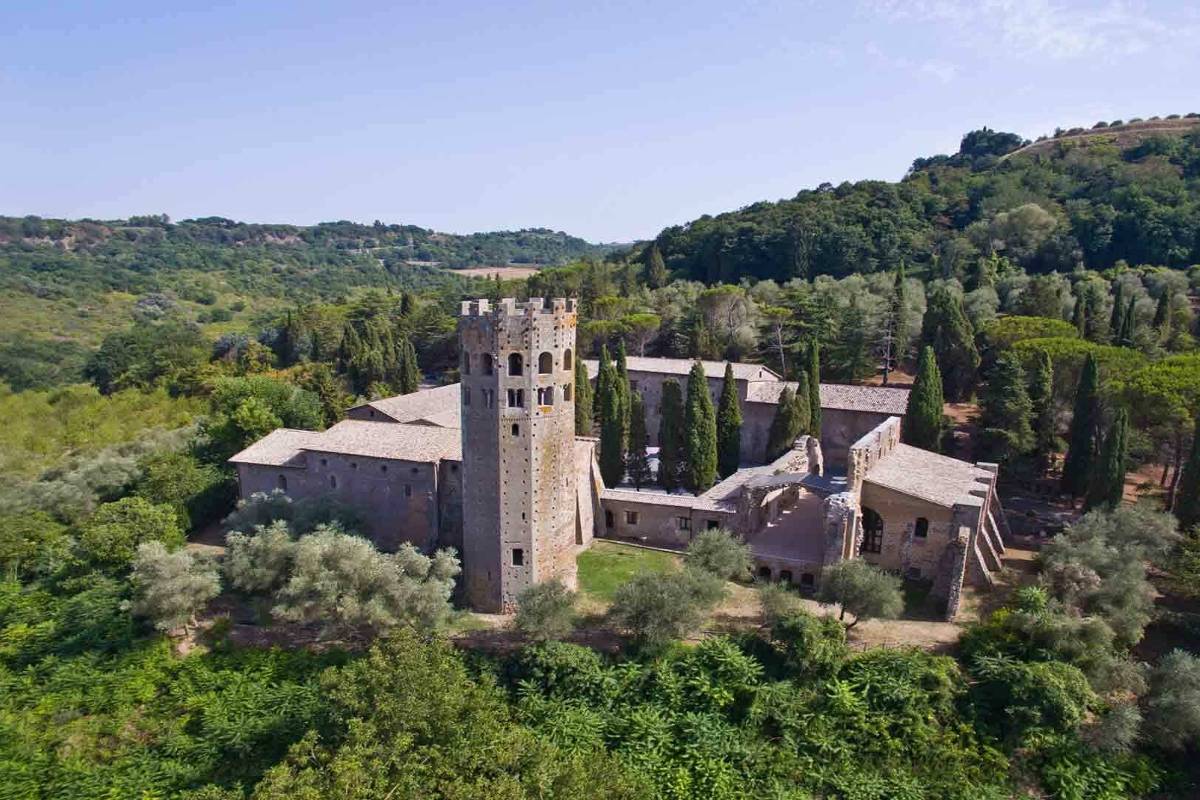 Dating from as early as the 8th century, this castle was once home to Benedictine monks and popes. Set into a green wooded hillside, the property has spectacular views across to Orvieto.
All castles for sale in Umbria, Italy
All castles for sale in Tuscany, Italy
2. Castle in Liguria with views over the sea and the port, Italy
Price: $8,000,000
11 Bedsm 5 Baths, 1,130 sqm, 7,200 sqm lot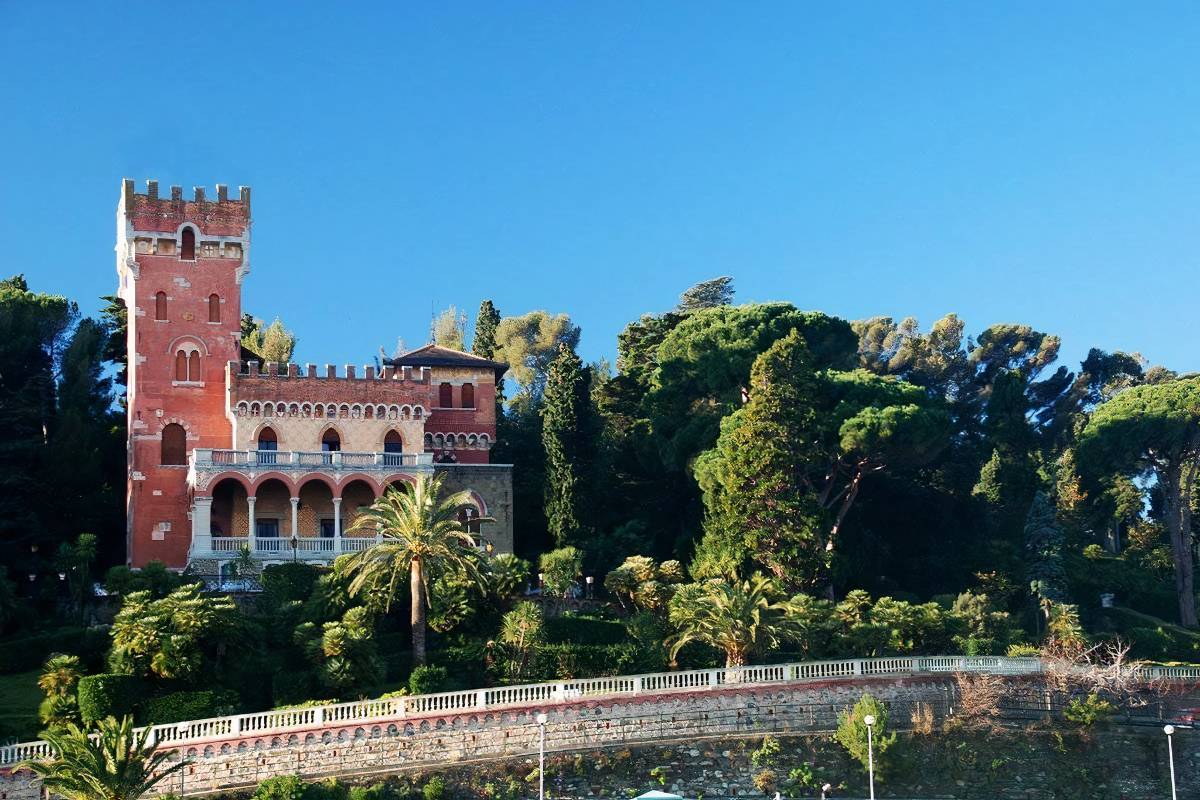 When it comes to coastal castle-style properties, architectural elements and age often blend together to create an interesting mix. This castle in Varazze built in 1930 has a Medieval-style tower that was used as a private church but the panoramic terraces, balconies and verandas features a more modern architecture typical of Art Nouveau mansions.
All castles for sale in Liguria, Italy
3. ​​Waterfront castle with a park in Liguria, Italy
Price: On Request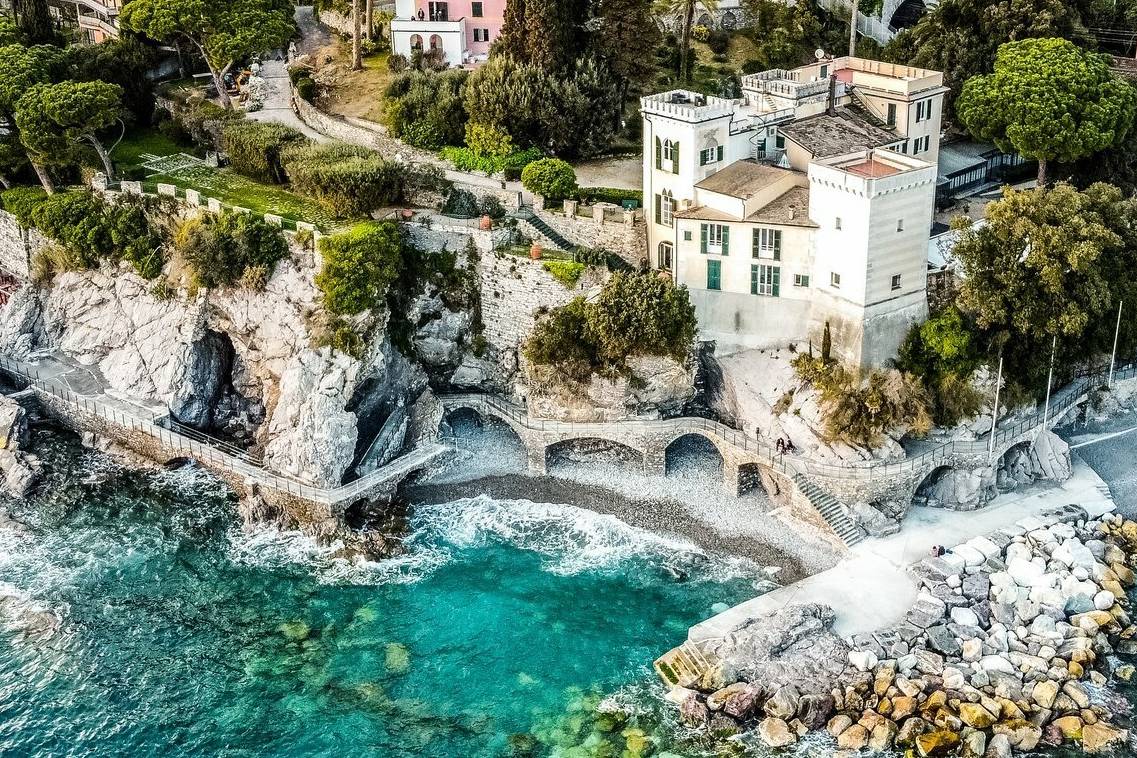 ​​Castello Canevaro is another stunning castle-style estate in Liguria overlooking the Gulf of Tigullio. Dating back to 1550, the property was originally a Saracen watchtower to counter the arrival of pirates in the gulf. It was updated to its present form in the first half of the 17th century and is considered to be in the typical "alessian" architectural style, a reference to the famous Italian architect Galeazzo Alessi. The castle is named after the mariner and Consul to the Kingdom of Sardinia Guiseppe Canevaro who purchased it in the 19th century. It was then passed on to his son the Duke of Castelvari and Duke of Zoagli. The property has remained in the family to the present day.
4. 15th century castle with a water moat in the Loire Valley, France
Price: approx. $2,200,000
450 sqm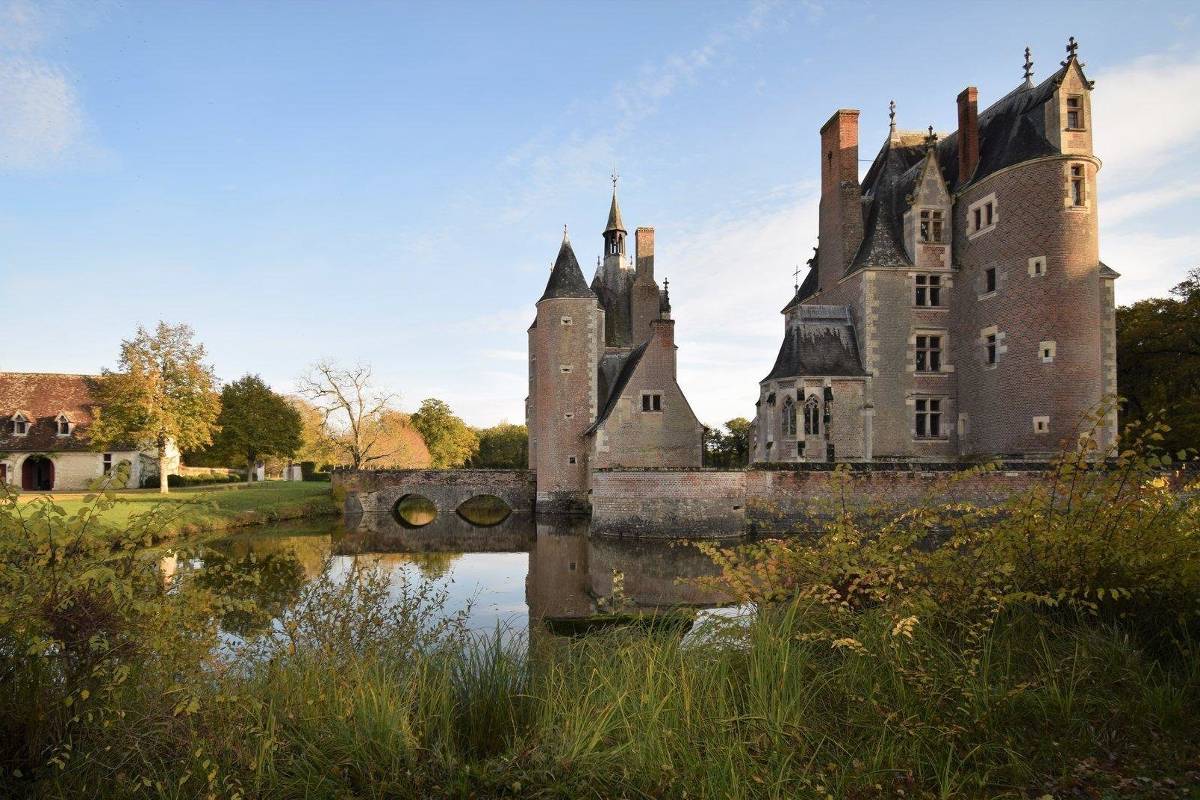 Located in the heart of Sologne, a region of woods and ponds renowned for its sumptuous hunting properties, this Gothic-style castle is surrounded by a preserved forest but is also close to the village accessible by a peaceful path.
All castles for sale in Centre-Val de Loire, France
5. 17th century castle with a helipad in the French Alps
Price: approx. $5,000,000
7 Beds, 7 Baths, 526 sqm, 7 Ha lot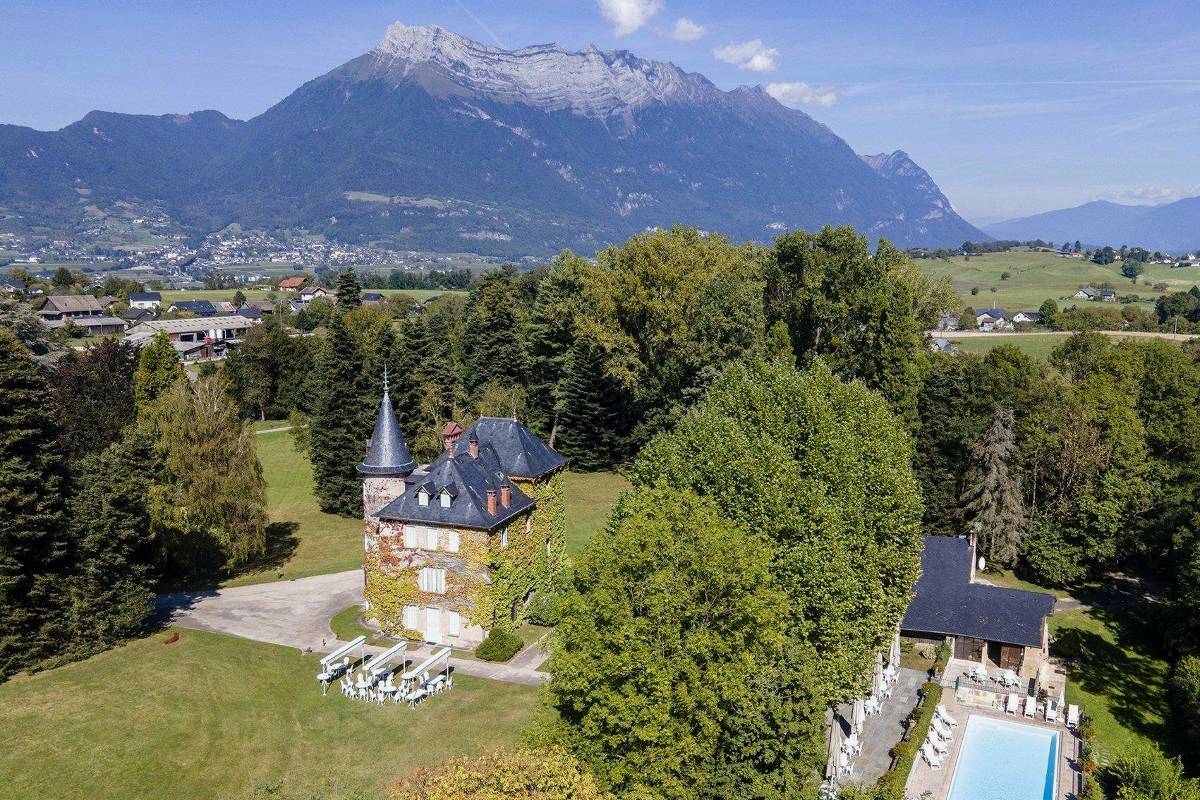 This Alpine castle is located in the heart of the Combe de Savoie, less than 30 minutes from Chambéry and 1 hour from Lyon and Geneva airports, in a quiet, green area, on the road to major ski resorts.
An entirely renovated 17th century castle benefits from well-designed floor plans where each of the 7 bedrooms features its own bathroom, and a large dining room on the ground floor has access to the patio, a professionally equipped kitchen, and a large entrance hall with reading room. Outside, the pool and relaxation area is located right next to a reception room that can accommodate up to 150 guests. The 7 hectares of the domain also include a helipad with a hangar.
All castles for sale in Auvergne-Rhone-Alpes, France
6. Chateau in Brittany where the ancient embraces the ultramodern
Price: approx. $35,000.000
7 Beds, 2,301 sqm, 40 Ha lot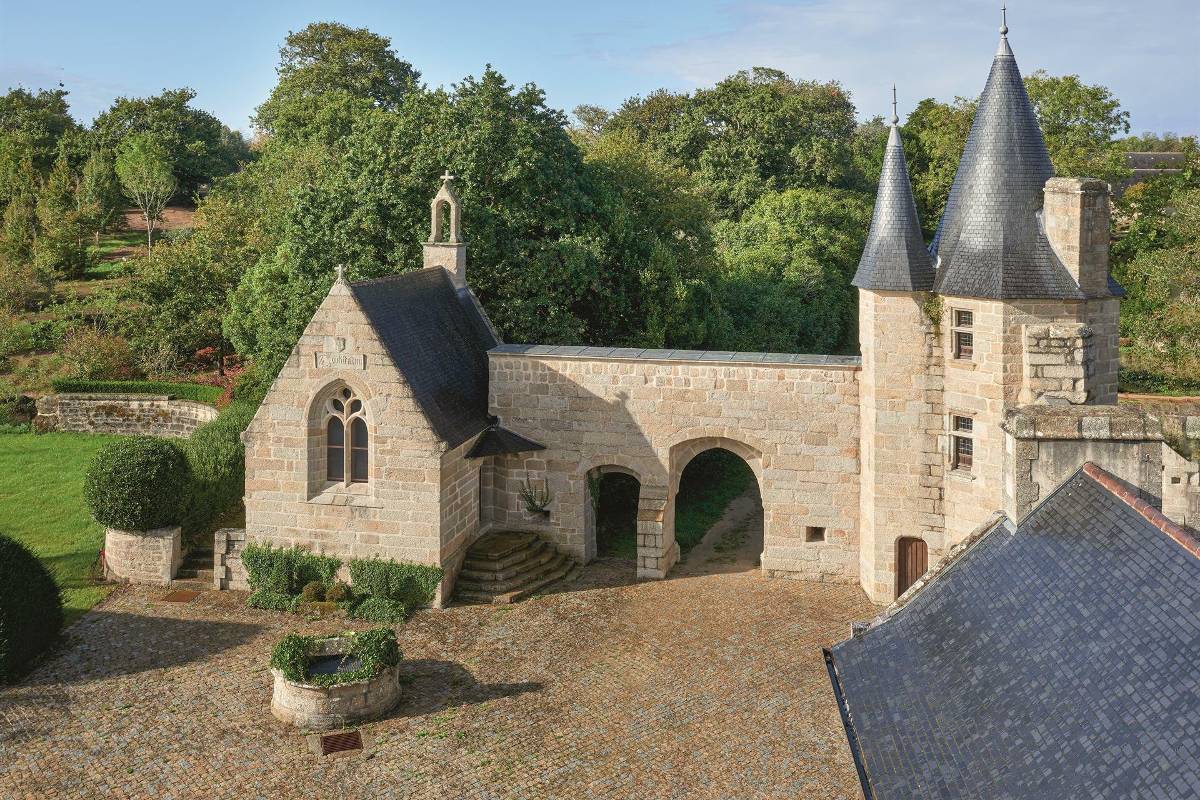 This timeless chateau features 98.8 acres (40 hectares) of wooded land with 1.24 miles (2 km) of frontage on the River Aven in southern Brittany. The magnificent limestone structure, built and developed from the 15th to the 18th centuries, has been under the extensive reconstruction over the last 20 years bringing it into the 21st century. The restoration took roughly seven years, with the structure dismantled stone by stone, with a crew of seven stonemasons permanently on-site. They created a granite quarry on the property to acquire new stone. The artisans' contemporary touches nevertheless respect the structure's antiquity.
The interior has also been renovated and modernized. One of its most significant elements is an open-air glass roof illuminating the entry foyer in the main tower of the castle and opening to the castle's 11,302 square feet (1,050 square meters) interior.
All castles for sale in Brittany, France
7. Moorish-style castle in Marbella, Spain
Price: approx. $12,000,000
5 Beds, 5 Baths, 1,621 sqm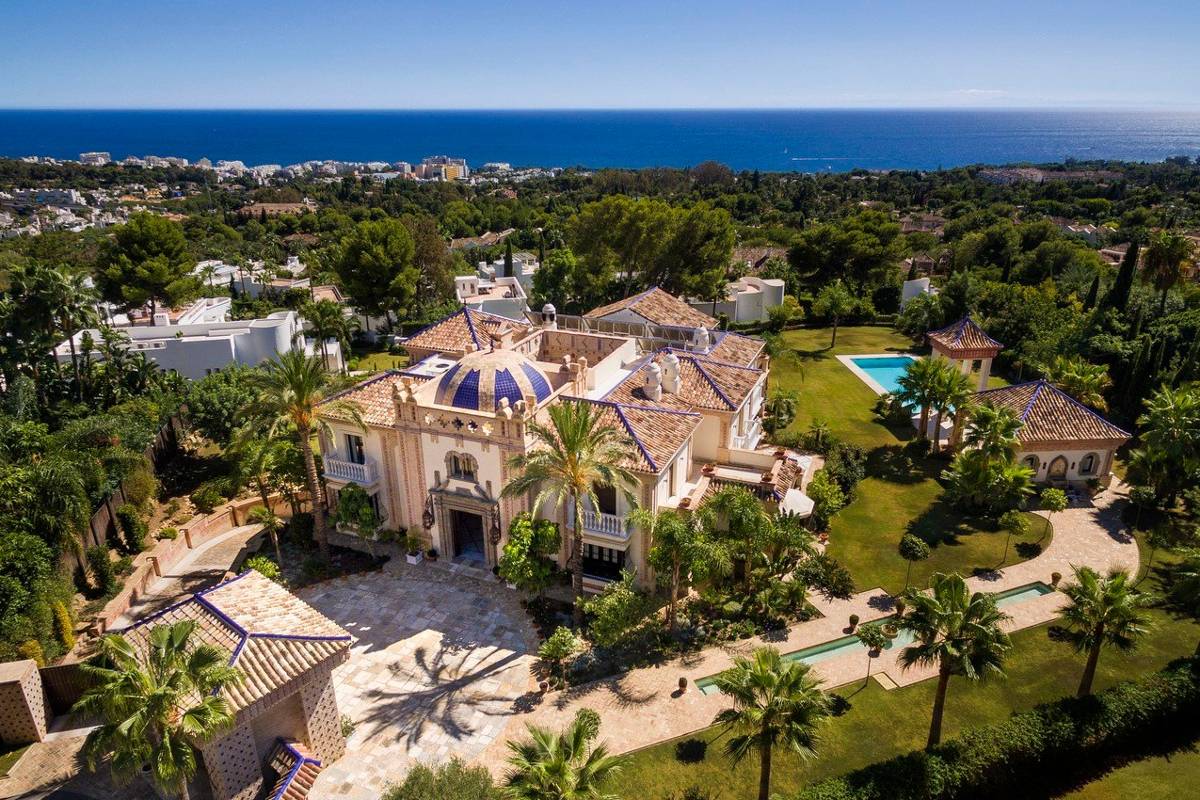 The castle-style mansion is located in a small, prestigious gated community close to Golden Mile and Sierra Blanca consisting of only seven villas. In the estate, an impressive 18th century gate gives access to the courtyard, which is paved with stones from an old Roman road.
All castles for sale in Andalusia, Spain
8. Castillo del Cardenal with a private beach in Galicia, Spain
Price: approx. $3,300,000
2,700 sqm, 5 ha lot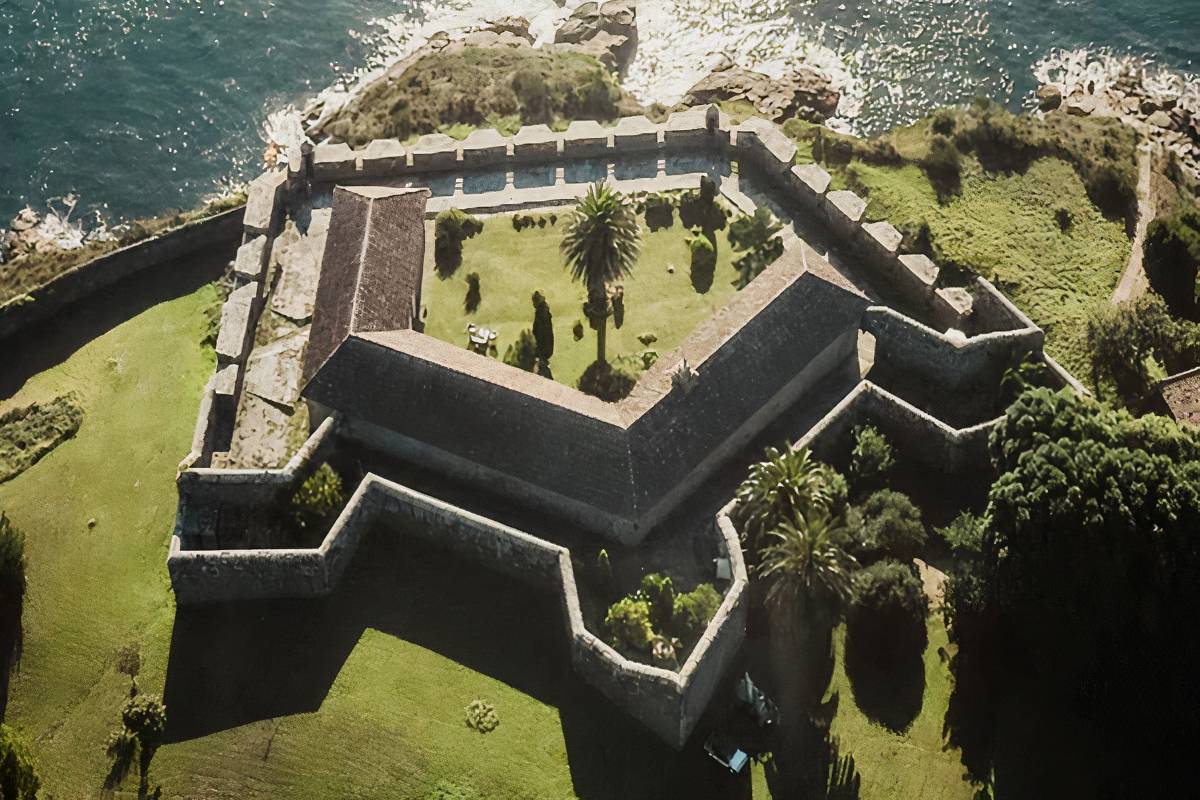 This fortress built in the mid 18th century had a capacity for 96 men and 12 cannons. Today, the property has been carefully restored maintaining the original aspects of the castle with all commodities of the 21st century. It features central heating, Wifi connection and modern electricity supply. The castles has four beautiful interior garden areas, direct access to the sea with two small fine sand beaches and a cave.
All castles for sale in Galicia, Spain
9. 19th century castles near Vienna, Austria
Price: $14,100,000
2,300 sqm, 6 ha lot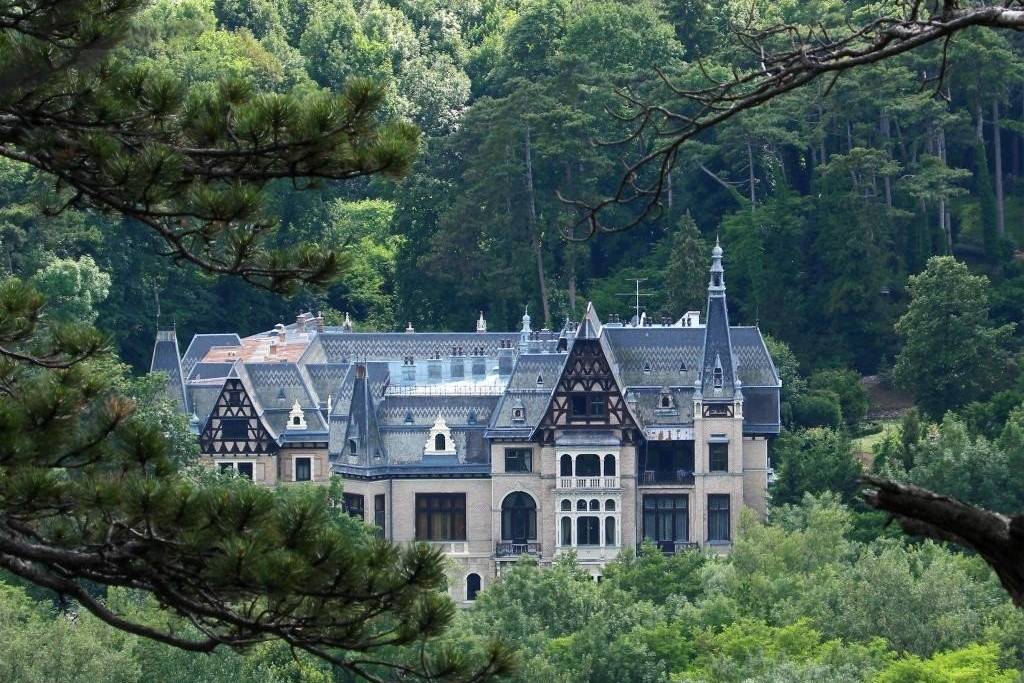 One of the last privately owned 19th century castles in Austria, this property is in excellent condition. It's situated in an impressively quiet area amidst extensive park facilities at the end of a cul-de-sac with promenaded walks and many sports facilities. The 55,000 sqm territory is bordered by a small river.
All castles for sale in Austria
10. Castle on Lake Geneva, Switzerland
Price: on request
7 Beds, 3 Baths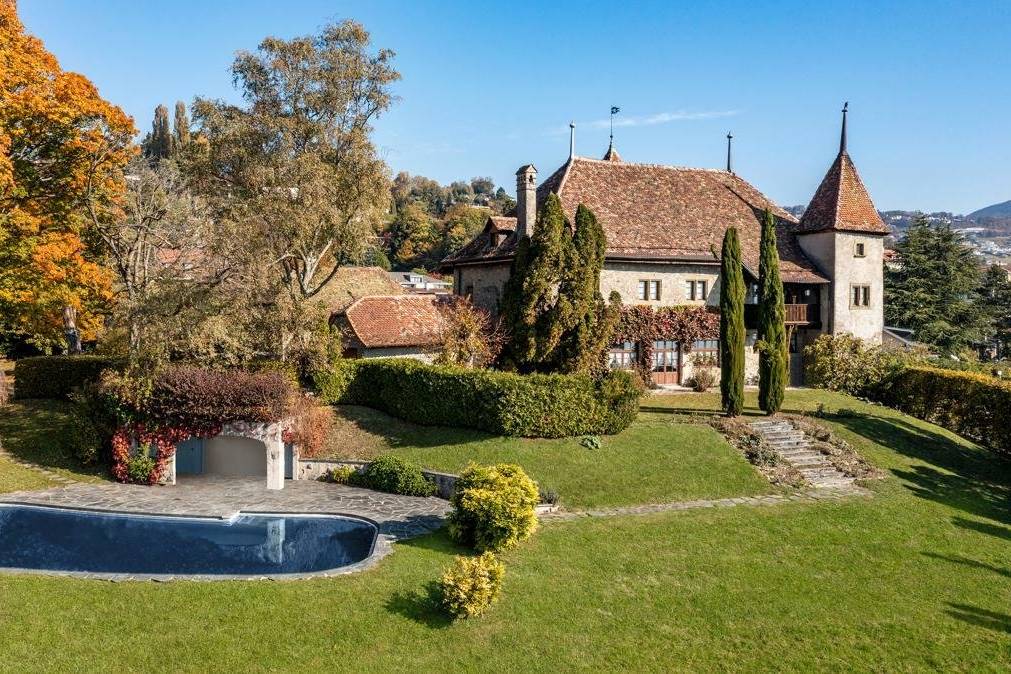 The Château de Bochat is a mediveal castle estate dating back to the beginning of the 15th century. Today, it's a perfect place to unwind and recharge with the backdrop of the lake and mountains. The property also features its own 14,000 sqm park and a heated swimming pool with glorious lake views.
All castles for sale in Switzerland
11. 19th century castle in Montreux, Switzerland
Price: $27,000,000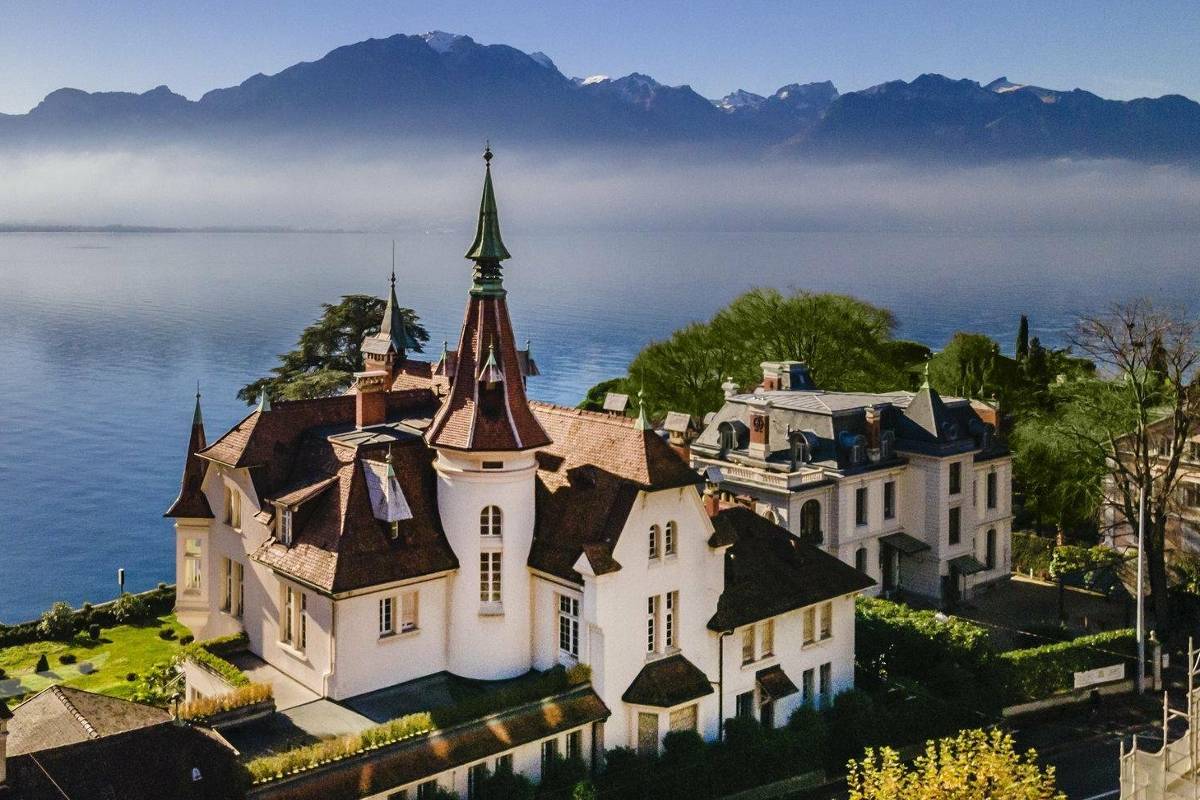 A stunning castle nestled on the banks of Lake Geneva, at the gates of Montreux,also had a life as an old boarding school built in 1860. It boasts exceptional view of the lake, mountains and the city of Montreux and has direct access to the quays from the garden.
12. Castle of Ostemeré in Belgium
Price: approx. $6,000,000
9 Baths, 2,300 sqm, 21 Ha lot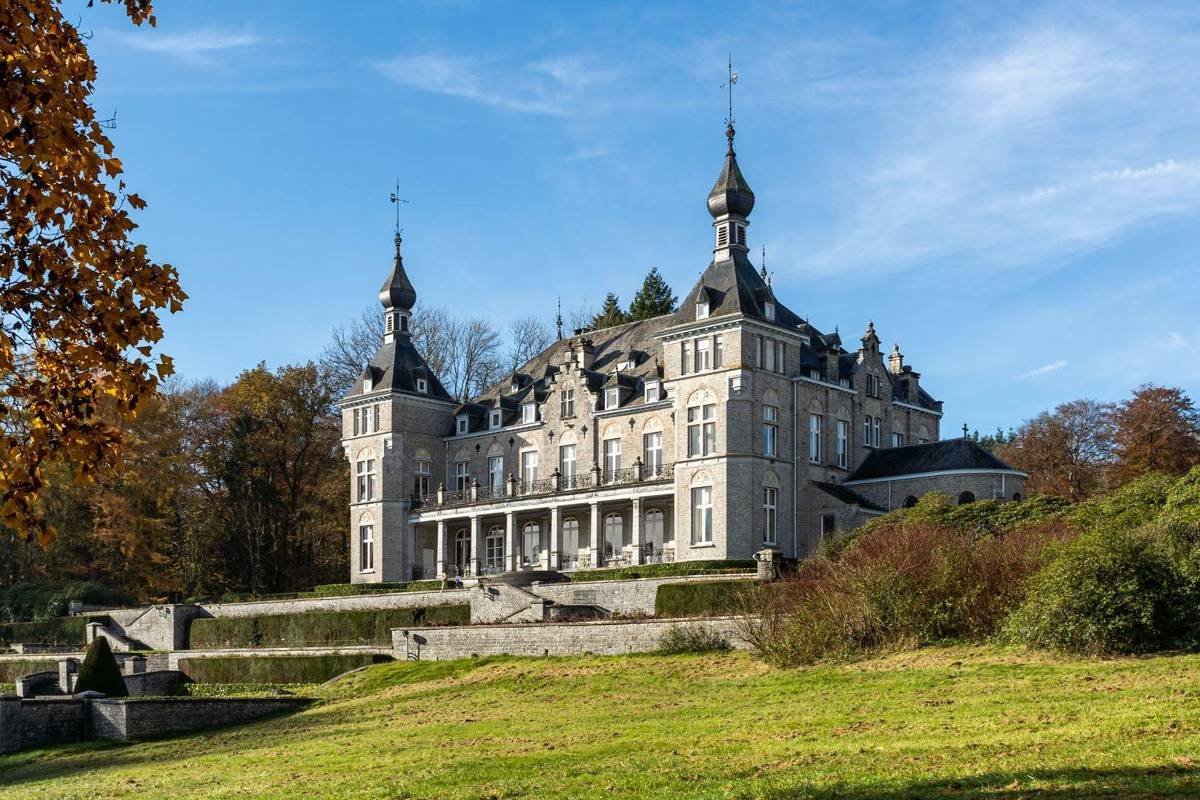 The Castle of Ostemerée, built in the early 1900s, comprises a park, laid out partly in the French and partly in the English style, with a breathtaking view across a breathtaking valley, ponds and woods. It's located near village Anthée in the small rural municipality of Onhaye, close to main road axes to Brussels, Namur and Liège. Built with local natural stone, the castle offers ± 2300 m² of living area.
All castles for sale in Belgium
13. Castle Hof Van Rameyen in Flanders, Belgium
Price: on request
10 Beds, 10 Baths, 72 Ha lot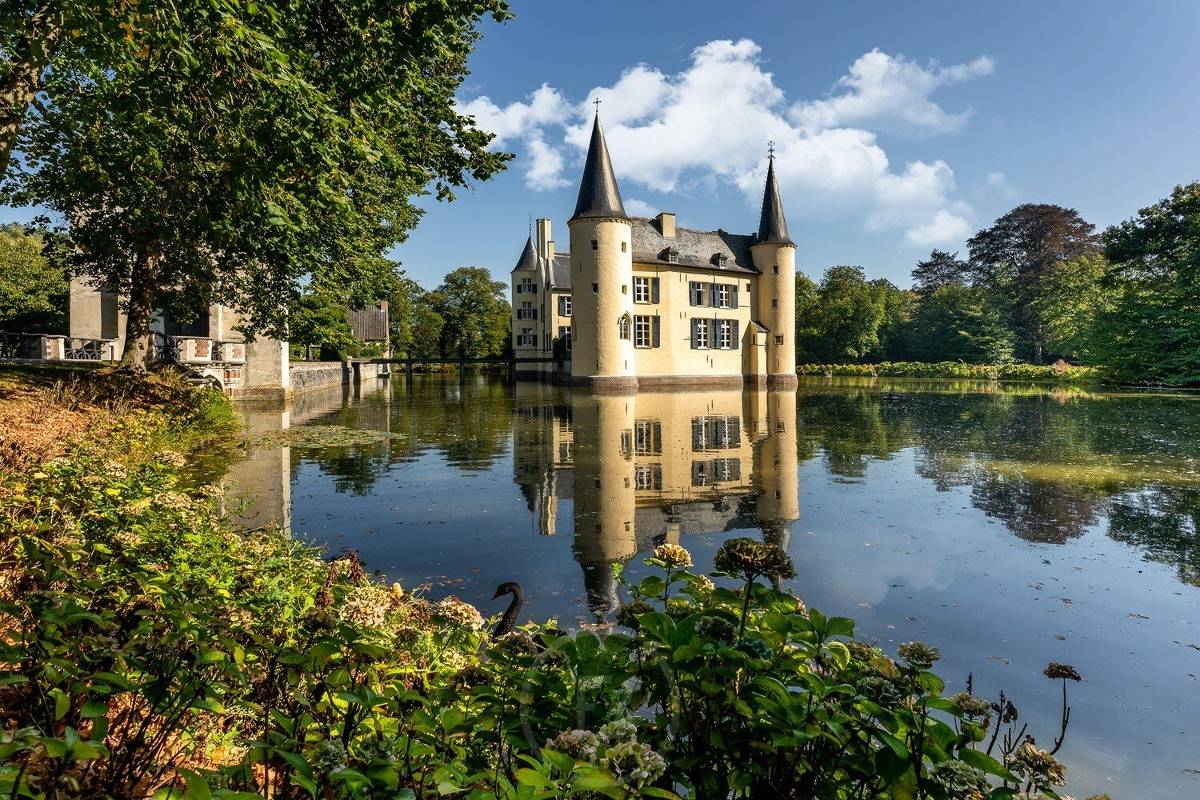 Hof Van Rameyen is located in the picturesque village of Gestel, Flanders. in a 72 hectare landscape park that connects to forests, fields and meadows. Although the romanticism of the Middle Ages can still be felt everywhere, the property has been thoroughly renovated between 1996 and 2001 by architect Rutger Steenmeijer and interior designer Axel Vervoordt. The castle now boasts exhibition and office spaces, a fitness area, a swimming pool and tennis courts.
14. Killaleigh Castle, County Tipperary, Ireland
Price: approx. $9,200,000
10 Beds, 6 Baths, 1,323 sqm, 122 Ha lot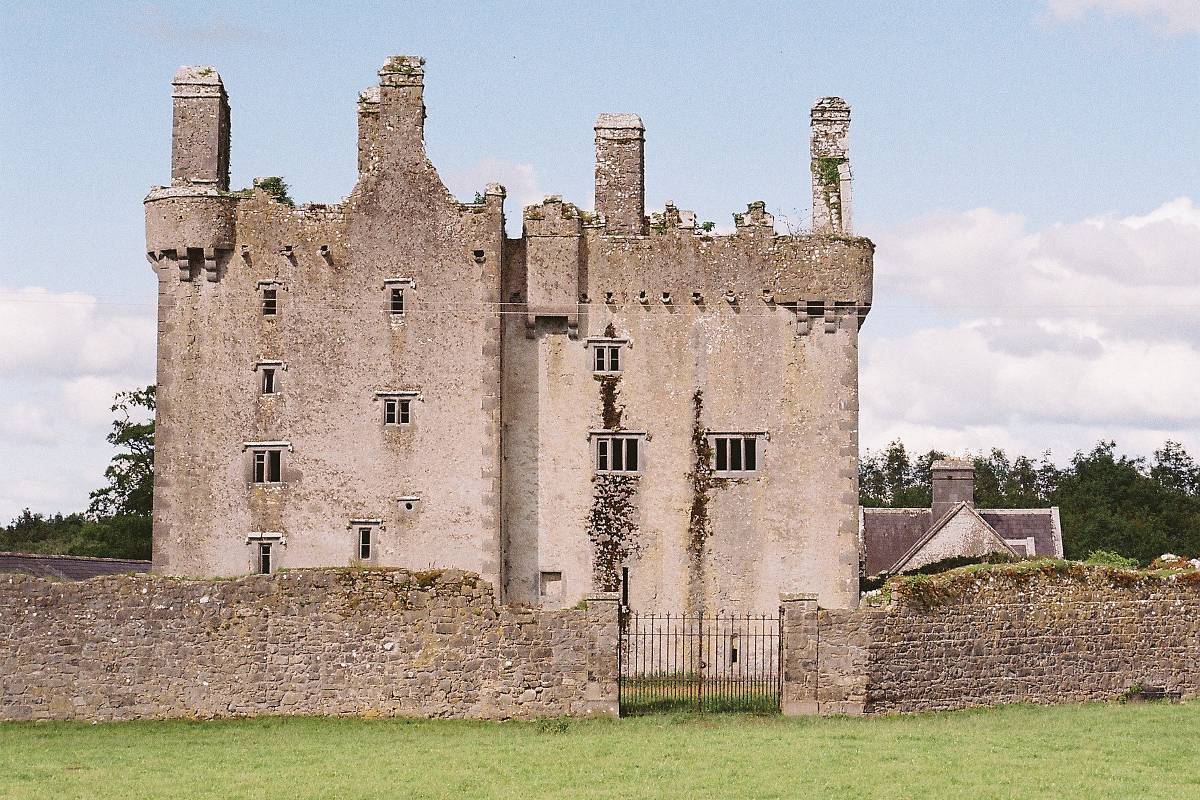 An impressive 16th-century castle built by the Gaelic MacEgan clan circa 1590 is a perfect example of an Irish Middle Age estate. Today, the castle is unoccupied and whilst in need of complete restoration is largely intact. Positioned within an attractive well-timbered estate of almost 122 hectares, the property is situated in a triangle of the historic towns of Birr, Roscrea and Nenagh. The International airports in Dublin, Cork and Shannon are within easy driving distance.
All castles for sale in Ireland
15. Henderson Castle & Vineyard, Michigan, USA
Price: $3,999,999
4 Beds, 17 Baths, 2 sqm, 2 Ha lot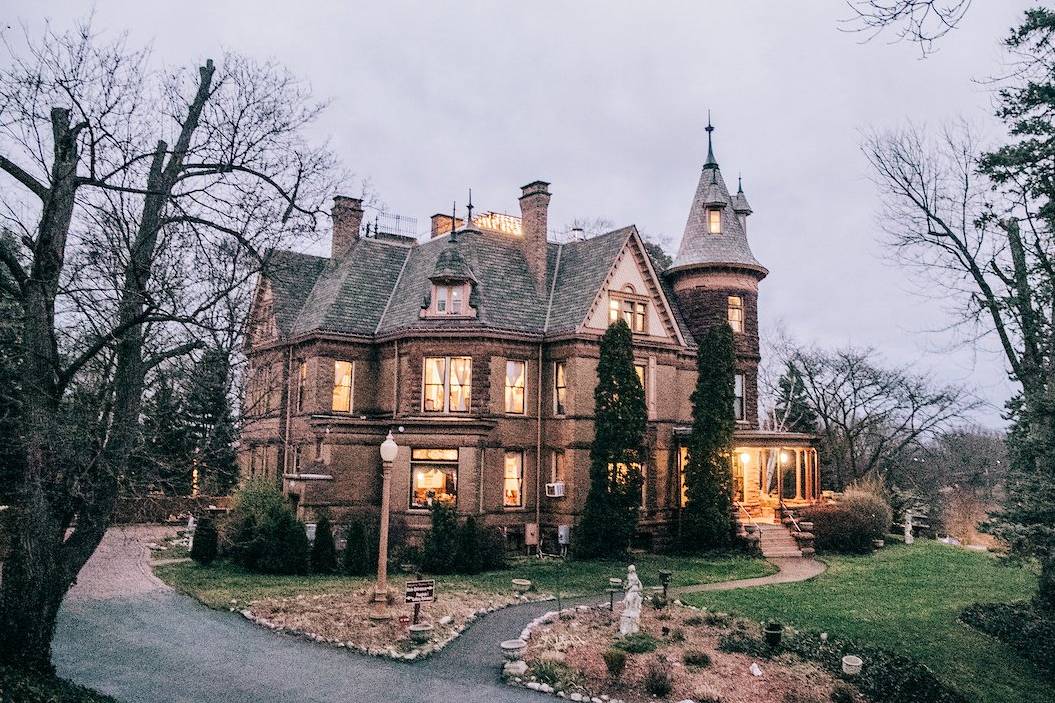 There is an exquisite piece of history located on the steep of West Main Hill overlooking downtown Kalamazoo, Michigan. The Henderson Castle, established in 1895, is a Queen Anne-style house designed by C. A. Gombert of Milwaukee, Wisconsin. The $72,000 building costs included seven baths (one with a thirteen-head shower), an elevator, a third-floor ballroom, and a hot tub on the roof (added later). The castle's exterior was constructed of Lake Superior sandstone and brick, and the interior wood included mahogany, bird's eye maple, quartered oak, birch, and American sycamore. The castle was built with 25 rooms in all and exemplified the most expensive tastes of the time. The property has been recently renovated and is under new ownership since 2011.
More to know about modern castles
Historic country estates can serve as perfect places for relaxed yet sophisticated vacations, family gatherings, or cocktail parties. Most of the modern castles for sale are located in Italy (Tuscany, Umbria, Piedmont) and France (Loire Valley, Burgundy, Aquitaine, Provence, or Normandy).
Italian castles often enjoy high elevations with panoramic views due to Italy's history of feudal wars in times long ago. They've mostly been renovated and feature high-end facilities, including pools, sport grounds and outdoor dining spaces for social events. These estates offer different architectural styles, from the Gothic with its picturesque turrets to elegant Art Nouveau.
Italian and Swiss Lakes provide a opportunity to find a lakeside property that combines historic charm with a tranquil livingand scenic views.
Castles located in France have unique country charm. They're also less expensive than Italian properties: a buyer can easily find a castle for sale in the price range of $500,000-$1 million.
The British Isles is, of course, the best place to look for a authentic Middle Age property or a manor home built in the Tudor or Victorian architectural styles.