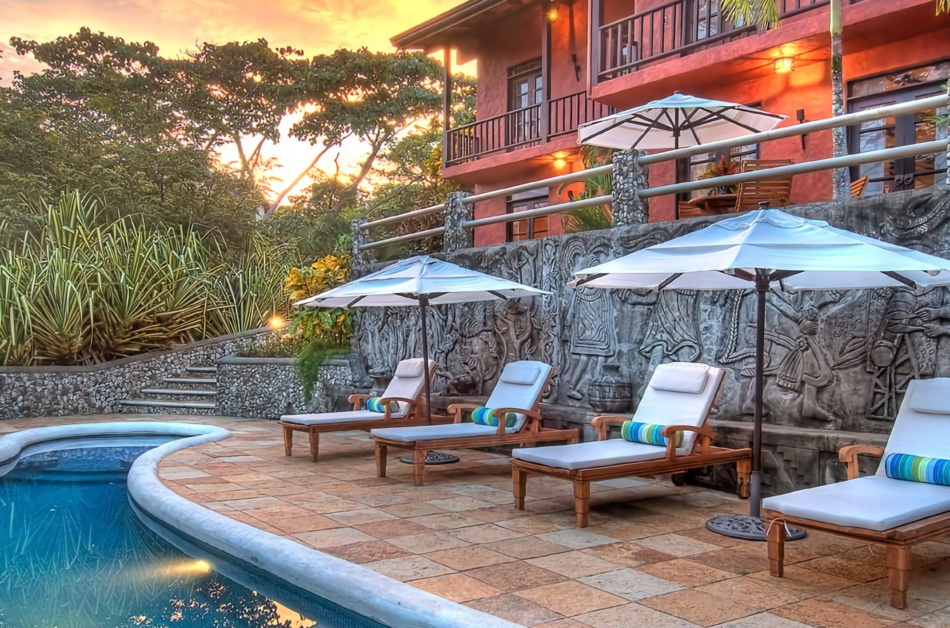 Mel Gibson's estate in Costa Rica, $29,750,000.
View Listing
Unbeknown to many, actor and film director Mel Gibson is a big player on the real estate scene with a cast of unique investments in stunning locations around the world.
The native New Yorker has multiple properties in Malibu, California, in Australia where he started his acting career, he has a private island in Fiji, and owns several locations in Costa Rica, with one of these now up for grabs.
His 400-acre beachfront jungle getaway in the northwestern part of the country has hit the market, offering buyers a true slice of paradise.
Gibson purchased the idyllic estate on the Nicoya Peninsula in 2007 after discovering it a year earlier while scouting locations for his action-adventure film Apocalypto.
Although the movie ended up being shot in the Mexican state of Veracruz, Gibson was set on returning to Costa Rica to make a base there.
The estate he purchased was originally formed in 2002 and all of the buildings were crafted to reduce their impact on the surrounding landscape.
Gibson enjoyed the property for a good time before first listing it in 2014. The property didn't sell and he listed it again in 2017 with a reduction of $500,000 placing it at $29,750,000 (€25,335,457) million.
Again, no sale followed but now Gibson's Costa Rican hideaway has hit the market again.
Amazingly the price has not changed in the four years since the last listing and high demand is expected with the Covid-19 pandemic triggering a trend for such nature-focused properties amid the high-end market.
A one-of-a-kind jungle retreat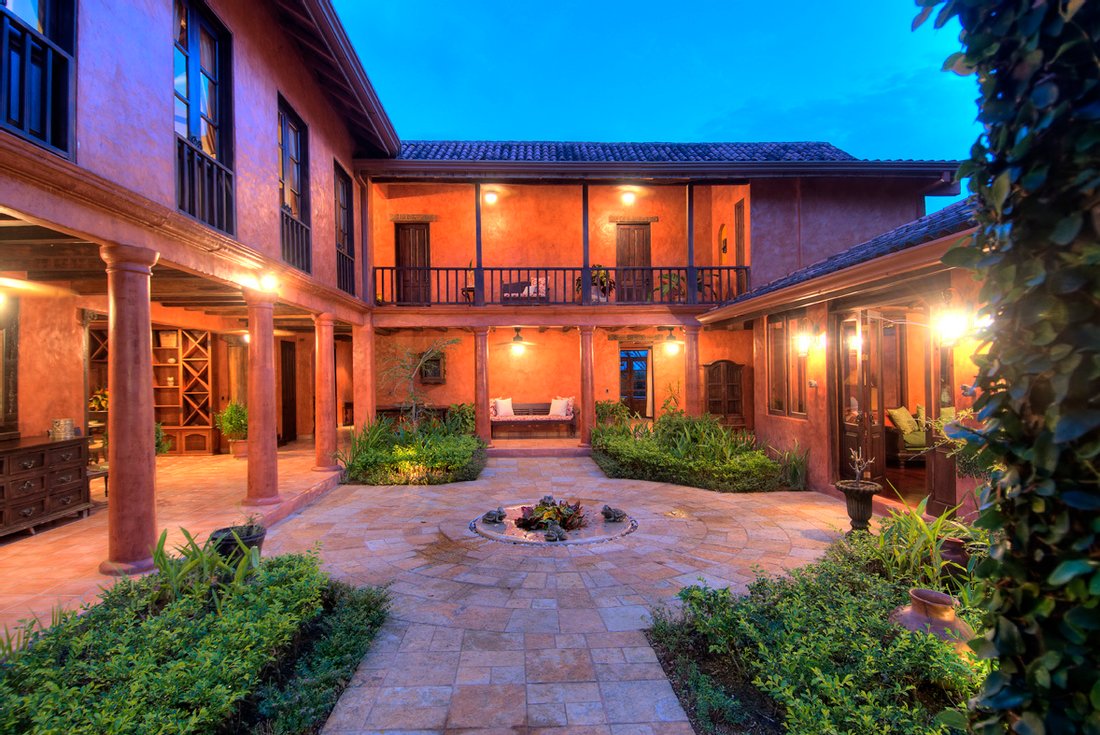 The property boasts authentic terracotta coral stone facades combining Costa Rica-inspired design with Spanish and Italian elements.
Gibson's one-of-a-kind estate commands a hilltop setting, with three luxury villas of varying sizes set amid lush jungle for maximum privacy.
The verdant hills give way to dramatic cliffs, the stunning white sands of Playa Barrigona and the rolling Pacific Ocean.
When it comes to the properties, they all have the same design aesthetic with terracotta coral stone facades and interiors combining native Costa Rican woods and Spanish and Italian tiles.
A homely, relaxed atmosphere runs throughout the buildings, and a generous use of patio doors and windows allow for plenty of natural light.
Each property features a generous layout including living rooms with vaulted ceilings, full kitchens and multiple verandas with jungle and ocean views.
Other amenities include private swimming pools, barbeque stations and air conditioning in the living areas.
The largest of the villas, Casa Guanacaste, encompasses seven bedrooms and eight bathrooms with the complex wrapping around a central courtyard.
Casa Barrigona offers two bedrooms, three bathrooms and a cottage by the swimming pool, while Casa Dorada has two bedrooms, three bathrooms and a loft.
When it comes to accessibility, Gibson's beachfront estate is easily reached by car and it also features a grass helipad for those who wish to arrive in style.
For international visitors, it's best to arrive at either San Jose or Liberia airports.
From both of the airports, it's possible to drive directly to the property or take a short commuter flight to Carrillo or Nosara.
A nature-lover and wellness enthusiast's paradise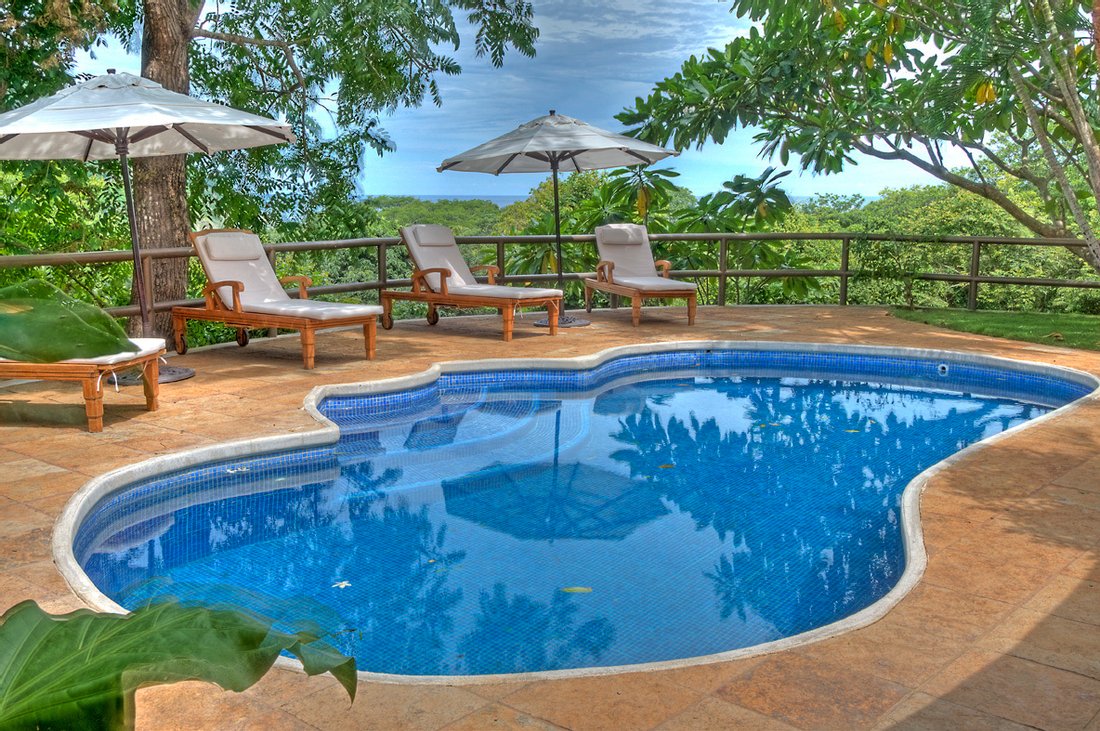 This is where nature lovers will be in heaven, as the serene shoreline is an established nesting ground for hundreds of rare olive ridley sea turtles.
When it comes to the location, the Nicoya Peninsula lies along Costa Rica's laidback northern Pacific coast.
The region is known for its dazzling white-sand beaches and untouched tropical splendor, with swathes of rugged, mountainous landscape.
It is also heralded for its long dry season, which lasts from late November through to May.
The dramatically-sculpted Pacific shoreline along the Peninsula is dotted with small inlets and hidden beaches, with Playa Barrigona being one of these.
This fine stretch of sand is rarely marked on maps, but it's a haven of serenity which is fantastic for swimming, surfing, and snorkeling.
Nature lovers will be in heaven, as the serene shoreline is an established nesting ground for hundreds of rare olive ridley sea turtles.
Other wildlife in the area surrounding the hilltop villa complex includes howler monkeys, ocelots, tropical butterflies, hummingbirds and much more.
For those who crave a little bit of civilization, the property is located close to the beach towns of Samara and Nosara, where there's a spread of hotels, stores, bars and restaurants to dip into.
Many of the Nicoyan towns like Nosara are popular with yogis, and wellness enthusiasts, with retreats, lodges and experts in abundance.
A fun fact is that the Nicoya Peninsula is one of the world's first designated 'Blue Zones', an area where locals live measurably longer and healthier lives.
Extensive research carried out by explorer and National Geographic Fellow, Dan Buettner, found the region is home to a high number of centenarians in excellent health.
Overall, the country is also one of the happiest places in Central America, with Costa Ricans reporting a high level of life satisfaction and the country has the highest literacy rate in Latin America.
A celebrity destination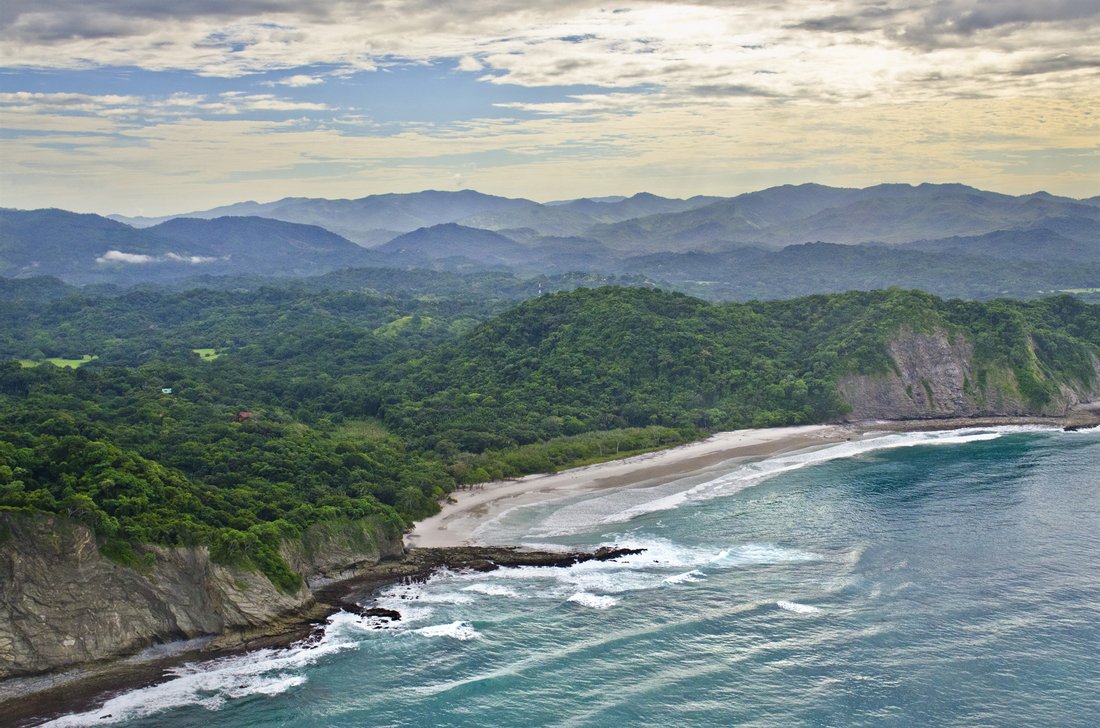 Mel Gibson's estate is located in a secluded area that is rarely marked on maps.
Gibson is just one of many A-listers who have a love for Costa Rica and the sense of seclusion it offers.
Along with its breathtaking flora and fauna, a major perk is that it is only around a five-hour direct flight from Los Angeles or New York and only a minor time difference once there.
Other celebrity fans of this jewel of a country include Mathew McConaughey, Matt Damon, Liam Hemsworth and Miley Cyrus, to name but of few.
In terms of those who have made a base there, Victoria's Secret model Gisele Bündchen and former Patriots player Tom Brady, own a private residence in Santa Teresa – also on the Nicoya Peninsula – and Charlie Sheen reportedly purchased an exclusive home within a vacation complex. While owning his Costa Rican getaway, Gibson has hosted many star guests there including Brittney Spears.
By Sadie Whitelocks