Ever dreamed of finding a property in a setting that feels like you're in permanent vacation mode?
Well for those who have, Soleii Playacar Premium Residences hits all the right spots, with 24 luxury properties fringing the Caribbean Coast in one of Mexico's most exclusive areas, the Mayan Riviera.
The high-end development is located within the private, gated community at the southern tip of Playa del Carmen with Cancun airport just a 45-minute drive away
The secure neighborhood boasts some of the country's best beaches with white sands, crystalline waters and countless palm trees to play with.
Adding to the allure, there's a spread of upscale amenities on the doorstep, including an 18-hole golf course designed by Robert Von Hagge, a number of luxury hotels, high-end fashion stores and 5th Avenue, which serves as a five-mile long pedestrian-only walkway.
A location with high-added value
The Soleii residential complex is situated within the subdivision of Playacar, in the so-called Phase I area of the community and just a few steps from the beach.
When it comes to wise investment, property experts say that this pocket of Playa del Carmen offers the best returns. It currently boasts some of the region's most expensive properties, which have attracted an international jet-set  crowd.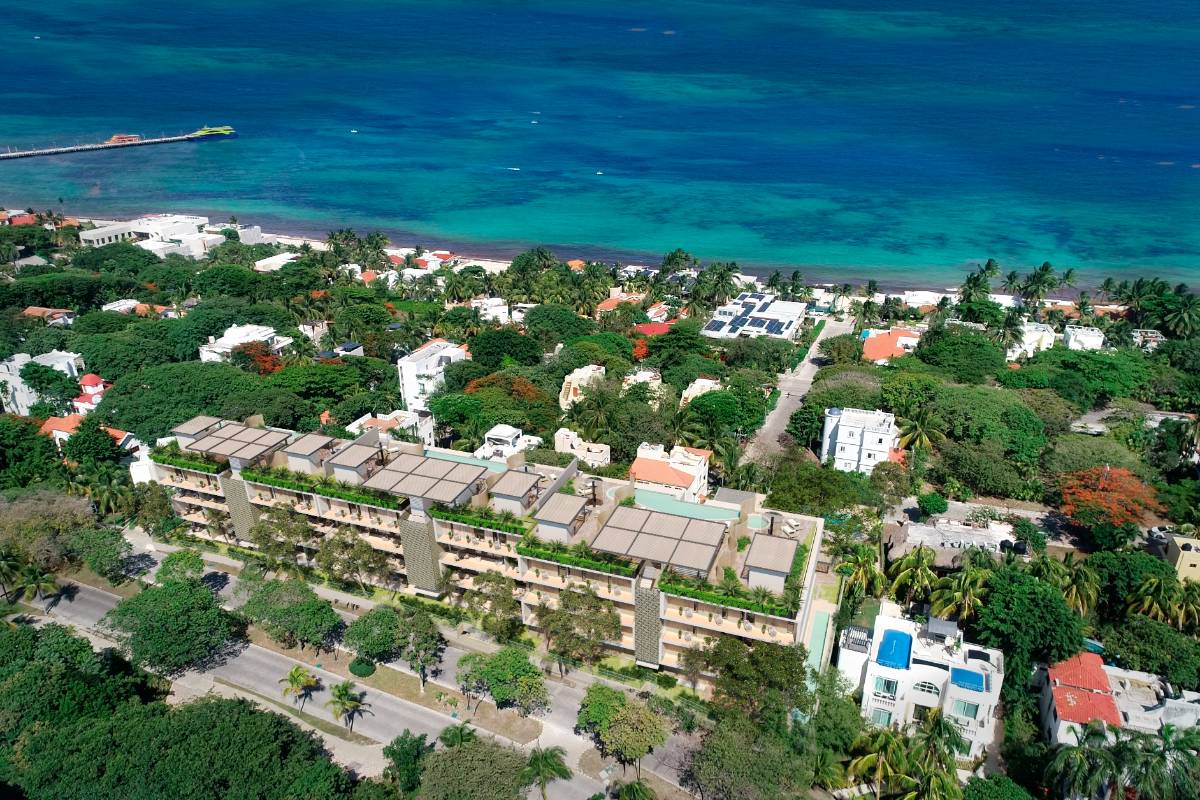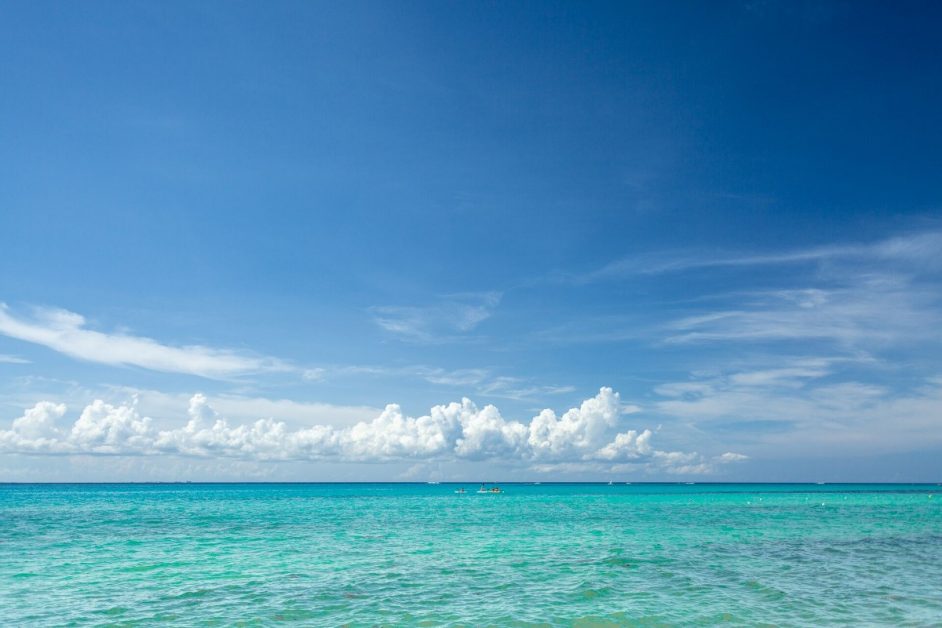 Views over the ocean from Soleii Residences
According to the developers, 'Soleii highlights the beauty of the region providing a lifestyle in
harmony with nature enjoying a lavish space, luxury finishes, and close to all amenities.'
And it seems, the Soleii development does offer buyers an enviable quality of life by combining a healthy lifestyle with the harmony of surrounding nature.
Step Inside Soleii Playacar Premium Residences
In terms of the properties on offer, the Soleii units – which include six sprawling penthouses – feature slick contemporary interior design and state-of-the-art fixtures and fittings.
Looking at the exteriors, the sandy-coloured Soleii buildings make for an attractive site, thanks to the use of natural materials, from light wood decking to sandstone walls to marble countertops.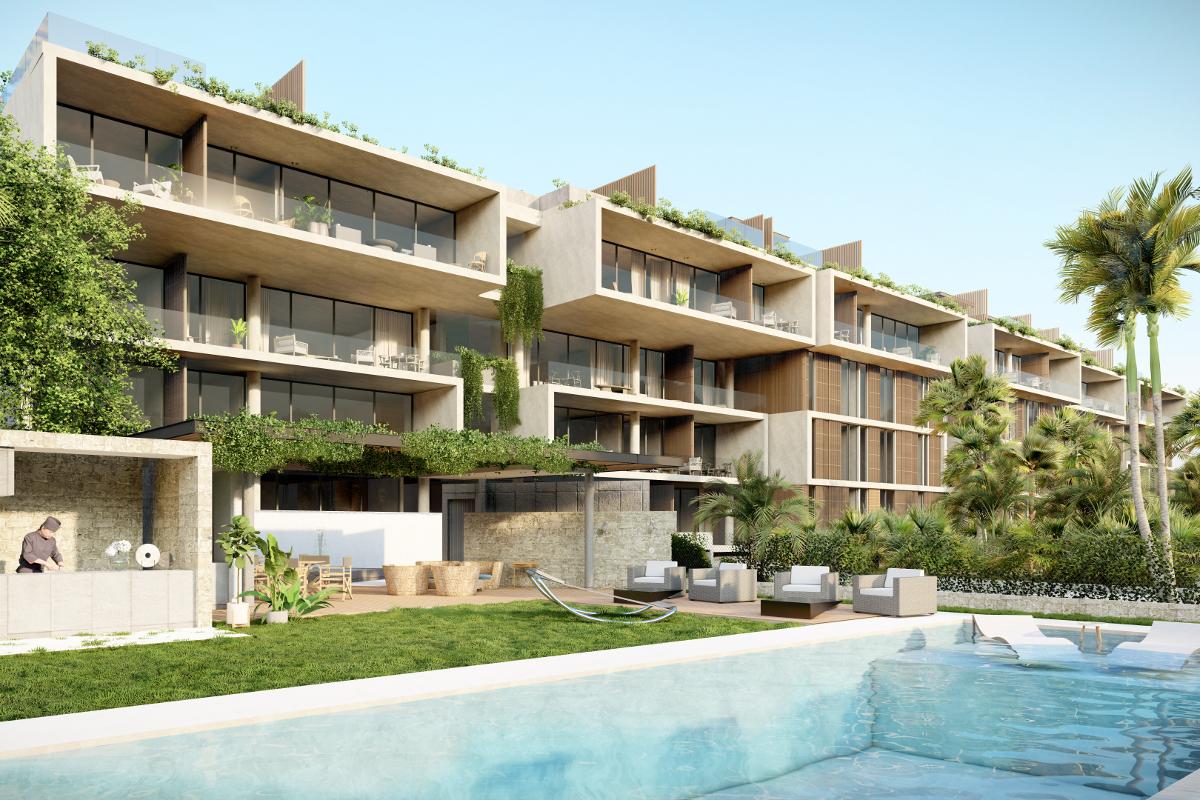 All of the living areas in the condominiums are flooded with natural light and offer unparalleled views of the surrounding jungle-like landscape and flawless coastline thanks to floor-to-ceiling windows and sliding glass doors.
Terrace spaces with glass screens mean that the paradisiacal surroundings can be further enjoyed at leisure.
Top-Notch Design & Architecture
To offer a sense of fluidity, architects went about integrating the living, dining and kitchen areas into a combined space.
However, if entertaining and seeking privacy, floor-to-ceiling sliding glass doors can be closed to separate the kitchen off from the main living areas.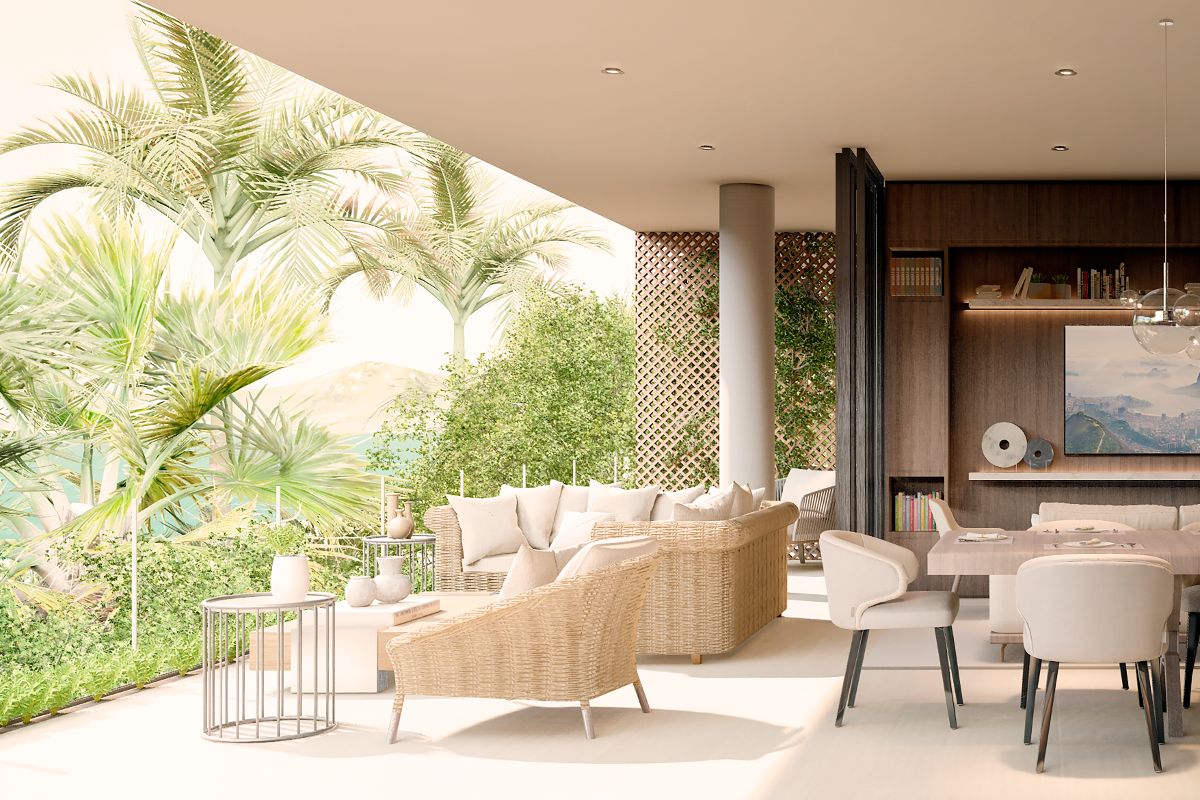 The kitchens certainly make for impressive spaces, with granite-topped central islands, two-door refrigerators and high-end gas stoves.
Moving to the bedrooms, the masters have terrace access, walk-in closets and roomy bathrooms, while the alternate bedrooms also serve up en suites.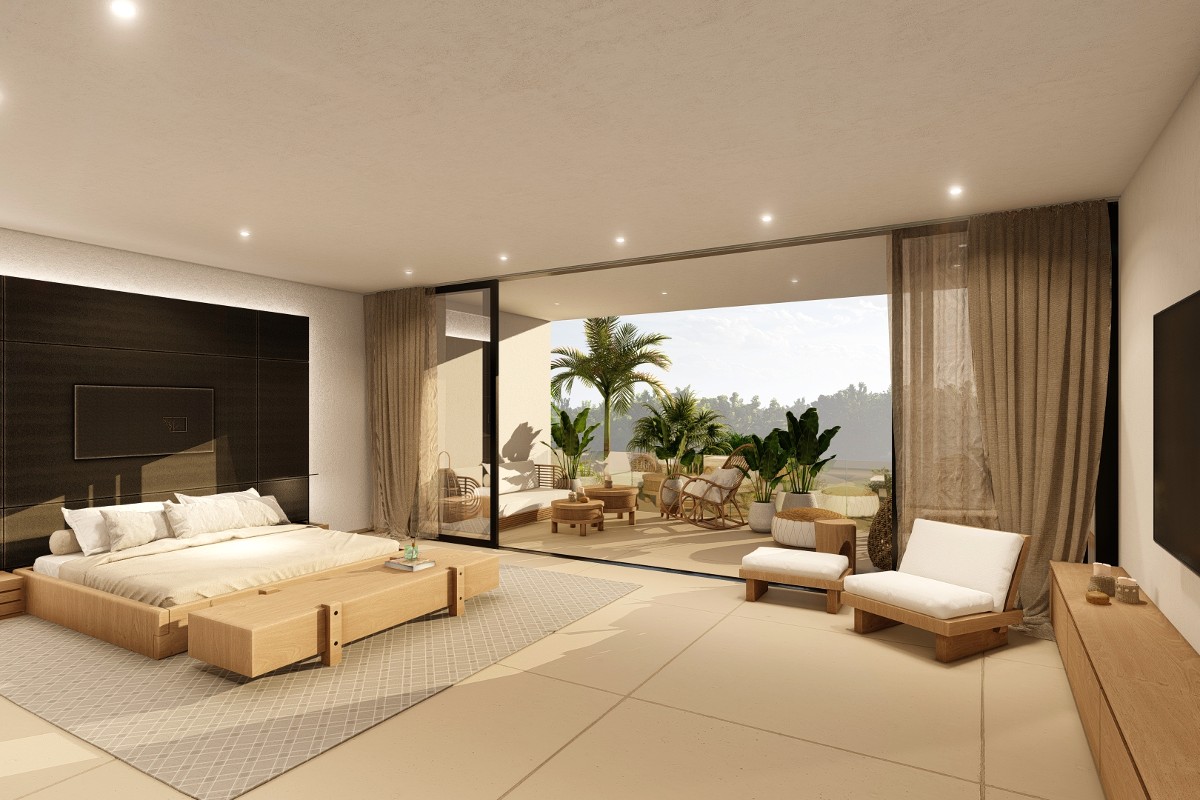 Feature headboards in the bedrooms, spanning a good portion of the wall, and hanging bedside lights, give the space a theatrical edge.
Another useful aspect of the units is the inclusion of service areas with stations for washing and ironing and self-contained service quarters with bathrooms.
Luxury living at Soleii
Taking things to a new level of luxury living, each building features a communal sundeck on the roof complete with Instagrammable infinity pools, restrooms and covered terrace spaces.
Each penthouse also has more than 1000 sqft. of private outdoor space decked out with a Jacuzzi and its own solarium area boasting ocean views.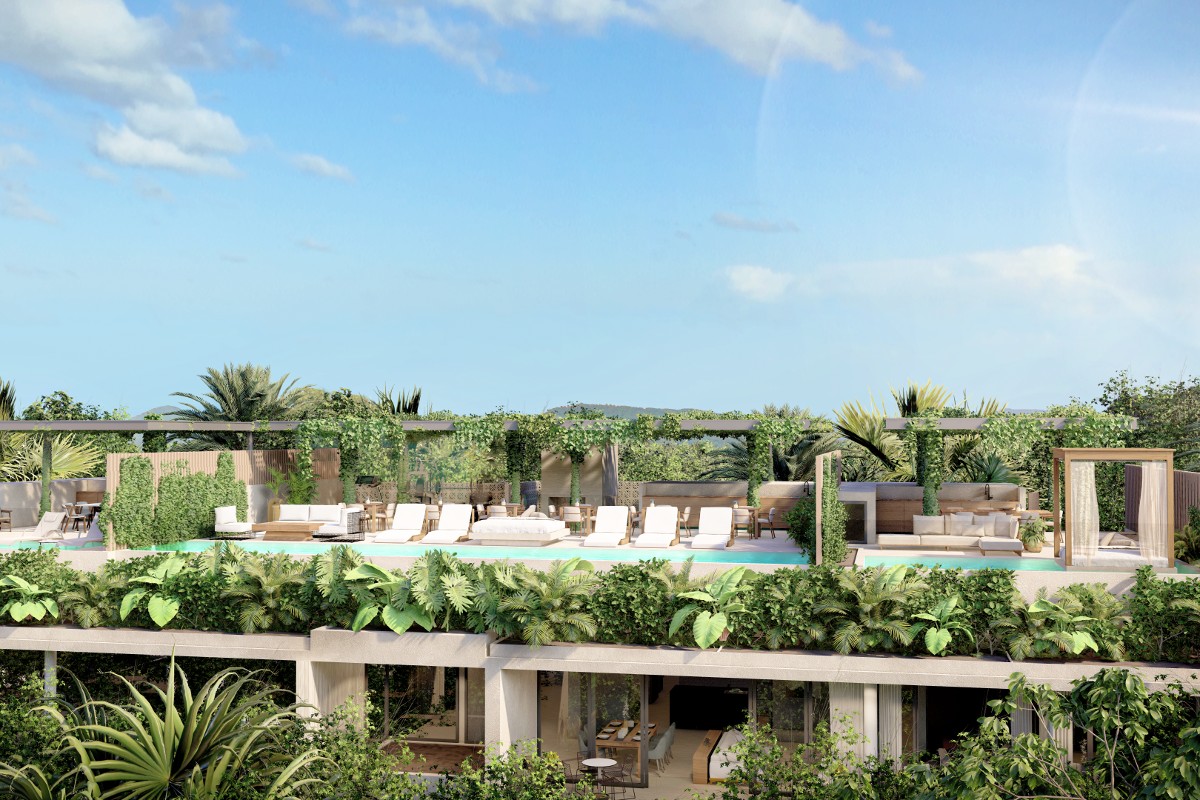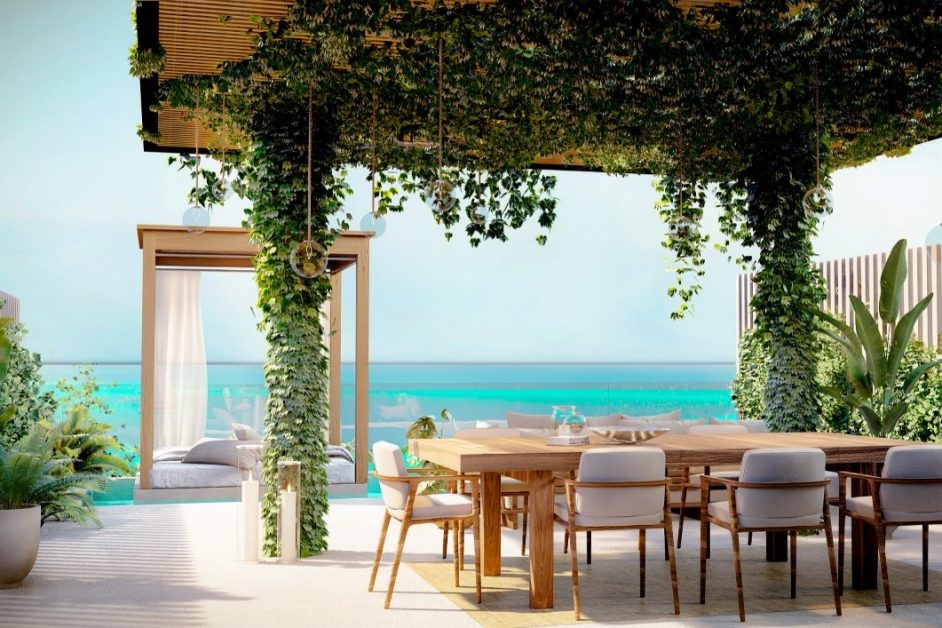 Solarium areas at Soleii Residences
Topping things off, property owners will gain access to a range of desirable on-site amenities, including a semi-Olympic size pool, a grill area, a gym, manicured gardens, underground parking and direct beach access.
Offering comfort of mind, there is a doorman stationed at the entrance of each Soleii building with 24-hour surveillance in operation.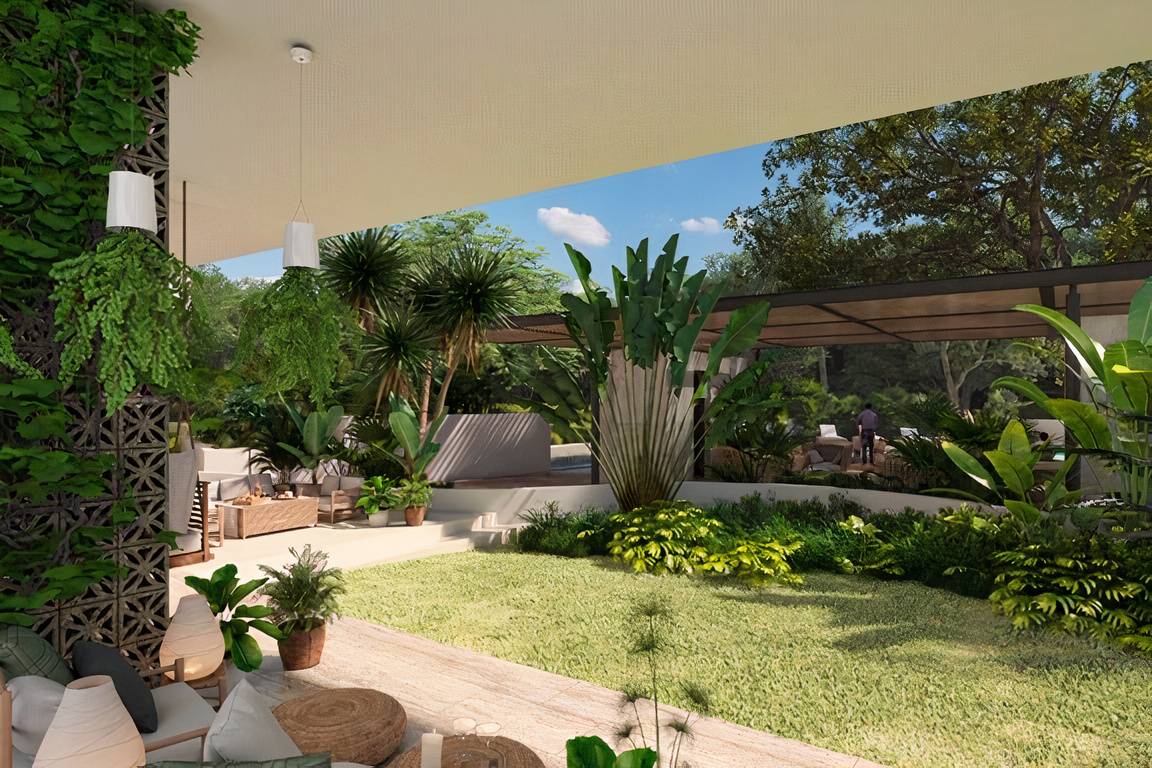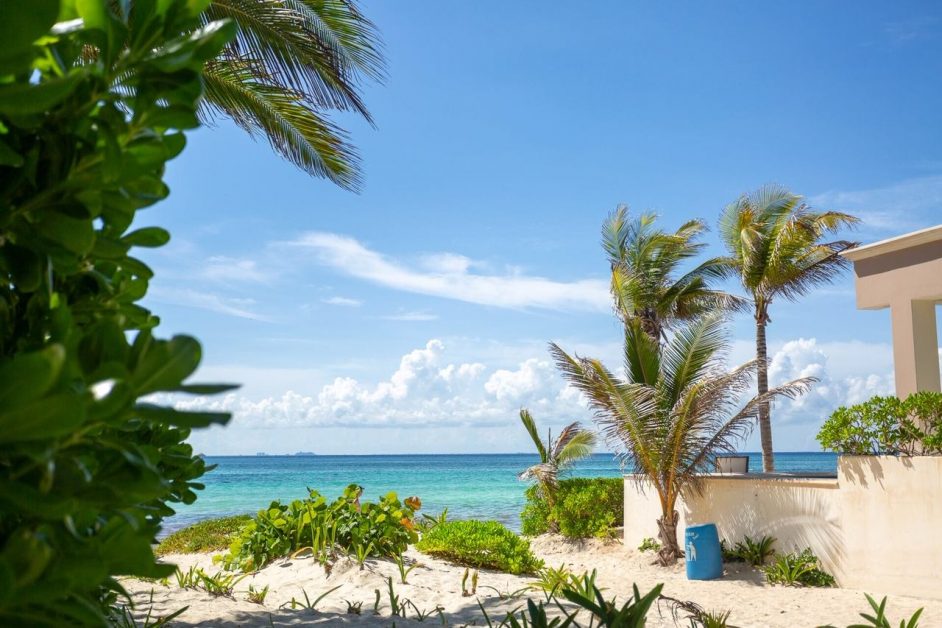 A private garden and a beach area at Soleii Playacar Premium Residences
The lobby areas also offer a sense of calm, with ever-flowing cascade water features.
Thanks to the development's well thought-out design, property experts expect the units to sell quickly. They are currently on the market, with prices starting from $1,299,000.
If you want to know more about Soleii Playacar Premium Residences contact international brokerage company JLL. The company is also based in Playa del Carmen with knowledgeable experts able to advise on the area.