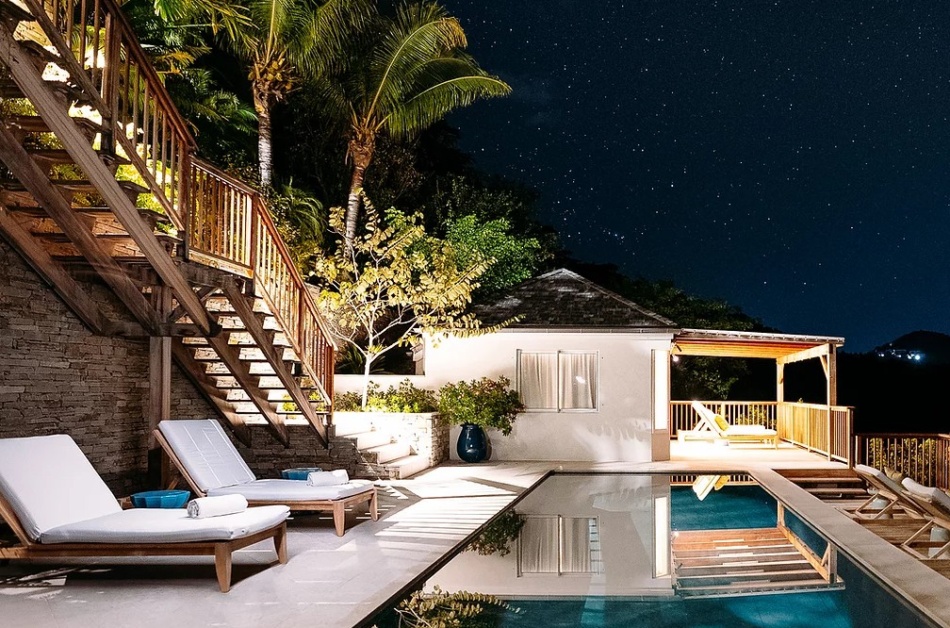 Villa Esprit de Roche, Colombier, St Barts, $11,950,921, for Sale By St Barth Properties Sotheby's International Realty.
View Listing
St Barts is the destination of choice for the world's most influential individuals with exquisite scenery, exclusive beach clubs and sense of Joie de Vivre proving an irresistible mix. And when it comes to real estate, St  Barts' luxury villas certainly could be considered the gold standard for high-end island living.
Villa Esprit de Roche is one of the island's most sought-after properties to hit the real estate market in recent times, boasting an unbeatable location and exceptional design. Let's take a closer look at this exceptional hillside estate.
Meet Villa Esprit de Roche, St  Barts' hidden gem
The three-bedroom home set across 2.082 acres is perched on a verdant hillside in Colombier, one of St Bart's most desirable districts known for its secluded beach.
The only building visible from the shoreline is the home of billionaire David Rockefeller.
Villa Esprit de Roche serves up open unobstructed views of the white sands below and the Caribbean Sea. The neighbouring islands of Nevis, St  Kitts, Statia and Saba are set beyond. These unique panoramas are locked in by zoning laws which prevent encroachment from neighbours.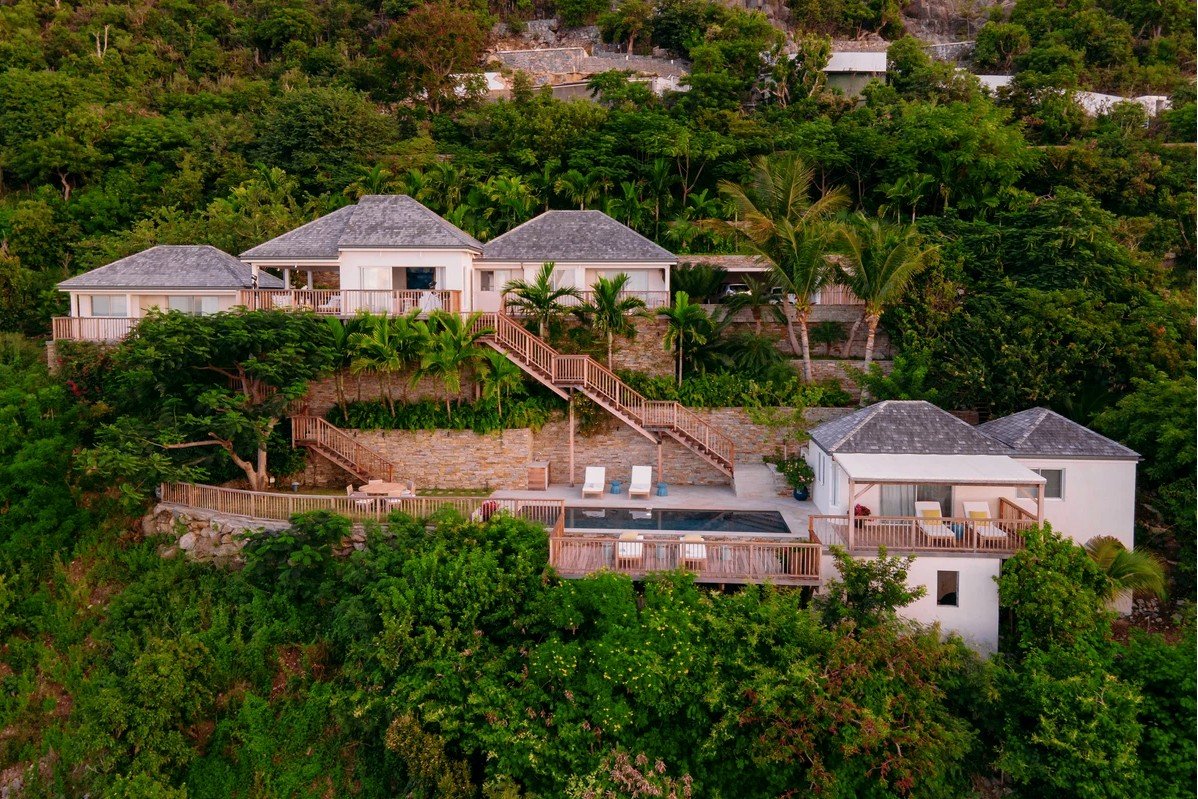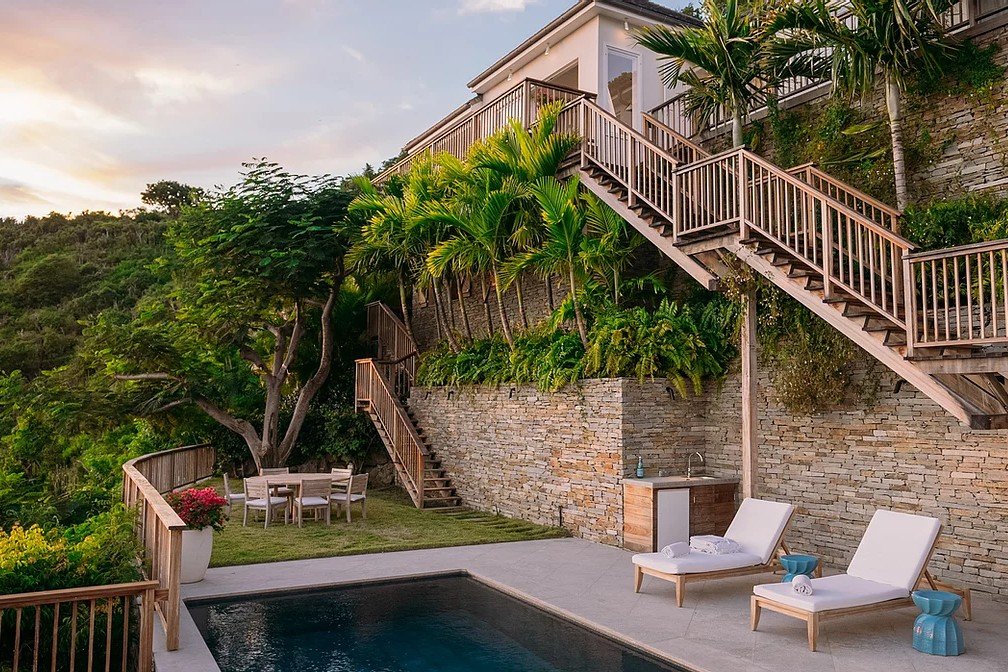 Villa Esprit de Roche: unobstructed views from an infinity-edge sundeck clad in a stone imported from northern Greece
The property, which dates from the1980s, has undergone a complete refurbishment to the highest standards. Its exterior is now clad in a slate-like stone imported from northern Greece which brings renewed charm.
Moving inside, a sophisticated beach club feel runs throughout with a touch of traditional island flare.
Whitewashed walls and apex ceilings serve as a canvas for a mix of well-curated contemporary furnishings and art pieces. There are flicks of gold, in the form of gilded mirrors and shimmering bedside lights, which inject a touch of glamour.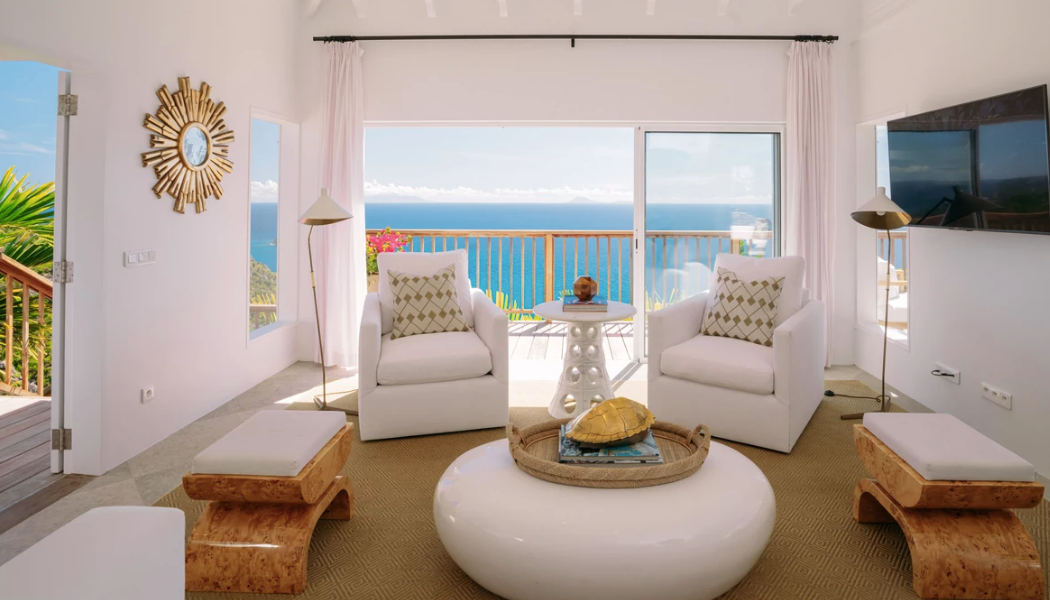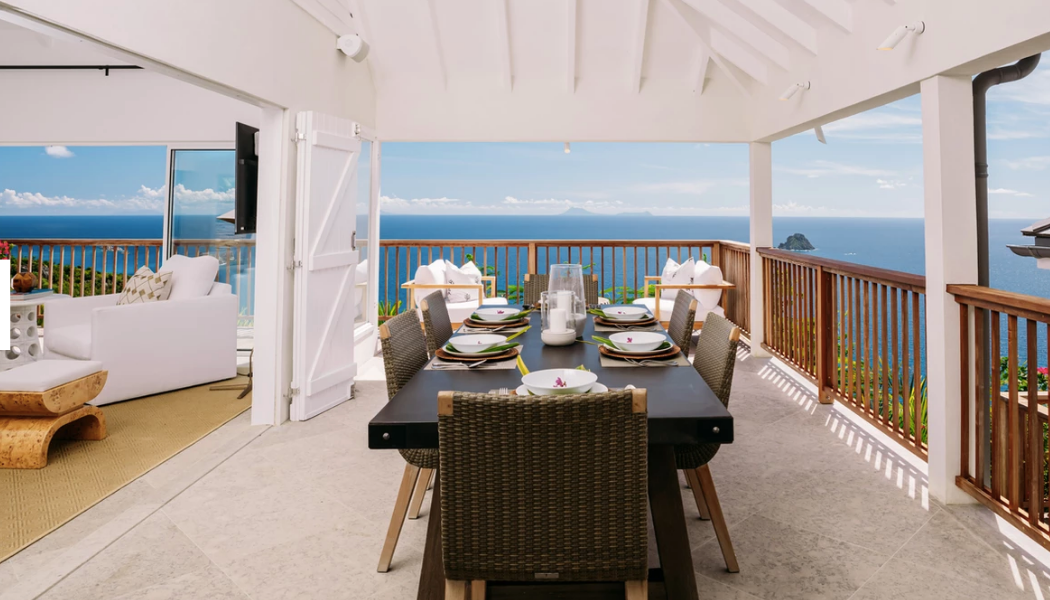 Whitewashed walls with flicks of gold and well-curated contemporary furnishings
Meanwhile, well-thought-out lighting and dark wood flooring invite a warm atmosphere.
In the state-of-the-art kitchen and bathrooms, durable stone worktops complete the polished look, as do the four-poster beds in the bedrooms.
The kitchen breakfast bar, lounge and terraced dining room run into each other, while floor-to-ceiling glass doors span the length of the property.
Grey limestone flooring from le massif Calcaire Estremenho in Portugal also helps link rooms and offers an attractive contrast to the hardwood boards.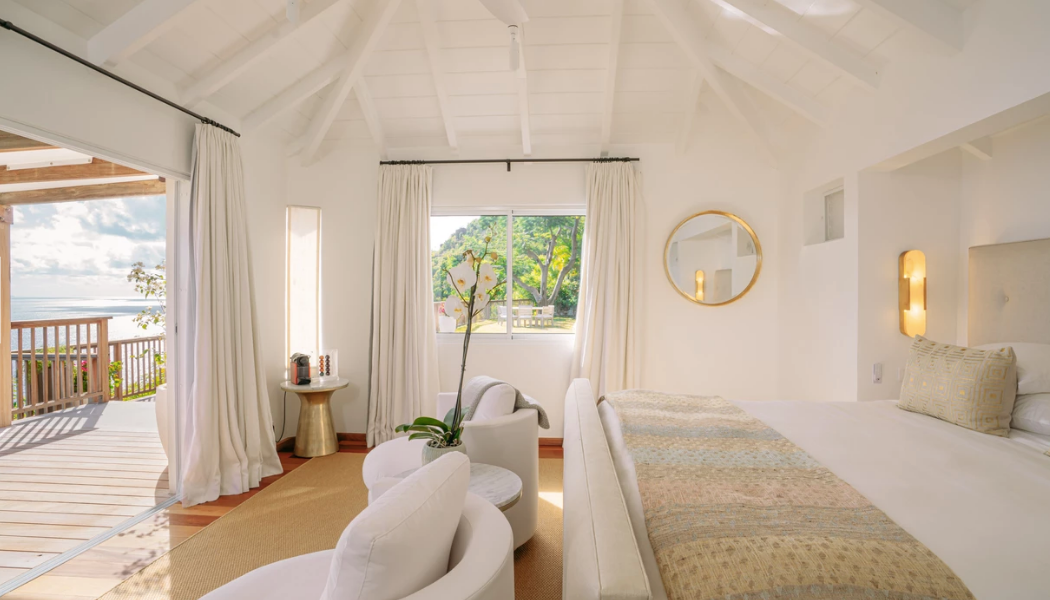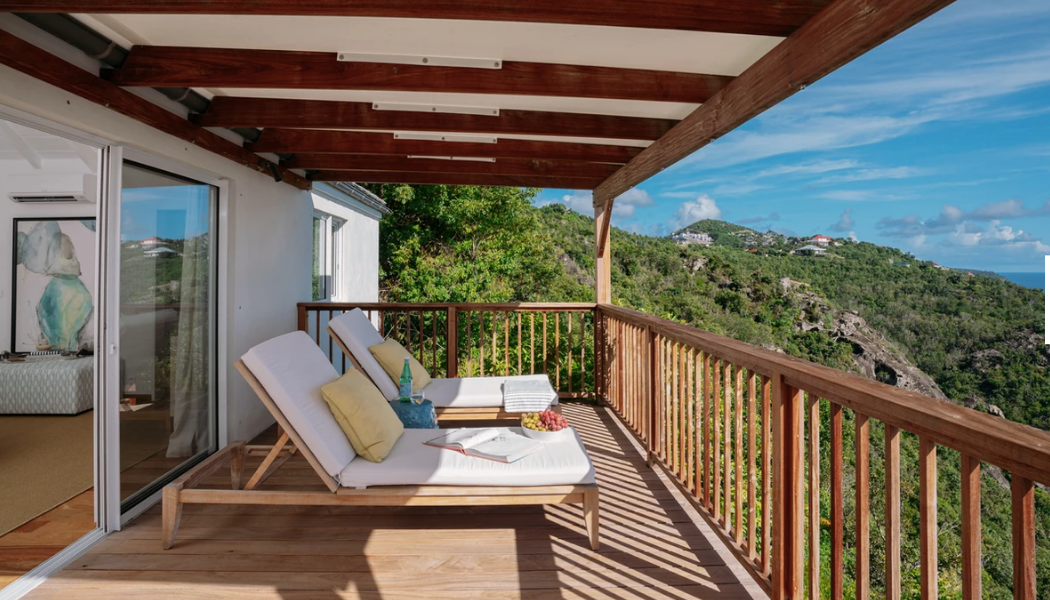 Well-thought-out lighting and dark wood flooring invite a warm atmosphere
The master suite is also located on the villa's lower level allowing for greater privacy and there is a separate pavilion housing the second bedroom. The other bedroom is on the upper floor, off from the main living space.
All of the bedrooms afford superb sea views and private terrace. Other highlights include air conditioning, king beds, fluffy robes and TVs.
The en suite bathrooms include deep tubs, showers, ample countertop and storage space with large mirrors reflecting natural light onto surfaces.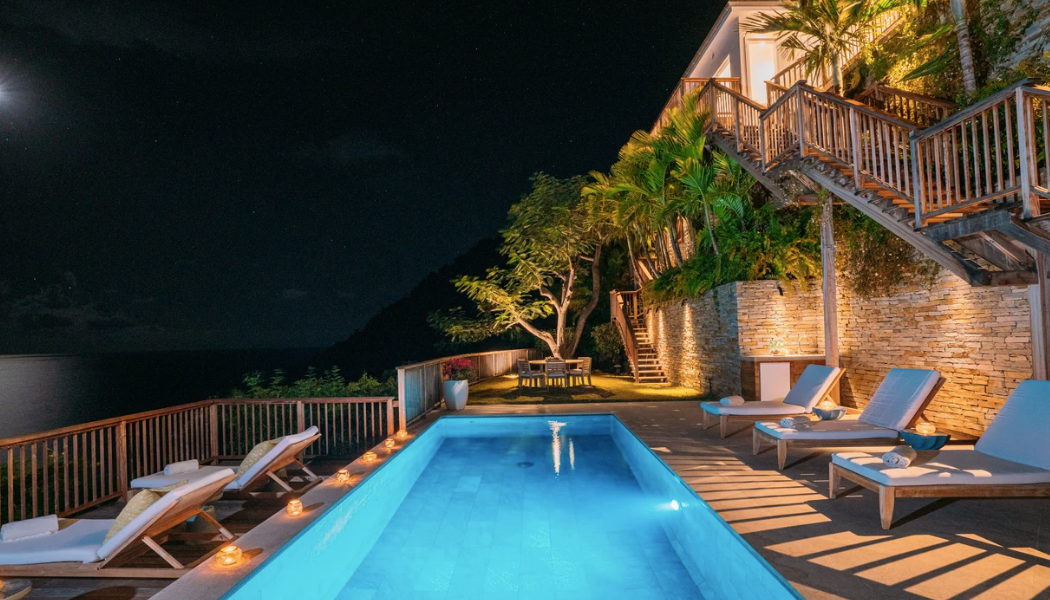 Unique panoramas are locked in by zoning laws which prevent encroachment from neighbors
Stepping outside, a terrace surrounds the villa and leads down to a generous outdoor space complete with a large swimming pool, lawn, wet bar, infinity-edge sundeck and dining area.
Mature planting helps create an intimate atmosphere. Palms surround the villa and the natural lawn frames a large Flamboyant (Royal Poinciana) tree which looks wonderful in bloom.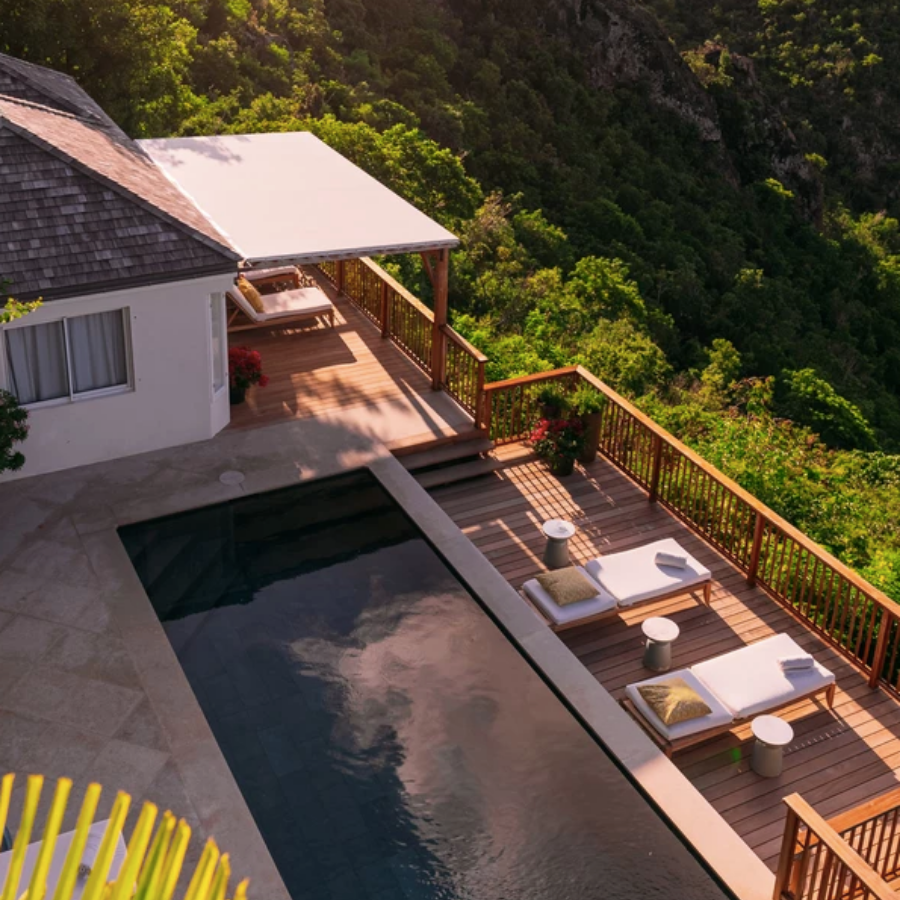 Villa Esprit de Roche's transformation was carried out by renowned St Barts architecture and construction firm, Bureau Xavier David.
The whole building was strengthened in the process to safeguard against storm damage following the blow from Hurricane Irma in 2017.
The firm says that it aimed to give the property a 'contemporary feel' to 'renew and reinvigorate both the spirit of the rock (Esprit de Roche in French) as well as the spirits of its inhabitants'.
It's all about location
The small Caribbean island has an average annual temperature of 27 degrees Celsius (80 degrees Fahrenheit) and it has an exceptional record of having no more than five days per year without sun.
There are 22 white sand beaches framed by lush volcanic scenery and glistening blue waters beyond. St Barts is home to a Marine Nature Reserve, with corals, humpback whales, turtles and parrotfish among the inhabitants.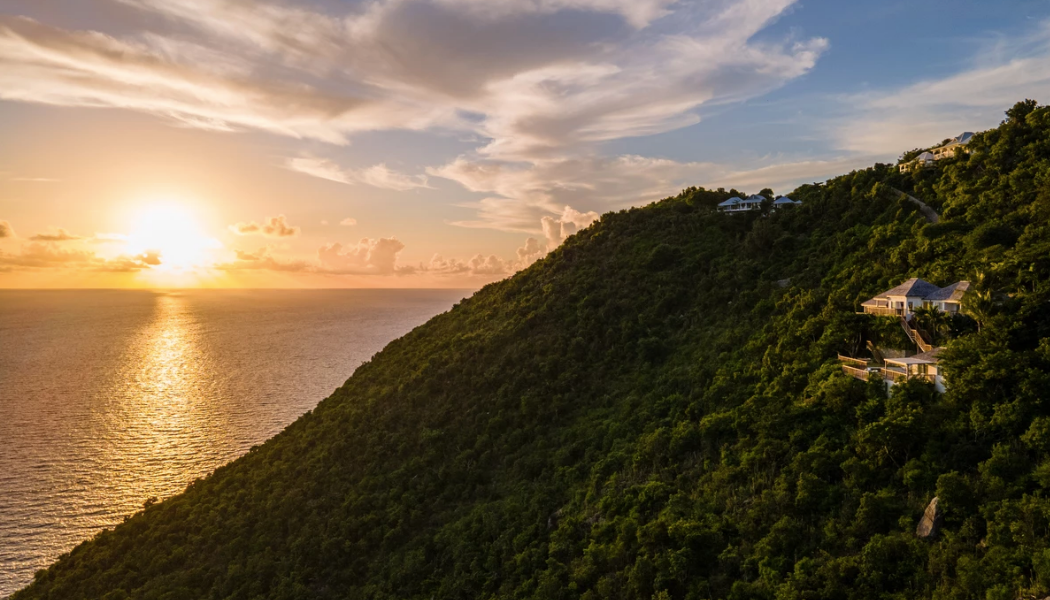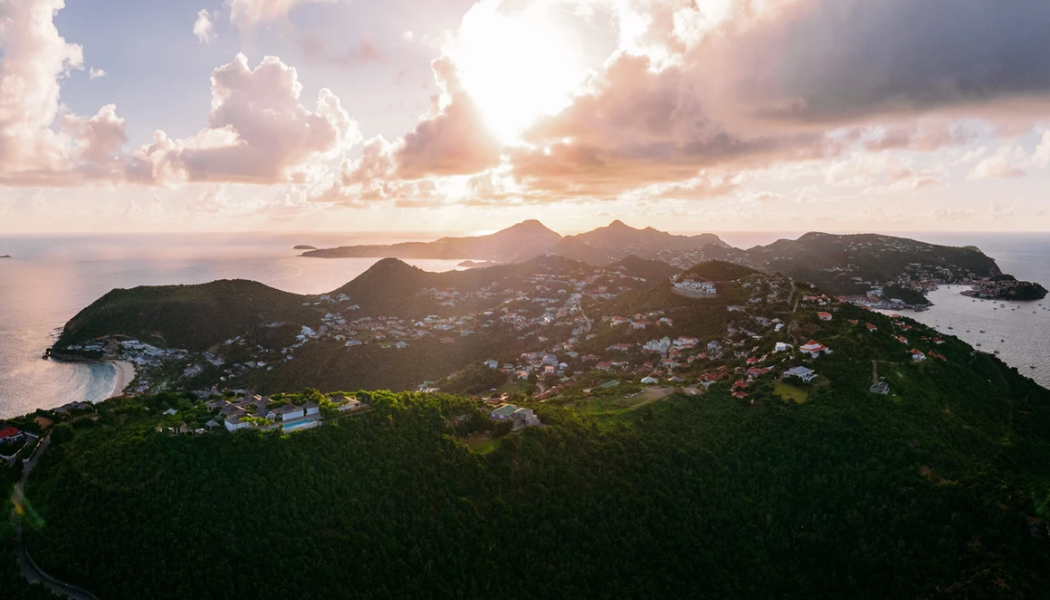 Aerial views of Colombier, St Barts, and Villa Esprit de Roche nestled on the hillside
Villa Esprit de Roche is situated in Colombier, the northwestern quartier of St Barts where you can find the most secluded beach area on the island (not served with public roads) and a few scenic hiking trails.
So, Colombier's bay area is only accessible by boat or foot. There are no restaurants or hotels around as L'Anse de Colombier is now part of the natural marine reserve.
The beach is great for snorkeling: at times hundreds of enormous orange starfish can be seen in the bay, and the rocky outskirts of the beach house a large variety of sea life.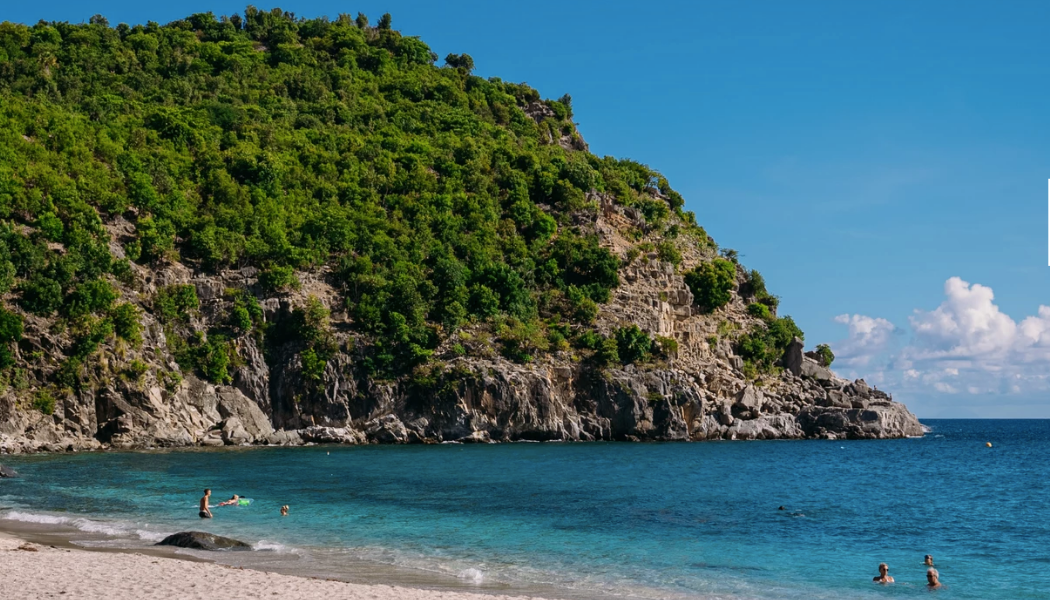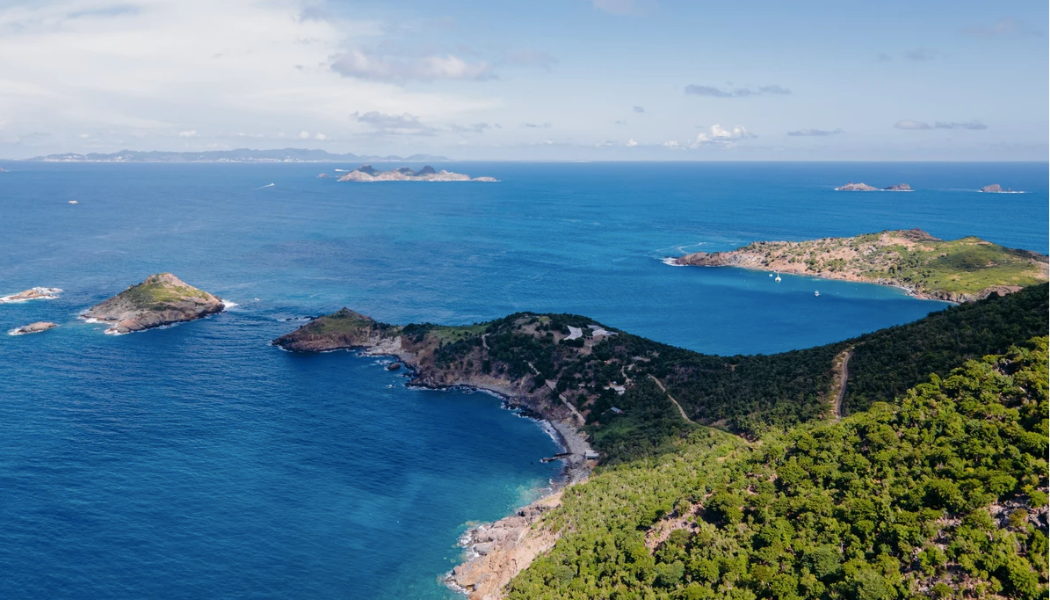 Views of Colombier beach and David Rockefeller's home
The only building which can be seen from the beach (as well as from Villa Esprit de Roche) is the home of billionaire David Rockefeller, the origin of the development of high-end tourism in St Barts.
Exclusive luxury insights
for newsletter subscribers only
Delivered every week to your inbox