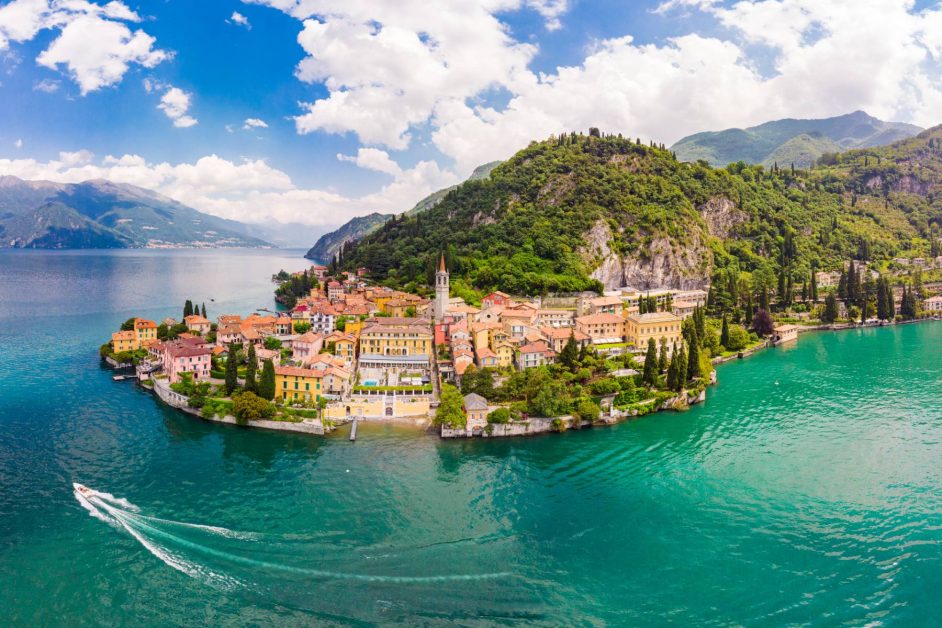 Aerial view over Varenna, Lake Como
Lake Como is a unique province that offers residents a varied mix of scenic landscapes, lifestyles, culture, and activities. Boasting waterside areas like Cernobbio, Bellagio, and Menaggio where the international jet set buy homes, plus a host of historic towns and laid-back Alpine villages, the characterful region also benefits from excellent transport links.
Legendary properties like Villa Carlotta, Villa Passalacqua, Villa Olmo, and Villa d'Este and quality golf courses such as Monticello, Menaggio Cadenabbia, and La Pinetina are within easy reach too. You're also close to the Alps, should skiing be your favorite sport, and just half an hour by car from cosmopolitan cities like Milan – the fashion capital of Europe.
Living on Lake Como
We talked to Luca Ungari, owner of Patio Real Estate, to hear his thoughts on the best places for expats to live in and around the shores of Lake Como. Options vary, depending on the type of climate you prefer and factors such as what you enjoy doing in your spare time.
"Lake Como is a really particular area," says Ungari. "It mixes water, mountains and towns, and offers very different lifestyles, depending on where you choose: lakeshore, close to a town, on the upper side of the lake, near the water, or high in the mountains."
The key question high net worth buyers should ask themselves is, what kind of life do I want to have when I spend time at Lake Como?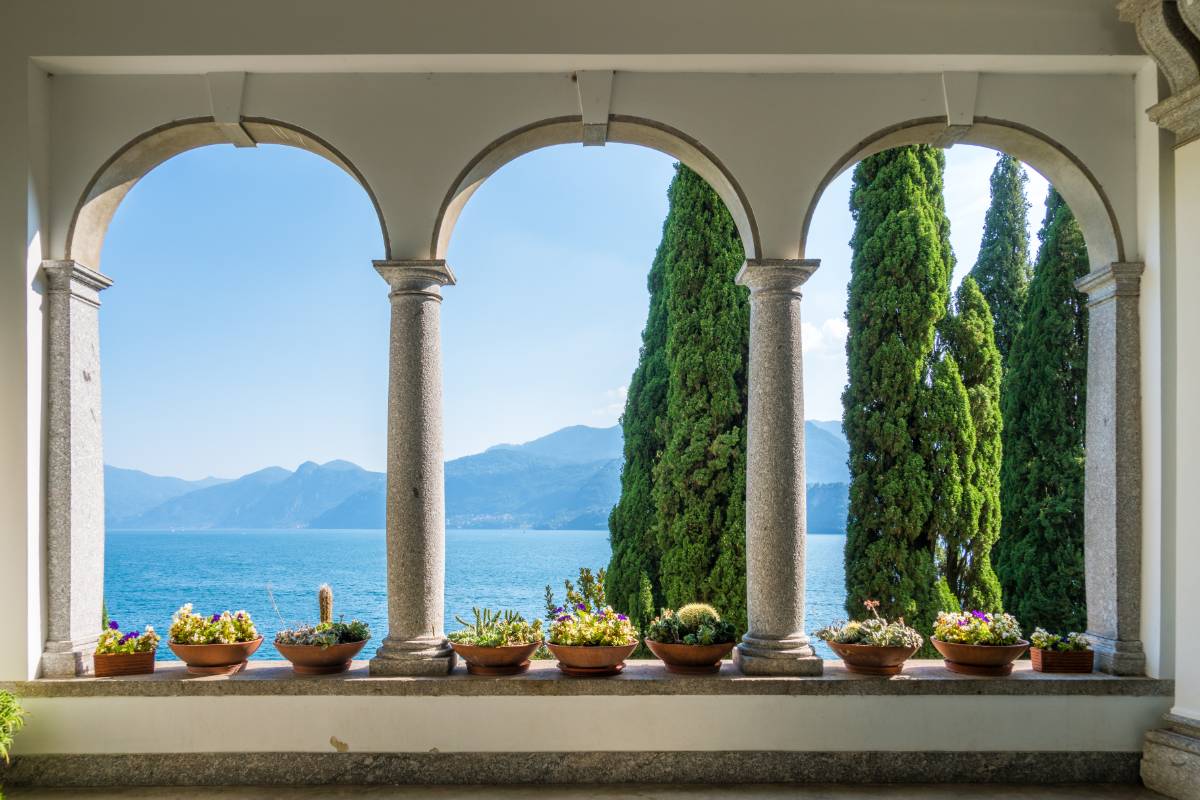 In terms of top places to peruse, let's start with Central Lake and Bellagio, where the three branches of the lake meet. There, you'll find the warmest weather, and scenic views of the Bellagio promontory, Gringa Mountain, and the "high lake" on clear days.
Bellagio – the pearl of the lake and a destination for the elite – is known for its cobbled streets filled with shops, boutiques and restaurants, as well as world-famous Villas Serbelloni and Melzi.
Meanwhile, across the water to the west is the shoreline from Cernobbio to Menaggio – another popular stretch known for its parade of impressive villas brimming with flowers and exotic plants. Villa d'Este with its on-site golf course that's number one in Italy is just one notable example.
Another option to consider is Lecco, on the eastern branch of the lake. Located in a valley at the foothills of the Bergamo Alps, this charming walled city offers a dramatic Alpine backdrop, wonderful views of the water, and fewer crowds than some of the better-known towns.
Drive southwards for 15 minutes and you'll reach Brianza. At the foot of the Alps, you're close to the small glacial lakes of Pusiano, Montorfano, Alserio, Segrino, and Annone. This hilly spot is also a popular summer resort for the people of Milan.
And let's not forget Como, one of the best towns to settle. Located close to the Italian-Swiss border at the southern tip of the lake, the bustling Lombard city is surrounded by green ridge hills and overlooks the water. With quick and easy access to all of the places we've mentioned, Como also features a diverse choice of real estate, from the Old Town to quieter, upscale residential areas and nearby quaint villages. It's also well-connected, just 45 minutes from Lugano, Milan, and Linate airport.
Five world-class villas on the market in Como and the surrounds
We've selected a handful of top-quality properties in the locality, from apartments with lake views to houses with spacious gardens looking down to the water.
Contemporary water-facing villa on Via Nino Bixio
Price: €1,050,000 (approximately $1,118,750)
This three-bedroom four-bathroom home is just a few steps from the water and the historic center of Como, and was renovated recently. Spread over 300 square meters, there's an open-plan living room and kitchen leading out to a private balcony, plus a gym, a TV room, and two water-facing terraces to admire the glorious vistas from. The modern semi-detached property also comes with a double garage. Head out to the common garden for more of those wonderful views, and you'll spot an inviting pool to take a dip in.
Three-story house with 25 rooms in Cardano
Price: €3,500,000 (approximately $3,730,500)
A five-minute drive from Como is this rural 16th-century property surrounded by green hills. Bursting with history and original features and spanning 1,150 square meters, the dwelling was completely refurbished in 2004 by the owner. Sitting in well-kept parkland of 28,000 square meters, the residence is ideal for entertaining and enviably positioned just half an hour from Milan and Malpensa airport and a quarter of an hour from Switzerland.
Eight-room duplex on Via Torno
Price: €1,700,000 (approximately $1,811,975)
This capacious apartment in a newly constructed building features three bathrooms, two terraces spanning 88 square meters and 290 square meters of inside space. Located on the seventh floor, there are three bathrooms and bedrooms (the master has a walk-in closet and a balcony), and four parking spaces in the garage. With plenty of large windows, the flat is full of natural light and boasts spectacular vistas down to the lake. There's also a green outdoor area to enjoy.
Charming villa with lake views on Via Carescione
Price: €690,000 (approximately $735,195)
Spread over three levels and set on a fenced plot of around 3,000 square meters, this detached three-bedroom villa in Brunate comes complete with a separate two-bedroom outbuilding of 50 square meters that's currently used as a tourist rental. The ground floor of the primary residence features a spacious living area with large windows and a fireplace, plus a bathroom; head up and you'll find the bedrooms and a spiral staircase leading to the attic. There's also a capacious terrace from which you can savor scenic panoramas of Como and the first basin of the lake. The property is easily reachable from the Como-Brunate funicular – on request, it stops at Carescione by the entrance to the house.
Elegant four-bedroom apartment on Via Diaz
Price: €890,000 (approximately $948,295)
This bright and airy first-floor condo in the center of Como is located in a medieval building and features rooms with generous heights and characterful exposed beams. Recently renovated, the property comes with a covered parking space in the garage, plus a private storage area for motorcycles and bicycles. The modern flat spans 240 square meters and has independent heating and low condominium fees, and décor-wise, it's modern all the way.
Lake Como: A unique and scenic hotspot
What else is there to know about the third-largest lake in Italy? Surrounded by mountains and valleys, the area offers unparalleled scenery across rolling mountains, cliffs and lush forests. For example, Monte Legnone, Dolomite Grigne, and Resegone are perfect spots for summer hiking and winter sports. Orrido di Bellano is another popular destination – a natural gorge created 15 million years ago.
On top of that, there are numerous nature reserves to immerse yourself in, including Northern Grigna and Monte Barro regional parks and Pian di Spagna. If water sports are more your thing, why not head onto the lake by canoe or boat? For the more adventurous, there's kite-surfing to enjoy in the windy Upper Lario region.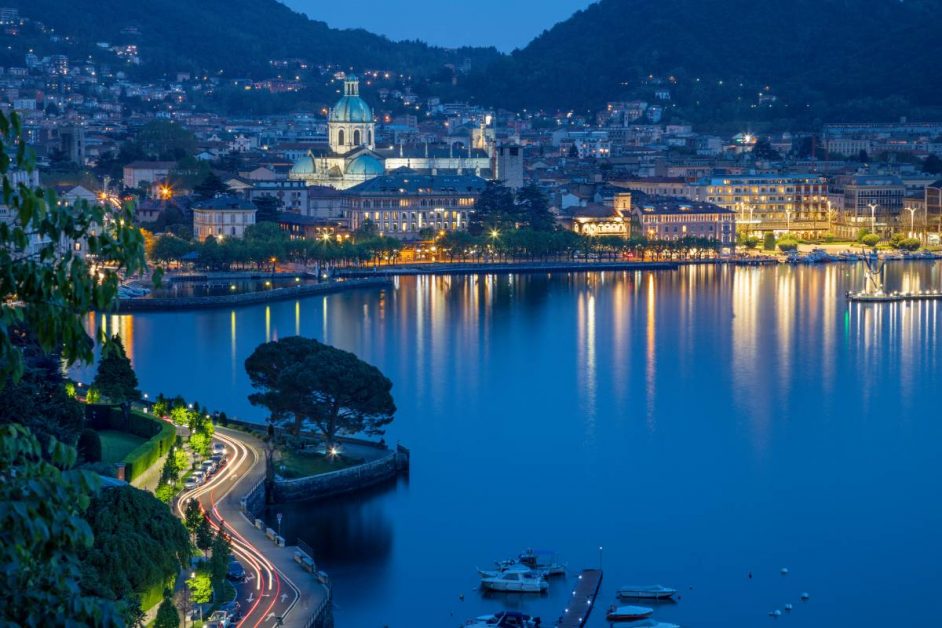 The city of Como
Foodies will also be in their element, with different culinary traditions found around the lake. Olives that grow on the banks are used to produce Protected Designation of Origin oil and fish is a prominent ingredient – dishes like risotto with perch fillets and delicacies made with sun-dried shad feature on menus. In the highlands and valleys, the food is more rustic, with polenta a staple.
Meanwhile, if high-end dining is your preference, you'll find numerous Michelin-starred eateries in the region, from I Tigli in Theoria in Como to Mistral in Bellagio.
Looking for a home on Lake Como that fits your lifestyle? Contact our partner Patio Real Estate for more information and to discuss their diverse portfolio of properties. Or, send Luca Ungari a personal request.