Herencia by NCalma Homes are tourist apartments with one bedroom providing both investors and holidaymakers with the unique chance to purchase their own beautifully finished apartment in one of Ibiza's most popular spots, Santa Eulalia del Río.
The property is perfectly placed in one of Ibiza's best residential areas and offers buyers their own private vacation home and also a sound investment to let out to tourists throughout the year.
The apartments will be part of a boutique hotel, which has a rooftop pool, spa, gym, cafeteria and restaurant.
Herencia by NCalma Homes benefits from a beautiful location, exceptional amenities and plenty for both experienced and first-time investors. And as for Santa Eulalia, this serene location offers buyers easy access to Ibiza's main attractions but also a peaceful sanctuary to return to.
Discover Santa Eulalia del Rio
Santa Eulalia, Ibiza's third largest coastal town, is situated just 21 km from the airport and is a popular destination for families and those looking for a quieter escape to the Isla Blanca.
Its beautiful promenade lined with palm trees, the marina and sandy beaches provides many opportunities for late night strolls and enjoying the sunshine.
Santa Eulalia is also recognized as one of Ibiza's most cultural and gastronomic locations, with some of the island's most renowned restaurants and the stunning marina in the area.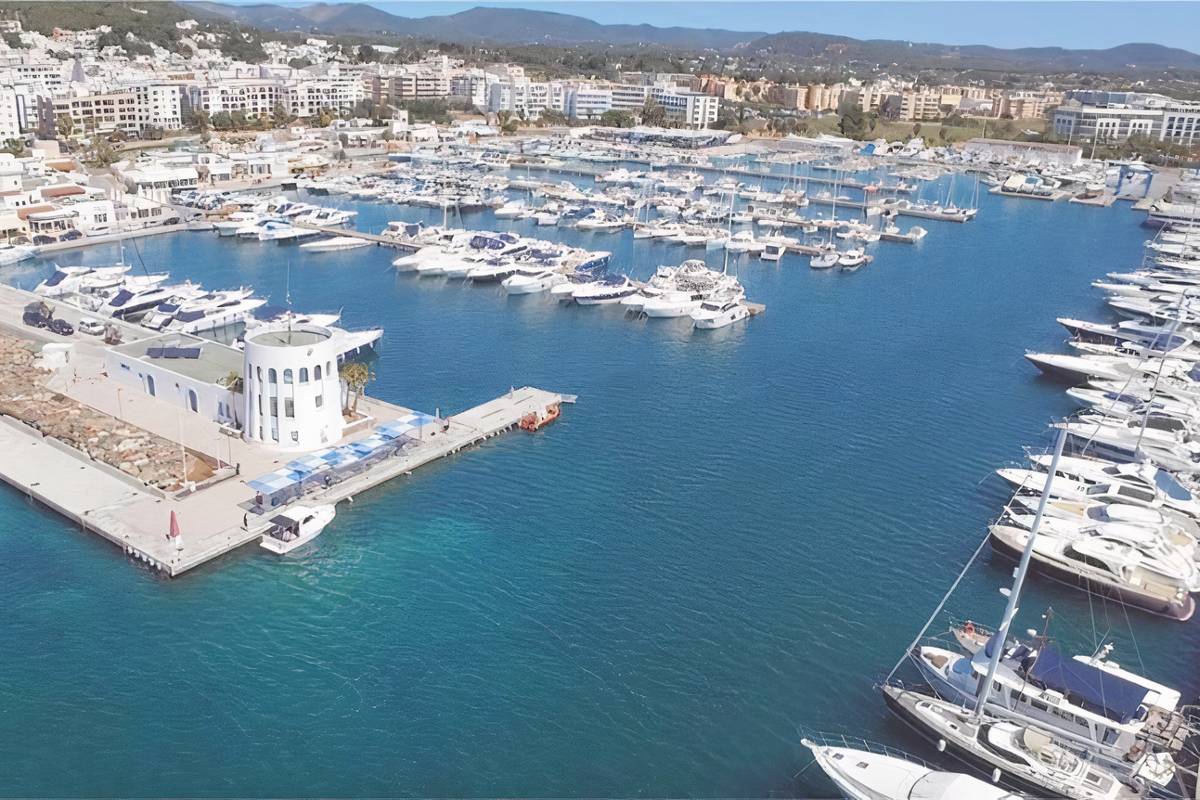 The resort features two of the most high-end Ibiza hotels, Aguas de Ibiza Grand Luxe Hotel and W Ibiza, the famous Amante restaurant and Nikki Beach club, and Las Dalias Hippy Market.
There are also luxury shops and bars, with a laidback feel compared to other parts of the island.
Picturesque natural sights, including a dozen of coves just 10 minutes from the town, give  plenty of opportunities for a relaxing vacation.
However, party fans do not need to be disappointed as it is still just 20 minutes from Pacha, Amnesia and the other world-renowned nightclubs Ibiza is known for.
Herencia sits close to the marina with its façade cleverly integrated into the landscape of Carrer San Jaume, the main street of the town. The property perfectly balances the modern and traditional, blending in perfectly with the traditional feel of the Ibizan town.
Spotlight on Herencia, tourist apartments with profitability
NCalma Homes is a growing luxury real estate brand focused on the highest quality property developments in Ibiza. They focus on investing in prime locations across the island. NCalma Group has an impressive portfolio of hotel, residential and tourist properties.
Herencia by NCalma Homes is a luxury development with 30 apartments, 35-57 sqm. It offers the dual benefit of the perfect place to relax in your own vacation time whilst also providing investment opportunities and the chance to rent out to tourists at other times of the year.
Design and amenities
Its design is elegant and luxurious with Majorcan-style wooden shutters, wrought iron rails and handcrafted lattice work to the façade, creating a distinctive and unique appearance.
All individual units are spacious in design with access to the outside, ensuring all residents enjoy complete privacy as well as wonderful views and plenty of space.
The interior is light-filled and chic thanks to the elegant beige color design with accents of wood and Balearic style details.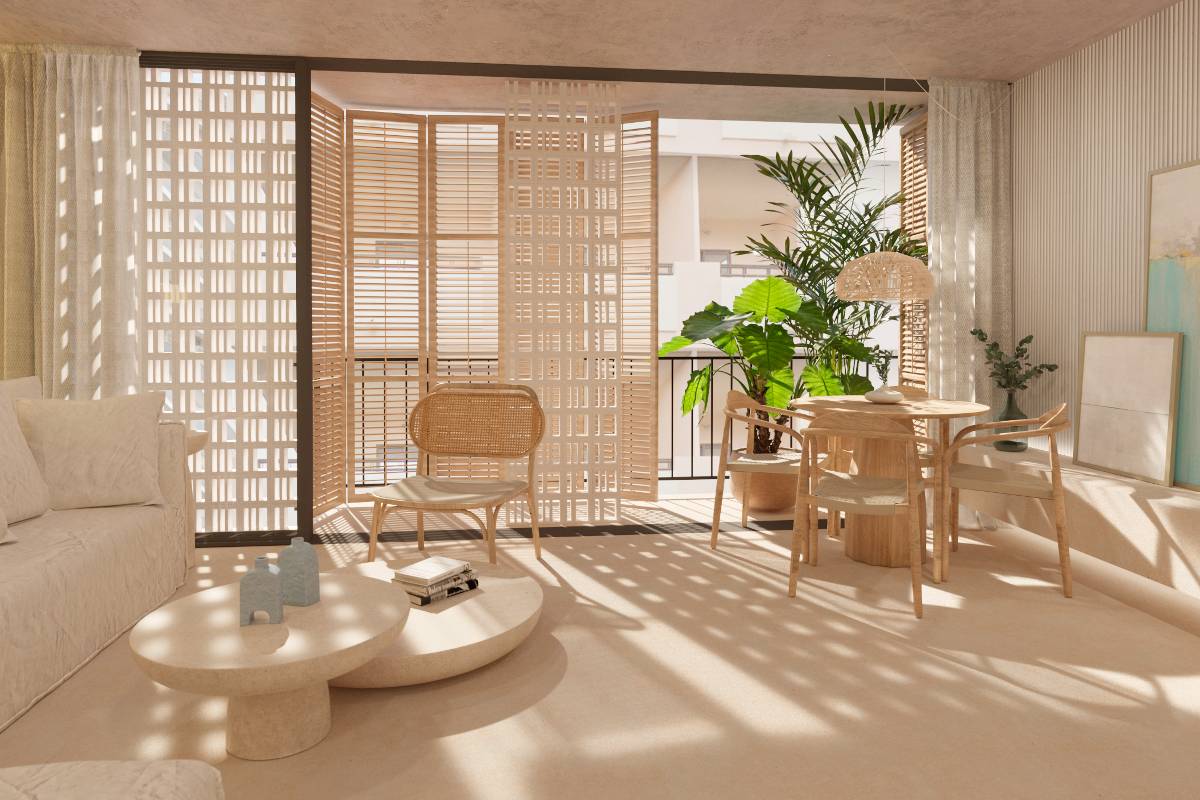 Every apartment has one bedroom, a living room with a double sofa bed, a perfectly equipped kitchen, balcony, a bathroom with a bathtub, aerothermal and home automation.
The hotel facilities allow owners to keep the perfect balance between privacy and high-quality services. Apartment owners also have access to the hotel's rooftop swimming pool, spa, gym, café and restaurant.
Property management
Another beneficial side of owning the property with NCalma Hotels is that the company takes care of tourist rental management. The property will be managed by professionals with more than 20 years of experience with well-known hotels such as the five-star Aguas de Ibiza Grand Luxe Hotel and the four-star Nativo Barefoot Luxury Hotel.
Owner benefits
Buying an apartment in Herencia offers a wealth of benefits to the owner. All the fantastic amenities are available to use including free spa access, laundry and a 10% discount on massages, spa treatments and other amenities such as boat services and family and friends' reservations.
Residents can also enjoy free reservations of hammocks, 20% off restaurant services, daily apartment cleaning and restocking of the apartment mini bar at cost price.
As part of the NCalma Group, Herencia apartment owners can also benefit from many advantages at the company's other properties across the island.
Investing in Herencia
Purchasing a Herencia apartment as an investment property brings you all the above benefits when buyers use the property themselves, and the addition of a regular, steady rental income.
The property's luxurious finish and standards make it easy to rent out to tourists and they in turn will enjoy the amenities the boutique hotel offers. Investors can choose to rent in high season, guaranteeing considerable rental yield and maximizing the value of their investment.
For more information and to explore the apartments available at Herencia, contact NCalma Homes via JamesEdition today.