An ecological visionary and philanthropist, Douglas Tompkins launched two billion-dollar businesses (he's a co-founder of both The North Face and Esprit), conquered multiple mountains, and has conserved more than two million acres (810,000 Ha) of wilderness in Chile and Argentina (an enterprise now known as Tompkins Conservation).
Some of the largest (and the most outstanding) privately owned lands in the world, Tompkins Conservation comprises 19 national parks which include mountain sanctuaries and marine reserves.
Adjacent to the protected areas, there are farms designated for ecological agriculture. One of them, Fundo Las Rosas, is now up for sale via Fitzroy Tourism & Real Estate, the leading agency in Chile and Latin America.
The farm nestled in the gorgeous Lakes Region of Chile, along the Amarillo River's banks, in proximity to Pumalin Douglas Tompkins National Park was previously owned, developed, and completely restored by Douglas Tompkins.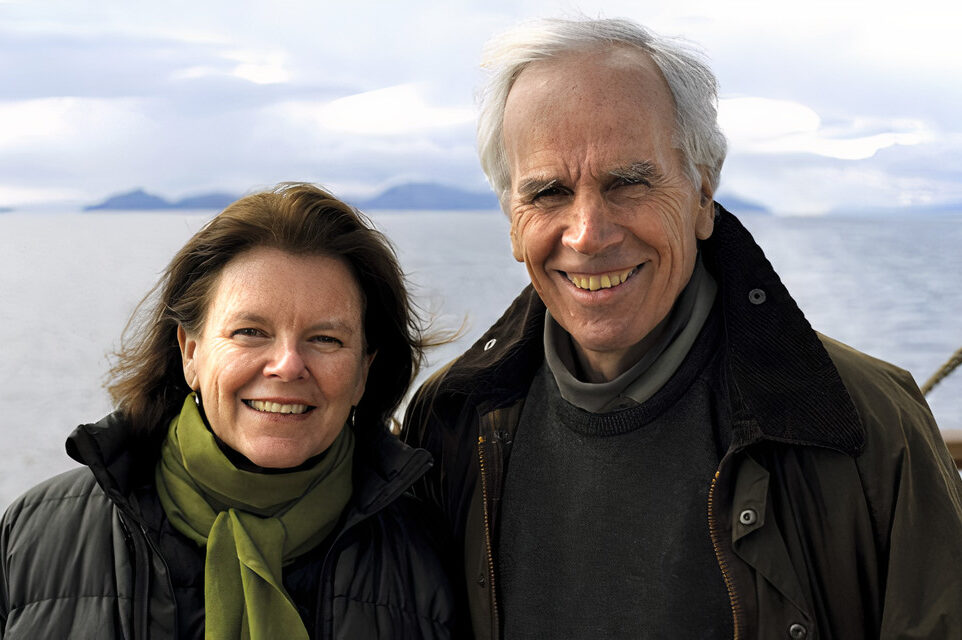 Douglas Tompkins and his second wife, Kris McDivitt Tompkins, co-founder of The Conservation Land Trust and The Foundation for Deep Ecology.
Douglas Tompkins: Name Behind The Conservation Land Trust
In his book "Eco Barons," Pulitzer Prize-winning journalist Edward Humes uses Tompkins as the first example of a new group of philanthropists: "dreamers, schemers, and millionaires who are saving our planet."
After developing two successful outdoor equipment and clothing companies in partnership with his first wife, Susie Tompkins Buell, in the late 1980s, Tompkins departed from the business world and became active in environmental and land conservation causes.
In the 1990s, Tompkins and his second wife, Kris McDivitt Tompkins, bought land in South America through his nonprofit foundation and later founded The Conservation Land Trust and The Foundation for Deep Ecology. After that, the Tompkins focused on park creation, wildlife recovery, ecological agriculture, and activism, with the goal of preserving biodiversity.
Tompkins and his wife personally owned 15 farms and ranches located close to conservation projects where they developed ecological agriculture through grantmaking and program-related investments. In addition, they invested in restoring numerous farms and ranches in Chile and Argentina, with the aim of demonstrating sound, healthy methods of production and land stewardship.
In 2016, Douglas Tompkins, at the age of 71, died in a kayaking accident on the north side of glacial Lake General Carrera in Chile.
Tom Butler, editorial projects director for Conservacion Patagonica in commenting on the terrible accident for The Guardian observed, "This is a guy who was a world-class mountaineer, multiple first ascents on many continents and multiple first descents as a whitewater kayaker. He had done a lot of really dangerous things in remote, wild places for his entire life, and here he is, on a sort of easy-going camping trip with his old buddies, and should end up perishing in an accident–it is not what any of us ever expected."
Douglas Tompkins was buried in a small cemetery at Valle Chacabuco, Parque Nacional Patagonia. Today, there is a chance to participate in the heritage left behind by this outdoorsman and passionate environmentalist.
Explore Fundo Las Rosas
Location and Climate: Lakes, Hot Springs, Breathtaking Views
Fundo Las Rosas is a 516-acre (209 Ha) estate which was bought by Douglas Tompkins in 2008.
It enjoys an exceptional location in North Patagonia, Province of Palena, in the Chilean Lakes Region (Los Lagos). The farm is 18 miles (9 km) south of the city of Chaitén, and only a couple of miles (5 km) away from the village of El Amarillo and the southern access point for Pumalin Douglas Tompkins National Park. The estate also covers 1.4 km along the Amarillo River's bank.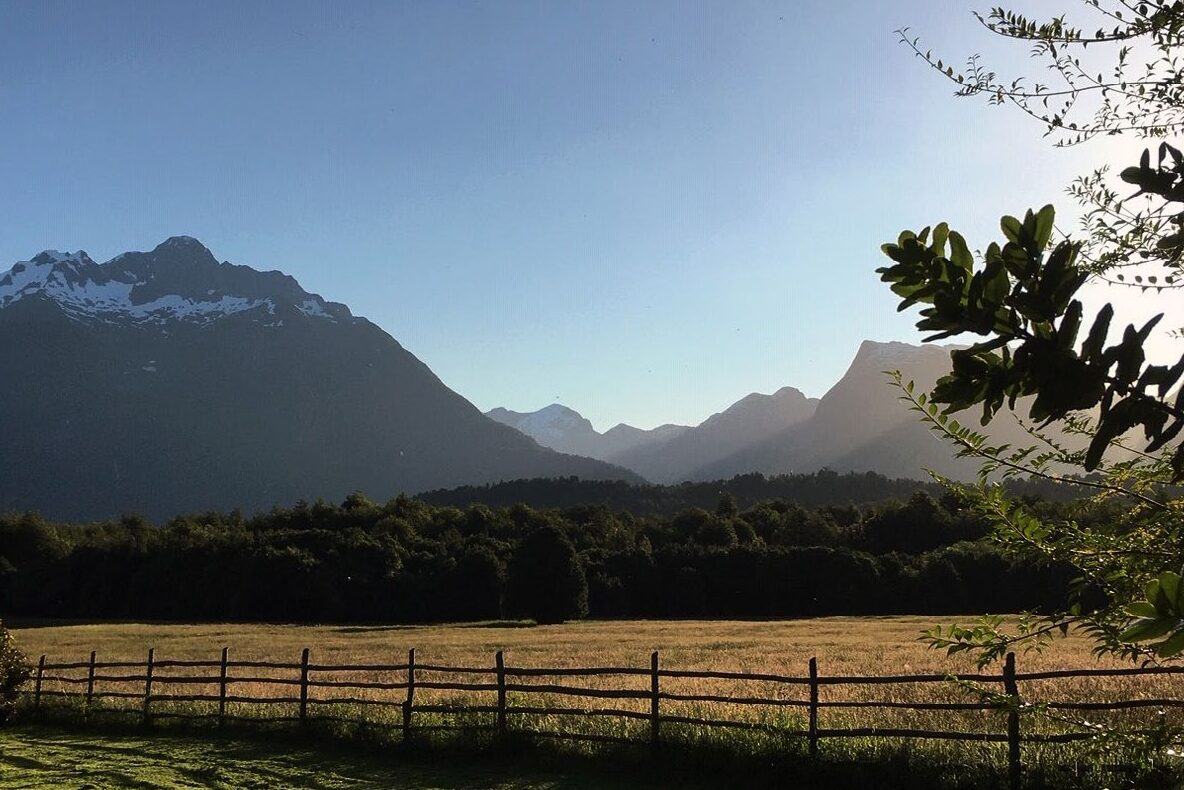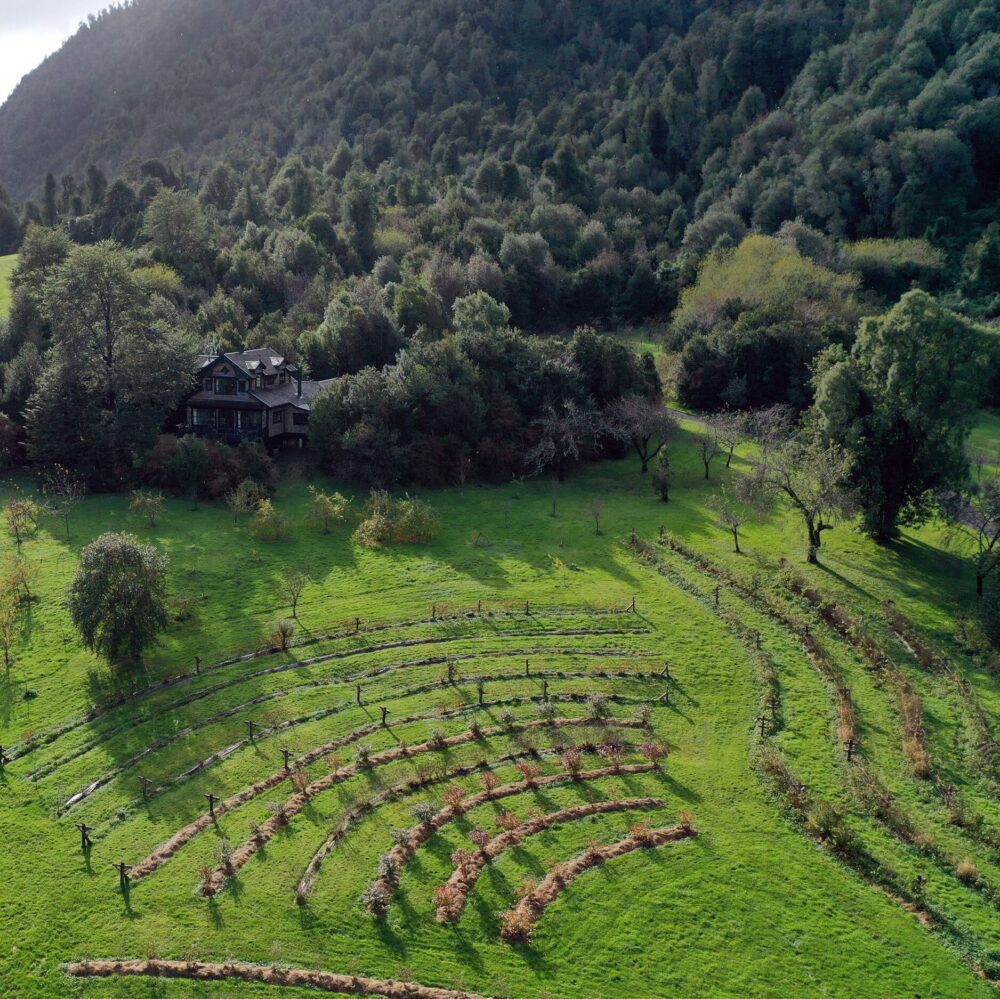 Fundo Las Rosas is situated in the most beautiful part of North Patagonia: in the Chilean Lakes Region, Los Lagos.
Simultaneously, it's on the (very picturesque) Carretera Austral highway route which passes through rural Patagonia and provides an easy connection to urbanized areas.
Attractions nearby? Aside from the aforementioned Pumalin National Park, you will also enjoy El Amarillo Hot Springs and Yelcho Lake.
Recreational activities range from fly fishing for rainbow trout to horse riding to trekking to mountain biking. Hot springs and waterfalls are situated only 10 minutes away.
The area has mild, rainy, maritime climate with an average summer temperature of 15º C (56.3º F.);  the average winter temperature is  7.5º C (45.5º F.), and the average annual rainfall is 5,000 millimeters (80% occurs between the end of April and the beginning of October).
How to Get There
This secluded piece of unspoiled beauty is separated from "the mainland"  by a five-hour flight from the capital city of Santiago with the connection in the airport of Puerto Montt, and Chaiten as the final destinations.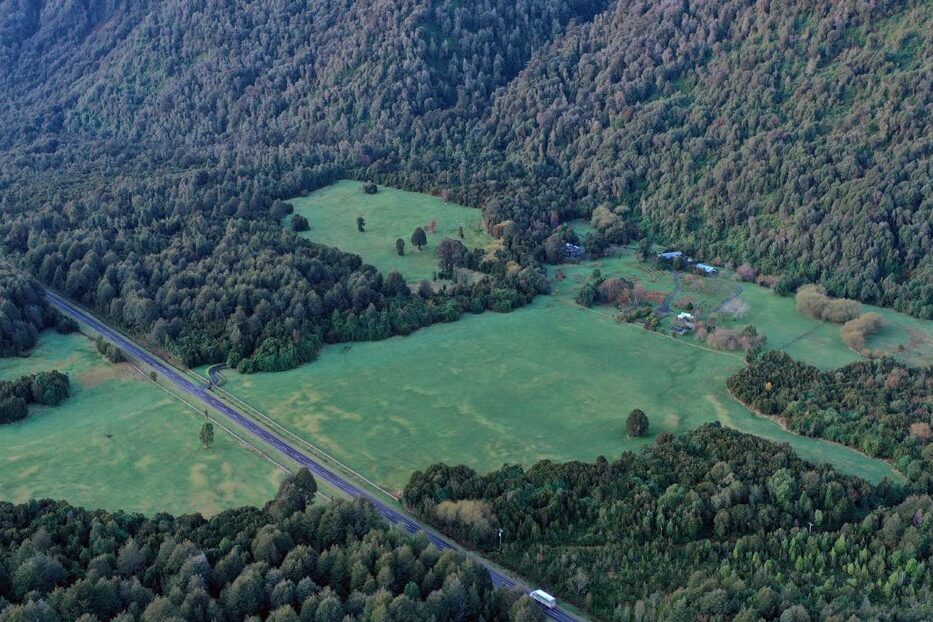 The property is close to the Carretera Austral highway route which passes through rural Patagonia.
Commercial flights land at the local airport 30 minutes from Las Rosas; private charters can use the Pumalín landing track which is 10 minutes away from the farm.
Land transportation options include a 10-hour drive from Puerto Montt  (through Carretera Austral) or a 3-hour drive from Argentina.
Green Assets: Rare Forest and Organic Gardens
The flora and fauna of the property has significant conservation value.
The large amount of land allows natural grass recuperation and landscape restoration. 80% (168 Ha) of the land is covered by forest, one-third of it is evergreen, 13% (26 Ha) consists of meadows and brushwoods. The fauna is composed of dozens of birds, foxes, and puma species.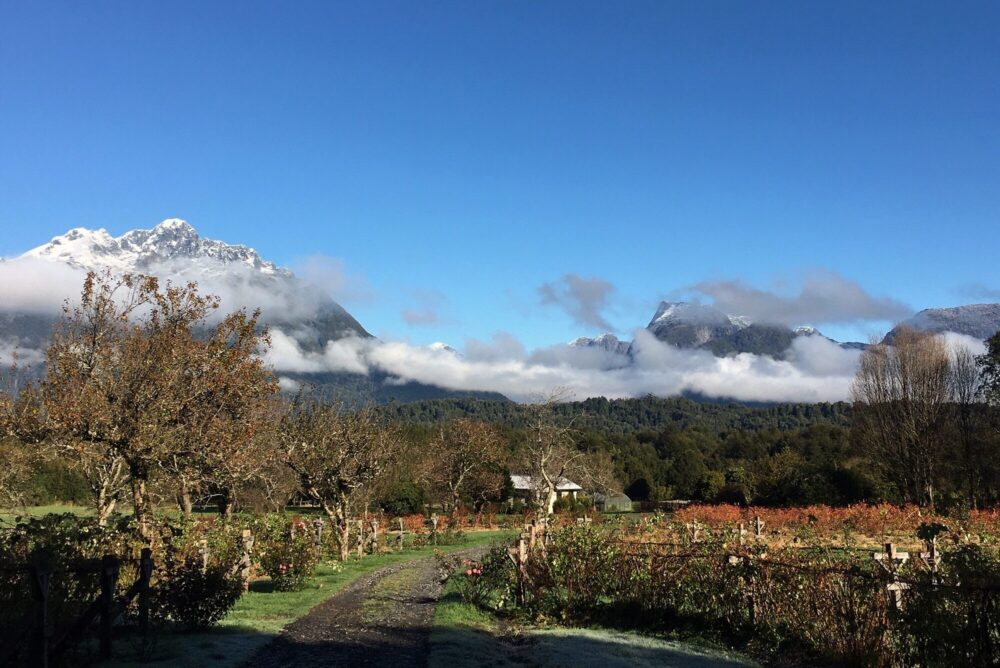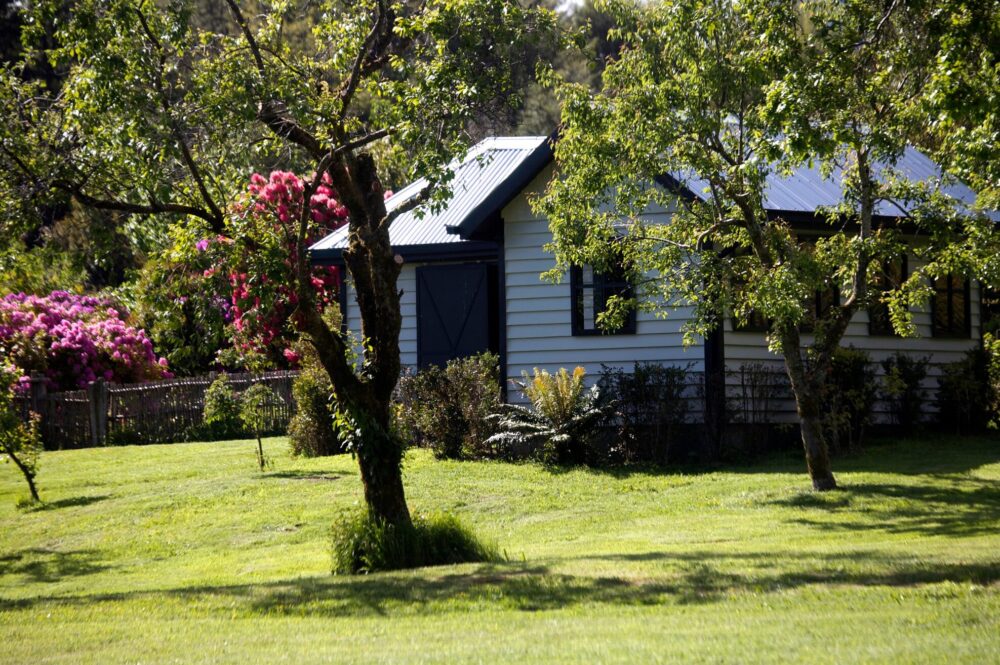 About 13% (26 Ha) of the property is designated for meadows, gardens and ecological agriculture.
Fundo Las Rosas takes its name from the rose and flower garden of its previous owner, and a variety of restoration projects have sought to restore both its productivity and beauty. The old orchard containing some interesting heirloom varieties was resuscitated, and a new fruit and nut orchard was planted.
Presently, the farm has the potential to produce fruits and vegetables for the surrounding community as well as for park visitors.
Organic fruit field on the premises grows strawberries, blackberries, apples, and blueberries. Sheep fed by natural grass also graze around the farm.
Ecologically Responsive Infrastructure
The estate's infrastructure totals around 900 square meters and includes the main house, outbuildings, and two greenhouses.
The farm architecture is simple yet elegant, with an ecologically responsive, tidy layout. At all of his family farms, Tompkins restored remaining structures whenever possible and constructed others using vernacular styles and local materials.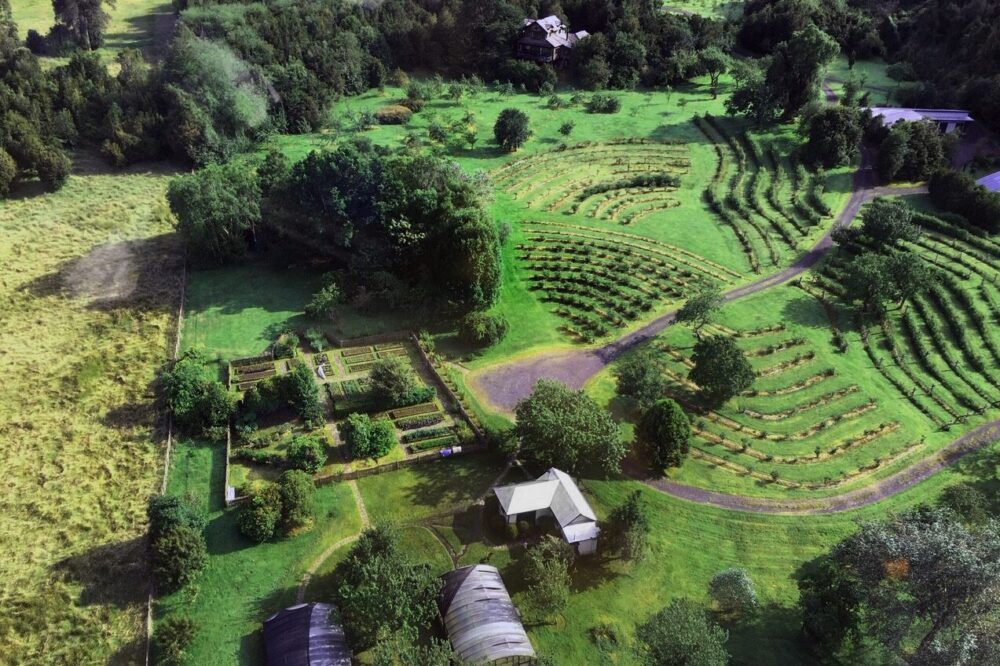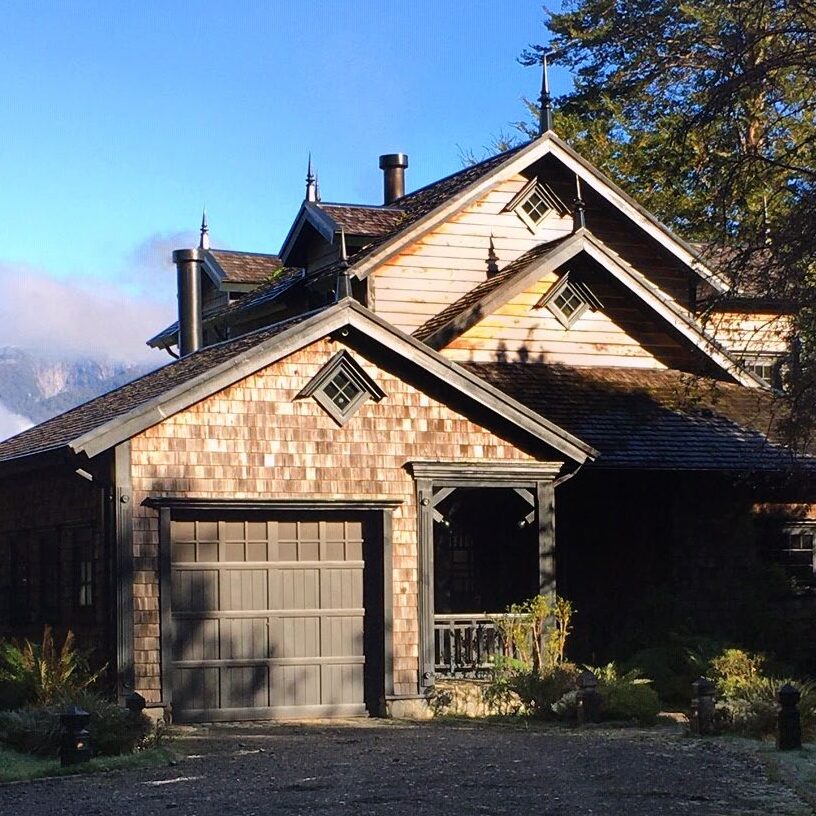 Douglas Tompkins restored remaining structures whenever possible and constructed others using vernacular styles and local materials.
New roads have been constructed in the area and construction of further roads has been ongoing since 2011.
Given the location, the quality of its infrastructure and the contribution of the Tompkins Foundation, Fundo Las Rosas has strong tourism and development potential.
To estimate the unique character of the estate, let's take a closer look at the nature sanctuary surrounding Las Rosas.
Legendary Pumalin Douglas Tompkins National Park
For nearly three decades, ecology enthusiasts have benefitted from Tompkins Conservation to create parklands, protect and restore wildlife, promote regenerative agriculture, and prove that national parks are economic drivers for local communities. The results speak for themselves: over 14 million acres have been protected, wildlife populations have rebounded, and economic opportunities have expanded in park gateway communities.
Pumalin Douglas Tompkins National Park is one of the most iconic parks situated on these protected acres.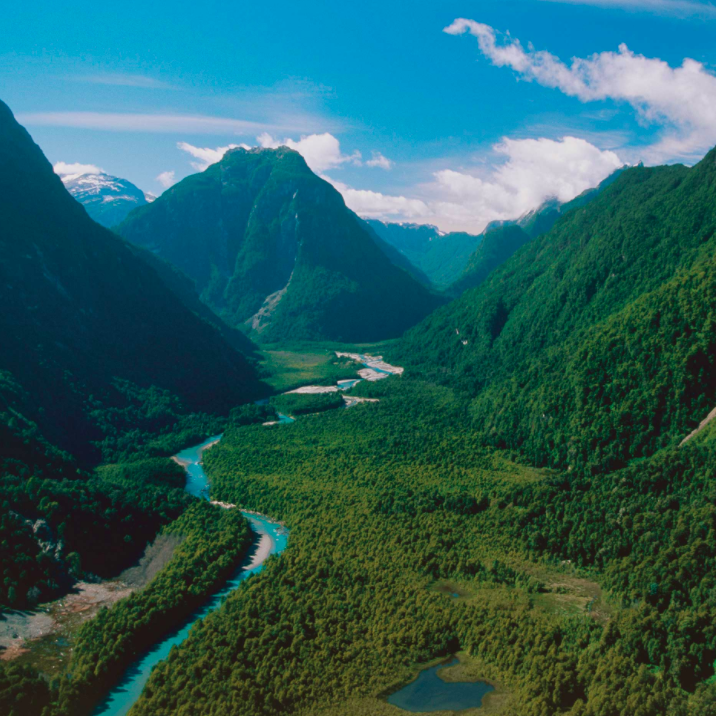 Pumalin Douglas Tompkins National Park. Source: Tompkins Conservation
The sanctuary comprises temperate rainforest, fjords, the expansive Pacific coastline, and the Andes Mountains.
The park features the endangered alerce tree (Fitzroya cupressoides)–cousin to the giant sequoia–with 25% of the remaining population of these forest giants being protected in Pumalín.
Thousands of waterfalls cascade from glaciers and steep granite walls, and the Michinmahuida and Chaitén Volcanoes crown the landscape.
Pumalín's primeval forest harbors numerous species found only in this area–like the Pudú: one of the world's smallest species of deer.
To support local economic vitality, Tompkins Conservation developed a successful collaborative effort to beautify the gateway village of El Amarillo and thereby created a first-class public infrastructure. Each year, thousands of travelers from around the globe enjoy the park's trails, campgrounds, cabins, viewpoints, and other facilities, which provide opportunities to experience one of earth's largest temperate rainforests.
Pumalín Park received official nature sanctuary status in 2005 and was designated a national park in 2018, prompted by Tompkins Conservation's donation of almost 725,000 acres for the new, roughly 1-million-acre park, named in honor of its founder.
About Fitzroy Tourism & Real Estate
Fitzroy Tourism & Real Estate representing Douglas Tomkins' Fundo Las Rosas is the major player in the Chilean hotel and real estate sector. It provides support to various companies in the niche, from leisure or second-home projects to convention centers and casinos. The list of Fitzroy's international clients includes investors, investment funds and family offices, national and international hotel chains, tourist operators and financial institutions.
If you want to find out more about Douglas Tompkins' Fundo Las Rosas or explore other options for investing in Chile, contact Fitzroy Tourism & Real Estate on JamesEdition