According to Live and Invest Overseas' 2021 Global Property Survey, one of the top locations for "best buys on beachfront property" is Northern Cyprus. Why?
The area boasts over 120 miles of golden sands and looks out to crystal clear waters, and is fast becoming a haven for second home buyers and digital nomads looking to relocate to a sunny and scenic destination.
The thriving market represents a valuable investment opportunity, should you wish to enter the rental sector (for some or part of the year). Furthermore, it's possible to buy real estate with developer financing, meaning low up-front capital requirements.
Northern Cyprus' burgeoning housing market
According to our partner KL Real Estate Cyprus, North Cyprus is seeing a huge increase in wealthy investors, with individuals buying holiday homes to rent out short-term, leading to values increasing. The experienced team introduced us to one of their newest listings – this modern villa with sea and mountain views near Paralimni.
Because it's currently under construction, the residence is listed at a reduced price. KL Real Estate Cyprus hypothesizes that a similar spec "finished" home will sell for 30-40% more.
Forbes cites safe and welcoming Northern Cyprus as "the best of the Mediterranean", with the cost of living a fraction of what it is elsewhere in the Med.
JamesEdition's data further supports that sentiment: the median house price in Cyprus is around $930,000 per listing and $4,900 per square meter, compared to islands like Malta or Crete where the median prices are $1,246,000 and $1,147,000 per listing respectively.
High-end villa in Northern Cyprus: ideal vacation spot and investment opportunity
This outstanding 3,456 square foot house will be ready in the fall of 2023 and is situated on an 8,956 square foot plot. Ideally positioned within a small and exclusive complex in Esentepe near Kyrenia, the villa is on the market for $660,985.
Research reveals there's typically a 30% increase in prices between project launch and completion, making this among the most competitive real estate in the Mediterranean.
With four bedrooms and bathrooms, the sea-facing property will have a spacious living room, a high-spec kitchen with granite worktops, Laminam parquet flooring, and stylish fixtures and fittings by the likes of Vitra, Bosch, Samsung, Hans Grohe, and Geberit.
Additional notable features range from walk-in wardrobes and a master suite terrace to a smart home system and a closed garage for two cars.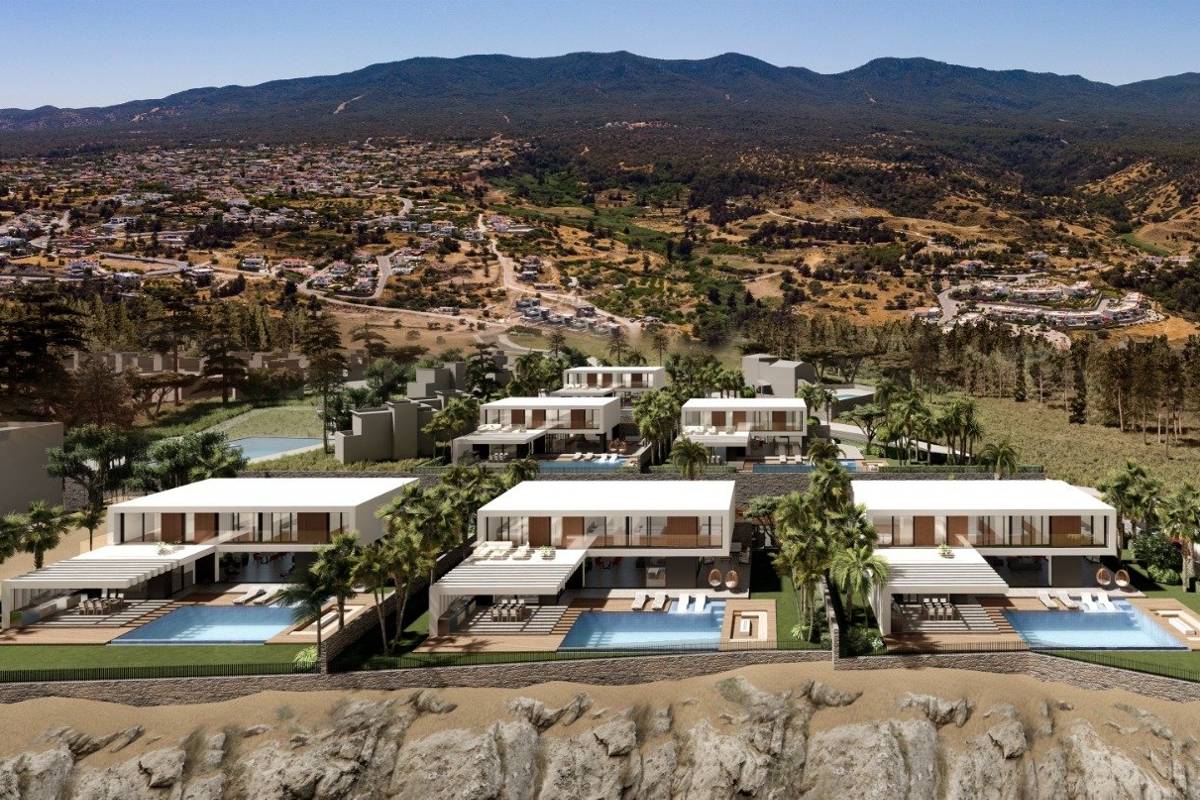 The garden will be landscaped: diverse options include a pool, a hot tub, a fireplace, an outdoor kitchen, and a BBQ zone. Given the villa is still under construction and a work in progress, the owner can put their personal touch on all parts of the villa. What's on your wishlist?
Out and about, lovers of pretty bays, azure water, and nature will be in their element. The region is known for the longest stretch of beach on the island, and the destination also benefits from developed tourism infrastructure including upscale hotels, clubs, and casinos.
Golf aficionados will find an international 18-hole course just a five-minute drive away, and foodies will be impressed by the top-quality restaurants nearby serving seafood specialties. Esentepe itself is a popular spot that's full of life and boasts impressive natural beauty.
With long, warm, and dry summers and mild winters, the climate is uber-appealing. Couple that with very low crime levels and extremely friendly residents who generally speak English, and it's no wonder there's been a wealth of investment in the area.
Looking to buy a luxury second home in the Mediterranean? Consider Northern Cyprus for picturesque beachfront living and substantial ROI, and contact KL Real Estate Cyprus for more information.