After going on and off the market for more than a decade, former President Donald Trump's onetime Connecticut estate is relisting for roughly half its 2014 asking price.
Once asking $54 million, the roughly 6-acre waterfront estate in Greenwich is now listing for $29.9 million, according to listing agent Rob Johnson of Brown Harris Stevens. The roughly 20,000-square-foot Georgian mansion has panoramic views of Long Island Sound.
Mr. Trump and his ex-wife the late Ivana Trump owned the property in the 1980s and Ms. Trump kept the home after they divorced. The current owners, financier Robert Steinberg and his wife, Suzanne Steinberg, bought it for $15 million in 1998, records show.
The Steinbergs were drawn to the home's location and the fact that it was big enough for their large family, said Mr. Steinberg, adding that they wanted to be in the Greenwich public school system. "The prior owner is known for picking world-class properties, and this fits that category," he said. "There was plenty of land to do what we wanted."
The Trump family didn't respond to requests for comment.
Mr. Steinberg said they spent about two years renovating. They removed gilded finishes, he said, and added about 5,000 square feet to the home, including an indoor lap pool and two guest apartments for extended family. The house has eight bedrooms plus staff quarters, as well as a movie theater and a soaring entryway with twin curved staircases.
On the grounds, the couple added a tennis court and putting green, Mr. Steinberg said. They also repaired the sea wall and rebuilt the outdoor pool. Over the years, he said the family has hosted graduation parties and weddings on the property. "The house was livable for a lot of children and pets," said Mr. Steinberg, who said his wife rescues dogs and they have had up to 14 at a time.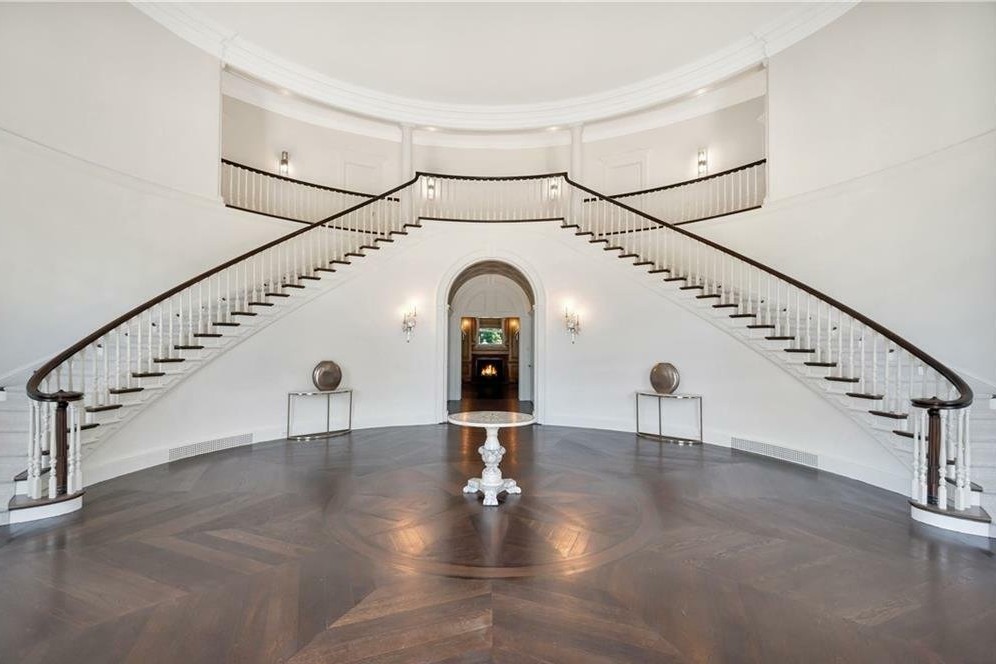 The Steinbergs now spend most of their time in Florida, where they built a home in Delray Beach. The Greenwich estate has been on and off the market since 2009, when the Steinbergs listed it for $50 million, according to Realtor.com. News Corp, owner of The Wall Street Journal, also operates Realtor.com under license from the National Association of Realtors. It was relisted for $54 million in 2014, and most recently was asking $32 million.
"I had priced it at a very high price initially with the concept that if someone really wants it, I guess I'll sell it," Mr. Steinberg said. "But I mispriced it."
Over the years, he said buyers expressed interest but none made serious offers. "I had one Chinese buyer [who] was seriously interested, but his feng shui adviser told him it wasn't right," he said. He has also rejected offers to sell the property in pieces. "It's too special," he said.
Mr. Johnson said because the property comprises multiple lots, a buyer could keep the existing structure or redevelop the site into several waterfront homes.
He said the Steinbergs are being "very pragmatic" about selling now, and he said he thinks the combination of a lower price and strong luxury market since Covid will result in a sale. Recently, they "edited and simplified" the Greenwich property with a bit of decluttering, fresh paint and staging, Mr. Johnson said.
The luxury market in Greenwich was soft before the pandemic, but it has benefited from a wave of buyers from the city, as well as those relocating from California, Mr. Johnson said.
"The market has definitely appreciated in the last couple of years," he said, adding that there is limited waterfront inventory available. "There's likely nothing else on the water that's got 6 acres."
Last year, financier Brett Barakett and his wife, Meaghan Barakett, sold a waterfront estate in Greenwich for $50 million, records show. And designer Tommy Hilfiger and his wife, Dee Ocleppo Hilfiger, sold their property for $45 million.
Originally published on Wsj.com
All homes for sale in Connecticut