The sharing economy model has recently become more mainstream in high-end real estate, creating unique, "like-never-before" opportunities for second-home buyers. 
Vacation properties in the world's hot spots are coming to the market for a fraction of the cost — and they're not staying on the market long.
Today, one of these unique opportunities is available in the French Riviera.
You can get the 1/8 ownership of an impressive 7-bedroom Provençal villa in Antibes, South of France worth €3.2M (approx, $3.75M) for €495,125 (approx. $575,000).
The spectacular 7-bedroom, 7 bathroom Provençal villa, ready-made for the perfect vacation 
The villa is offered for sale by the UK-based company August. The founders, with their expert backgrounds in law, finance, real estate, and interior design, the purchase of the homes, renovation and interior designs are taken care of including home management.
August will deal with all the hassle of typical home ownership worries so all you have to do is show up and holiday!
In other words, August makes sure you never have to worry about maintenance and can arrive at the hotel standard villa, with manicured gardens, glistening pools, and immaculate presentation.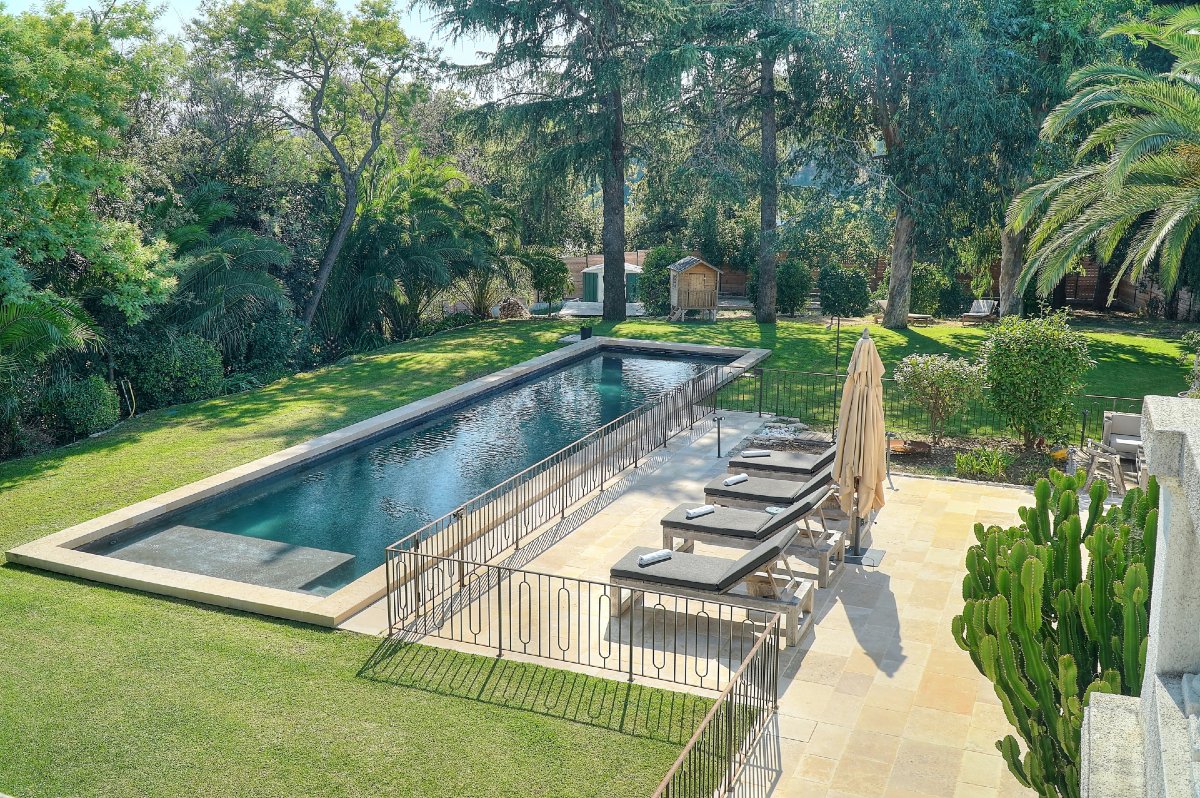 Step inside the villa
The exceptional 480sqm home is completely interior designed with hotel grade finishes and ready for you to holiday. 10 minutes away from Vieil Antibes and the famous Cap d'Antibes, this spectacular home offers 7 bedrooms, 7 bathrooms, an enormous kitchen and ample entertainment space where you can expect nothing but an unforgettable calming atmosphere that's perfect for those wanting a relaxing holiday.
A grand private entrance opens onto an impressive oversized approximate 4,000sqm grounds with a spacious 17m long pool and a Mediterranean garden instantly sets you up for French-Riviera-holiday mode. 
The villa was renovated but kept a number of authentic features to add to its charm, with exposed stone walls, wooden beams, and stone flooring.

7 large, beautifully designed bedrooms with en-suite bathrooms can comfortably accommodate 14 guests.

The impressive size of the garden grounds and inside allow for entertainment and social events, including a dining room and a kitchen that opens onto the large outdoor terrace space looking onto the garden.

The house with its pool and gardens sits on a large plot of land measuring approximately 3,903sqm (42,011.5 sq.ft.)
Want to co-own the villa in French Riviera?
August believes it makes a lot more sense to share.
Holiday homes, in particular, are only used on average for 35 days per year so why pay 100% of the price when you can pay less? 
If you don't want to settle for just one location on a single home then explore the August collections of five stunning holiday homes in the best European destinations, where you can own five homes instead of one. 
You can own shares in one spectacular home or in a collection of five unique homes.
Discover the modern way to own holiday homes by visiting Augustcollection.co.uk or contact August at 44(0) 7 852 133 318  / info@augustcollection.co.uk for more information.