With 320 days of sun a year, some of Europe's best golf courses, and cutting-edge modern villas, Marbella is one of the most desirable European second home destinations. On JamesEdition, the Andalusian city pips London, Paris, Cannes, and Cascais to the post as the most visited region both globally and in the EU.
Today, the sought-after location joins a booming trend of luxury co-ownership destinations, which is why San Francisco-based proptech company Pacaso chose Marbella as its first European co-ownership destination. With Villa Vida, a deluxe property boasting all the holiday home amenities, Pacaso is making a grand entrance into the Marbella co-ownership scene.
Top-tier LA-style home in the heart of Nueva Andalucia
Situated in the residential area of Nueva Andalucia, the modern property boasts a prime position – a stone's throw from Marbella's famous Golden Mile, Puerto Banús marina, and Golf Valley, one of Europe's premier destinations to play a round.
Coveted location with views to La Concha mountain
Marbella's most famous course – Real Club De Golf Las Brisas – is just a 4-minute drive from the property, and the highly-regarded Los Naranjos Golf Club is a mere 2-minute car ride from the five-bedroom house.
Furthermore, head 40 minutes westwards along the Costa del Sol and you'll reach Real Valderrama, the best course in Spain, fourth in Continental Europe, and one hundredth in the world.
Not a fan of the game? There's plenty more to do and see in the area. For example, the high-end marina of Puerto Banús is just 10 minutes away by car – or a 45-minute walk if you like to get out on foot. A playground for the wealthy, mega-yachts fill the port and there's plenty of designer shops to peruse. In 2019, a report by Engel & Völkers Yachting ranked Puerto Banús the most expensive marina in Europe, beating Ibiza.
Villa Vida boasts a prime position, a stone's throw from Marbella's famous Golden Mile, Puerto Banús marina, and Golf Valley, one of Europe's premier destinations to play a round.
Beach lovers will be in their element, too. Nearby idyllic spots include El Ancón (home to well-loved Victor's Bar), Nagüeles with its amenity-filled promenade, and Playas del Duque and Río Verde, both close to the port. And that's just naming a few – there are tons more sandy stretches catering to a host of needs, from family-friendly fun to party vibes.
What else? Marbella Football Center is just a 5-minute car ride from the house, and there are plenty of top hiking routes in the area, including La Concha and trails around Benahavis. Also, Lago de Las Tortugas is less than a 10-minute drive away – ideal for picnics, swimming, and relaxing.
The property combines luxury with clean lines and bright, open spaces, drawing inspiration from contemporary California living as well as the local pueblo blanco traditional style.
Villa Vida: Modern architecture, clean lines, and open spaces
Back at the property, you'll be wowed by the whitewashed 'pueblo blanco' house, built in a contemporary style. Boasting 6 bathrooms, a TV and entertainment lounge, and a high-spec finish, the eye-catching residence sits on a plot of 1,237 square meters, and the inside covers 556 square meters.
With an east-west orientation, head out to the versatile two-tiered garden and enjoy the sun, not to mention the infinity pool and terraces covering 418 square meters. Dive in or take a seat, and admire the exceptional panoramas to Mount Concha and the Golf Valley.
Sitting in the hills above Puerto Banús and spread over three levels, the light and airy home is professionally decorated and comes fully furnished. On the top floor is the master and ensuite, complete with a free-standing bath. There's also a private sundeck and two more bedrooms with floor-to-ceiling French windows leading out to a large terrace.
Each room of the villa features exceptional panoramas of Mount Concha or the Golf Valley.
The middle level? Open plan living galore spanning a fully-equipped kitchen with marble counters, plus stylish dining and lounging areas. From there, wander out to the glorious grounds for a dip or to catch a few rays.
Make your way down to the basement to a spacious family room, two more guest suites, and a bathroom. Meanwhile, on the roof you'll find a capacious terrace with a hot tub for admiring those views, plus plenty of space for al fresco dining. And for your vehicle needs, the grounds house a four-car garage, with outdoor space for extra parking
Wondering how much it will set you back to co-own such a top-quality villa? For $671,996, you'll own an eighth share of this holiday hideaway, via Pacaso.
Outside you'll find a diverse array of spaces, from a terrace with a hot tub to an infinity pool with plenty of surrounding space for sunning and private gardens cascading elegantly down the hillside.
Pacaso, the innovative co-ownership company
A modern way to own a second home, Pacaso simplifies the traditional concept and process, broadening its appeal. Can't quite stretch to the second home you want? Enter Pacaso, providing a co-ownership model and a fully-managed experience. Starting at an eighth ownership, the company offers integrated financing and superior interior design.
In a nutshell, Pacaso takes away the hassle of owning a second home by overseeing management, but retaining zero ownership. Co-owners make the most of the benefits of a second home, without the hassle of maintenance, and at a fraction of the cost of purchasing outright.
Having built a first-rate reputation for curating listings in top second home locations across the States, Pacaso has now entered the Spanish market. With over 20 US listings spanning areas such as Colorado, California, and Florida, Marbella is the first European spot the forward-thinking enterprise has chosen.
Giving more people the opportunity to meet their dream of second homeownership, Pacaso's model also helps ensure second homes are utilized year-round. With properties sold to a maximum of eight, each owner has ample time to enjoy the home. Access is proportional to the amount of ownership, and owners stay at their homes six to seven times per year on average.
If you're wondering about the company name, it was inspired by legendary artist Picasso's use of cubism. Pacaso is all about bringing together individual pieces to create a magnificent whole.
Strict criteria Pacaso homes must meet 
As you can imagine, not all homes meet Pacaso's high standards. To join the elite collection, properties must be high-end – typically two to three times the locality's median house value. The wow-worthy residences should also boast top-notch amenities such as pools, outdoor kitchens, or roof decks. But they must be livable and comfortable too, not just luxurious and modern.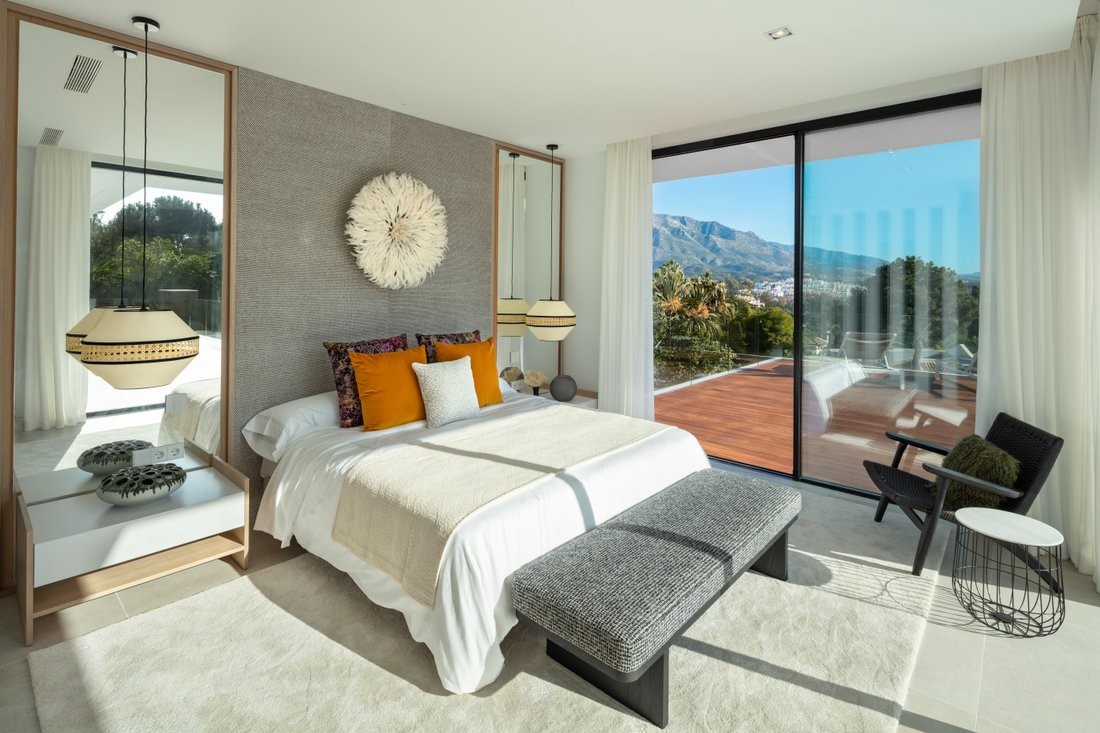 Turnkey real estate is ideal, with no need for major renovation or repairs. However, Pacaso is all for restyling with a professional designer. Positioned in desirable locations, Pacaso properties are close to major cities and within easy reach of airports. The team also seeks out houses in areas with a pre-existing community of second homes. Ultimately, Pacaso aims to offer buyers a home away from home that's special and welcoming.
Thinking about buying a second home along the Costa del Sol? Take a closer look at Villa Vida, or contact Pacaso at +34936073712 for more information.