A rare real estate opportunity has hit the market at the tip of Great Neck peninsula. Located in the prestigious village of Kings Point on a plot that includes over an acre of waterfront, this five-bedroom architectural gem on the Gold Coast of Long Island is listed at $9,800,000. Affluent investors and homebuyers who view the impressive property will marvel at the expansive water views, luxurious amenities, and privacy.
The Gold Coast's primely positioned real estate
The Gold Coast lies in an enviable position on the North Shore of Long Island, overlooking Long Island Sound. Known as a retreat for New York's elite and home to opulent estates, Great Neck peninsula and Kings Point are just two of the affluent areas that make up the region.
The priciest of the nine Great Neck villages, Kings Point has the feel of the exclusive enclave that it is, with its own police force as well as license-plate readers and video cameras strategically dotted about.
Home to public schools that rival private facilities, lush and wealthy Kings Point is an idyllic place to bring up a family. Furthermore, with multiple green spaces, a picturesque waterfront where concerts are held, and Broadlawn Harbour Yacht Club, it's no surprise Kings Point is an appealing place to lay roots. The village is also close to an array of top golf courses, including Deepdale, just a 20-minute drive away.
From a real estate perspective, many houses in the diverse and secure neighborhood have been knocked down and rebuilt over the decades, with emphasis on style and architecture.
The Great Gatsby backdrop
Great Neck – Kings Point in particular – was the inspiration for F. Scott Fitzgerald's The Great Gatsby. Back in the 1920s, the author lived at 6 Gateway Drive in a Mediterranean-style mansion. He weaved the area into the iconic book as 'West Egg', a fictional New York suburb. 'East Egg' on the other hand was a stand-in for Sands Point, the village across Manhasset Bay on the Port Washington peninsula.
Fast forward to the 1980s and developer Stuart Hayim was working on a subdivision in Kings Point. He was faced with a decision: What to call a new street that had been built in the peninsula. He chose Gatsby Lane – a fitting name.
15 Gatsby Lane, Kings Point: An architectural feat
The Long Island Sound-facing residence lies on a 1.14-acre plot and was originally built in 1991. Built to a high standard and spread over four floors, the modern home is ideal for entertaining, with floor-to-ceiling windows, multiple balconies, a games room, and a gym.
Each bright and airy room is decorated in pale tones, with flashes of wood and accents of color here and there.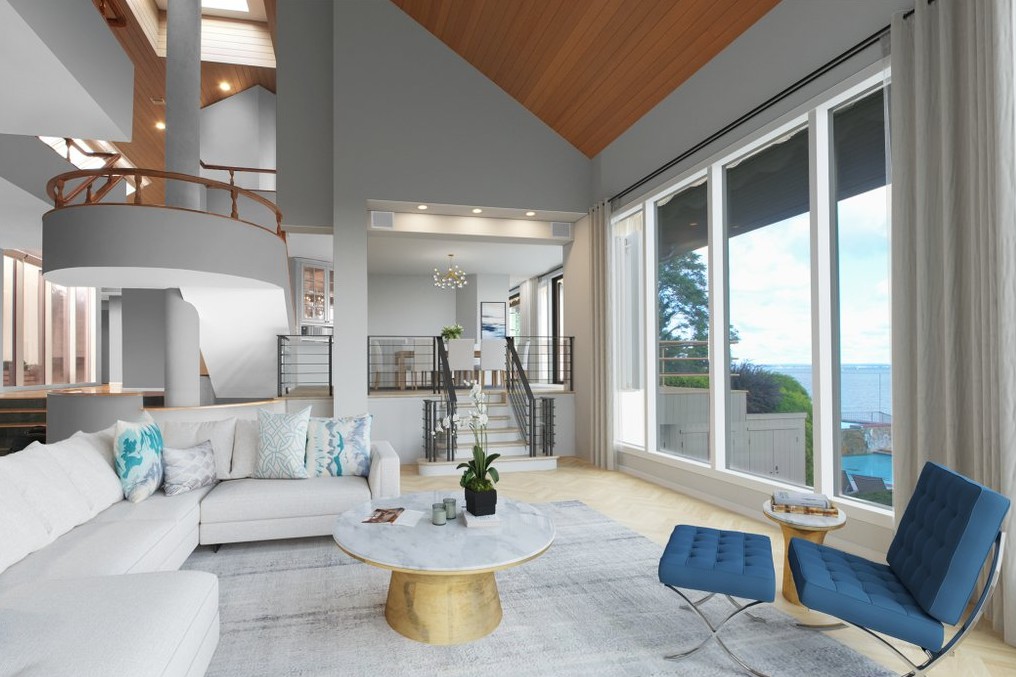 The property features breathtaking views of the Long Island Sound
Outside, take a dip in the pool while admiring the vistas out to Long Island Sound. Back inside, the master suite boasts eye-catching herringbone wood flooring, a separate dressing and sitting area, as well as a private balcony.
There's also access to the gorgeous rooftop deck – an exceptional spot for stargazing and taking in the far-reaching panoramas.