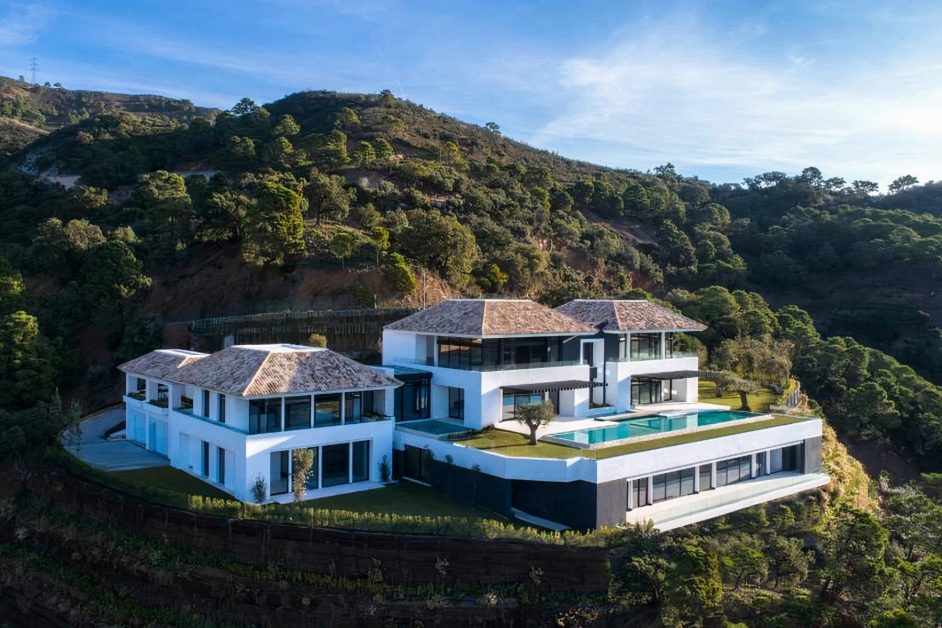 Cristiano Ronaldo, whose real estate portfolio is valued at approx. $52.4 million, rented this €13.5 million villa in Marbella's La Zagaleta in 2018
It's not rare for homes from celebrity portfolios to be marketed with JamesEdition through world-leading real estate agencies. These outstanding properties are often highlighted in our Journal, from Madonna's mansion in Los Angeles and Mariah Carey's colonial-style house in Atlanta to Leonardo DiCaprio's Los Feliz Tudor residence.
In the midst of the FIFA World Cup Championship, we decided to explore a handful of the most striking real estate portfolios owned by top-earning soccer players.  
Ranging from $1.6 million up to $18 million and spanning destinations like Paris, Barcelona, Marbella, Madrid, Lisbon, Madeira, Mallorca, Miami, São Paulo, and Warsaw, there's much to discover.
Lionel Messi
Total earnings for the 2022-23 season: $110 million
Estimated value of real estate portfolio: $28 million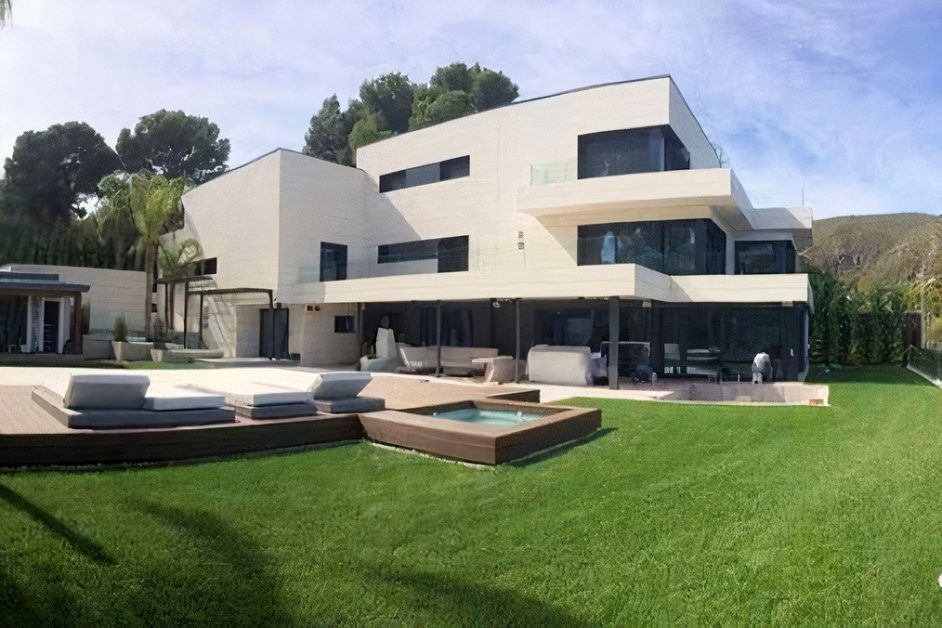 Messi's home in Bercelona
The Paris Saint-Germain forward has a $28 million real estate empire in some of the world's most exclusive destinations. While he plays for the high-profile team, Messi reportedly rents an apartment in the French capital for $21,000 a month.  
When Barcelona was his club, the star owned a contemporary sea-view mansion in a no-fly zone in the upscale suburb of Castelldefels. Valued today at around $7 million (he paid $2 million in 2009), it's not clear whether Messi kept the property when he moved teams.
In 2019, Messi purchased a sprawling ocean-facing condo in Miami's Sunny Isles Beach for $5 million. The sleek 511-square-meter pad boasted four bedrooms and bathrooms and 360-degree vistas of the city skyline, plus a private pool and a 1,000-bottle wine cellar. There were reports Messi put this deluxe getaway on the market in 2021 for $7 million.
That wasn't the last of his Miami investments: The skilled sportsman splashed out on a $7.3 million residence spanning the entire ninth floor of The Regalia, a modern 39-story development in the same area. However, he relisted it seven months later.
Back in Europe, Messi has an $11.5 million holiday haven on the western coast of Ibiza with 1,860 square meters of inside space and a huge pool in the garden. The footballer also owns MiM Ibiza and Spa, adding to his burgeoning collection of hotels.
Finally, in his hometown of Rosario in Argentina, Messi built a capacious estate across three plots of land. Coined "The Fortress", noteworthy features include a large cinema, an underground garage for 15 cars, and a playroom across the entire top floor.
Cristiano Ronaldo
Total earnings for the 2022-23 season: $100 million
Estimated value of real estate portfolio: $52.4 million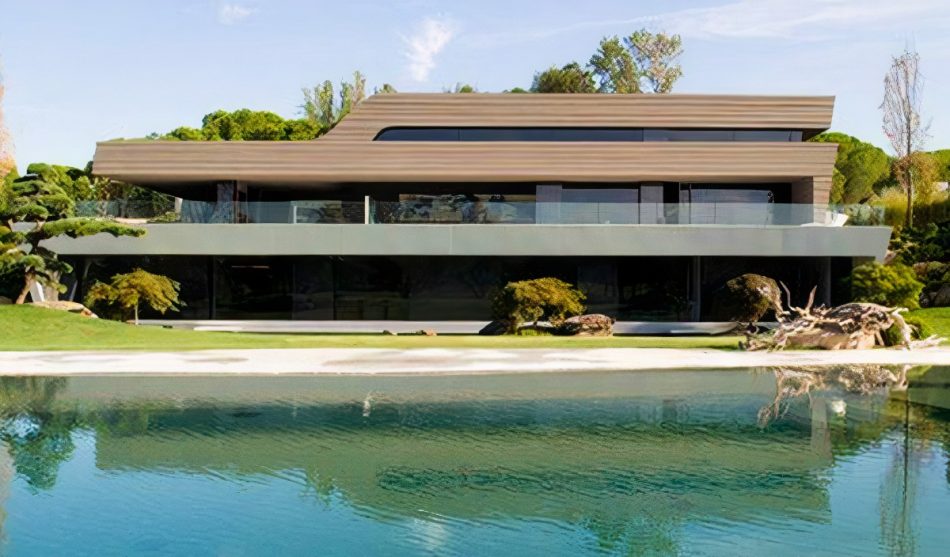 Ronaldo's home in Madrid
With a glittering career that's taken him across Europe, Ronaldo's accumulated a property portfolio of $52.4 million. Along the way, he's owned a $7.1 million residence in Alderley Edge, a prestigious area close to Manchester, and an $18 million 233-square-meter condo in Manhattan's Trump Tower, with second-to-none panoramas of the Big Apple.
After his move to Madrid, he bought a $5.8 million house in the upscale La Finca neighborhood, featuring a football pitch, spacious terraces, two pools, and a state-of-the-art gym.
With his move to Italy's Juventus came another purchase: two adjoining villas on a private road in Turin. Meanwhile, over in Spain, Ronaldo has a $1.6 million four-bedroom holiday home in Marbella, in a suburb known as "The Superstars Cul-De-Sac". Features include an uber-modern exterior, vaulted ceilings, floor-to-ceiling windows, and glorious Mediterranean vistas from the infinity pool.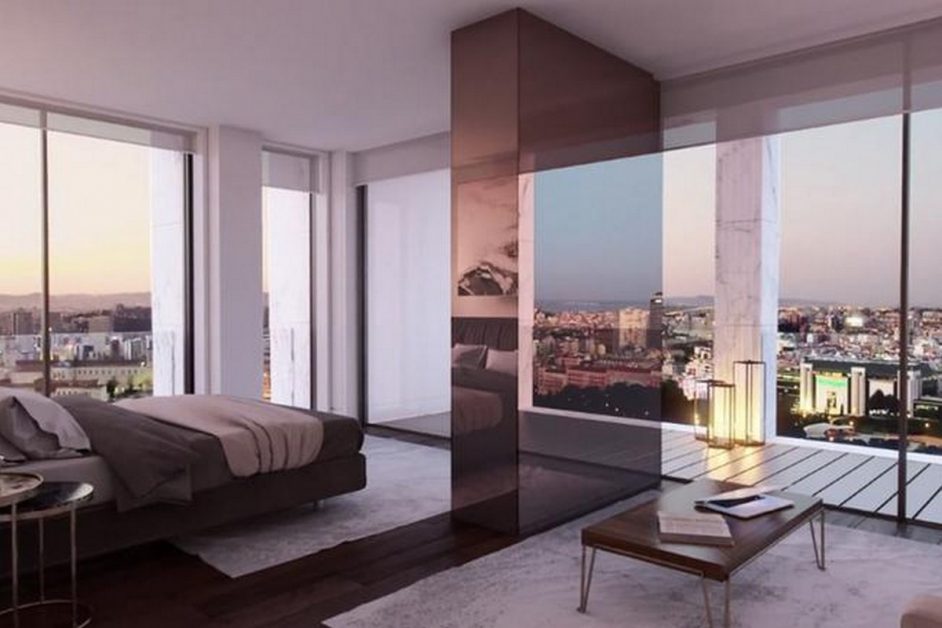 Ronaldo's apartments in Lisbon
Back home in Madeira, the star owns a luxurious seven-story mansion in Funchal that he spent an estimated $8 million renovating. The luxurious abode has two Olympic-sized swimming pools and a rooftop with unparalleled sea views.
On mainland Portugal, Ronaldo forked out $7 million for a 288-square-meter apartment in Lisbon's Avenida da Liberdade – the most expensive flat ever sold in the capital. He's said to own a second pad in the city, and is also building an estate on a 2.47-acre lot of land in Cascais's Quinta da Marinha, an exclusive residential area. Ronaldo paid around $7.2 million for the plot, and costs are thought to be hovering at around $20 million for the project.
Neymar Jr.
Total earnings for the 2022-23 season: $87 million
Estimated value of real estate portfolio: $10.5 million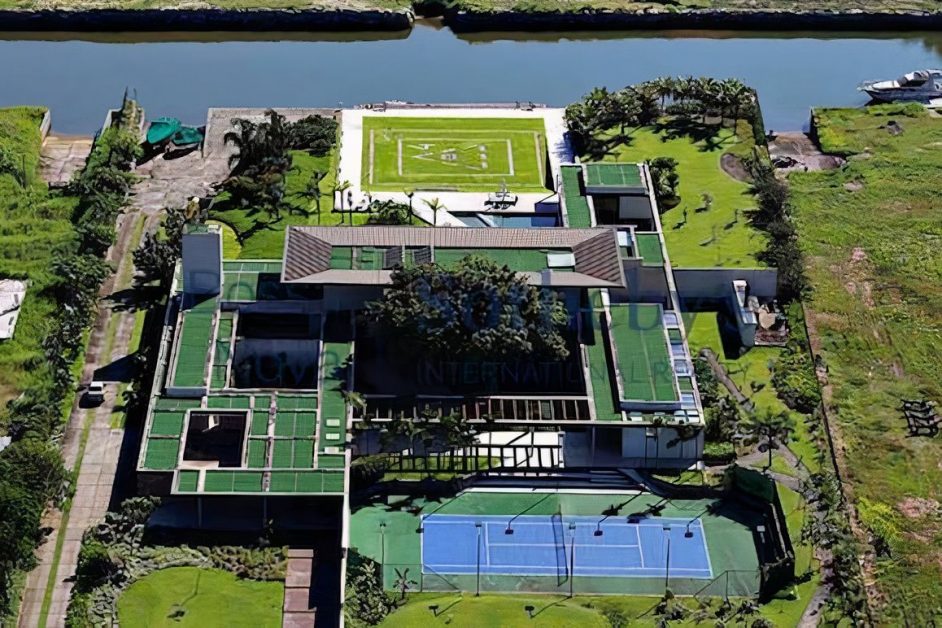 Neymar's home in Brazil
Paris Saint-Germain star Neymar owns two homes in his native Brazil. In São Paulo, he paid more than $3.25 million in 2021 for a mansion with seven bedrooms and a 20-car garage. Sitting on a 1,800-square-meter plot and with 1,512 square meters of inside space, there's also an outdoor pool and a glass elevator between floors.
Around the coastline in Rio de Janeiro, the talented sportsman's second house has a tennis court, a jetty, a gym, and its own helipad. Standing on a 2.5-acre lot in the upmarket gated community of Portobello, the estate was reportedly bought for $7.3 million. Additional features include a spa with a sauna and a Jacuzzi, plus a subterranean cellar with room for 3,000 bottles.
Over in France where he plays, Neymar is said to rent a five-story house worth an estimated $7.7 million.
Robert Lewandowski
Total earnings for the 2022-23 season: $35 million
Estimated value of real estate portfolio: $12.5 million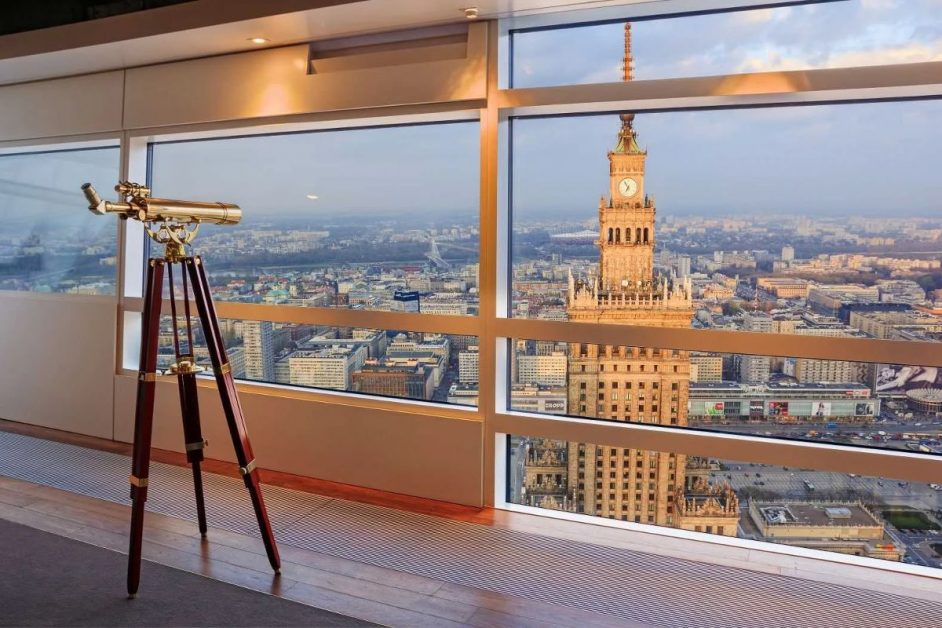 Zlota 44 Tower, Warsaw
The Polish striker currently plays for La Liga in Barcelona, but back home in Warsaw, a deluxe apartment awaits him and his family. Lewandowski paid around $9 million for the deluxe pad in 2016.
Housed in a tower called Zlota 44, the building was designed by Daniel Libeskind and features an array of top-class communal amenities, including a golf simulator, a 10,000-bottle wine cellar, and a private cinema. Inside Lewandowski's condo, you'll find floor-to-ceiling windows, parquet flooring, and a modern aesthetic.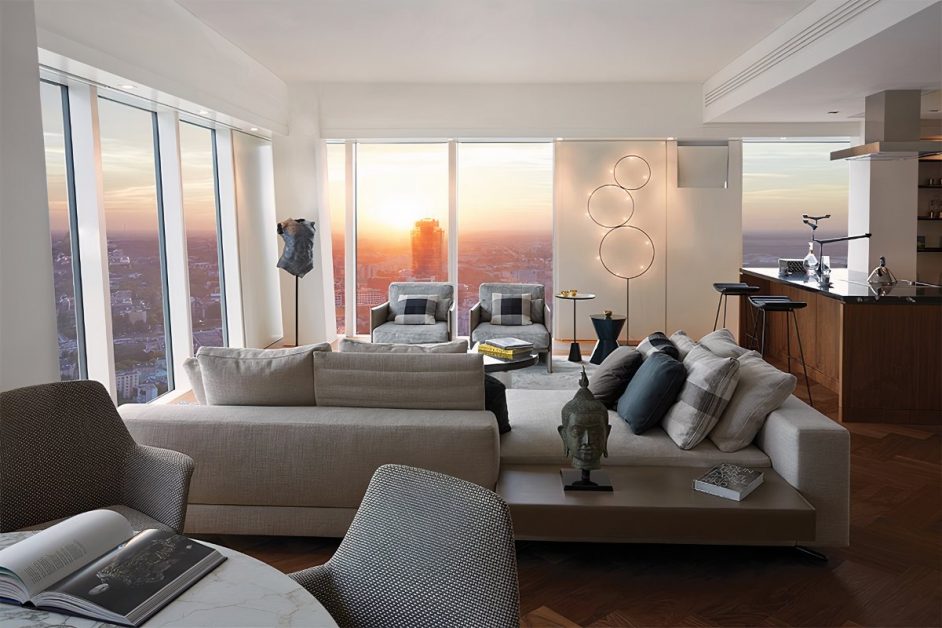 Lewandowski's apartments in Zlota 44 Tower, Warsaw
Before signing for Barça, the footballer acquired a hideaway in Mallorca. Purchased for around $3.5 million in 2021, the residence spans 411 square meters and sits on a plot of 1,200 square meters. Offering peace and privacy, the property is located in picturesque Calvià, close to the Tramontana Mountains.
Eden Hazard
Total Earnings: $31 Million
Estimated value of real estate portfolio: $11.5 million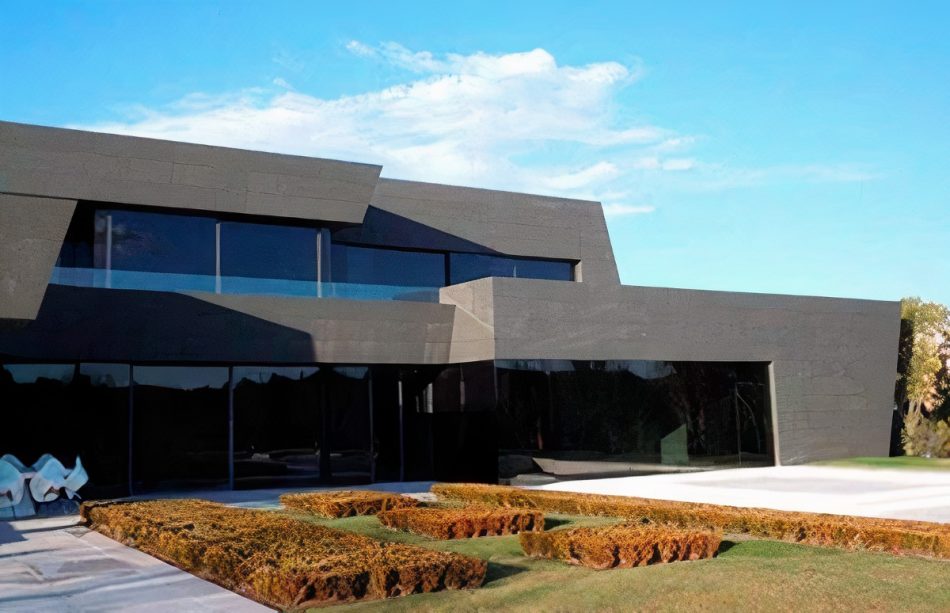 Hazard's home in Madrid
Hailing from Belgium and currently playing for Real Madrid, Hazard owns an $11.5 million mansion in high-end La Finca, one of the most exclusive residential estates in Madrid. 
Designed by acclaimed architect Joaquin Torres, the house features 6 bedrooms, 10 bathrooms, and automated blackout blinds. There's also an indoor pool, a gym, a spa, and a home cinema to make the most of. Décor-wise, it's contemporary all the way, and out in the garden, there's a tennis court to enjoy.