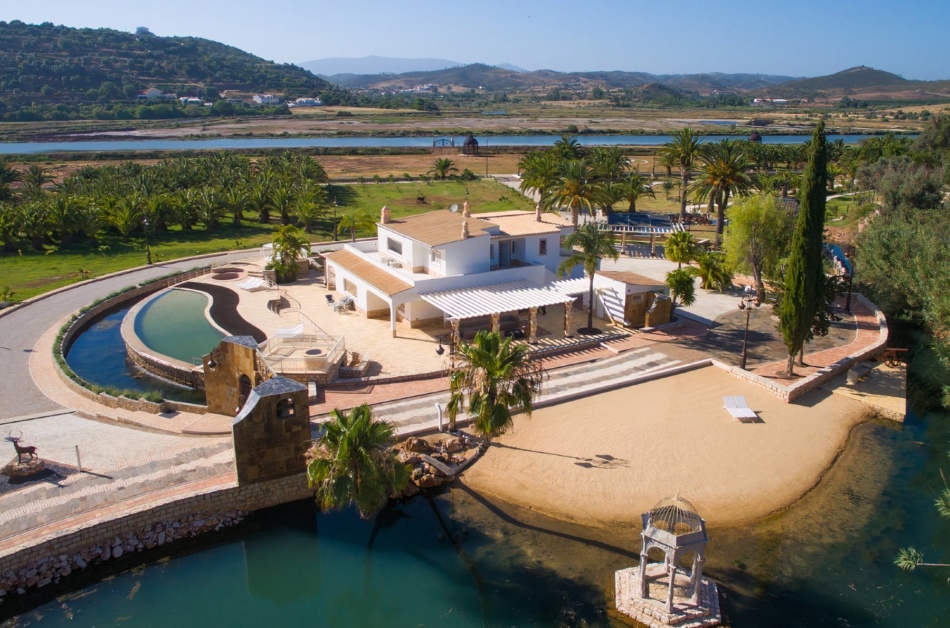 Villa on the Arade River, Lagoa, Algarve, Portugal, approx. $4,694,129.
View Listing
Portugal shares a fifth of the Iberian peninsula with Spain and is known for sandy beaches, varied landscapes, and no less varied luxury properties. From finca-style homes and historic palacios to contemporary villas, there are options galore. But where are the best places to live in Portugal?
We've put together a list of lesser-known Portuguese locations for upscale real estate buyers to ponder – where housing prices are expected to grow in the next few years.
Portugal has seduced thousands of second-home buyers over the years. The country offers a laid-back lifestyle and thriving expat communities. It also has a reputation for being one of the golfing capitals of Europe.
In 2020, Portugal ranked number three in the Global Peace Index, making it even more tempting for high-end real estate buyers. Portugal offers luxe living across waterside towns and bustling city neighborhoods. The wealthy second-home house hunter will be sure to find something that catches their highly-trained eye.
Furthermore, the country is a serious player in the luxury property market. Our data shows the average price for a luxury home in Portugal is $1,546,297. And at the top end, buyers can purchase this early 20th-century chalet situated in the coastal town of Cascais for $19,228,481.
The most affordable real estate in the upscale segment will cost you around €500,000 (approx. $601,430). That's also the minimum investment to gain the Portugal Golden Visa and a residency permit for a family.
With that said, high net worth individuals from around the world are increasingly setting their sights on Portugal. Our list of trending second-home locations will help buyers to find the new hotspots on the map.
The best places to live in Algarve, Portugal
1. If you like Albufeira, try Loule
Average housing price on JamesEdition: $1,488,642 (Albufeira) vs. $1,370,008 (Loule)
Highlights: Red cliffs of Falesia beach, top-tier golf courses, and an equestrian school
Just 20 minutes from Faro airport you'll find the Algarve town of Loule, with its characterful historic center and Arabic-inspired covered market. You're a stone's throw from a host of top-tier golf courses, just 20 minutes from Vilamoura Equestrian School, and half an hour from the red cliffs of Falesia beach.
Picturesque Loule offers a real taste of Portuguese culture while being close to the bustle of nearby coastal villages and towns. A top pick for retirees and one of the best places in the Algarve.
Explore real estate in Albufeira and Loule
2. If you like Portimao, try Lagoa and Silves
Average housing price on JamesEdition: $1,100,907 (Portimao) vs. $1,189,203 (Lagoa) and $1,427,811 (Silves)
Highlights: Family attractions, historic landmarks, and high-class eco tourism
A world away from the southern port city of Portimão yet only 20 minutes by car, Lagoa is a hill town filled with whitewashed houses. With a traditional Algarve feel, Lagoa is close to the wonderful beaches of bandeira, Benagil, Carvoeiro, and Marinha.
Just 10 minutes south of Lagoa towards the Atlantic sits Carvoeiro, a pretty town that's walking distance to the golden Algarve coastline. Close to both Zoomarine and Splash and Slide water parks, this is a top choice for families.
If you prefer to be inland, Silves is 10 minutes north of Lagoa, but still within half an hour of the ocean. The original ancient capital of the Algarve, Silves Golf is on the outskirts – a challenging course at the foot of Monchique mountain.
Explore real estate in Portimao, Lagoa and Silves
3. If you like Lagos, try Vila do Bispo
Average housing price on JamesEdition: $1,760,382 (Lagos) vs. $1,084,565 (Vila do Bispo)
Highlights: Quintessential Algarve villages with Atlantic spirit
Close to the southwest tip of the country is Vila do Bispo, an excellent spot for expats. Half an hour west of Lagos and five minutes inland from the dramatic scenery of Sagres lies this quintessential Algarve village bursting with Atlantic spirit.
Think narrow streets, whitewashed houses, and peaceful cafés. Fresh fish is popular; during the autumnal hunting season, local plates include wild boar, hare, and quail. Pleasantly mild all year round, Vila do Bispo is a 10-minute drive from the unspoiled western beach of Praia da Cordoama – a  well-known surf spot.
Explore real estate in Lagos and Vila do Bispo
4. If you like Faro, try Olhao and Sao Bras de Alportel
Average housing price on JamesEdition: $1,236,290 (Faro) vs. $1,028,823 (Olhao) and $1,100,000 (Sao Bras de Alportel)
Highlights: Seaside towns with Moorish architecture and Ria Formosa nature reserve
Close to the superb beaches of Ilha da Armona and just a 20-minute drive east of Faro airport, Olhão is a charming seaside town with Moorish architecture. It's also a convenient jumping point to Ria Formosa – one of Portugal's Seven Natural Wonders.
Another quiet option is São Brás de Alportel, a 25-minute drive north of Faro. This sleepy country town offers a relaxed pace of life, close to the beach and leading golf courses. These alternative second-home destinations are ideal choices for families and retirees, and some of the best places to live in Portugal.
Explore real estate in Faro,  Olhao and Sao Bras de Alportel
5. If you like Tavira, try Vila Real de Santo António or Castro Marim
Average housing price on JamesEdition: $1,606,545 (Tavira) vs. $1,653,456 (Vila Real de Santo Antonio) and $1,005,878 (Castro Marim)
Highlights: Golf courses and long sandy beaches in close proximity to the Spanish border
From Faro, head along the coast for 45 minutes until you reach Vila Real de Santo António, a scenic spot on the eastern edge of the Algarve. Close to Monte Gordo beach, there's a grand central plaza and Pombaline architecture. Moreover, you're just across the Guadiana River from the Spanish town of Ayamonte.
Castro Marim lies northwards five minutes. There, you'll discover a medieval town complete with a Moorish castle, on the edge of a nature reserve. Castro Marim Golfe Club is nearby with its trio of nine-hole courses. These alternative hotspots are ideal second-home locales for both Brits and Americans.
Explore real estate in Tavira, Vila Real de Santo Antonio and Castro Marim
The best places to live in the Lisbon and Setubal Peninsula
6. If you like Cascais, try Oeiras
Average housing price on JamesEdition: $2,037,533 (Cascais) vs. $1,506,997 (Oeiras)
Highlights: A former vacation spot for nobility with gorgeous beaches and architecture
Home to historic properties and some of the most expensive contemporary villas in Portugal, Oeiras is a short 30-minute car ride westwards of Lisbon and a top location for expats. On the shores of the Tagus where the river merges with the ocean, Oeiras offers an oasis of modernity and is one of the best places to live in Portugal.
Close to gorgeous sandy beaches such as Torre and Carcavelos, you're only a quarter of an hour from scenic Sintra-Cascais Natural Park. And the same distance from Casino Estoril and Estoril Golf Club – one of the oldest and most emblematic courses in Portugal. Oeiras itself features a waterside promenade and a tranquil atmosphere.
Explore real estate in Cascais and  Oeiras
7. If you like Lisbon, try Almada or Seixal
Av. housing price on JamesEdition: $1,587,125 (Lisbon) vs. $1,535,209 (Almada) and $911,119 (Seixal)
Highlights: Lifestyle of a coastal city, gastronomic delights, and scenic miradouros (viewpoints)
Cross the Tagus River via Ponte 25 de Abril and reach Almada in 20 minutes and Seixal in half an hour. Enjoy all the benefits of Lisbon while being slightly away from the hustle. Almada boasts one of the best views of the capital, while Seixal is home to Praia do Porto, a natural black sand beach. Almada is also known for its sandy stretches, with the Costa da Caparica attracting both Lisbonites and expats.
Second-home owners can reach Lisbon easily if they wish. While there, enjoy strolling the cobbled alleyways and admiring the scenic vistas at Miradouro Mania. And of course, there's luxe shopping to be indulged in along Avenida da Liberdade and Rua Castilho. Americans, Brits, and other EU citizens will all be attracted to this part of Portugal.
Explore real estate in Lisbon, Almada and Seixal
8. If you like Setubal, try Troia or Comporta
Average housing price on JamesEdition: $1,895,000 (Setubal) vs. $1,878,000 (Troia) and $1,218,000 (Comporta)
Highlights: A jet-set destination with one of Europe's best golf courses and jaw-dropping sunsets
Troia sits on a peninsula, a short ferry ride from Setúbal and 90 minutes from Lisbon. The 13-mile sand spit is home to pine forests and first-rate beaches overlooking the Atlantic. Troia Golf is close by – a demanding course voted one of Continental Europe's best 10 resorts by Golf World magazine in 2019.
The exclusive area of Comporta is located at the base of the spit, along the Sado estuary. This low-key celebrity haunt offers jaw-dropping sunsets – enjoy while sipping on a cocktail at Praia da Comporta. Half an hour southeast of Comporta you'll find Grandola, an Alentejan town famous for cork trees, where life runs at a leisurely pace.
Explore real estate in Setubal and Comporta
The best places to live in Northern Portugal
9. If you like Peniche, try Obidos
Average housing price on JamesEdition: $962,175 (Peniche) vs. $864,000 (Obidos)
Highlights: Top surfing spots, golf resorts, and cliff trails with scenic vistas
Half an hour east of coastal Peniche and 60 minutes north of Lisbon lies Obidos. Think cobbled streets, whitewashed houses draped in bougainvillea, and surrounding vineyards. What's more, there are golf courses aplenty in the area, including Royal Obidos Spa & Golf Resort and West Cliffs.
Perched on a hill, Obidos is a picturesque gem just 25 minutes from a saltwater lagoon and Atlantic vistas. These factors make it one of the best places on the Silver Coast.
Explore real estate in Peniche and Obidos
10. If you like Ericeira, try Mafra
Average housing price on JamesEdition: $1,974,000 (Ericeira) vs. $1,272,000 (Marfa)
Highlights: Surfing, top-notch seafood restaurants, and extravagant palaces
A quick 45 minute-drive northwest of Lisbon you'll find Mafra, a thriving yet pleasantly-paced city with tree-lined streets. Home to one of Europe's largest and most extravagant palaces, the vast complex houses an ornate baroque basilica, a grand library, and a sizable monastery.
The traditional fishing village of Ericeira is 10 minutes away – a paradise for surfers, a place for top-notch seafood, and home to a selection of beaches. Plus, Sintra is just half an hour southwards.
Explore real estate in Ericeira and Mafra
11. If you like Porto, try Vila Nova de Gaia or Matosinhos
Average housing price on JamesEdition: $1,195,682 (Porto) vs. $1,082,000 (Vila Nova de Gaia) vs. $991,109 (Matosinhos)
Highlights: Medieval landmarks and World Heritage landscapes along the River Duoro
A short drive southwards over the Douro River via Ponte da Arrábida or Ponte Luís, you'll find Vila Nova de Gaia. Known as Gaia to locals, you'll be transported back to the 17th-century beginnings of port production. Just a 15-minute ride from Porto, Gaia is home to the hilltop and palm-shaped Jardim do Morro, and an array of grand port lodges. Dine on rooftop terraces while enjoying views across to the historic center. Or, opt for The Yeatman Gastronomic with its two Michelin stars.
Alternatively, Matosinhos may suit you better. A brief quarter of an hour drive northwest of Porto, this fishing port is famed for seafood eateries and sandy beaches. You're within 30 minutes of the exclusive shopping area Avenida dos Aliados, and 90 minutes from the beauty of the Douro Valley wine region.
Explore real estate in Porto,  Vila Nova de Gaia and Matosinhos
12. If you like Braga, try Viana Do Castelo
Average housing price on JamesEdition: $1,587,000 (Braga) vs. $1,276,000 (Viana Do Castelo)
Highlights: Historical palaces and gardens in the heart of the green Minho region
An hour north of Porto is coastal Viana Do Castelo, a fascinating city close to Valença and the Spanish border. Enjoy café-lined plazas and narrow shopping streets that open out to the banks of Rio Lima. And from the majestic Santuário de Santa Luzia, admire scenic panoramas.
Located in a region of outstanding natural beauty, Viana Do Castelo is close to wild beaches and surrounded by verdant forested hills, making this one of the best places along the Green Coast. Head to Praia do Cabedelo for windsurfing and bodyboarding, or eastwards 45 minutes to explore Peneda-Gerês National Park.
Explore real estate in Braga and Viana Do Castelo
The best places to live in the Alentejo region
13. If you like Evora, try Beja or Mertola
Average housing price on JamesEdition: $2,584,000 (Evora) vs. $893,000 (Beja) vs. $2,474,000 (Martola)
Highlights: Historic farmhouses surrounded by the Alentejo's vineyards
The walled city of Beja in the Alentejo wine region is quaint, relaxing, and filled with excellent restaurants. An hour south of Evora, the area offers a genuine Portuguese experience. Visit nearby wineries such as Herdade dos Grous, where grape varieties like Arangonez and Roupeiro are grown.
Southwards 45 minutes is the fortified medieval village of Mertola, close to the border with Spain. Sitting at the confluence of the Guadiana and Oeiras rivers, you'll be enveloped by a magical atmosphere.