As private jet flights are becoming more and more popular during the pandemic, we've already reviewed prices on aircraft buying vs. chartering. Now, let's shift from the mere pragmatic aspects and gain some creative inspiration touring the most luxurious private jet interiors — with a focus on the top bedrooms located aboard.
Keep reading to see our selection of the most cutting-edge ideas, ranging from the innovative concepts of Boeing Business Jet to high-class interiors aboard Gulfstreams, Bombardiers, and Embraers listed for sale right now.
1. Master suites with a modern-penthouse vibe: black details, ceiling designs, and advanced technology
"When flying ultra-long distances, the owners (of business jets) are looking for a comfortable lounge, multi-function conference area and a large master suite to ensure the ultimate flight experience," says Max Prado, a representative of the aviation design company SkyStyle talking about one of their latest concepts: Genesis BBJ Max 7, created for Boeing Business Jets.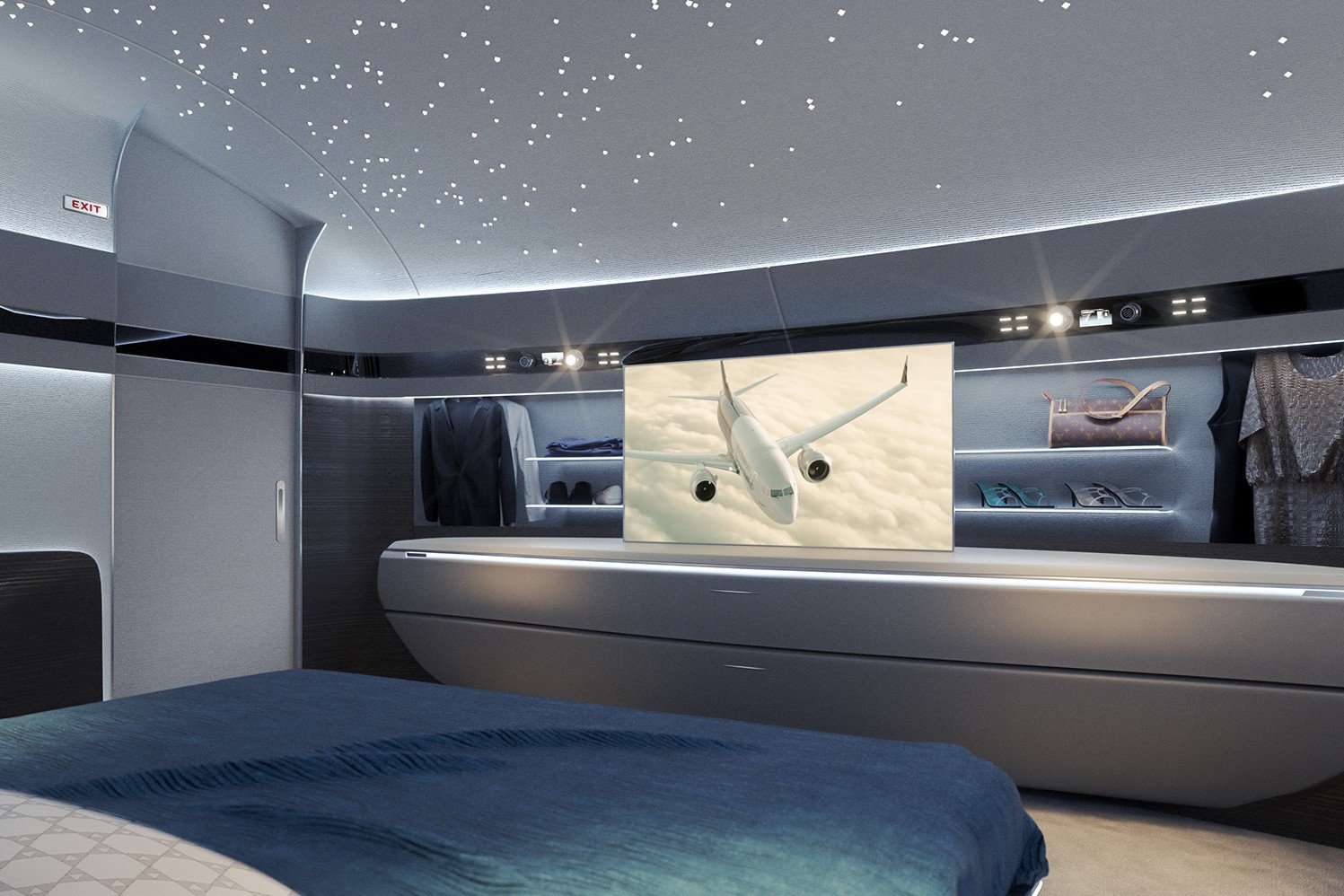 Even if a jet's interior design doesn't boast the same level of creativity and innovation as the SkyStyle concepts, Boeing always includes some features to shape notably elegant yet relaxing spaces aboard.
"There are different styles with the ceiling, so you won't feel like you're stuffed in a subway tube." This is how Boeing Business Jet's Alex Fecteau explains the concept behind the night sky style ceiling in the Genesis BBJ Max 7. Other lighting ideas for private jet bedrooms include effects such as perimeter and accent lightning or so called "wall washing" (that illuminates a vertical surface in a soft way).
Speaking of color schemes, luxury jet interiors often feature black details, whether those are  wall decorations or simply sets of textile elements. Black is a go-to color even for jet bedrooms. Notice how darker sofas and furnishings transform an aircraft cabin.
2. New materials in private jet luxury bedrooms
"I am excited for the future of hard surface materials and the opportunity for more selection in the industry," says Greenpoint Technologies' Ashley Moulton. "In addition to hardwood and stone floor innovations, I am intrigued by F/List's vinyl tiles and Techno Aerospace's Authentique flooring products."
According to the designer, these new materials are often inspired by natural elements and organic textures. For example, open-grain veneers (which look like a piece of expensive wood with a large grain) often are incorporated to create the sense of a high-class living space.
And, indeed, you can easily spot examples of this approach to design in private, luxury jet interiors.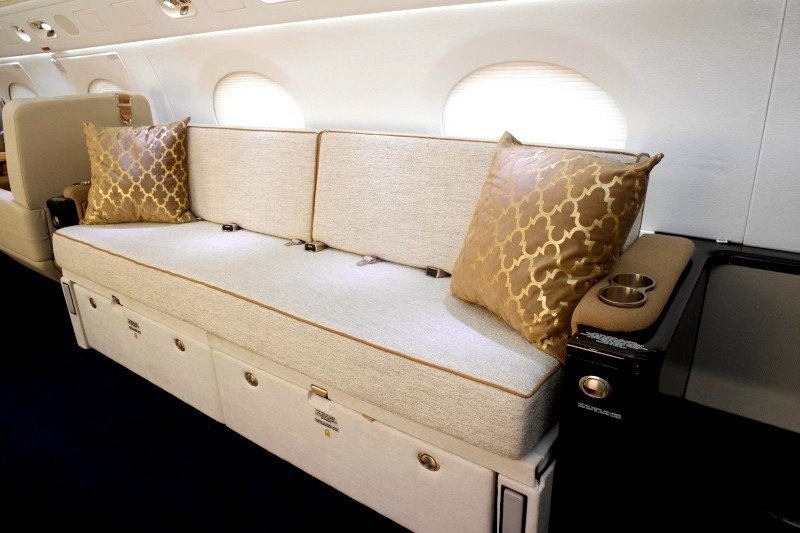 Let's take a look at the Gulfstream G550: the aircraft lately featured in Business Insider 
is "highly bespoke and customized to be a home away from home," journalists emphasize. The bedroom area in this private jet is decorated with wood-style panelling.
We also spotted some attractive decorations on-board the Dassault Falcon 900B with brand-new interiors put up for sale in Monaco and the Embraer Lineage 1000E.
3. Create the atmosphere of a five-star hotel in a private jet bedroom
How do you recreate the relaxing, calming, yet classy environment inherent in a five-star sanctuary? Here are a few tips from Olga Polizzi, Director of Design for Rocco Forte Hotels: "Choose your linens and pillows. The best combination for bed linen is 400-thread count and 100% white cotton. Our preference for beds is four pillows: two king-size and two standard- size; these are a mixture of feather (75%) and down (25%)."
Polizzi also advises using fresh flowers "to add a luxurious feeling to the place." We are compelled to agree that these small details (paired with a glass of Veuve Clicquot) make a transcontinental flight feel more like a stay in a hotel from your personal top list.
4. "Convertible bedrooms" for smaller business jets
Is it possible to enjoy the same quality of sleep that you would in your own home while onboard a midsize or light aircraft? Designers answer: yes, it is–with innovative convertible beds that can be placed between jet seats. One manufacturing company, JetBeds, highlights the absolutely flat surfaces and high-quality, firm mattresses that they have designed which are "created to the standards required of hospital beds," with especially even weight distribution.
These "convertible bedrooms" can be placed inside almost any business jet, from smaller Cessnas or Hawkers (that, with no doubt, need them most) to midsize Ebraers, Dessaults,  Bombardiers, and Gulfstreams.
We selected some aircraft currently for sale that could benefit from this solution.
5. Divans for ultimate comfort
Finally, we can't neglect to mention the comfortable sofas situated onboard, with their perfect color schemes and cushions, complementing VIP aircraft cabins.
The furniture used in business aviation is lightweight and allows lounging with its ergonomically designed leg rests as well as lie-flat berths for extended relaxation on longer flights.