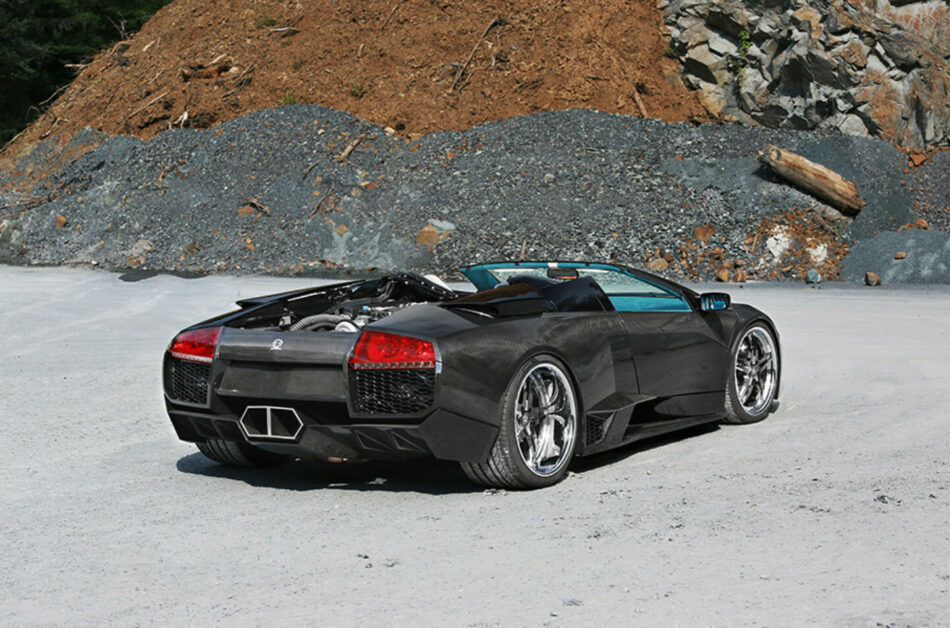 The Murciélago, Lamborghini's flagship model for the 2000s, was and still is an exclusive car by any definition.
A six-figure price tag, shrieking V12 exhaust note and razor-sharp styling make it a standout in just about any setting, and there's nothing outdated about its styling or performance even after nearly 20 years.
For some, though, not just any old Lambo will do. Some people need more. More of everything. And just such a car is now on the market.
Meet the custom Murciélago roadster
Known as the Seponas LM900, the custom Murciélago roadster built by German outfit ESV (EdelStahlVertrieb), it does indeed have more of everything.
That includes a larger price tag, but just some of the upgrades are:
Over 300 horsepower more than a regular Murciĺago roadster.
Custom suspension system.
Upgraded, larger brakes with six-piston front and four-piston rear calipers.
Wide-stance, full carbon fiber body kit with a bare carbon finish, reportedly a first for a Murciélago.
Custom headlights.
Larger, wider three-piece aluminum wheels made from scratch.
Drive train shown off in the rear of the car.
Outrageous petrol blue alcantara with cream Nappa leather interior.
What does it feel like to drive a tuned Lamborghini?
We couldn't help but asked this question the car owner and got some interesting answers.
Sebastian, the car owner:
When I am behind the wheel, I don't just focus on velocity since there are few opportunities to drive at maximum speed. This is why I don't want my car to be the fastest – I am searching for the perfect balance between high speed and perfect driving comfort.
After driving at the speed of 370 km/h during some test drives, we altered the power curve a little, in order to better reach this equilibrium. After all, my maximum speed at a German autobahn was 350 km/h.
It's actually the performance increase compared to the production vehicle which gives you goose bumps. While being flashed by the propulsion and the marvellous sound environment you are forced back into the seat and can feel the car's strength with every single meter.
Superchargers VS turbochargers, or how to wring out 900 hp from the 6.2 liter Lamborghini V12 
In order to wring out over 900 horsepower from the 6.2-liter Lamborghini V12, two superchargers were fitted along with titanium connecting rods, an upgraded cooling system and an enormous custom stainless-steel exhaust system.
Superchargers were selected rather than turbochargers in order to keep the basic character of the naturally aspirated unit, just with substantially more power.
The LM900 also retains the Murciélago's all-wheel drive system but utilizes a racing clutch and gearbox.
That said, this is no mere track day toy, as the original builder wanted a design that would "explore the limits – be it velocity, weight or linear dimensions" but also "still be driven in a comfortable and pleasant way."
Even so, the numbers are pretty staggering:
922 horsepower.
774 pound-feet of torque.
Top speed of 217 miles per hour (349 km/h).
Four years of work
After 3D scanning and disassembling an original Murciélago, it took four years to complete the LM900 from top to bottom, finally realizing the builder's vision to "take this Lambo, fuse it with my own ideas and transform it into the aggressive, energetic and forceful vision I had."
The bare carbon-finish full body kit alone took 18 months to get right. "It is far broader than the original one and contrasts perfectly with the eclectic interior", the car owner points out.
The interior was completely redone and customized down to the seat adjusters, and there is a plasma display on the dashboard. And the engine took a year.
LM 900 or LP 640?
There seems to be almost no detail on this car that hasn't been altered or improved, but all with serious attention to detail.
It is also still instantly recognizable as a Lamborghini, but at the same time also one that is quite special. Only one Seponas LM900 is thought to have been built. And that's unfortunate, but for a buyer, it presents an opportunity to acquire something truly unique.
Lamborghini builds special limited-production versions of most of its models. The Murciélago was no exception, and rare versions include the Reventón, LP670-4 SuperVeloce, LP640 Versace and LP650-4 Roadster.
None are as rare, or as fast, however, as this LM900. And it can be yours for €750,000 ($856,000)
Exclusive luxury insights
for newsletter subscribers only
Delivered every week to your inbox