Despite media reports highlighting the pandemic's positive impact on the French Alps' property market, Switzerland has become the newest Alpine hotspot on JamesEdition. According to our data, interest in the Swiss Alps has skyrocketed post-Covid, eclipsing renowned ski resorts in France.
So far in October 2021, the upscale Swiss resort of Gstaad has had 5 times more listing views compared to a year ago. Similarly, Verbier has experienced 4 times more, St. Moritz has had twice the number, and Zermatt has seen an increase of 1.5. This is the first season in the last few years the Swiss Alps has showcased such impressive growth.
Meanwhile, over in France, Chamonix is the only area that's seen a rise in listing viewings by 2.5 times, with no uplift in Courchevel, Megève, and Meribel so far.
Looking more closely at the Swiss Alps, Verbier, Gstaad, and Zermatt and the most popular areas, but ultra-exclusive St. Moritz also generates attention, despite having just 11 active viewings at the moment.
Part of the mega 4 Valleys ski area and boasting views of Mont Blanc and Combins Massif, Verbier is the biggest resort in Switzerland with more than 410 kilometers of runs. Northwards a couple of hours lies Gstaad, a prestigious resort surrounded by soaring mountains in the Bernese Oberland region of the Swiss Alps and a long-standing holiday destination for the wealthy, including ​​Hollywood A-listers. The highest area in the Swiss Alps – the Matterhorn – is in Zermatt, where ski terrains lie at altitudes between 2,500 and 3,900 meters, and there are 54 lifts to try out. And then there's St. Moritz, one of the oldest, most famous, and glamorous winter resorts on earth. The town hosted the Olympics in 1928 and 1948, and these days it's a mecca for celebrities, billionaires, and royals.
With that in mind, on the eve of the 2021 ski season, we've rounded up the properties generating the most interest from prospective buyers.
Top properties users are searching for on the eve of  2021's ski season
1. Design-forward penthouse between Gstaad and Montreux
Price: $13,000,000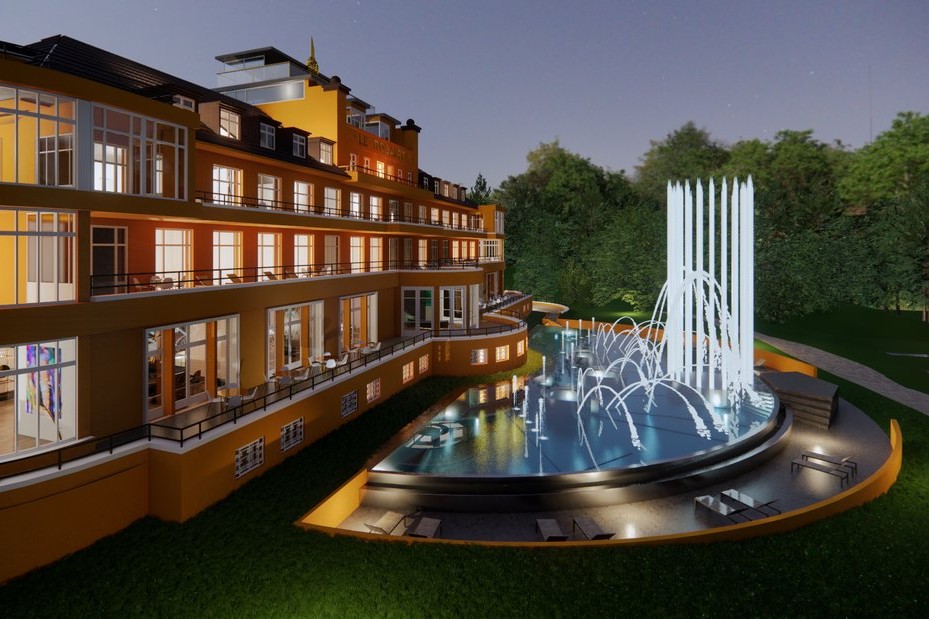 By far our most popular Swiss chalet listing, this six-bedroom apartment spans 6,459 square feet and boasts glorious mountain views as well as a ski-in, ski-out location. Situated in a heritage structure called Le Rosaire, the residence has four Zaha Hadid bathrooms, three floors, a Jacuzzi, and a private sundeck terrace. With slick, contemporary decor throughout including La Cividina furniture, the building also offers a range of services such as valet parking, VIP concierge, stylists, and massage therapists.
2. Classic chalet on a two-acre plot in the Gstaad Valley
Price: $8,143,000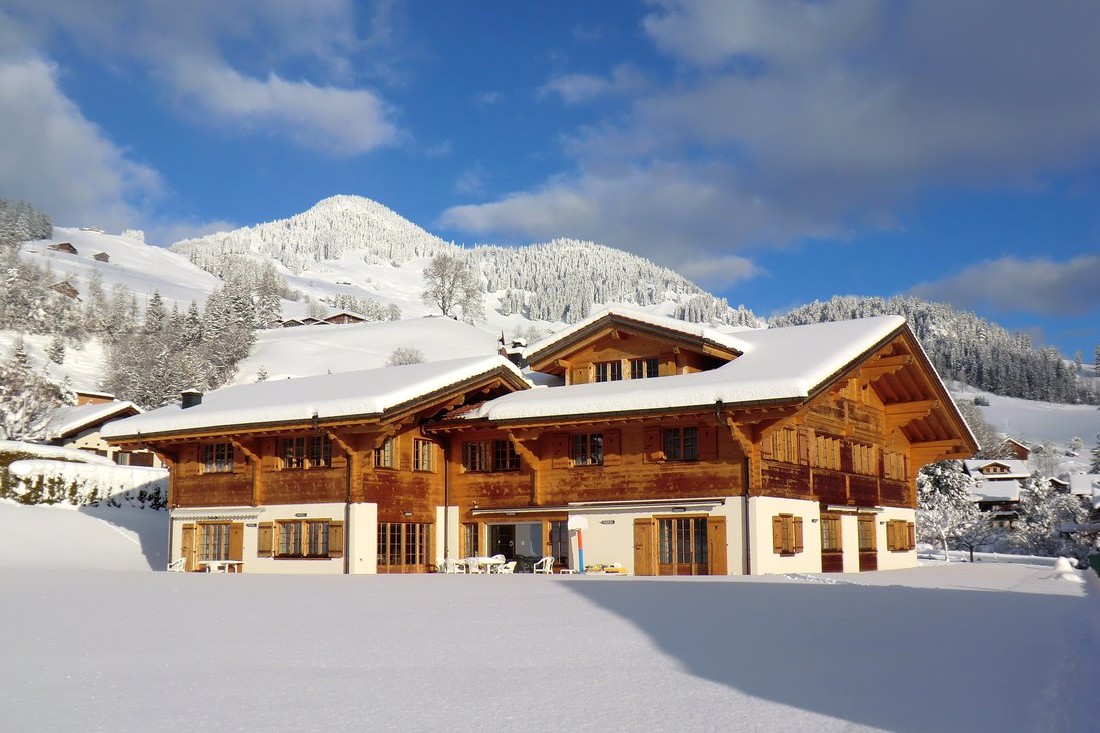 Sitting in a prime location, this attractive home has 14 bedrooms and bathrooms and covers 12,918 square feet. Indoors the style is modern while remaining characterful and warm, with soothing neutral tones decorating the large space. In mint condition, there's a sizeable living and dining area with an open fireplace, plus a library. Downstairs, you'll find a gym and spa area with an indoor swimming pool. There's also a separate two-bedroom apartment for guests or staff. With mountain views and a large garden, this makes for a top place to entertain. What's more, the land can be built on further, should you wish.
3. Eyecatching classic chalet in Verbier
Price: POR
When you think 'chalet', this glorious wooden structure is the epitome of the word. Just a short walk from the village center, the four-level house features 13 bedrooms and 11 bathrooms across 10,302 square feet of space. A large yet cozy home, there are wood beams galore, a sweeping staircase, a first-floor terrace, plus a hammam and sauna. Renovated in 2008, it's possible to separate the property into two independent living spaces. Of course, keep it united as one grand residence if you prefer.
4. Deluxe ski in/out property in Verbier
Price: $27,143,000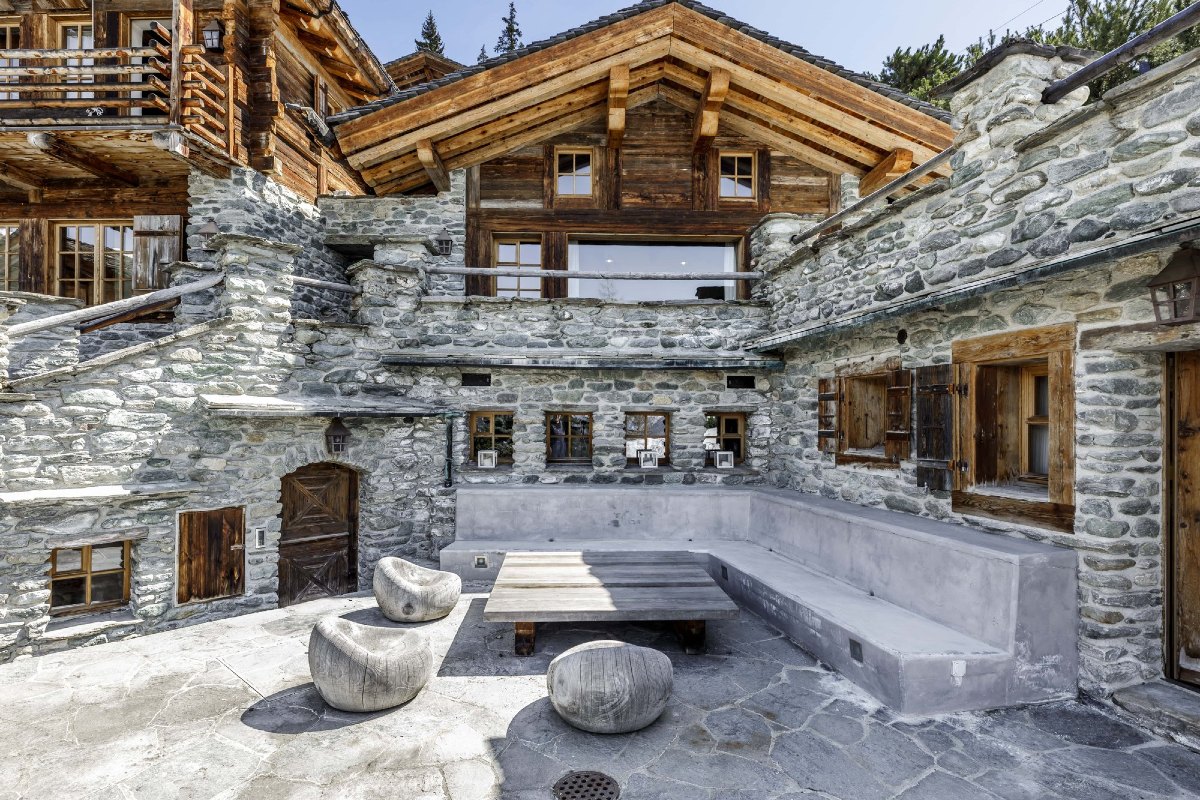 What you have here is a striking residence composed of two chalets: Joli Bois and Ciel Bleu. Luxurious yet comfortable, this eight-bedroom modern home seamlessly blends wood and natural stone, generating a restful atmosphere. Featuring seven bathrooms, three floors, and 6,225 square feet of interior space, the dwelling is also home to a gym, wellness area, and a spacious cellar. Primely located, the next owner will enjoy spectacular vistas from the sundeck.
5. Chic standalone chalet in Zermatt
Price: POR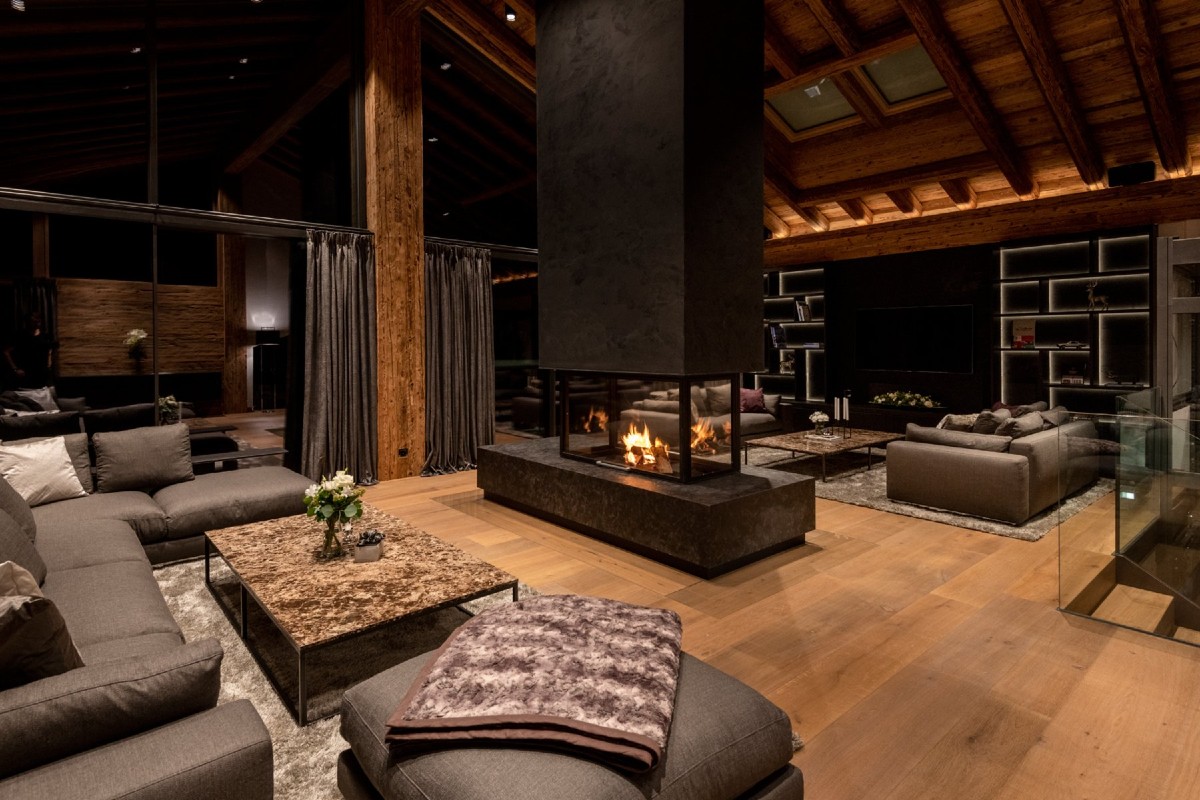 Here you have a super stylish property where every detail is considered, from the lighting to the impressive modern fireplace. Decor-wise, wood features heavily throughout this contemporary eight-bedroom space spanning 8,504 square feet. Warm and welcoming, there's a high-end spa area with a large swimming pool (accessible via stairs or elevator), 12 bathrooms, and each bedroom boasts its own bathroom and balcony. The pièce de résistance? A frameless window at the front of the property where you can admire the enchanting Matterhorn views from.
6. Wow factor views in St. Moritz
Price: POR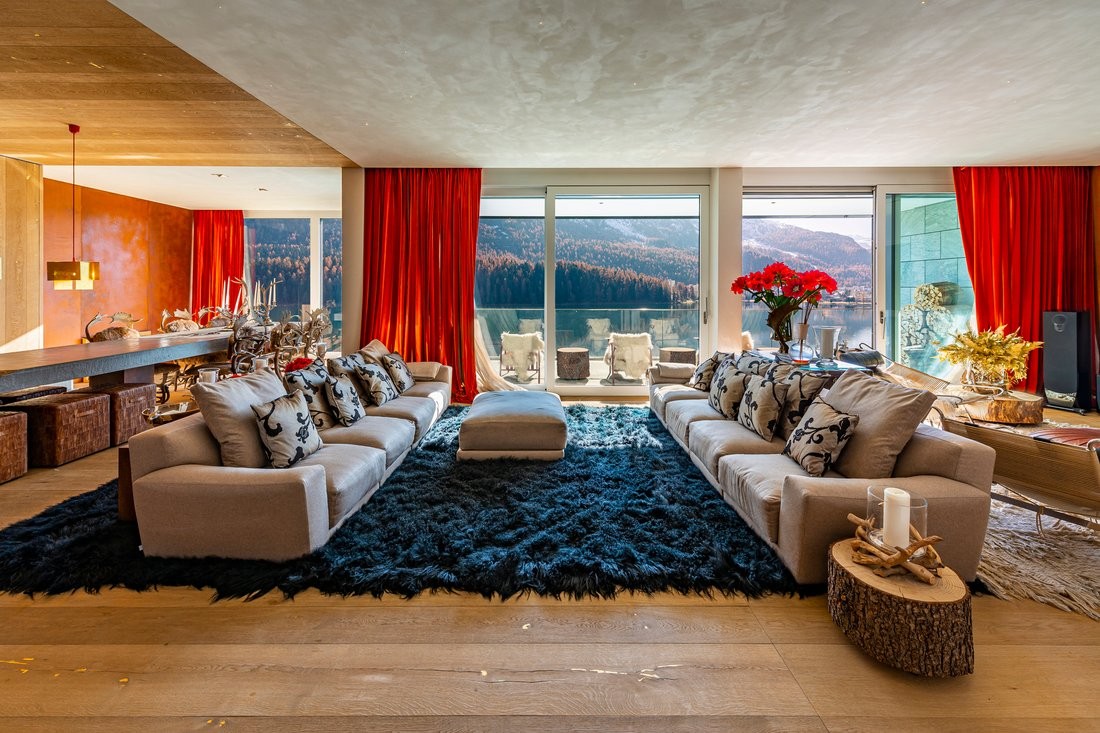 This waterside three-bedroom condo boasts unobstructed lake and mountain vistas and four bathrooms. Spanning 2,541 square feet, the open plan living area is capacious, featuring a fireplace for cold winter evenings – the ideal place for entertaining. Oh, and the master has a dressing room as well as a sauna and steam bath. The apartment also comes with two parking spaces in the on-site garage.
7. Luxurious apartment with lake views in St. Moritz (recently sold)
Price: POR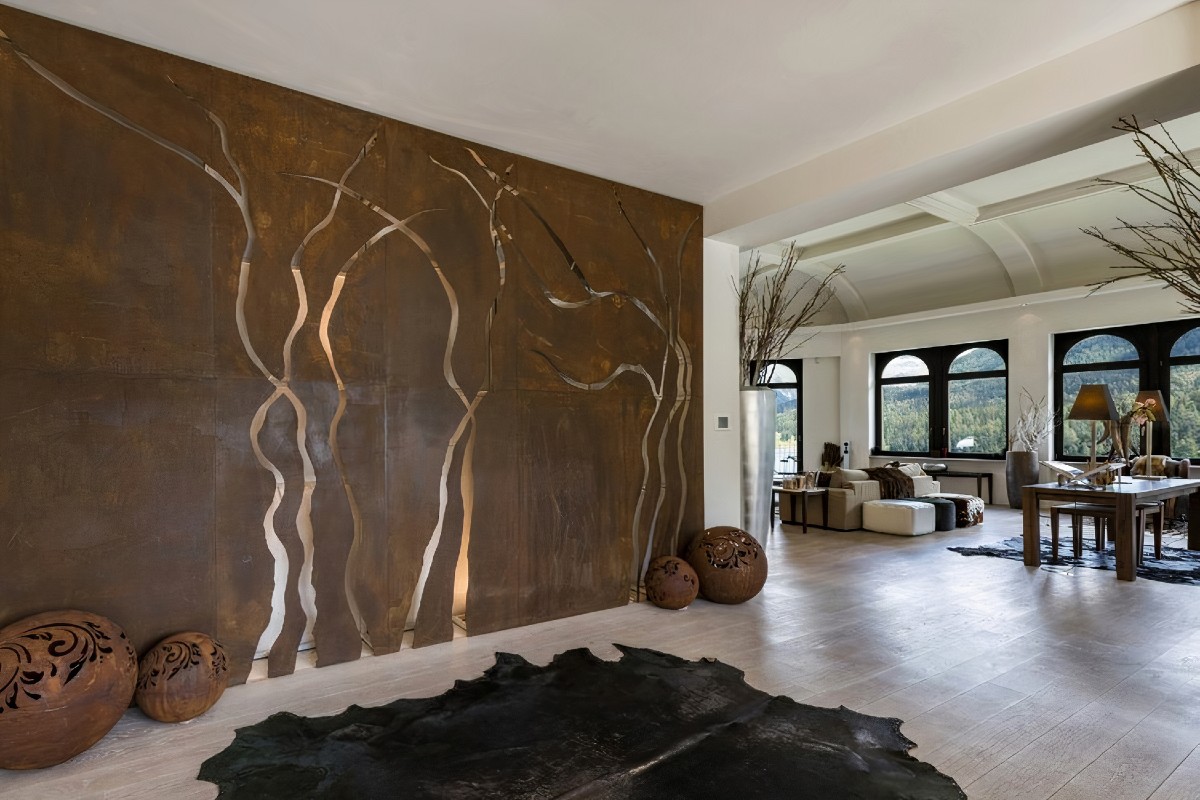 Bright, airy, and slickly decorated, this ideally positioned apartment has 4,844 square feet of space, four bedrooms and bathrooms, and a terrace. The property also boasts a generous living area across two large lounges (both with a fireplace and corner balcony), a spacious eat-in kitchen, and a dining room with access to the sun terrace. To top it off, the master benefits from a dressing room. Other first-rate features include a Jacuzzi, two cellars, five spaces in the underground car park, and picturesque lake views.