Research by Bloomberg places Norway number one in their Covid Resilience Ranking for the second month in a row. Deemed the safest country to wait out the delta wave, the Scandinavian nation has vaccinated 60% of its population while keeping fatalities low and opening up borders to inoculated travelers.
With life moving closer to pre-pandemic days, Norway certainly holds much appeal. JamesEdition currently lists a rare lot: A private island called Ulvsnes, located in the scenic fjords.
Ulvsnes: One of a kind opportunity
Journey to Ulvsnes and discover an island retreat with huge potential as a private and exclusive home or a summer getaway. Equally, you may see the isle as an investment for a boutique hotel or guesthouse.
Either way, the 23-acre (9.3-hectare) estate offers a peaceful escape from urban life. On the market for approximately $2,600,000, the plot is situated close to Bergen, the capital of the Norwegian Westland.
Traveling to this magical island
Vestland is a county located in Western Norway, famous for its unique vistas of high mountains and deep blue fjords, including the UNESCO-listed area of Nærøyfjord.
The county is centered around Bergen, the country's second-largest city. From Bergen International airport (Flesland), there are several options to reach Ulvsnes. By car, it's 45 minutes to Vaksdal, followed by a short boat ride from the mainland, where there's both a parking space and docking for a boat, should you own one.
By train? It's just 20 minutes to Bergen city center, then half an hour from there by speed boat to the island dock. And for helicopter owners, cruise 15-20 minutes up in the air before landing directly on Ulvsnes.
With a history dating back thousands of years, it's thought Ulvsnes was once Crown land, and later under church rule.
Life on Ulvsnes
Surrounded by crystal clear waters and with huge potential, there's nature all around and total safety. Relax, rear livestock, grow herbs – the choice is yours. In the past, the property was run as a farm, adapted for eco and organic operations with greenhouses. If you fancy self-sufficiency and a green way of life, this is the place for you.
For the thrill-seekers out there, head into the fjords by speed boat and enjoy watersports. Or how about trying your hand at fishing – perhaps you'll catch something for dinner? And if you're business-minded, consider renting out some of the pre-existing buildings on a long- or short-term basis, be that via Airbnb, for summer camps, or other forms of tourism.
There's the chance to build a community or keep the island entirely private – that will be down to the desires of the next lucky owner.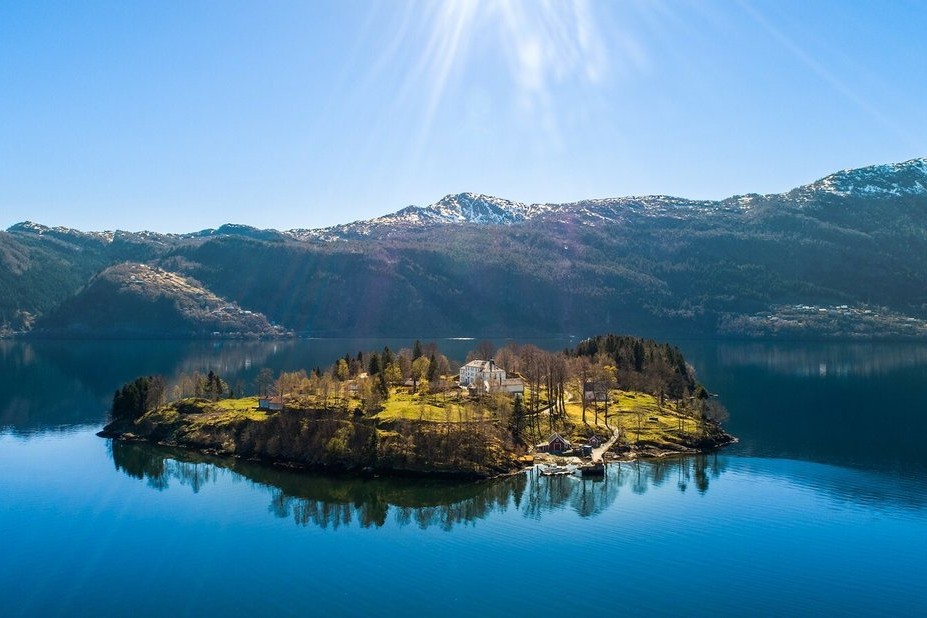 Ulvsnes is a part of the famous fjord area centered around Bergen, Western Norway
Ulvsnes: The details
Protected by steep mountains, Ulvsnes comes with a capacious primely positioned 20,000 square foot main residence, five freestanding houses, a medium-sized barn, plus several workshops, storage houses, and garages.
That's not all: There's also a boathouse, as well as a handful of greenhouses, a playground, smokehouse, and sheds. In total, there are 30 buildings spanning more than 32,000 square feet.
Lush gardens and meadows, a wide variety of trees and plants, a football pitch, a private wharf, wonderful hiking trails, and unparalleled 360 degrees views wherever you are on the island complete the impressive picture.
The municipality of Vaksdal is just across the water, where grocery stores and public services can be found. Back on Ulvsnes, there are modern amenities aplenty, such as 4G and WiFi coverage, upgraded electric systems and drainage, new water heaters, camera systems, and a floating dock.
In all in, this is a multifaceted opportunity for a unique buyer.