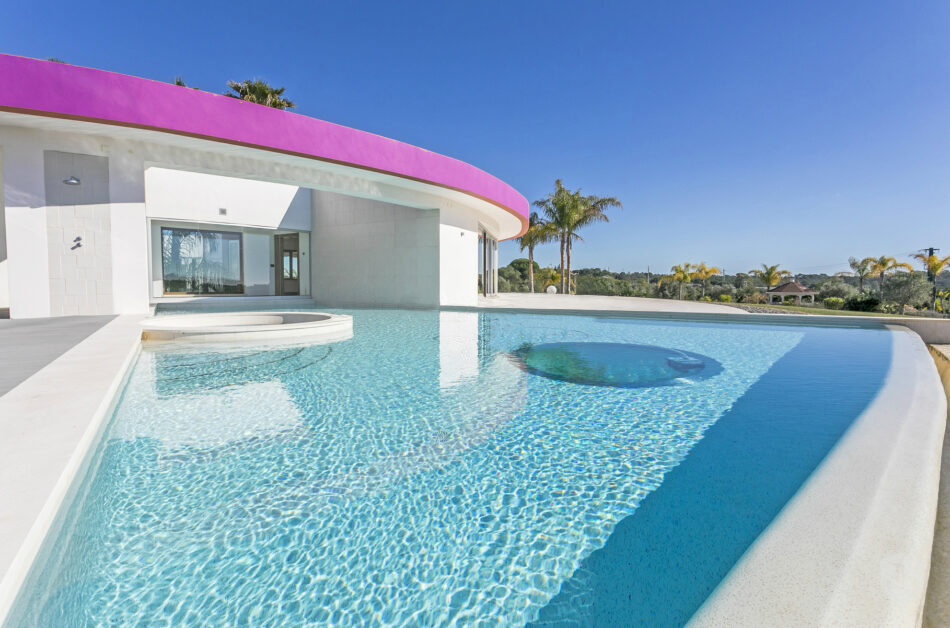 An Extraordinary house in Algarve's premium location (€ 4,000,000)
View the listing
Where can one find the Algarve's most prestigious properties?
Meet a prime area often referred to as the 'Golden Triangle'. It's located between the capital city of Faro and the village of Vilamoura. Also, the Golden Triangle area includes two of the most prestigious resorts, Quinta do Lago and Vale do Lobo.
The vibe is very Beverly Hills. The mansions are white, contemporary and big. The lawns are manicured to perfection. And golf courses are everywhere.
Take a look inside the modern Algarve style coastal home
The property is located a few hundred meters away from Laranjal golf course, the most challenging course in the exclusive resort of Quinta do Lago.
A 1,400 sq meter (15,069 sq foot) 10-bedroom, 12-bathroom home on a fully private 12,000 sq meter (129,166 sq foot) plot in the town of Almancil within the Golden Triangle is offered for €4,000,000 ($4,555,000 USD) by Grand Collections.
The rounded, highly functional design of the house guarantees surrounding views from every room. It also includes a beautiful indoor garden with a panoramic lift. A spacious lounge provides superb views across the property and the surrounding landscape.
Six luxury designer suites plus a four-bedroom staff accommodation are just a cherry on top of a designer kitchen, cinema room, heated pool, and a gym with a sauna.
Technically, this structure is earthquake-proof, has fully automated systems and a state of the art thermal and acoustic insulation system.
Should you want to step outside, two Par 3 golf holes, a helipad and a lake with a gazebo will be your playground. Last but not least, the property comes with a building permission for a tennis court.
What to do: golf, paragliding, and beautiful islands
Any future owner of this property will face three tough choices. Which golf course to choose for the morning? What beach to go to for the afternoon and restaurant for the evening? Well, plus there is horseback riding, tennis, paddling, paragliding and various water sports.
And if all these activities were not enough, there is also bird watching in the Ria Formosa Nature Reserve Park, family days in Zoomarine theme park or Aquashow water park (the two top attractions for families in the Algarve).
It must be said there are three small yet beautiful islands (Fuseta, Culatra and Armona) in the Golden Triangle area, close to Faro. Well, these islands are only a mile away from the Algarve coast but they're definitely worth visiting. Dunes and beaches are even more tropical-ish. And sunsets bars are more alluring. Dry but not too hot summers and mild winters (+10-15C /50-60F) plus a variety of golf courses make this a favourite past time for local residents and guests alike.
A perfect Sunday in Algarve
An early-morning round of golf is one of the best ways to start a Sunday enjoying some of the most renowned golf courses in Europe. Quinta do Lago North, San Lorenzo, Vale do Lobo Royal or Victoria Golf Course are just a few to mention.
If golf is not your thing, the perfect way to start your day would include a walk along the Ria Formosa Nature Reserve Park, located just a short drive from the property.
A trip to one of the local islands is also a must-do, especially at lunchtime to taste fresh and delicious grilled fish caught by local fishermen. With some great spots along the Algarve coast, a glass of local organic award-winning wine is mandatory to fully appreciate a beautiful sunset. And in the evening the choice is easy – just pick one of several restaurants in the area, including several Michelin starred eateries.
Market overview, and Golden Visa scheme
Portugal is now experiencing its highest economic growth in 20 years and foreign investment has returned to 2009 levels.
According to Bloomberg, in 2018 Portugal's property market has attracted a record 3.4 billion euros of investment, mostly from foreign buyers, showing 58% growth from 1.9 billion euros in 2017.
Experts predict continuing growth for a few more years given the country's good reputation. Year after year Portugal continues to be awarded the title of the leading tourism destination at the World Travel Awards, the Oscars" of the industry. And this clearly keeps the business running.
This is great news for international buyers who are not used to seeing Portugal as a place to buy a second home or relocate.
Another factor may be the Golden Visa scheme. Golden Visa makes it easier for wealthy foreign investors to get residency papers in Portugal. All is required is a minimum €500,000 ($570,000 USD) investment in property.
There are other ways, of course, but many choose the real estate route. Given the confident state of affairs in the luxury property market in Portugal, it is a fine choice indeed.
Who is buying homes in Algarve?
Southern Portugal's Algarve coast enjoys more hours of sunshine than any other region in Europe. This could be the reason that for decades Algarve has attracted hoards of British tourists to its beaches. Many have bought villas as investments, rentals or second homes.
And the country's top 3 position in the ranking of the most peaceful countries in the world is also a major draw, especially for families.
The majority of purchasers are still British. Yet there are growing numbers of North American, German, northern European and Middle Eastern second-home buyers.
Other biggest draws include a superb quality of life (Portugal is a favourite with retirees). And let's not forget about food, hospitality, international schools, hospitals, roads and other infrastructures.
Flight routes conveniently connect Lisbon and Faro (the Algarve capital city) to the main European cities and the rest of the world.
Exclusive luxury insights
for newsletter subscribers only
Delivered every week to your inbox