Porsche has a longer and more performance-focused history than almost any other carmaker. From the earliest 356s in the 1940s to the latest and greatest 992s today, Porsches have taken to the race track, and the lessons learned on track always improve the breed. With rich heritage to draw on, many of the most valuable Porsches on the market at any given time aren't necessarily the newest and most exotics. They're often classics, limited in production and high in performance, that appeal to collectors.
Currently there are 632 Porsches available on JamesEdition, ranging from a 1970 914 for $6,950 to a brand new track-ready 935 for $1,666,798. Below are the 10 most expensive, and they encompass 65 years of Porsche history both on track and on the road.
10. 2018 Porsche 911 GT2RS
Model: 911
Price: approx. $470,906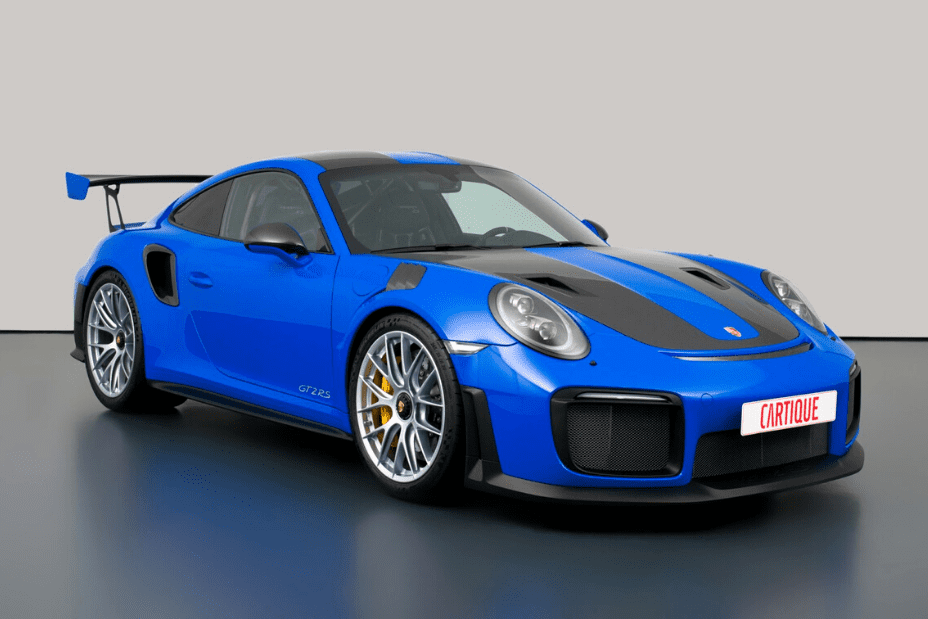 2018 Porsche 911 GT2RS, approx. $470,906
Based on the 2011-19, 991 version of the Porsche 911 Turbo, the GT2 RS was unveiled at the Goodwood Festival of Speed in 2017. Powered by a twin-turbocharged 3.8-liter flat-six, it was the most powerful 911 road car ever built at the time, and was the quickest 911 around the famed Nürburgring race track as well.
This one, located in Germany, is finished in an eye-catching Voodoo Blue, features a unique interior, and is in as-new condition with just 2000 km (1243 miles) on the odometer.
9. Porsche 911 R
Model: 911
Price: $549,000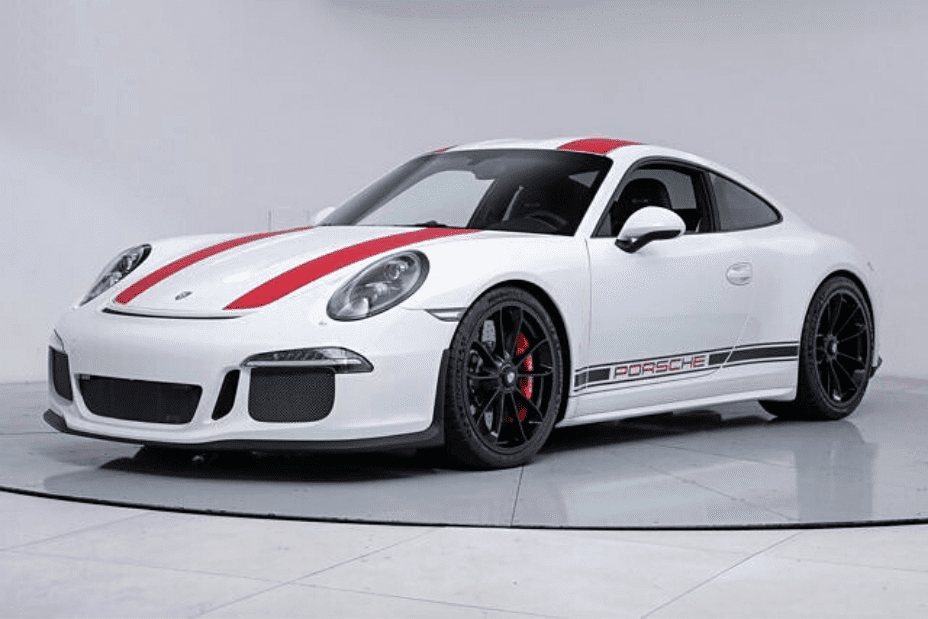 Porsche 911 R, $549,000
The 911 R is similar to the track-focused GT3 RS but lacks a roll cage and rear wing and looks like a more traditional 911. The only transmission choice was a 6-speed manual, which appealed to enthusiasts.
With production limited to just 991 examples, the 911 R became a collectible car almost immediately after it was unveiled at the Geneva Motor Show in 2016 and these cars never really depreciated. This one, located in Florida, boasts just one previous owner and just 106 miles (171 km).
8. 1956 Porsche 356
Model: 365
Price: approx. $833,142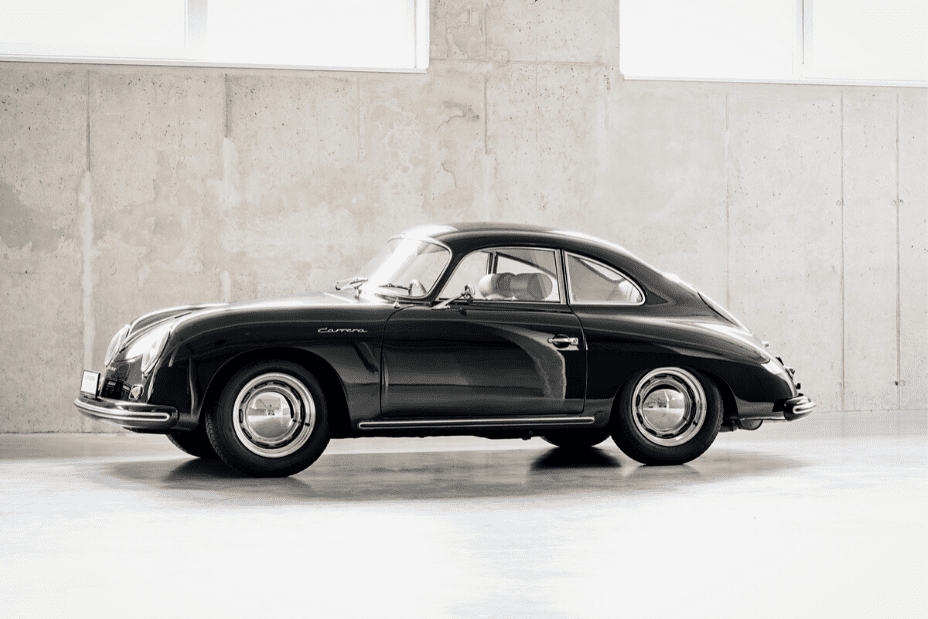 1956 Porsche 356, approx. $833,142
The 356 was Porsche's first road car and the company's mainstay model right up until its replacement by the 911 in 1965. The ultimate 356 is the Carrera, powered by a race-derived four-cam engine that offered a huge bump in performance over the standard pushrod cars and cost significantly more to buy. Relatively few were sold as a result.
This car, a genuine Carrera 1500 GS/GT located in Germany, is represented with just five owners from new and a fully known history. Delivered in 1956 to an American pilot in Japan with the Carrera engine and genuine leather upholstery (most 356s had artificial leather), it went back with him to the States and he kept it until 1995. Since the Carrera engine is famously complex and difficult to maintain, many 356 Carrera do not retain their original powertrain. This one, however, is fully matching numbers.
7. Track 2005 Porsche Carrera GT-R upgraded by GPR
Model: Carrera
Price: $1,025,127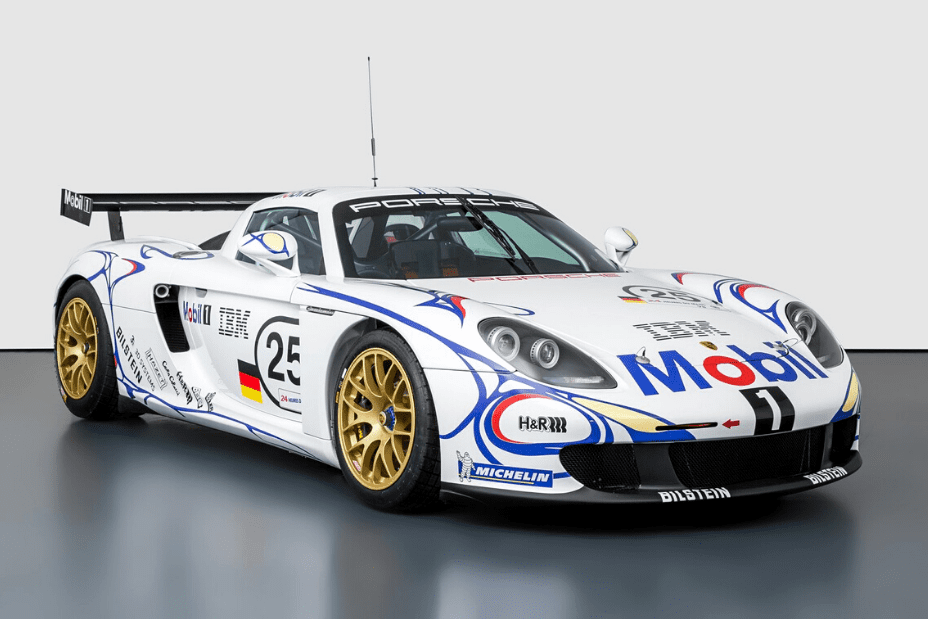 Track 2005 Porsche Carrera GT-R upgraded by GPR, $1,025,127.
View listing
After designing and then aborting a potential Le Mans racer, Porsche decided to take the concept and turn it into a street car. The result was the Carrera GT, one of the most memorable hypercars of the 2000s. Although Porsche never intended the Carrera GT for the track, a Belgian enthusiast ordered one new and had a company called GPR modify it for racing with improvements to the suspension, brakes and clutch as well as additions of BBS magnesium wheels, fire system, and fuel cell. In the end, rules prevented the car from actually racing, so it remained unused. Even so, it is a one-of-a-kind track monster.
All Porsche Carrera GT for sale
6. Porsche 918 Spyder Weissach Package
Model: 918
Price: $1,544,080
Porsche 918 Spyder Weissach Package, $1,544,080
The 918 Spyder was Porsche's halo model for the 2010s and one of the more memorable hypercars of the decade, thanks in large part to its novel gas-electric hybrid technology, used not just in the interest of fuel efficiency but also maximum performance.
Located in the UK but equipped with left-hand drive, this 918 is finished in paint to same Pearlescent White over a red interior, and shows just 6,000 miles (9,656 km). It is also equipped with the Weissach Package, which sheds 41 kg of weight off the standard 918 thanks to lighter wheels, less soundproofing, and less paint.
5. 1996 Porsche 993 GT2
Model: 911/933
Price: $1,630,060 
1996 Porsche 993 GT2, $1,630,060
Based on the 911 Turbo but lighter and equipped with rear-wheel drive instead of all-wheel drive, the 911 GT2 has traditionally been the quickest and most expensive car in the 911 range. The first GT2s came out on the 993-generation 911, which was also the last Porsche to use an air-cooled engine.
The 993 GT2 is extremely rare and this one, located in Germany, has covered just 24,920 km (15,485 miles). Finished in Midnight Blue, it was delivered new to Belgium and was regularly serviced at the Porsche Centre in Belgium.
4. 2021 Porsche 935
Moderl: 935
Price: $1,666,798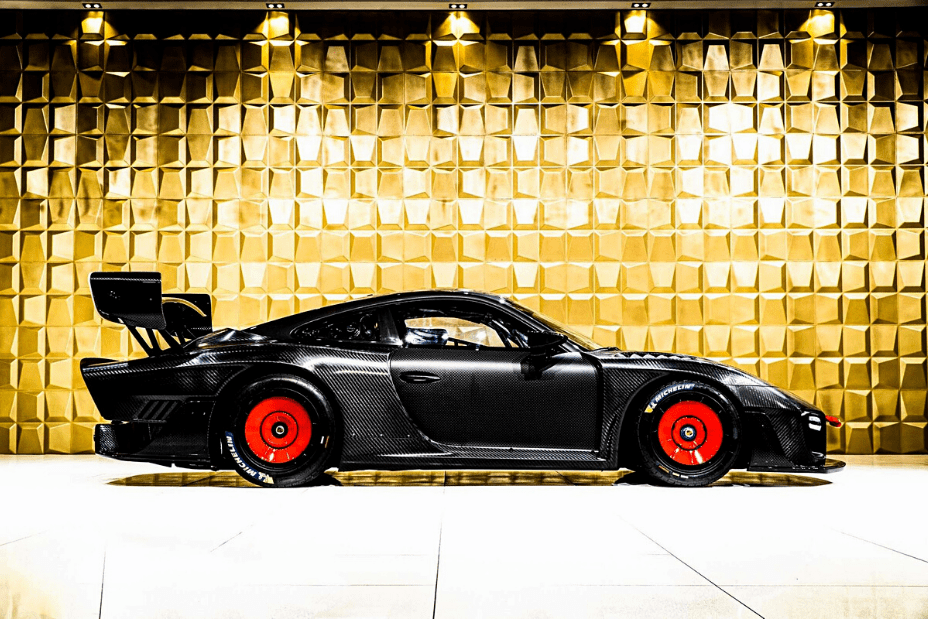 2021 Porsche 935, $1,666,798
Very loosely based on the 911, the turbocharged 935 was a dominant force in sports car racing for much of the 1970s, even winning Le Mans overall in 1979. The 935 also popularized the slant nose body style that became popular on 911 Turbos in the 1980s.
In 2019, Porsche introduced an all-new 935, based on the 991 GT2 RS. Fully track ready, it has taillights from the 919 prototype and mirrors from the 911 RSR, but the most distinguishing features are the slant nose up front and the long tail at the rear. Production was limited to just 77 units and this one, located in Germany, is presented in bare carbon fiber with a full race-ready interior. It has just 60 km (37 miles) on it and is essentially brand-new.
3. 1993 Porsche 964 Turbo S Leichtbau
Model: 911/964
Price: $2,108,127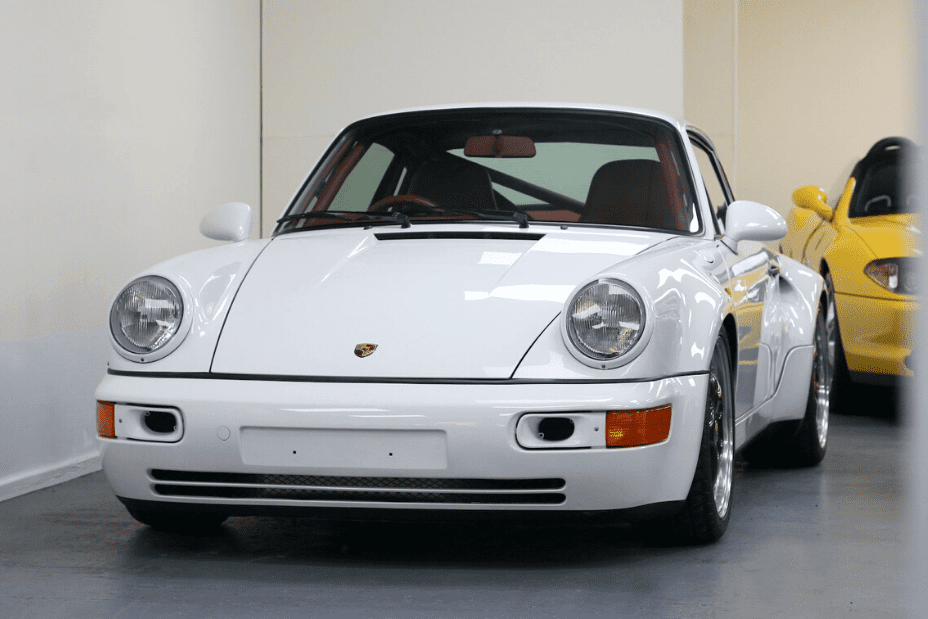 1993 Porsche 964 Turbo S Leichtbau, $2,108,127
The Leichtbau (lightweight construction) version of the 964 Turbo S removed sound proofing, deleted power steering and power windows, ditched the rear seats, and used lighter panels for the doors, hood, and rear wing. The result was nearly 400 pound in weight shed from the standard car, and Porsche wrung out an extra 61 horsepower from the car's 3.3-liter six.
This one sold new in the UK in right-hand drive, and is represented as one of just 11 cars sold there. Finished in Grand Prix White over a full Flamenco Red leather interior, it also features the unique combination of purple wheels and gold brake calipers. The odometer reads just 61 mile (98 km).
2. 1974 Porsche 911 IROC RSR
Model: 911
Price: $2,200,000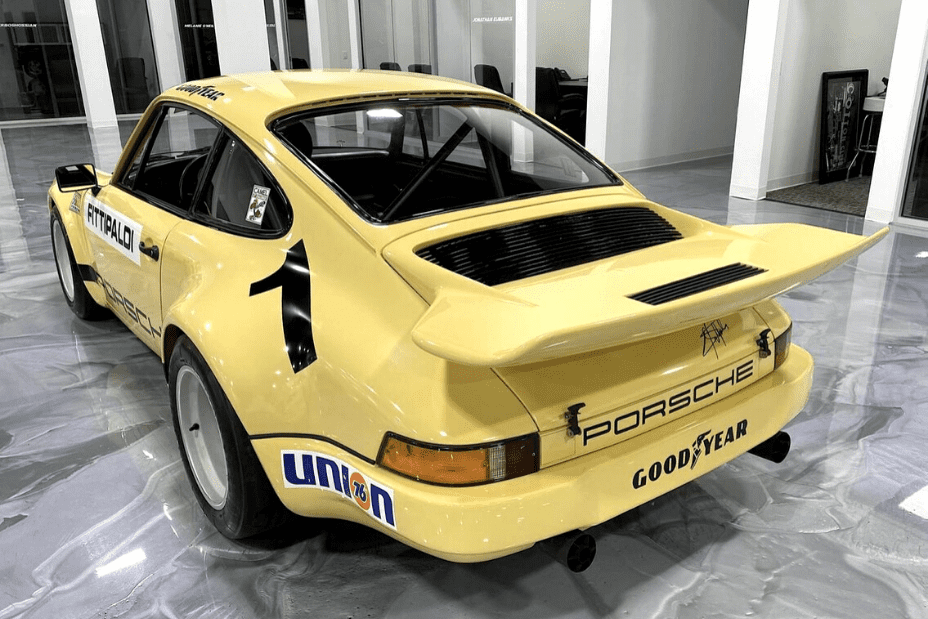 1974 Porsche 911 IROC RSR, $2,200,000
The International Race of Champions (IROC) series pitted the best drivers from different disciplines in identical cars against each other for a handful of races each year. For much of its history IROC was run with Chevrolet Camaros and General Motors even sold a Camaro road car with the IROC moniker, but the first IROC series was run with Porsche 911 RSRs.
This car was raced by Formula One World Champion and Indianapolis 500 winner Emerson Fittipaldi. After IROC, the car also raced in IMSA competition, including Sebring and Daytona, and infamous drug lord Pablo Escobar reportedly owned and raced it briefly with 935 bodywork. It has since been professionally restored and is located in Florida.
1. 1981 Porsche 935 K4
Model: 935
Price: $2,650,000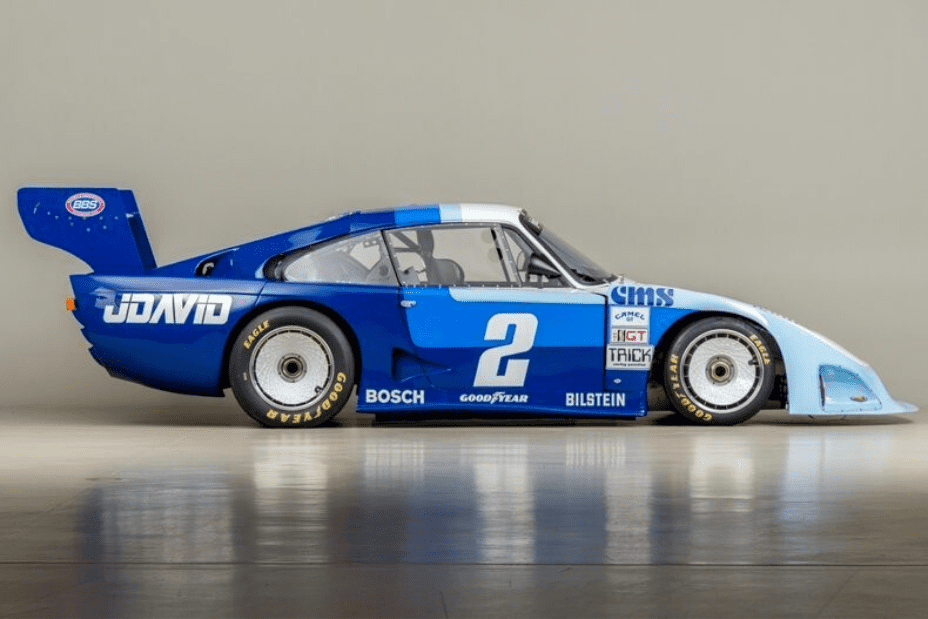 This 935 is one of two "K4" chassis 935s built by the Kremer brothers, a German outfit with a long history of developing and improving Porsche race cars. It features a full tube frame, with only the roof and windshield supplied by the Porsche factory, and its 3.2-liter turbocharged flat-six reportedly put out over 800 horsepower in full race trim. Driven John Fitzpatrick, Bob Wollek, David Hobbs, Al Holbert, and Derek Bell in period, it notched two wins in 1981, five in 1982, and one in 1983. That's serious provenance, which explains the seven-figure asking price. Actor Nicolas Cage owned it briefly, and it has been restored to its 1983 IMSA specs. It is currently located in California