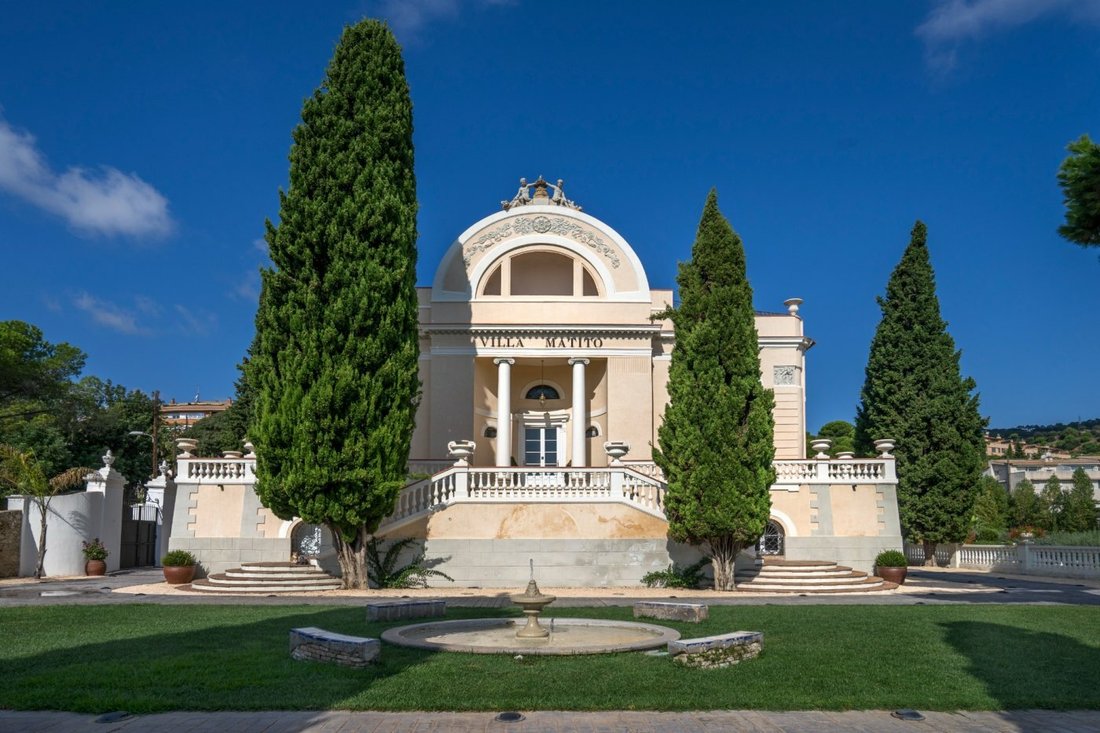 Villa Matito
$3,027,451
15 Beds
6 Baths
9,602 sqft
33,638 sqft lot
$315/sqft
. Exclusive opportunity to acquire a Monumental Heritage in Spain. Villa Matito is defined by its neoclassical-romantic style and its eclectic architecture. It is considered Monumental Heritage of Tia
. Exclusive opportunity to acquire a Monumental Heritage in Spain. Villa Matito is defined by its neoclassical-romantic style and its eclectic architecture. It is considered Monumental Heritage of Tiana (Barcelona) and is of local historical interest due to its architecture and ornamentation, which is considered pure neoclassical. . . Villa Matito (1850) was completely restored in 2016 keeping the original paintings of Maria Serra i Godai (1916-1991, Barcelona) and Josep Jordi Guardiola i Bonet (1869-1950, Barcelona), two famous artists of the time. An exceptional artistic luxury, since none of the artists was dedicated to painting houses. The paintings are in the ballroom. Antoni Tapia was the architect of the building, which is distributed over 3 floors: main floor, first and second. . . Main floor of oak floor and hand hydraulic tiles specially designed for the house. Ground floor of Brazilian red marble, Indian green marble, Italian Carrara marble. Continuous high strength floors in the kitchen. Bathrooms in Italian marble. . . Main dining room in marquetry made of American pine, teak, mahogany, maple and Thai mother of pearl and hand painted. Carrara white marble plinth. Courtesy bathroom staircase in marble and green jade. Courtesy bathroom yellow marble main staircase from Sri Lanka topped with white Carrara marble.. . 2015 new electrical system, downspouts and water. Duravit toilets. Samuel Heath (London) faucet with platinum bath in the master bath and baths in the master floor suites. The two guest bathrooms have 24-carat gold-plated Dornbracht faucets. . . Double-engined industrial kitchen, kitchen and ceiling. Industrially equipped, with professional dishwarmer, beverage cooler, separate freezer, teppanyaki, etc. . . Separate service area for 4 people (3 bedrooms, 2 bathrooms, living room and kitchen separate from the main house). Service bell in all rooms. . . Renovated attic and staircase. The entire ceiling is structurally reinforced. . . The garden has a drip irrigation system and automatic sprinkler, electrical installation of 320 V and 460 V for industrial use. The water comes from a legalized well that offers a large flow throughout the year and two basins of water with storage of 60k liters. . . Chlorinated pool with saline solution. The system uses salt to generate chlorine gas through electrolysis, which dissolves immediately in the water and disinfects it. It is an ecological cycle, respectful of the environment, since the hypochlorite generated is again converted into salt. The salt level in the salt pools is 1-10 of the salt concentration found in the sea. . . Villa Matito is surrounded by mountains and the Mediterranean Sea. The Inland-Maresme houses the Natural Park of Montenegro and the Corridor, which is formed by the mountains of Sant Mateu, the mountains of the Corridor and the massif of the Montnegre. In contrast, the Maritime-Maresme is home to many Mediterranean sandy beaches and five seaports.. Nearby sea ports: port of Mataró, port of Balís, port of Premià Marina, port of D'Arenys, port of El Masnou. Pittch Putt nearby: Pittch Putt Barcelona Teià, Pittch Putt San Cebrià, Golf School Pitch Putt HCP1, Pitch Putt Tenis Mora Nearby golf courses with sea views: Golf Club Llavanares (1945), Golf Club San Vicenç de Montalt. Tiana is a perfect place to relax and enjoy the good weather, combining beautiful mountains, the Mediterranean Sea, sports such as sailing, golf, motor sports, cycling, hiking, horse riding, etc., and Spanish culture and gastronomy. A truly exceptional eclectic villa in El Maresme, Barcelona..

Es tu casa, única y exclusiva en todo el Maresme. . Oportunidad exclusiva de adquirir un Patrimonio Monumental en España. Villa Matito de estilo neoclásico-romántico y arquitectura ecléctica. Se considera Patrimonio Monumental de Tiana (Barcelona) y es de interés histórico local por a su arquitectura y ornamentación, considerada puro neoclásico.. . Villa Matito (1850) fue completamente restaurada en 2016 manteniendo las pinturas originales de Maria Serra i Godai (1916-1991, Barcelona) y Josep Jordi Guardiola i Bonet (1869-1950, Barcelona), dos artistas famosos de renombre de la época. Un lujo artístico excepcional, ya que ninguno de los artistas se dedicaba a pintar casas. Las pinturas se encuentran en el salón de baile. Antoni Tapia fue el arquitecto del edificio, que se distribuye en 3 plantas: planta principal, primera y segunda.. . Piso principal de suelo de roble y baldosas hidráulicas manuales especialmente diseñadas para la casa. Planta baja de mármol rojo brasileño, mármol verde indio, mármol italiano de Carrara. Suelos continuos de alta resistencia en la cocina. Baños de mármol italiano.. . Comedor principal en marquetería realizada en pino americano, teca, caoba, arce y nácar tailandés blanco y nácar pintado a mano. Zócalo de mármol blanco de Carrara.. . Escalera de baño de cortesía en mármol y jade verde. Baño de cortesía escalera principal de mármol amarillo de Sri Lanka rematado con mármol blanco de Carrara. 2015 nuevo sistema eléctrico, bajantes y agua. Inodoros Duravit. Grifo Samuel Heath (Londres) con baño de platino en el baño principal y baños en las suites de la planta principal. Los dos baños de invitados tienen grifos Dornbracht chapados en oro de 24 quilates.. . Cocina industrial con motor doble, en cocina y en el techo. Equipado industrialmente, con calientaplatos profesional, nevera para bebidas, congelador separado, teppanyaki, etc.. . Área de servicio independiente para 4 personas (3 dormitorios, 2 baños, sala de estar y cocina independientes de la casa principal). Timbre de servicio en todas las habitaciones.. . Ático y escalera restaurados. Todo el techo está reforzado estructuralmente.. . El jardín tiene un sistema de riego por goteo y aspersor automático, instalación eléctrica de 320 V y 460 V para uso industrial. El agua proviene de un pozo legalizado que ofrece un gran flujo durante todo el año y dos cuencas de agua con almacenamiento de 60k litros.. . Piscina clorada con solución salina. El sistema aprovecha la sal para generar cloro gaseoso a través de la electrólisis, que se disuelve inmediatamente en el agua y la desinfecta. Es un ciclo ecológico, respetuoso con el medio ambiente, ya que el hipoclorito generado se convierte de nuevo en sal. El nivel de sal en las piscinas saladas es 1/10 de la concentración de sal que se encuentra en el mar.. . La Villa Matito está rodeada de montañas y del mar Mediterráneo. El Inland-Maresme alberga el Parque Natural de Montenegro y el Corredor, que está formado por las montañas de Sant Mateu, las montañas del Corredor y el macizo del Montnegre. En contraste, el Marítimo-Maresme alberga muchas playas de arena mediterránea y cinco puertos marítimos.. . Puertos marítimos cercanos: puerto de Mataró, puerto de Balís, puerto de Premià Marina, puerto de D'Arenys, puerto de El Masnou.. . Pittch Putt cercano: Pittch Putt Barcelona Teià, Pittch Putt San Cebrià, Escuela de Golf Pitch Putt HCP1, Pitch Putt Tenis Mora. . Campos de golf cercanos con vistas al mar: Club de golf Llavanares (1945), Club de golf San Vicenç de Montalt.. . Tiana es un lugar perfecto para relajarse y disfrutar del buen tiempo, combinando hermosas montañas, el mar Mediterráneo, deportes como vela, golf, deportes de motor, ciclismo, senderismo, equitación, etc., y cultura y gastronomía españolas.. . Una villa ecléctica verdaderamente excepcional en El Maresme, Barcelona.

C'est la nouvelle maison, unique et exclusive dans tout le Maresme. . Opportunité exclusive d'acquérir un patrimoine monumental en Espagne. Vila Matito d'un style neoclàssic-romàntic et une architecture éclectique. Il est considéré comme un patrimoine monumental de Tiana (Barcelone) et présente un intérêt historique local en raison de son architecture et de son ornementation, considérées comme purement néoclassiques.. . Vila Matito (1850) sera entièrement restaurée en 2016 en conservant les peintures originales de Maria Serra i Godai (1916-1991, Barcelone) et Josep Jordi Guardiola i Bonet (1869-1950, Barcelone), deux artistes célèbres de la renommée de l'époque . Un luxe artistique exceptionnel, puisque cap dels artistes se consacre aux étuis de peinture. Les pintures se retrouvent dans le saló de bal. Antoni Tapia sera l'architecte du bâtiment, qui est réparti sur 3 étages : rez-de-chaussée, premier étage et deuxième étage.. . Rez-de-chaussée de roure sol et rajoles hydrauliques manuels spécialement conçus pour la maison. Plante basse en marbre vermeil brésilien, marbre vert indien, marbre italien de Carrare. Sòls continue d'alta resistència dans la cuisine. Baignoires en marbre italien.. . Comptoir principal en marqueterie pi amérique, teck, acajou, auró et nacre thailandés blanc i nacre peinte à mà. Socol de marbre blanc de Carrare.. . Pèse-personne de courtoisie en marbre et jade vert. Salle de bain de courtoisie à l'échelle principale en marbre du Sri Lanka fini avec du marbre blanc de Carrare. 2015 nouveau système électrique, baixants i aigua. Vaters Duravit. Aixeta Samuel Heath (Londres) avec bain platí dans le bain principal et bains dans les suites au rez-de-chaussée. Les deux bains invités ont Dornbracht xapats aixetes en or de 24 quirats.. . Cuisine industrielle à double moteur, en cuisine et en sostre. Equipé industriellement, avec escalfaplats professionnels, réfrigérateur par a begudes, congélateur séparé, teppanyaki, etc.. . Aire de service indépendante pour 4 personnes (3 chambres, 2 salles de bains, séjour et cuisine indépendants de la maison principale). Sonnette de service dans les bacs les habitacions.. . Grenier et escalade restaurants. Tout le support est structurellement renforcé.. . Le jardin dispose d'un système de reg per degoteig et d'arrosage automatique, installation électrique de 320 V et 460 V à usage industriel. L'eau fournit un pou legalitzat qui offre un grand débit tout au long de l'année et en raison de conques d'agua amb emmagatzematge de 60k litres.. . Piscine chlorée avec solution saline. Le système aprophyte le sel pour générer du chlore gazeux par électrolyse, qui se dissout immédiatement dans l'eau et la désinfecte. C'est un cycle écologique, respectueux de l'environnement, puisque l'hypochlorite généré est maintenant transformé en sel. Le niveau de sel dans les piscines d'eau salée est de 1/10 de la concentration de sel que l'on trouve dans la mer.. . Vila Matito est entourée de montagnes et de la mer Méditerranée. L'intérieur du Maresme abrite le Parc naturel du Monténégro i el Corredor, formé par les montagnes de Sant Mateu, les montagnes du Corredor et les massifs du Montnegre. En revanche, le Marítim-Maresme abrite de nombreuses plages méditerranéennes et cinq ports maritimes.. . Ports maritimes à proximité : port Mataró, port Balís, port Premià Marina, port D'Arenys, port Masnou.. . Terrains de golf à proximité avec vue sur la mer : Golf Club Llavanares (1945), Golf Club Sant Vicenç de Montalt.. . Tiana est un endroit parfait pour se détendre et profiter du beau temps, combinant de belles montagnes, la mer Méditerranée, des sports comme la voile, le golf, les sports mécaniques, le cyclisme, la randonnée, l'équitation, etc., et la culture et la cuisine espagnoles.. . Un village éclectique vraiment exceptionnel dans le Maresme, Barcelone.
Features
Indoor
Gas Stovetop
High Ceiling
Kitchen island
Laundry Room
Walk In Closet
Ask a Question
Nou Aire Real Estate Andorra
About the Building
Year built

1850

Property type

Villa

Consumption

A
Nou Aire Real Estate Andorra
You have inquired about this property
The agent will contact you soon by
Listed by
About
Nou Aire Inmobiliaria le ofrece soluciones en un centro de gestión y servicios a su medida.

Nou Aire Inmob
Nou Aire Inmobiliaria le ofrece soluciones en un centro de gestión y servicios a su medida.

Nou Aire Inmobiliaria es una empresa en que su actividad profesional se centra en la intermediación de la compra, venta y alquiler de inmuebles y en el alquiler por el turismo de vacaciones, fundamentalmente en el Principado de Andorra y exclusivas en España.

Gestionamos las solicitudes de los clientes para satisfacer sus necesidades
Gestión urbanística.
Gestión documental.
Gestión del patrimonio inmobiliario.
Gestión de alquiler de inmuebles.
Realizamos gestiones de compraventa
Vivienda nueva.
Vivienda de segunda mano.
Promociones de 0bra nueva.
Locales comerciales e industrial.
Suelo comercial.
Suelo por promoción.
Venda su inmueble con nosotros.
Alquiler anual.
Alquiler de temporada.

En Nou Aire Inmobiliaria pensamos siempre ofrecer nuestros servicios de gestión de forma eficaz y personalizada. Para nosotros cada cliente tiene necesidades y objetivos diferentes.

Nou Aire Inmobiliaria ha tenido desde sus inicios el objetivo de responder a las exigentes demandas del mercado inmobiliario, siempre en continúa expansión.

Para conseguirlo, trae años gestionando proyectos inmobiliarios, desde el mismo momento de la investigación de la ubicación, hasta el momento de lo entrega de las llaves al usuario final.

Registered on JamesEdition
2022
Address
Av. Consell d'Europa, 14-16, 4a pl., AD500, Andorra la Vella, Andorra
Phone number
Listing Reference
28385/7363