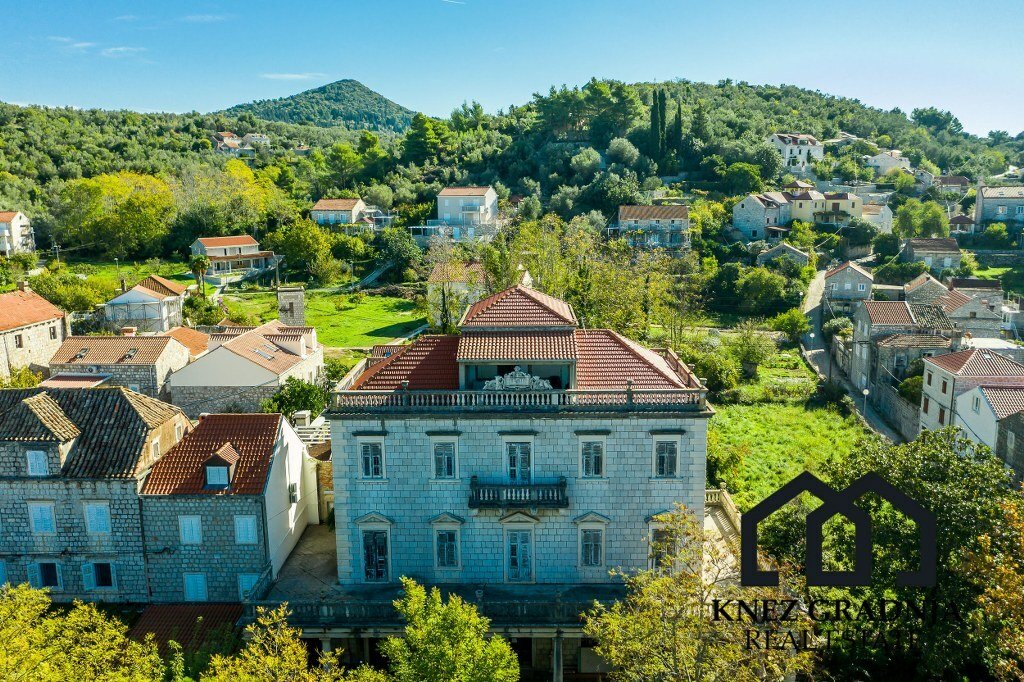 šipan House
7 Beds
7 Baths
10,764 sqft
$155/sqft
Take a close look at this stunning stone villa located on the Šipan or Sipano, the largest of the Elaphiti Islands, 17 km northwest of Dubrovnik, Croatia. This 19th century is originally built in 1908
Take a close look at this stunning stone villa located on the Šipan or Sipano, the largest of the Elaphiti Islands, 17 km northwest of Dubrovnik, Croatia. This 19th century is originally built in 1908. and is a part of Dubrovnik's cultural heritage, as a stunning piece of imperial, Austro-Hungarian style architecture. This mansion is 1000 m2 and sits on a 2330 m2 estate. Stunning in its appearance and rich with its history, this 7 bedroom and 7 bathroom property will be a project for renovation. For someone with great love for history and a clear vision for restoration, this mansion will be a dream come true. With the right approach and knowledge in Restauration, one can bring this 19th-century fairytale into life again!
With amazing nature surrounding the place and a good size garden, this house has enormous potential! Indented like a precious forgotten treasure, into this untouched green nature of the Adriatic coast, you will truly feel that luxurious lifestyle this place represents. Inside and out, this stone fairytale is made to impress. However, if you would like to use this property, whether for a private home or perhaps a potential hotel/restaurant with this opportunity you will hit the jackpot! The location is semi-secluded but still in good connection to the mainland with the Koločepi canal. Amazing scenery, closeness to the beach, and true untouched nature make an amazing opportunity for this mansion's potential. An ideal getaway on the most stunning, charming island where the views are unbeatable and the sea is unreal! Contact us regarding this rare find, a gem of architecture waiting to tell its story again. Relive this dreamy home, and explore more of this exciting opportunity together with our team from Croatia Real Estate, a leading real estate agency in Croatia. Where luxury becomes easy and accessible, and we deliver the best of what's there on the market!
Make your dreams come alive today with Croatia Real Estate Agency by making this masterpiece of a mansion yours!
You have inquired about this property
The agent will contact you soon by
Listed by
About
Offering a full service in luxury estate transactions, Knez Croatia Real Estate agency is connecting buyers and se
Offering a full service in luxury estate transactions, Knez Croatia Real Estate agency is connecting buyers and sellers worldwide to help facilitate life's most important personal transactions safely and with ease. We combine automation and manual curation of the properties listed on our website site to offer our clients the best of the best luxury estates in Croatia by For those who wish to pursue greatness, we are providing the most prestigious destinations on the Croatian coast to help realize a life well-lived. Our team of professionals is headquartered in Dubrovnik and is raising the bar in the luxury real estate approach. Together we are offering a personal approach to each and every client, following the process of acquisition from the beginning to the very end. Our passion is finding hidden gems of the luxury estate in Croatia and matching it with the clients. Knez Croatia Real Estate agency offers professional assistance in planning, organizing, motivating, and controlling investment and construction projects aimed to achieve the best possible result for our clients. Our mission is to form a partnership approach to every one of our visitors and surpass the client's expectations every single time!
Registered on JamesEdition
2020
Address
Dubrovnik, Croatia
Phone number