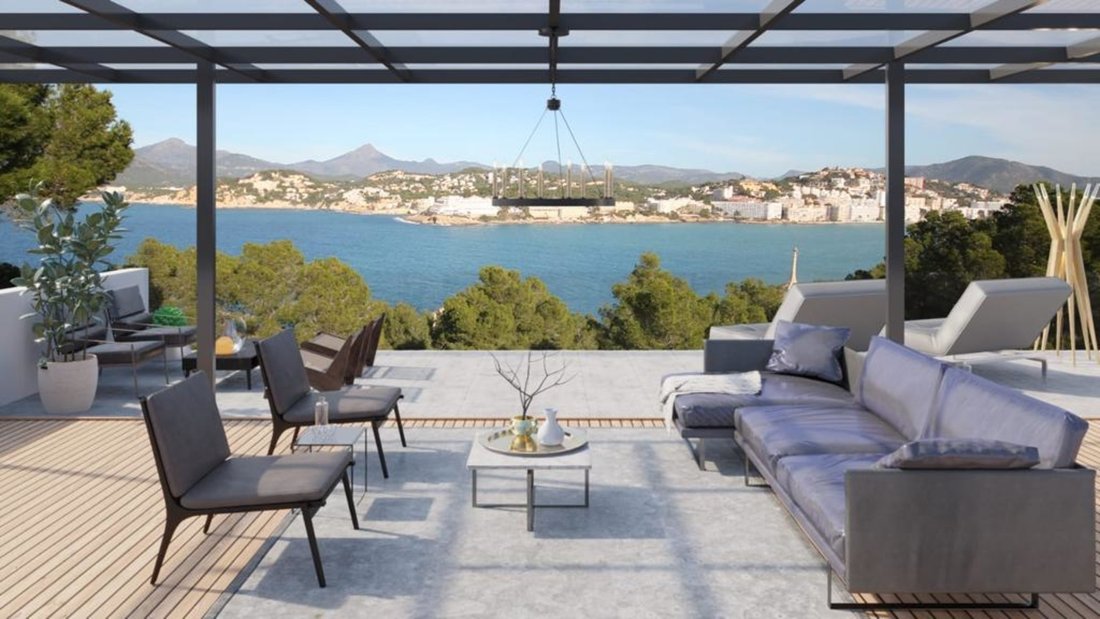 Villa To Reform With Stunning Sea Views And A Project For A Design Villa
5 Beds
4 Baths
4,898 sqft
11,690 sqft lot
$390/sqft
This Villa is an old building from 1979, with a project to convert it into a state-of-the-art design Villa, where the foundation walls will remain and everything else will be rebuilt and expanded to t
This Villa is an old building from 1979, with a project to convert it into a state-of-the-art design Villa, where the foundation walls will remain and everything else will be rebuilt and expanded to the highest and most modern level. The sale price is for the purchase of the old Villa including the licence for the project. But it would also be possible to move into the Villa in its current condition.

The net living area of now 455 m2 will be extended to 575 m2 plus terraces and is distributed over 3 floors.

Ground floor: 2 bedrooms, a bathroom, and a gym. In the outdoor area, just a few steps downstairs is situated the pool and a large, open terrace.

First floor: 3 bedrooms with bathrooms en-suite, all opening out onto a continuous terrace and beautiful sea views.

Second floor: open kitchen, living and dining area, and a guest toilet with a surrounding terrace and a fantastic view.

A driveway is planned from street level to the ground floor, at the end of which there will be a garage with one parking space. A lift goes from this level to the second floor.

Santa Ponsa has a large beach and three golf courses. The beach, restaurants, and shops are within walking distance, as are supermarkets. A small marina, also within walking distance, invites you to romantic hours with a beautiful view in cafes and restaurants and of course to water sports.
Features
Features
Lot
Indoor
Outdoor
Ask a Question
MALLORCA GOLD Luxury Real Estate
About the Building
Property type

Villa

Consumption

X
MALLORCA GOLD Luxury Real Estate
You have inquired about this property
The agent will contact you soon by
Listed by
About
Mallorca Gold USP
There are many properties for sale in Mallorca, especially second homes for non-residents, bu
Mallorca Gold USP
There are many properties for sale in Mallorca, especially second homes for non-residents, but how many are there really? In mid-2022, to provide some facts and as an average of several international real estate agencies in Mallorca, there are around two thousand properties for sale, more than ten times more than in cities like Hamburg, Berlin, Munich, Zürich, Amsterdam, Vienna and more than two or three times than in London or Paris.
At Mallorca Gold, as a luxury real estate agent in Mallorca - we specialize in specific geographical regions and specific price segments.
The strong geographic region of Mallorca Gold is also where our offices are located and there are basically two:
The Southwest Region with the Palma - Son Rapinya office for the areas such as Son Vida, Portals, Bendinat and Sol de Mallorca and the Port Andratx office for the areas as Port Andratx, Camp de Mar and Nova Santa Ponsa.
The second region is the West Coast Region of Mallorca, with our Soller office covering the areas like Valldemossa, Deia and Soller.
We, as a luxury real estate agent in Mallorca consider ourselves the most efficient and professional in these areas, although we also offer very exclusive properties in other parts of the Island of Mallorca.
Regarding the price segment, we select it according to the geographical area of the property. In the Southwest area, we list properties above 4 million euros, as this is the area of Mallorca where there are the most properties for sale and have our professional agents ready to assist all different types of clients, as each client expects and demands different service. When it comes to all the other regions besides the Southwest Region of Mallorca, our properties start with the price of 2 million euros for Villas.
Luxury real estate agent in Mallorca
As a luxury real estate agent in Mallorca, we offer very professional agents, who are managing a certain group of very exclusive properties. Mallorca Gold will make sure that your agent will be able to offer you properties in different geographical areas without involving another agent. We know how important your trust is and how easily it can be broken by bringing another agent to your visits. For this reason, in Mallorca Gold your agent to whom you have given your trust will be able to show you and accompany you to the different areas of the Southwest in order to provide an exclusive and individual service that will match your expectations and desires - instead of involving various agents and advisors like many other agencies do. Remember that in Mallorca there is hardly any exclusivity when it comes to real estate and that the same property will most likely be for sale by several real estate agencies.
Our Network: Independent Professionals
Depending on your nationality and the area you would like to purchase your luxurious second home in - or even if you are already a property owner- we at Mallorca Gold as a luxury real estate agent in Mallorca would like to introduce you to our network of independent professionals that we like to summarize in these sections:
Expert appraisers: They are usually technical engineers or architecture companies that control the
property in terms of structure, humidity, construction quality, etc. They examine the state of the water and electricity installations, as well as the machinery of the pools, the water pressure, the KW contracted and make sure that both heating - whether underfloor heating, radiators, or heat pump, as well as the air conditioners, work correctly.
Due Diligence: Lawyers and advisors who are responsible above all for verifying in the different official departments (Town Halls, Island Council of Mallorca, Property Registry and Cadastre) that the Property that is being supervised complies with all the requirements. They also identify the actual owner of the property and then advise the best way to sell or buy the property.
Tax advisors: They are very up-to-date with the double taxation treaties with Germany, Austria, Switzerland and other countries. In order to provide a piece of ideal advice, they would need to know who is going to use the property, in which periods and if it could become their first residence in the near future. If soon they decide to sell again, we would recommend another structure for the enjoyment of their luxurious second home in Mallorca. In their offices, they are usually the ones who take care of all the small taxes and fees that concern the Property.
Construction companies: Only after several years of experience - they are already used to the high demands and expectations of buyers from Northern Europe. We also like to establish contact among the project managers who act as a bridge between the owner and the constructor- if desired, and especially with interior designers who are working side by side with the constructor from the very beginning to avoid the high costs of last-minute changes. These costs usually happen due to the needs of furniture or lighting, including the planning of kitchens, cabinets, curtains, and many other elements that are usually excluded from the builder or the architect.
The rest of our team is formed by all other independent professionals who have not been named. In Mallorca Gold we as a luxury real estate agent in Mallorca are like Mallorquins- we have been working since 1996 for the exquisite and demanding luxurious world of second homes. Whether it is a maintenance company, a catering company, an event company for parties and birthdays, a transfer, car, yacht or any other necessity- it is most likely that we can put you in contact with that professional who we are sure that will maintain your trust.

Are you an Owner? Give us a chance!
Do you have a property for sale where we are well-positioned, but it is not listed with Mallorca Gold? Mallorca Gold as a luxury real estate agent in Mallorca would appreciate you giving us an opportunity to introduce ourselves and inform you on how we can contribute.
- We are the only luxury real estate agent in Mallorca where in the Southwest we position ourselves from 4 million euros.
- Our new online presence wants to represent that we understand the luxury sector for second homes.
- Excellent relationships with other international real estate agencies, such as Knight Frank from England, Ginesta from Switzerland, BHS from the USA and others.
- Potential buyers filtered and checked to avoid "real estate tourism".
- Request for maximum documentation about your property for sale to later avoid surprises when the buyer arranges your due diligence.


Registered on JamesEdition
2022
Address
Camí de Son Rapinya, 40, 07013, Palma de Mallorca, Islas Baleares, Spain
Phone number