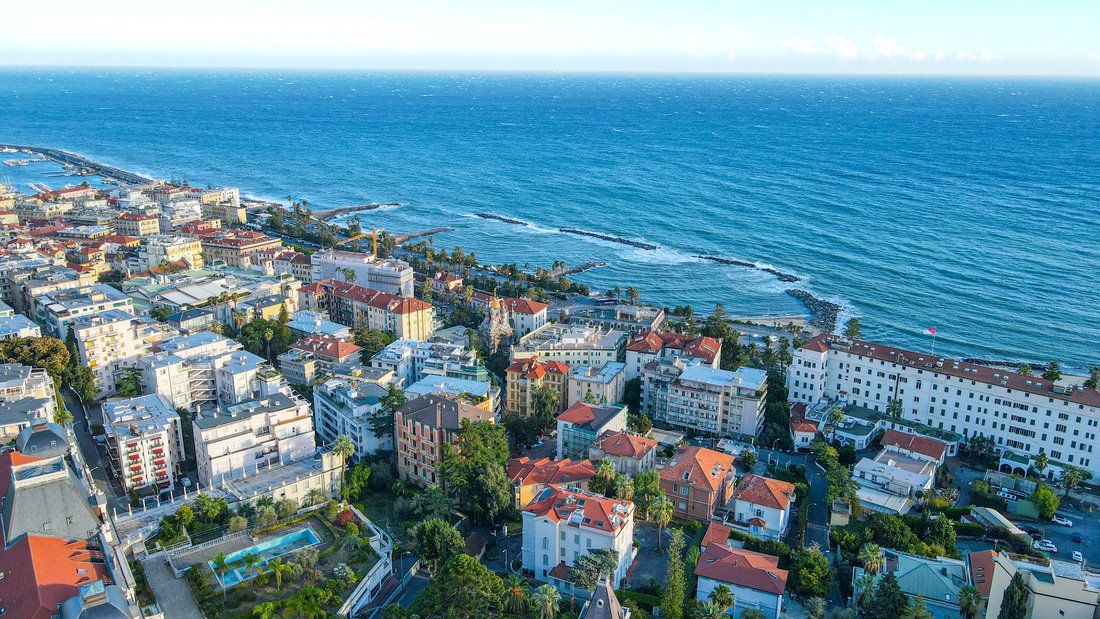 Liberty Villa In Sanremo
$2,276,134
7 Beds
6 Baths
4,306 sqft
2,153 sqft lot
$528/sqft
ITA: Proponiamo in vendita elegante villa d'epoca nel centro di Sanremo. La costruzione è stata edificata nei primi anni del '900 dall'architetto Francesco Sappia, noto progettista locale che ha espre
ITA: Proponiamo in vendita elegante villa d'epoca nel centro di Sanremo. La costruzione è stata edificata nei primi anni del '900 dall'architetto Francesco Sappia, noto progettista locale che ha espresso al meglio lo stile Liberty nelle sue opere situate nell'estremo Ponente Ligure, privo di contaminazioni ed echi di altri stili. I motivi architettonici che caratterizzano la villa, come le finestre ad arco divise da colonne e sovrastate da volti femminili, sono ripresi da uno storico hotel della vicina Bordighera, disegnato dal medesimo architetto e considerato la sua opera Liberty migliore. L'edificio è stato recentemente restaurato, con l'apertura di un accesso ad un garage sotterraneo nella facciata del corso principale.
La proprietà si sviluppa su tre livelli, due dei quali hanno la possibilità di essere utilizzati come appartamenti distinti godendo di accesso sia da scala interna che da entrate indipendenti esterne.
La villa, dall'ampia metratura, è composta da un totale di 7 camere da letto, 1 salone doppio, 1 grande sala da pranzo con cucina a vista, 6 bagni, 2 locali lavanderia ed un ripostiglio. Tre corti esterne riservate e distinte tra loro attorniano la Villa.

ENG: We offer for sale an elegant Liberty villa in the center of Sanremo. The building was built in the early 1900s by the architect Francesco Sappia, a well-known designer who best expressed the Art Nouveau style in his projects located in the extreme west of Liguria, devoid of contamination and echoes of other styles. The architectural motifs that characterize the villa, such as the arched windows divided by columns and dominated by female faces, are taken from a historic hotel in nearby Bordighera, designed by the same architect and considered his best Liberty design. The building has recently been restored, with the opening of an access to an underground garage in the facade of the main street.
The property is spread over three levels, two of which have the possibility of being used as separate apartments enjoying access from both an internal staircase and independent external entrances.
The large villa is made up of a total of 7 bedrooms, 6 bathrooms, 1 double living room, 1 large dining room with open kitchen, 2 laundry rooms and a storage room. Three private and distinct external courtyards surround the Villa.

FR: Nous proposons à la vente une élégante villa Liberty au centre de Sanremo. Le bâtiment a été construit au début des années 1900 par l'architecte Francesco Sappia, un designer bien connu qui a le mieux exprimé le style Art nouveau dans ses projets situés à l'extrême ouest de la Ligurie, dépourvus de contamination et d'échos d'autres styles. Les motifs architecturaux qui caractérisent la villa, tels que les fenêtres cintrées divisées par des colonnes et dominées par des visages féminins, sont tirés d'un hôtel historique de Bordighera voisin, conçu par le même architecte et considéré comme son meilleur design Liberty. Le bâtiment a été récemment restauré, avec l'ouverture d'un accès à un garage souterrain dans la façade de la rue principale.
La propriété est répartie sur trois niveaux, dont deux ont la possibilité d'être utilisés comme appartements séparés bénéficiant d'un accès à la fois par un escalier intérieur et des entrées extérieures indépendantes.
La grande villa est composée d'un total de 7 chambres, 6 salles de bains, 1 double séjour, 1 grande salle à manger avec cuisine ouverte, 2 buanderies et un débarras. Trois cours extérieures privées et distinctes entourent la Villa.

RUS: Предлагаем на продажу элегантную виллу Liberty в центре Сан-Ремо. Здание было построено в начале 1900-х годов по проекту архитектора Франческо Саппиа, известного дизайнера, лучше всего выразившего стиль модерн в своих проектах, расположенных на крайнем западе Лигурии, лишенных контаминации и отголосков других стилей. Архитектурные мотивы, характерные для виллы, такие как арочные окна, разделенные колоннами и украшенные женскими лицами, взяты из исторического отеля в соседней Бордигере, спроектированного тем же архитектором и считающегося его лучшим дизайном в стиле Liberty. Здание было недавно отреставрировано, с открытием доступа к подземному гаражу на фасаде главной улицы.
Имущество расположено на трех уровнях, два из которых можно использовать как отдельные квартиры, доступ к которым осуществляется как с внутренней лестницы, так и с независимых внешних входов.
Большая вилла состоит из 7 спален, 6 ванных комнат, 1 гостиной с двуспальной кроватью, 1 большой столовой с открытой кухней, 2 прачечных и кладовой. Три частных и отдельных внешних двора окружают виллу.

ESP: Ofrecemos a la venta una elegante villa Liberty en el centro de Sanremo. El edificio fue construido a principios de 1900 por el arquitecto Francesco Sappia, un conocido diseñador que mejor expresó el estilo Art Nouveau en sus proyectos ubicados en el extremo oeste de Liguria, desprovistos de contaminación y ecos de otros estilos. Los motivos arquitectónicos que caracterizan la villa, como las ventanas arqueadas divididas por columnas y dominadas por rostros femeninos, provienen de un hotel histórico en la cercana Bordighera, diseñado por el mismo arquitecto y considerado su mejor diseño Liberty. El edificio ha sido rehabilitado recientemente, con la apertura de un acceso a un garaje subterráneo en la fachada de la calle principal.
La propiedad se distribuye en tres niveles, dos de los cuales tienen la posibilidad de ser utilizados como apartamentos independientes con acceso tanto desde una escalera interna como desde entradas externas independientes.
La gran villa se compone de un total de 7 dormitorios, 6 baños, 1 salón doble, 1 amplio comedor con cocina abierta, 2 lavaderos y trastero. Tres patios externos privados y distintos rodean la Villa.

DE: Wir bieten eine elegante Liberty-Villa im Zentrum von Sanremo zum Verkauf an. Das Gebäude wurde in den frühen 1900er Jahren von dem Architekten Francesco Sappia erbaut, einem bekannten Designer, der den Jugendstil in seinen Projekten im äußersten Westen Liguriens am besten zum Ausdruck brachte, ohne Verunreinigungen und Anklänge an andere Stile. Die architektonischen Motive, die die Villa charakterisieren, wie die Bogenfenster, die durch Säulen unterteilt und von weiblichen Gesichtern dominiert werden, stammen von einem historischen Hotel im nahe gelegenen Bordighera, das von demselben Architekten entworfen wurde und als sein bestes Liberty-Design gilt. Das Gebäude wurde kürzlich restauriert, mit der Eröffnung eines Zugangs zu einer Tiefgarage in der Fassade der Hauptstraße.
Das Anwesen erstreckt sich über drei Ebenen, von denen zwei als separate Wohnungen genutzt werden können, die sowohl über eine Innentreppe als auch über unabhängige Außeneingänge zugänglich sind.
Die große Villa besteht aus insgesamt 7 Schlafzimmern, 6 Bädern, 1 Doppel-Wohnzimmer, 1 großes Esszimmer mit offener Küche, 2 Waschküchen und einem Abstellraum. Drei private und unterschiedliche Außenhöfe umgeben die Villa.
Features
Features
Lot
Indoor
High Ceiling

Laundry Room

Gas Stovetop
Outdoor
Ask a Question

Luca Lucisano
About the Building
Year built

1900

Floors

3

Property type

Villa

Contact agent
Luca Lucisano
You have inquired about this property
The agent will contact you soon by
Listed by
About

Agenzia Moderna Real Estate Group is your Italian consultants for purchase, sale and rental of properties in

Agenzia Moderna Real Estate Group is your Italian consultants for purchase, sale and rental of properties in the Principality of Monaco, Côte d'Azur and Ligurian Riviera.
Professionalism and competence at your service.
If you are looking for an house, come and visit us!
We will guide you in choosing the desired property.
Directly at our offices in Ventimiglia and Bordighera, you will find experts in the Real Estate sector, able to follow you with seriousness, professionalism and cordiality until the signing of the notarial deed, and beyond.
If you want to sell a property, we will provide you with all our expertise in the correct estimation of your house, apartment or property; we are experts in the research and preparation of all documents and practices necessary for the sale of properties, and giving maximum visibility to your property through the best advertising channels.

[hidden information]

—————————————————————————————————

Agenzia Moderna Real Estate Group è il tuo consulente italiano per l'acquisto, la vendita e la locazione di immobili nel Principato di Monaco, Costa Azzurra e Riviera Ligure.
Professionalità e competenza al tuo servizio.
Se stai cercando casa, vieni a trovarci!
Ti guideremo nella scelta dell'immobile desiderato.
Direttamente presso le nostre sedi di Ventimiglia e Bordighera, troverai esperti del settore Immobiliare, in grado di seguirti con serietà, professionalità e cordialità fino alla stipula dell'atto notarile, e oltre.
Se vuoi vendere un immobile, ti metteremo a disposizione tutta la nostra esperienza per la corretta stima della tua casa, appartamento o immobile; siamo esperti nella ricerca e preparazione di tutti i documenti e le pratiche necessarie alla vendita di immobili, e diamo la massima visibilità al tuo immobile attraverso i migliori canali pubblicitari.
Registered on JamesEdition
2022
Address
Via Matteotti 2a, 18039, Ventimiglia, Italy
Phone number