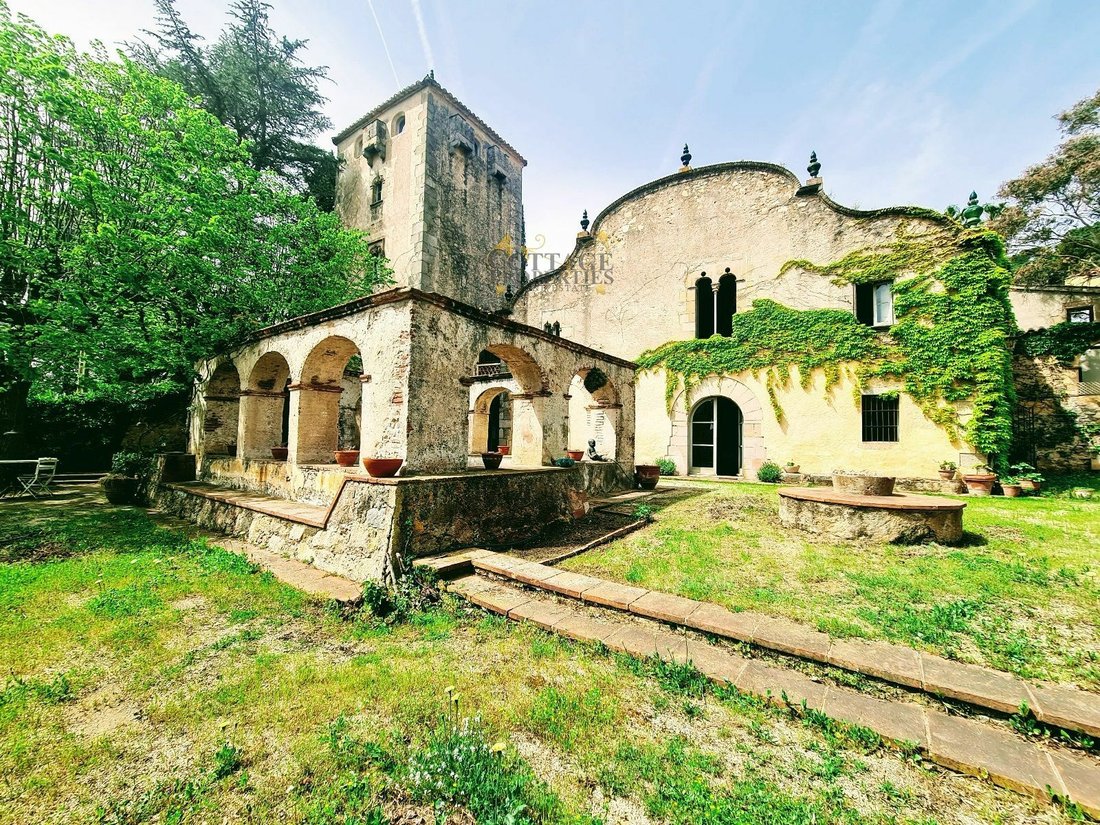 Premià De Dalt Villa
$2,624,040
6 Beds
3 Baths
11,658 sqft
2 ac lot
$225/sqft
Beautiful historic farmhouse which is, a historical-architectural jewel with sea views, located at the foot of the "Parc de la Serralada", at one end of the old town of Premià de Dalt. It consists of
Beautiful historic farmhouse which is, a historical-architectural jewel with sea views, located at the foot of the "Parc de la Serralada", at one end of the old town of Premià de Dalt. It consists of the 14th century farmhouse, the defense tower from the 15th century, the adjoining cellar and, in the courtyard, the house with a stable and barn, both from the 18th century. The square-shaped tower has a ground floor and 4 upper floors with a spiral staircase, Gothic windows , embrasures and machicolations. Back cover of 4 waters of Chinese inspiration, crowned with a green enameled ceramic "ciborium", on a wooden structure built on the battlements. This farmhouse, with a central body and gabled roof, was reformed by the new owner towards year 1753, adding the sinuous facade, typical of the style of the Baroque era, crowned with green enameled ceramic "ciboriums". In front of the house, in the patio, there is a pool, porticoed on all four sides, with a fountain with a stone statue, which pours water from the Serviol spring. The patio has a balustrade and a pergola with extensive views, and is closed with walls and a double portal, with a stone arch crowned with double eaves. The construction is of high quality, Reformed in 1930 by the renowned architect Isidre Puig Boada, from Gaudí's Sagrada Familia restoration team. New slabs in areas of the house and the cellar around 1996. It is in good condition. Undivided unit of 2 Ha of rustic land, with the "Font de Serviol" water spring and the 800 m aqueduct to the house. In addition, two water wells, one with water supply, being located in a segregated plot. Water from the public network.Central heating with connection to the city gas network.It is possible to replace the current use of a single-family home with that of a multi-family home, as it has three independent entrances.1. House.Ground floor.- Entrance room, living-dining room, interior living room with fireplace, distributor, office, pantry, kitchen, lavatory, sink and laundry-ironing room.First floor.- Distributor, interior closet room with staircase access to the gallery, living room with a "coronela" window, two bedrooms with a window, two sinks and a dressing room. Storage room and a third bedroom with a window and a door to the door, with a semicircular arch, at the entrance to the tower.2. Tower. Ground floor.- Room with a window, a loophole and a door, with a semicircular arch, with access from the patio. First floor.- Hallway with a door, with a semicircular arch, with access from the house, a window Gothic, a loophole and access to the spiral staircase.Second floor.- Bedroom with two beds, one double, with Gothic window and two loopholes with a porticon.Third floor.- Bedroom with three single beds, with a Gothic window and two loopholes with a porticon. Fourth floor.- Watch room with six windows, two loopholes and three machicolations.3. Cellar.Ground floor.- Two naves, forming a right angle, a portal, two doors (glazed) and three windows, with a large wooden press from the 18th century and wine barrels.First floor.- Three rooms with two windows each, one with a glass door to access the entrance to the tower, another with skylights and another with a glass door to access the patio and connected to a large room with another room on the upper half floor. (There is a rehabilitation project for the large room in a loft with a mezzanine and a WC.)4. Attached house. Ground floor.- Stable and an open room with an arch for the car. First floor.- Barn with a porch and a large room with three windows and a door. In the patio there are two garages, for one car each, with covered and walls, with the entrance open, without a door. It consists of four differentiated exterior spaces: 1. Semi-fortified patio with entrance portal, 2 garages, pergola and balustrade.2. Land in front of the patio, road level, with two entrances, parking for 20 cars.3. Garden of rose bushes and fruit trees, with portal access from patio.4. West part with land on two levels, with pedestrian entrance.
Listed

May 27, 2022
Views 9
Saves 2
Features
Features
Lot
Indoor
Outdoor
Parking

Pergola

Fire Pit

Gate
Ask a Question
Cottage Properties Antic Village S.L.
About the Building
Property type

Villa

Consumption

G
Contact agent
Cottage Properties Antic Village S.L.
You have inquired about this property
The agent will contact you soon by
Listed by
About
Cottage Properties is a company with extensive experience in the real estate sector, especially in country houses,
Cottage Properties is a company with extensive experience in the real estate sector, especially in country houses, rustic properties, charming town houses and luxury homes. We have a wide portfolio
of real estate in the provinces of Barcelona and Gerona, specifically in areas such as l'Empordà, Costa Brava and Maresme.

We offer much more than traditional real estate services. Each client is important to us and we treat them in a personalized way. We help them in each and every one of the needs they have in relation to the purchase and sale of this type of property. Our legal department has different professionals who handle all legal and administrative issues from the beginning to the end of the process.
We also have a team with extensive experience in reforms. If you want to turn the house you are going to buy into the house of your dreams, we make it possible. With our reforms we substantially revalue the house.
Registered on JamesEdition
2019
Address
Josep Mª Vento, 16, 17744, Navata, Spain
Phone number