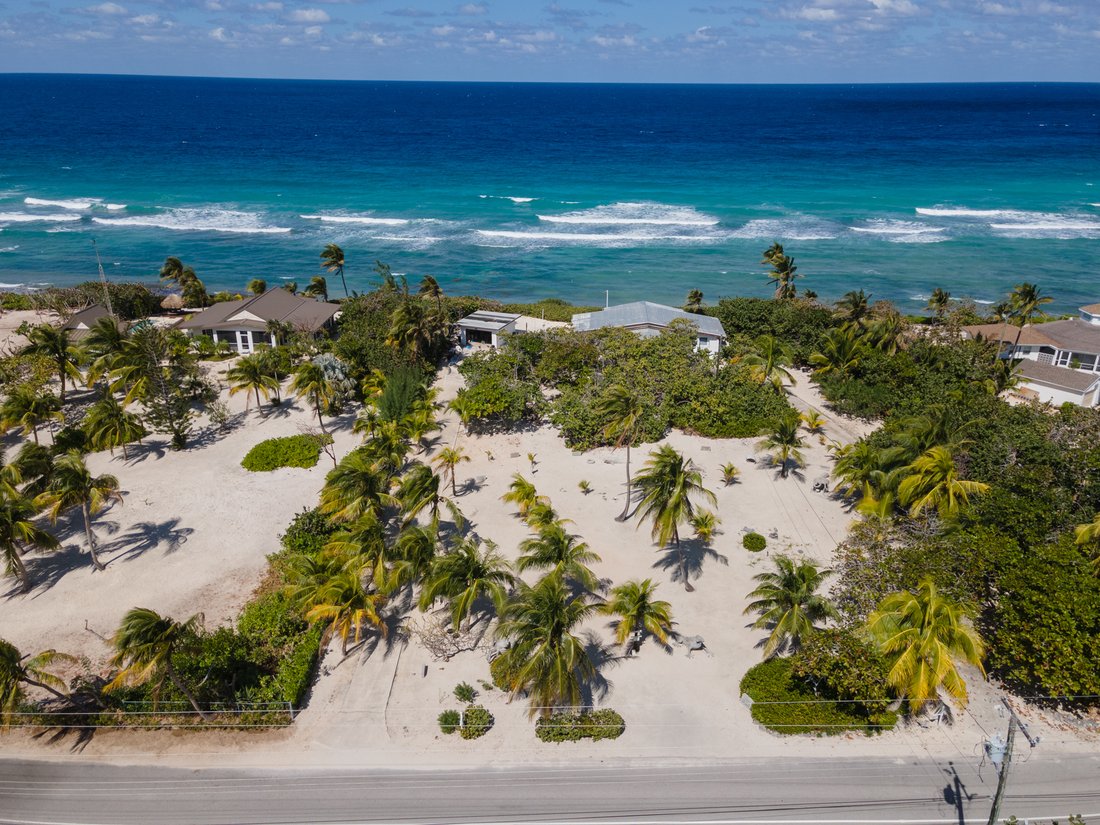 Coconut Reef Old Man Bay
$1,600,000
2 Beds
2 Baths
2,208 sqft
2 ac lot
$724/sqft
Experience island life at Coconut Reef, your own private sanctuary on the water of Old Man Bay in Grand Cayman's North Side. The welcoming bungalow is tucked away from the road and nestled in matur
Experience island life at Coconut Reef, your own private sanctuary on the water of Old Man Bay in Grand Cayman's North Side. The welcoming bungalow is tucked away from the road and nestled in mature native trees and shrubs, with no neighboring properties in sight. Wake up to the sound of gentle waves. Take in the stunning views, and within a few steps enjoy snorkeling or swimming off your private shoreline. The bungalow is comfortable as it is, or this location could be the perfect spot for your dream home.
Coconut Reef offers two bedrooms, two bathrooms, a one-car detached garage and a carport conveniently located at the main entryway. The oversized 1.3-acre lot measuring approximately 200-feet wide by 300-feet deep, is adorned with mature coconut trees and indigenous plants, home to Cayman parrots and native wildlife. Perfect location for an off the beaten path, executive waterfront estate or subdivide the double lot while retaining 100-feet of water frontage for your home away from home and land bank the balance for future appreciation. Alternatively, sell the remaining land to offset building expenses. With various options and limitless features, Coconut Reef is a must see.

Cayman Islands Sotheby's International Realty MLS#414018
Price Insights
Property price
Price per sqft
Ask a Question

Patty Nugent
Explore the Area
249 Old Robin Rd, Coconut Reef, North Side, 06~, Old Man Bay, North Side, Cayman Islands.
View on Google Maps

You have inquired about this property
The agent will contact you soon by
Listed by
About
Cayman Islands Sotheby's International Realty is located in a unique boutique style Gallery on the world famous Sev
Cayman Islands Sotheby's International Realty is located in a unique boutique style Gallery on the world famous Seven Mile Beach of Grand Cayman, Cayman Islands - at the newly built Governor's Square. Our office provides an inviting and informative atmosphere of luxury real estate and life in the three Cayman Islands: Grand Cayman, Cayman Brac and Little Cayman, that make up this jewel of the Caribbean. Our knowledgeable realtors (estate agents UK) work in partnership to provide a savvy and discreet service to purchasers of luxury real estate in all three of the Cayman Islands. Working in partnership means that Cayman Islands Sotheby's International Realty is the only luxury real estate office on the island that you can walk into and comfortably browse luxury real estate and property just as in an art gallery, with experienced knowledgeable realtors (estate agents UK) on hand to answer not only your questions regarding luxury real estate and luxury property but also on the Cayman Islands in general. Known for magnificent beaches and crystal clear azure waters these tropical islands are very proud of their efficiency & stability and promote the highest standard of luxury living and lifestyle and some of the best value luxury real estate in the region. Our Offshore destination is also one of the five most important financial centres of the world. Foreign Real Estate Investment in the Cayman Islands is protected, encouraged and has played an important role in the competent development of these islands. Our domiciled world class legal profession and our Lands Title systems are a shining example of this. Purchasing luxury property in Grand Cayman is and ideal investment for buyers from the UK. Cayman Islands Sotheby's International Realty has a number of estate agents who are familiar with property in the UK as well tastes and styles preferred by British home buyers and are happy to assist with relocation. With the pound sterling continuing to enjoy a strong exchange rate against the US Dollar and a land transfer system much simpler than that in the UK the Cayman Islands make a great tax neutral investment choice. We warmly welcome you to visit, email or call our luxury real estate office for experienced and knowledgeable real estate information; we would be pleased to tell you more. The Cayman Islands offer some of the best value for luxury real estate and luxury property in the Caribbean. Cayman Islands Sotheby's International Realty is a member of the Cayman Islands Real Estate Brokers Association (CIREBA) and as such is part of its Multi Listing System (MLS). This system is different to that operated in the UK in so much that one company will be enlisted by a Vendor to sell a property the property will then be entered into the MLS and any member company will then be able to bring a purchaser to buy the property. In this way the Purchaser's life is made so much easier by contacting a single real estate agent who can then provide information on all of the listings available. Call free from anywhere in the world using Skype: sircayman Please note our Time Zone: (Standard Time -0500 UTC or GMT - 05:00) the Cayman Islands does not operate Day Light Saving Time (DST) Calling from the UK You can call us from the UK at local rates using: [hidden information] This number does not need to be pre-fixed in any way but will forward on to our office at no extra charge. If you call outside of our office hours please leave a message with your contact number and the best time of day to contact you and we will call you back, please repeat your number stating the location you are calling from. Alternatively you can email your contact details to: [hidden information] and we will contact you directly. Calling from the USA You can call us from the USA at local rates using: [hidden information]
Registered on JamesEdition
2015
Address
Governor's Square Seven Mile Beach, Seven Mile Beach, KY1-1203, George Town, Cayman Islands
Phone number