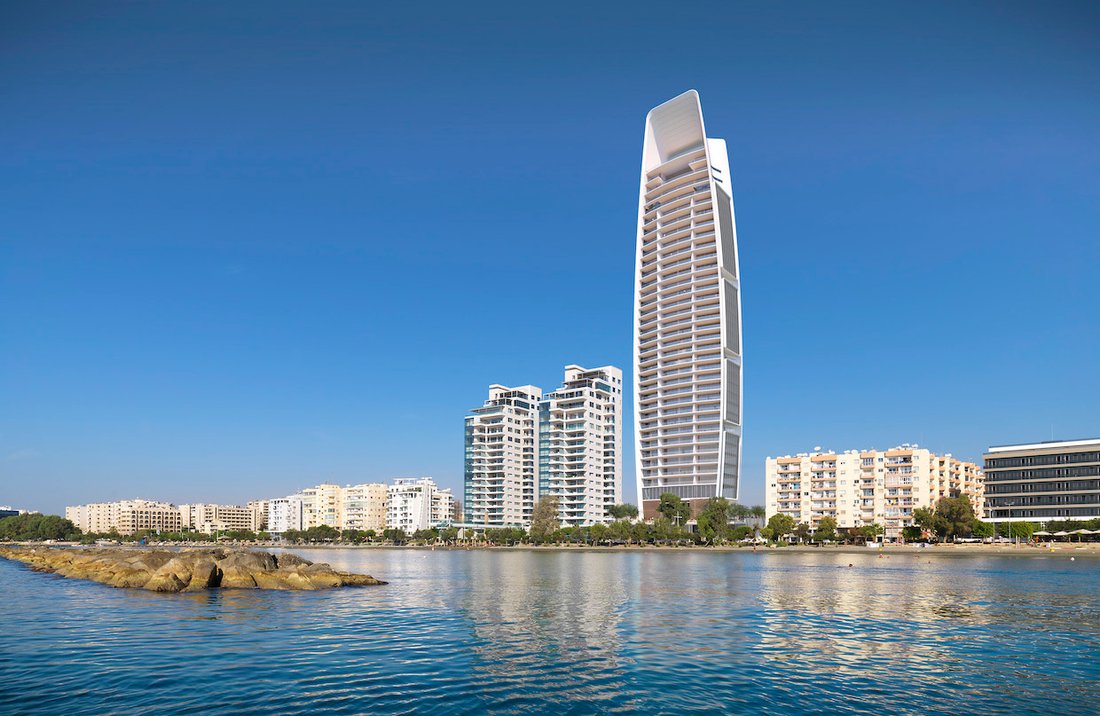 For Sale Cyprus Limassol Ready To Live Residence One 31/32 Floor Sky Penthouse 3 Bedrooms 360° View
$6,958,006
3 Beds
3 Baths
3,138 sqft
$2,217/sqft
FOR SALE: CYPRUS, LIMASSOL: READY TO LIVE, IN THE RESIDENCE "ONE", ON 31 / 32 FLOOR, THE LUXURY SKY PENTHOUSE, 3 BEDROOMS, 360° VIEW. BGP1 AV2703

FROM EUROPE'S HIGHEST WATERFRONT RESIDENTIAL
FOR SALE: CYPRUS, LIMASSOL: READY TO LIVE, IN THE RESIDENCE "ONE", ON 31 / 32 FLOOR, THE LUXURY SKY PENTHOUSE, 3 BEDROOMS, 360° VIEW. BGP1 AV2703

FROM EUROPE'S HIGHEST WATERFRONT RESIDENTIAL TOWER, DOMINATE THE HORIZON WITH BREATHTAKING VIEWS.
A UNIQUE INVESTMENT OPPORTUNITY
Like the sanctuary of a beautiful home, combined with the facilities and services of a 5***** hotel.

Ingenious architecture, design and technology ensure that privacy, outdoor living and comfort are paramount.

ONE OF THE MOST SOUGHT AFTER ADDRESSES IN CYPRUS
This Residence is ideally located for a walk, jogging, spending time on the beach or taking time for peaceful contemplation in the shade of a mature palm tree.

A UNIQUE LOCATION, LIMASSOL, THE CITY OF CHOICE
The cosmopolitan capital of Cyprus, its business district is a modern and dynamic playground. Consistently ranked among the best cities in the world in terms of quality of life. Nowhere else in Cyprus is there such a rich mix of modern culture and fascinating heritage.

The chic atmosphere of the Riviera: Pure Mediterranean charm, Elegant café culture, The most stylish clubs, bars and lounges on the island.

Limassol's gastronomic scene includes a delicious mix of fine and casual restaurants.

Shopping in Limassol is refined. A large number of international luxury brands cater to the exquisite tastes of the city's residents and visitors.

Limassol is an important maritime center, a popular cruise destination and a private yachting center.

A COLLABORATION OF AFFINITIES FOR THE EXCEPTIONAL
It is the collective work of the world's most renowned architects, designers, engineers and specialists.

Many creative and pragmatic perspectives have combined to create a building of unparalleled quality, striking aesthetics, remarkable performance and breathtaking elegance.

Attention to detail is paramount in buildings of this quality. Specialists were brought in to create reports and recommendations that added intrinsic value and underpinned the design and vision of this Residence.

Residents and their guests enjoy exclusive access to exceptional amenities, facilities and services.

With more than 1500 m² of common areas on the first 4 floors.

- Secure and controlled independent access to the main building,
- Private and secure parking for residents,
- 3 high-speed elevators serving the residences,
- Spa, relaxation room, Jacuzzi, sauna and steam bath,
- Restaurant, bar and room service,
- State of the art fitness center,
- Outdoor children's pool and playground,
- Cellar to store residents' wine collection,
- Free 3-year membership to MINTHIS HILLS - Cyprus' recreational masterpiece.

A LIFESTYLE IN A WORLD OF PRIVILEGES: YOUR CONCIERGE SERVICE
Free access, 24 hours a day, 7 days a week, to our experts with a full range of services:

Reception - Security staff - Video surveillance & Secure access - Practical assistance - Cleaning - Laundry - Dry cleaning - Babysitting - Making doctor's appointments - Private tuition - Booking & organizing events - Boat trips - Sightseeing - Travel - Transfers - Airline reservations - Hotel reservations - Car rentals - Restaurant reservations, Room service for meals and drinks - Repair and maintenance services - SPA treatments - Personal training - Sports registration - Shopping - General and personal shopping - Flower delivery - Kitchen supply - Sourcing...

A RESIDENCE TO CREATE THE NEW DEFINITION OF LUXURY
A new benchmark in high-end Mediterranean living, with an address and lifestyle choice.

ARCHITECTURE WITH A DISTINCT AND INTELLIGENT DESIGN
Every aspect of the building's structure, details and finishes play on the natural advantages of the location. The orientation and shape of the building, the use of daylight, ventilation, shading and insulation are all testaments to the attention paid to this Residence.

With sustainable technologies: The architectural envelope of the tower provides thermal protection and efficiency. It offers three levels of solar protection: protective louvers, control glazing, and projecting GRC bay facades.

It also incorporates the latest technology in air management systems. Efficient heat pumps with an energy recovery system are used for air conditioning, floor heating and water heating. The system allows for individual apartment control and centralized balancing operation ensuring maximum efficiency and comfort. A mechanical heat recovery ventilation (MVHR) system provides filtered fresh air to all residences.

SINGULAR HOUSING IN EVERY RESPECT

APARTMENTS
- High levels of light,
- Incredible views of the sea,
- Generous open spaces,
- High ceilings and refined details,
- Floor-to-ceiling glazing.

The residential floors start on level 5, 20m above ground level.

Each level has a maximum of 3 properties per floor, each ingeniously designed to offer incredible views.

Residents enjoy complete privacy on their terraces, thanks to the design of the building's façade. The depth of the balconies provides the perfect backdrop for Mediterranean outdoor living.

The ultimate view of Limassol with the largest perspective on the Mediterranean Sea. To the southwest, the crystalline coastline offers the most essential natural scene. To the rear, the city's backdrop is the spectacular TROODOS Mountains.

THE ULTIMATE IN LUXURY
ONE's Penthouse is the ultimate in luxury. Located on the top three floors of the tower, it is the most remarkable private residence in Cyprus. It is, in very real terms, residential perfection, embodying all that is powerful in design, location, scale and stature.

A grand lobby sets the tone for the experience to come - an exclusive world, with a private and opulent outdoor pool area. Spectacular views frame the penthouse from all sides, offering an uninterrupted 360-degree panorama, an unforgettable feature of the residence.

The building's signature arc frames this sensational home. With its expansive interior and exterior spaces, double-height rooms and incredible landscaped roof deck, it's easy to forget the world below.

This SKY PENTHOUSE resides on the 31st and 32nd floor of the tower.

- Living area of 291.51 m²,
- 3 Master Bedrooms,
- Vast interior and exterior space with double height rooms,
- Incredible private roof terrace of 45, 59 m²,
- Spectacular and breathtaking panoramic views,
- Exquisite interiors, finishes and craftsmanship,
- 2 private parking spaces,
- The most remarkable and sought after Private Residence in Cyprus.

A UNIQUE ICON, RECOGNIZABLE FROM ANYWHERE IN THE CITY.

Your Consultant, Daniel BENAUDIS
The BENAUDIS Group fees are included in the price.
Price of the property : 6 780 000 €
Reference : BGP1 AV2703
Price of the property excluding VAT, registration fees and real estate publicity fees.

À VENDRE : CHYPRE, LIMASSOL : PRÊT-À-VIVRE, DANS LA RESIDENCE « ONE », AU 31 / 32ème ÉTAGE, LE SKY PENTHOUSE DE LUXE, 3 CHAMBRES, VUE A 360°. BGP1 AV2703

DEPUIS LA PLUS HAUTE TOUR RÉSIDENTIELLE EN FRONT DE MER D'EUROPE, DOMINEZ L'HORIZON AVEC DES VUES IMPRENABLES.

L'OPPORTUNITÉ D'UN INVESTISSEMENT UNIQUE
Tel le sanctuaire d'une belle maison, combiné aux installations et services d'un hôtel 5*****.

Une architecture, un design et une technologie ingénieuse, vous garantissent que l'intimité, la vie en plein air et le confort sont primordiaux.

UNE ADRESSE DES PLUS RECHERCHÉES À CHYPRE
Cette Résidence est idéalement située pour une promenade, faire son jogging, passer du temps sur la plage ou prendre le temps d'une contemplation paisible, à l'ombre d'un palmier mature.

UN EMPLACEMENT UNIQUE, LIMASSOL, LA VILLE DE CHOIX
Capitale cosmopolite de Chypre, son quartier d'affaires et un terrain de jeu moderne et dynamique. Régulièrement classée parmi les meilleures villes du monde en termes de qualité de vie. Nulle part ailleurs à Chypre, on ne trouve un mélange aussi riche de culture moderne et de patrimoine fascinant.

L'ambiance chic de la Riviera : Le pur charme méditerranéen, Une culture de café élégante, Les clubs, bars et lounges les plus élégants de l'île.

La scène gastronomique de Limassol comprend un délicieux mélange, de restaurants fins et décontractés.

Le shopping à Limassol est raffiné. Un grand nombre de marques de luxe internationales répondent aux goûts exquis des habitants et des visiteurs de la ville.

Limassol est un centre maritime important, une destination de croisière populaire et un centre de yachting privé.

UNE COLLABORATION D'AFFINITÉS POUR L'EXCEPTIONNEL
C'est l'œuvre collective d'architectes, designers, ingénieurs et spécialistes, les plus renommés au monde.

De nombreuses perspectives créatives et pragmatiques se sont combinées, pour réaliser un bâtiment d'une qualité inégalée, d'une esthétique saisissante, d'une performance remarquable et d'une élégance à couper le souffle.

Le souci du détail est primordial dans des bâtiments de cette qualité. Il a été fait appel à des spécialistes pour créer des rapports et des recommandations qui ont ajouté une valeur intrinsèque et ont étayé la conception et la vision de cette Résidence.

Les résidents et leurs invités bénéficient d'un accès exclusif à des équipements, des installations et des services exceptionnels.

Avec + de 1500 m² d'espaces communs sur les 4 premiers étages.

Un accès indépendant sécurisé et contrôlé au bâtiment principal,
Un parking privé et sécurisé pour les résidents,
3 ascenseurs à grande vitesse desservent les résidences,
Spa, salle de relaxation, jacuzzi, sauna et bain de vapeur,
Restaurant, bar et service de chambre,
Un centre de fitness ultra-moderne,
Piscine extérieure pour enfants et aire de jeux,
Cave pour stocker la collection de vins des résidents,
Adhésion gratuite de 3 ans à MINTHIS HILLS – le chef-d'œuvre récréatif de Chypre.
UN STYLE DE VIE, DANS UN MONDE DE PRIVILÈGES : VOTRE CONCIERGERIE

Accès gratuit, 24 heures sur 24, 7 jours sur 7, à nos experts avec un panel complet de services :

Accueil & Réception – Personnel de sécurité – Vidéosurveillance & Accès sécurisée – Assistance pratique – Ménage et nettoyage – Blanchisserie – Nettoyage à sec – Babysitting – Prise de RDV chez le médecin – Recherche de Cours particuliers – Réservation & Organisation d'événements – Excursions en bateau – Visites touristiques – Voyages – Transferts – Réservations de billets d'avion – Réservation d'Hôtels – Location de voitures – Réservation de Restaurants, bars, clubs – Service en chambre pour les repas et boissons – Services de réparation et d'entretien – Soins SPA – Entraînement personnel – Inscriptions sportives – Shopping – Achats généraux et personnels – Livraison de fleurs – Approvisionnement des cuisines – Sourcing…

UNE RÉSIDENCE POUR CRÉER LA NOUVELLE DÉFINITION DU LUXE

Une nouvelle référence en matière de vie méditerranéenne haut de gamme, avec une adresse et un choix de style de vie.

UNE ARCHITECTURE AVEC UNE CONCEPTION INTELLIGENTE ET DISTINCTE

Chaque aspect de la structure, des détails et des finitions du bâtiment joue sur les avantages naturels de l'emplacement. L'orientation et la forme du bâtiment, l'utilisation de la lumière du jour, la ventilation, l'ombrage et son isolation, sont autant de témoignages d'attention portée à cette Résidence.

Avec des technologies durables : L'enveloppe architecturale de la tour assure une protection et une efficacité thermiques. Elle offre 3 niveaux de défense solaire : Persiennes de protection, Vitrage de contrôle, Façades de baies en saillie GRC.

Elle intègre également les dernières technologies en matière de systèmes de gestion de l'air. Des pompes à chaleur efficaces avec un système de récupération d'énergie sont utilisées pour la climatisation, le chauffage par le sol et l'eau. Le système permet un contrôle individuel des appartements et une opération d'équilibrage centralisée assurant une efficacité et un confort maximum. Un système de ventilation mécanique à récupération de chaleur (MVHR) fournit de l'air frais filtré à toutes les résidences.

DES LOGEMENTS SINGULIER EN TOUS POINTS

APPARTEMENTS

Niveaux élevés de lumière,
Vues incroyables sur la mer,
Espaces ouverts généreux,
Hauts plafonds et détails raffinés,
Les vitrages du sol au plafond.
Les étages résidentiels commencent au niveau 5, à 20 m au-dessus du sol.

Chaque niveau compte un maximum de 3 propriétés par étage, chacune ayant été ingénieusement conçue pour offrir des vues incroyables.

Les résidents bénéficient d'une intimité totale sur leur terrasse, grâce à la conception de la façade du bâtiment. La profondeur des balcons offre le contexte idéal pour une vie méditerranéenne en plein air.

L'ultime vue de Limassol avec la plus grande perspective sur la mer Méditerranée. Au sud-ouest, le littoral cristallin offre une scène naturelle des plus essentielles. À l'arrière, la ville a pour toile de fond les spectaculaires montagnes de TROODOS.

LE SUMMUM DU LUXE

Le Penthouse de ONE est le summum du luxe. Situé aux trois derniers étages de la tour, c'est la résidence privée la plus remarquable de Chypre. C'est, en termes très concrets, la perfection résidentielle, incarnant tout ce qui est puissant en matière de design, d'emplacement, d'échelle et de stature.

Un grand hall d'entrée donne le ton de l'expérience à venir – un monde exclusif, avec un espace piscine extérieur privé et opulent. Des vues spectaculaires encadrent le penthouse de tous les côtés, offrant un panorama ininterrompu à 360° – la caractéristique inoubliable de la résidence.

L'arc de cercle caractéristique de l'immeuble encadre cette maison sensationnelle. Avec ses vastes espaces intérieurs et extérieurs, ses pièces à double hauteur et son incroyable toit-terrasse paysager, il est facile d'oublier le monde d'en bas.

Ce SKY PENTHOUSE réside au 31ème et 32ème étage étage de la tour.

Surface habitable de 291,51 m²,
3 Masters Bedrooms,
Vaste espace intérieur et extérieur avec des pièces à double hauteur,
Incroyable terrasse privée de 45, 59 m² aménagée sur le toit,
Vues panoramiques imprenables et spectaculaires.
Des intérieurs, des finitions et un savoir-faire exquis.
La Résidence Privée la plus remarquable et la plus recherchée de Chypre.

UNE ICÔNE UNIQUE, RECONNAISSABLE DE N'IMPORTE OÙ DANS LA VILLE.

Votre Consultant, Daniel BENAUDIS
Les honoraires du BENAUDIS Group sont inclus dans le prix.
Prix du bien : [hidden information] €
Référence : BGP1 AV2703
Prix du bien hors TVA, frais d'enregistrement et de publicité foncière.
Features
Lot
Indoor
Basement
High Ceiling
Kitchen island
Laundry Room
Stone Countertops
Walk In Closet
Ask a Question

Daniel Benaudis
About the Building
Year built

2022

Floors

31

Property type

Penthouse

Emissions

A

Consumption

A

You have inquired about this property
The agent will contact you soon by
Listed by
About
The BENAUDIS GROUP is a professional real estate broker, serving Buyers, Investors, Builders and Developers of luxu
The BENAUDIS GROUP is a professional real estate broker, serving Buyers, Investors, Builders and Developers of luxury properties.

The group is composed of a small number of talented consultants.

The company closes over 100 sales per year and has negotiated many of the largest residential sales in Europe and the Indian Ocean, including many record breaking transactions.

With unparalleled experience and market knowledge, the BENAUDIS Group is the expert company in Marketing, Advertising & Promotion, for Luxury Real Estate.

As a leader, its long experience of the real estate markets has always naturally earned it the respect of its peers.

Each BENAUDIS Group employee is a shareholder of the company. They are at the heart of the group's activity and are part and parcel of its evolution.

Without respite, they show an unlimited devotion to the service of their clients, which allows them to build the necessary confidence to realize their real estate project.

They earn the respect of their clients by working hard and always offering the best advice and recommendations.

The success of the BENAUDIS Group, is essentially based on the positive opinions of their clients.
Registered on JamesEdition
2022
Address
Business Center - Drosia, Larnaca, Cyprus
Phone number