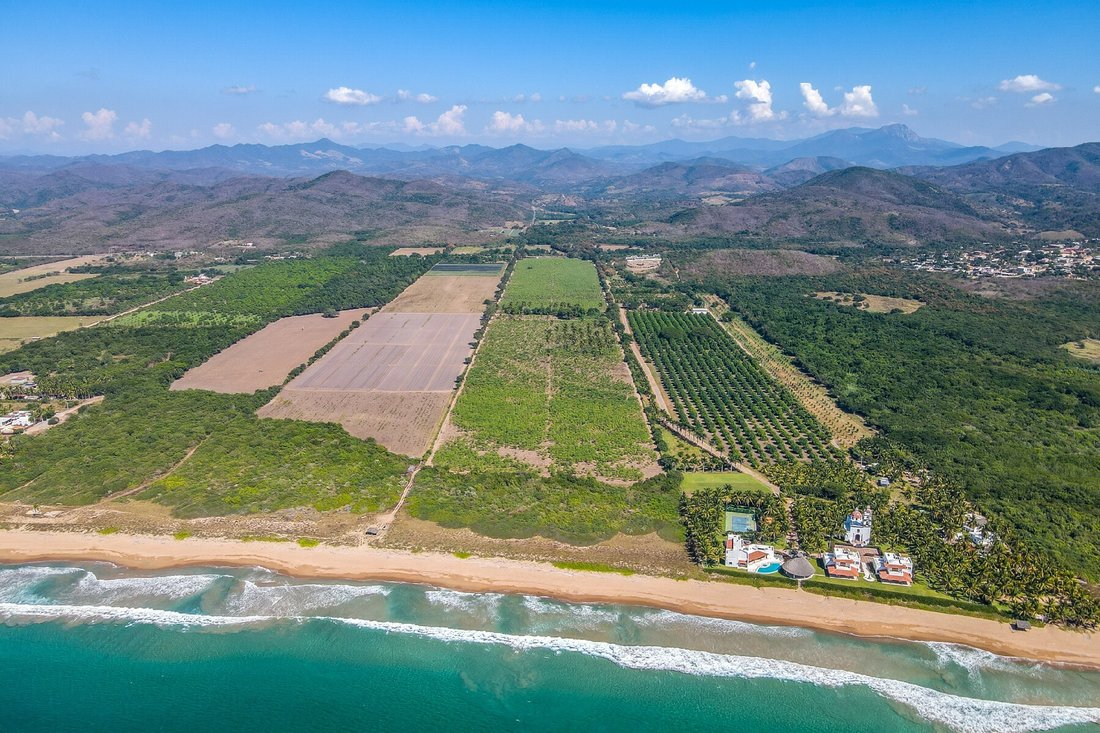 Rancho Senderos De Primavera, Terreno En Chamela, Jalisco
$8,415,000
The incomparable natural beauty of this place is what makes it so special, where 11 islands along with several islets, are the ideal setting for one of the most spectacular beaches in Mexico. The c
The incomparable natural beauty of this place is what makes it so special, where 11 islands along with several islets, are the ideal setting for one of the most spectacular beaches in Mexico. The coasts are formed by an enchanting fusion of sand and jungle that creates amazing landscapes that will leave you speechless.
Here wildlife is present in all its splendor. Chamela is the only bay in all of Mexico with more islands inside. Rancho Senderos de Primavera is located on the Mexican Pacific Coast in Chamela Bay, Jalisco, in one of the most attractive tourist areas of Costa Alegre.
The location and land provide a unique opportunity and incomparable beauty for future development. This property is perfect to live and enjoy its wonderful climate and exuberant beach. It is a strategic point on the coastal highway of Jalisco, close to large tourist developments with all the comforts. Just one hour by road from Puerto Vallarta Jalisco.
It has a total area of ​​44 hectares with 187.5 meters of oceanfront, three water wells registered in CONAGUA, and is at the crossroads of the only two roads that reach Chamela, there is power line service, fiber optics and cell phone signal.
This lot has it all: crystal clear water, palm trees, and white sand beach. The best thing about this place is that it is not crowded. You will be able to enjoy your time undisturbed.
For those in the know, this is an opportunity of a lifetime. This incomparable lot for sale in Mexico is the perfect place for tourist development, private or commercial. It is a real investment opportunity for those who want to get the most out of their money.
Don't miss out on this unique opportunity!
Features
Explore the Area
km 71 Carretera Barra de Navidad - Puerto Vallarta Chamela, La Huerta, JAL 48869, La Manzanilla, Jalisco, Mexico.
View on Google Maps
You have inquired about this property
The agent will contact you soon by
Listed by
About
Guadalajara Sotheby's International Realty is an expert in marketing and selling quality. We understand that the ke
Guadalajara Sotheby's International Realty is an expert in marketing and selling quality. We understand that the key to achieving the highest possible price for our listings, regardless of market conditions, is to accurately and appropriately present them to the broadest qualified audience possible. No other real estate company is positioned to offer the resources we employ in this effort.

One of the keys to successfully selling your home is the marketing effort that supports the sale. Guadalajara Sotheby's International Realty has developed a comprehensive marketing strategy, which we tailor to the unique needs of your property. In order to reach the greatest number of potential buyers, we ensure that your home has maximum market exposure.
Registered on JamesEdition
2015
Address
Calle Bogotá 2763 Colonia Providencia, Colonia Providencia, 44639, Guadalajara, Jalisco, Mexico
Phone number