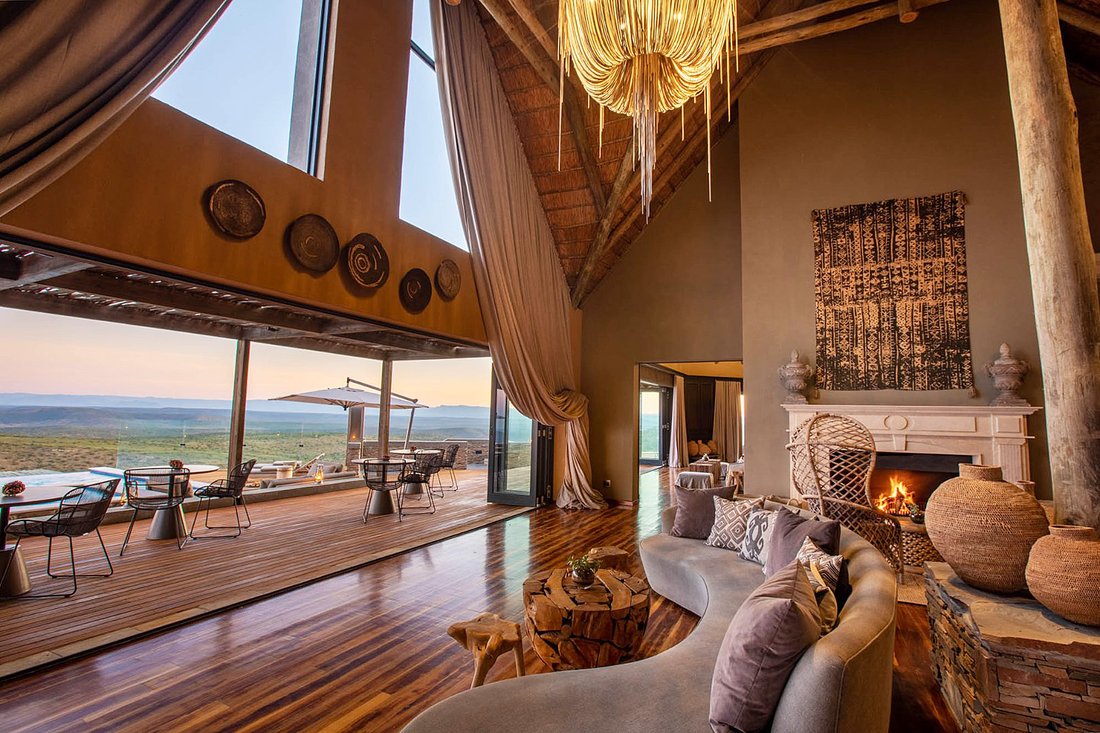 Jansenville, Karoo
$36,000,000
28 Beds
28 Baths
41,267 ac lot
iSanti Big-5 Game Reserve and Magic Hills Private Collection
A rare opportunity to acquire this 16,700-hectare (20,100-hectare surface area) Private Reserve in the heart of the Kar
iSanti Big-5 Game Reserve and Magic Hills Private Collection
A rare opportunity to acquire this 16,700-hectare (20,100-hectare surface area) Private Reserve in the heart of the Karoo, Eastern Cape, South Africa (16km as the crow flies from Addo Elephant Park)
"Magic Hills is unlike anything I have ever experienced, which, as a travel writer is saying a lot. The silence, the views, the sheer amount of space – and the stars, oh the stars! There is definitely a different energy at play here… something supernatural. Besides the natural beauty, the luxurious lodges make falling in love with the place inevitable." Lynette Botha, International Travel Editor
The Karoo is a unique landscape that speaks to vast horizons, vistas and plains, and deep unending skies. Here lies a rugged beauty that quietly connects with you, and touches the soul.
iSanti Big-5 Private Reserve is situated in the heart of this magical land, that is also home to some of the world's most endangered wildlife species. You will definitely spot the Big-5, although Leopard can be rather elusive, together with a wide variety of other big game and iconic African wildlife, including the world's largest living Black Rhino. 
But iSanti is not just about the wildlife and sumptuous accommodation. The Reserve has a vital conservation component in terms of rewilding both flora and fauna, that can also be supported through various tax incentives. 
For a visionary with a passion for conservation, there is almost unlimited potential to expand the Reserve, to the point of adjoining the Addo Elephant Park, and creating the largest private reserve in South Africa.
The Magic Hills Private Collection consists of three Lodges, and one camp, each perfectly suited to those who are in search of a soulful, deeply-rejuvenating safari experience.
Sky Villa, is a rarefied retreat comprising seven suites, and offers breath-taking views. As if floating in an otherworldly atmosphere, Sky Villa rests atop the highest mountains on the reserve, and it is not unusual to awake amongst the clouds. There is also potential for winter snow, or at the very least, a view of snow across the Sneuuberg and Zuurberg. 
ILanga Manor House, with its 10 spacious suites, is styled along the lines of traditional Cape Dutch architecture, and carries a sense of yester-year. The Manor House is reminiscent of an oasis in the middle of the desert, with welcoming green lawns and a lush setting that belies the surrounding landscape. 
Elsa's Farmhouse is a restored four-bedroomed traditional Karoo homestead that is off the grid, and solar-powered.
kaKhulu Karoo offers seven suites, and is self-catering.
iSanti currently covers two biomes – the Thicket Biome and the Nama Karoo Biome which is one biome more than the Kruger National Park can lay claim to. One of the dominant plants in the Thicket biome is Spekboom, a favourite of Kudu, Eland and Black rhino, and something of a miracle plant – one hectare sequesters 4 to 10 tons of carbon per annum.
Despite its otherworldly location, iSanti Big-5 Reserve and Magic Hills Private Collection is but a 30-minute private charter to the ocean, and a 1.5-hour charter to Cape Town. Moreover, there are three National Parks within a 2-hour drive, including the Valley of Desolation.
"Magic Hills is situated in one of my favourite parts of the Great Karoo, a place that is evocative of the rich and varied history of South Africa but also intensely, spiritually beautiful. Wide vistas as far as the eye can see, with rolling mountains and hills that are home to some of the world's most endangered species, make this a unique environment that facilitates moments of quiet, introspective solitude." Matthew McClure, Wanted -Business Day June 2020
To find us on Google Maps search for Magic Hills Private Collection which will bring you to iLanga Manor House, with these coordinates:  32°84'66.50" S    24°96'40.10" E
You have inquired about this property
The agent will contact you soon by
Listed by
About
32 years ago, the area of Midrand evolved – making this now populous region seem rather young in a country steeped
32 years ago, the area of Midrand evolved – making this now populous region seem rather young in a country steeped in heritage and historical notoriety. Since its inception, it has seen quite an insurgence of growth, possibly because of its prime positioning between Johannesburg and Pretoria, which originally earned it the name "Halfway House". Following the end of Apartheid, the town officially became part of the Johannesburg Metropolitan Municipality in 2000, signalling the loss of its independence.
The town has seen particular growth in the last decade or so, due to many people seeing the proximal value of the area to many of the major highways and bi-ways that connect Pretoria and Johannesburg. Midrand is actually used to name all the suburbs around the N1 highway – those north of the Jukskei River, up until the border of Twshane.
Some say that Midrand has negated the divide between Johannesburg and Pretoria, putting it in the heart of the economic and business hub of South Africa. Experts believe that this cross pollination will result in the three areas resembling a city by 2015. At the moment, Midrand encompasses the following suburbs: Country View, Halfway house, Glen Austin, Carlswald, Kyalami, Vorna valley and Crowthorne.
Midrand is now popular for its estate living, a trend that is fast hitting South Africa and many business people are choosing to stay here to flee the hustle and bustle of busy city life. Commuting from Midrand has always been easy, as mentioned before, due to it being situated alongside the N1 and other major roads. Its modern transport improvements have seen the addition of a Gautrain stop as well as the Grand Central airport.
Its airspace is also popular amongst the South African Aviation Authority whose headquarters can be found in Midrand. It's also home to the largest conference centre in South Africa known internationally and locally as Gallagher Estate. More recently, Midrand became the home of the largest Mosque in South Africa, the Nizamiye Mosque. Both these prominent features have thrust the area into the future and with South Africa firmly on the international business market map; this somewhat young area will continue to see favourable growth.
Registered on JamesEdition
2020
Address
Unit 5a, Tybalt Place Waterfall Office Park, Bekker Road Midrand, 4177, Johannesburg, Gauteng, South Africa
Phone number