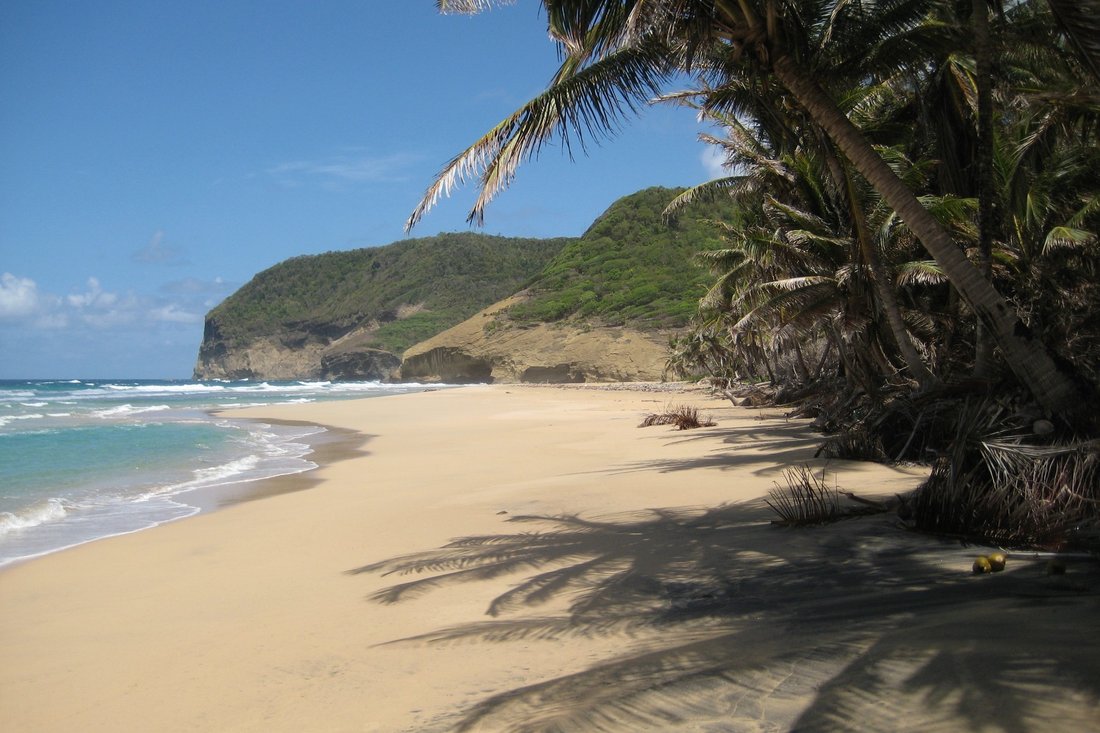 Grand Anse
$35,000,000
Grande Anse comprises approximately 1,600 stunning, undeveloped acres ideally suited for a premiere nature reserve and sustainable Eco‐resort development community. The approximate one and a quarte
Grande Anse comprises approximately 1,600 stunning, undeveloped acres ideally suited for a premiere nature reserve and sustainable Eco‐resort development community. The approximate one and a quarter mile long sandy beach is one of the most picturesque and dramatic in St. Lucia, perhaps in the entire Caribbean. The cool Trade Winds of the Atlantic and the extensive reef creates a continuous mesmerizing surf. Even in its natural state, the extraordinary beauty of this coastal landscape is truly breath‐taking.
This exceptional, remote property is contoured as a natural amphitheater, with mountain ridges on three sides which all focus on the expansive ocean activity. Significant mitigating engineering will be required for SAFE swimming. From every angle, one can enjoy a panoramic view of the beach. The highest elevation is about 1,200 ft above sea level. The main valley offers hundreds of acres of flat land, including about 60 acres of beachfront property, known as the "Queen's Chain".
Three small "streams" run through the property. Two form lagoons on the Grande Anse Beach; an addition to the landscape and an area of potential architectural interest. Most of the property is forested with coconut palms, other exotic fruit trees and secondary tropical growth, though there has been some deforestation and clearing of land. A diversity of lush plant and wildlife can be found on the estate. The beach is an important nesting ground for the giant Leatherback turtle, which lays its eggs during the period from March to August. This is an exciting attraction for guests. The turtles are protected by law, and the "Desbarras Turtle Watch" is organized by the community of Desbarras. The property also contains one of the island's significant archeological sites dating back to the period of the Amerindian. The pre-Columbian theme could be optimized in a project design concept.
Large, stunning and undeveloped tracts of land on choice Caribbean islands are virtually non‐ existent today. This is an unprecedented opportunity for a premiere resort community development which embraces discriminating market appeal, significant environmental conservation, conscientious design planning, and St. Lucia's rich heritage.
Due to the size and nature of the property, a mixed, responsible, land use, encompassing many activities is envisioned. In order to maximize its unique potential, large green belt and Nature Reserve areas must be included in the master plan. Possible modules within large, unspoiled natural spaces are:
•Several resorts, ranging from a signature, flag ship hotel to low impact eco‐lodges, recreation of a Taino Indian village 
•Condominium, luxury villas, vacation homes and homesites 
•Retirement community compound
•Multi‐purpose convention center, supper club and entertainment facility 
•Commercial village with retail, art galleries, banking, restaurants, concierge and amenities 
•Wildlife refuge, Nature Reserve, Visitor education, conservation protection workshops, and learning and cultural exchange facilities 
•Health and fitness center, medical clinic, spa, and executive rehab unit 
•Horseback riding, hiking trails, campsites, sports and recreation facilities 
•Green energy production, produce gardens, maintenance compound, and staff housing
Contact agent
Sarah Danzie
You have inquired about this property
The agent will contact you soon by
Listed by
About
St. Lucia Sotheby's International Realty opened its doors as a full-service estate agency in 2007. Catering to high
St. Lucia Sotheby's International Realty opened its doors as a full-service estate agency in 2007. Catering to high-end clientele, we have quickly developed a personalised approach to real estate. Focusing heavily on delivering the highest level of service, we spend time listening to our clients so we can understand their requirements and respond with a range of options we feel best represents their preferences in terms of size, location, budget and lifestyle. Our ultimate goal is our client's happiness, and based on this committed approach we are already building an impressive clientele of both local and overseas buyers. Sotheby's St. Lucia International Realty is quickly establishing itself the expert in the island's real estate market. We strive to maintain the qualities that set our agency apart in a highly competitive industry – our keen understanding of the luxury property market and our ultimate commitment to exceeding our clients' expectations. Our experienced and friendly staff understands that every client is different, and there is no standard formula for giving the best service. Your individualism is what we concentrate on, and it is essential to us that our guidance is honest, genuine and uncomplicated for you. No one enjoys being undervalued, and like our exceptional properties, we know that you are unique, too. Our office is conveniently located in the heart of St. Lucia's tourism capital, Rodney Bay Village, on the north coast of the island. Feel free to drop in without an appointment – our door is open. You can also reach us by phone any day of the week, so if there is a property that you need to see quickly, or if you just have a question or two, please do give us a call. You can also contact us via email. Simply click here for our contacts.
Registered on JamesEdition
2015
Address
Sotheby's Realty House, Rodney Bay, 00000, Gros Islet, Saint Lucia
Phone number