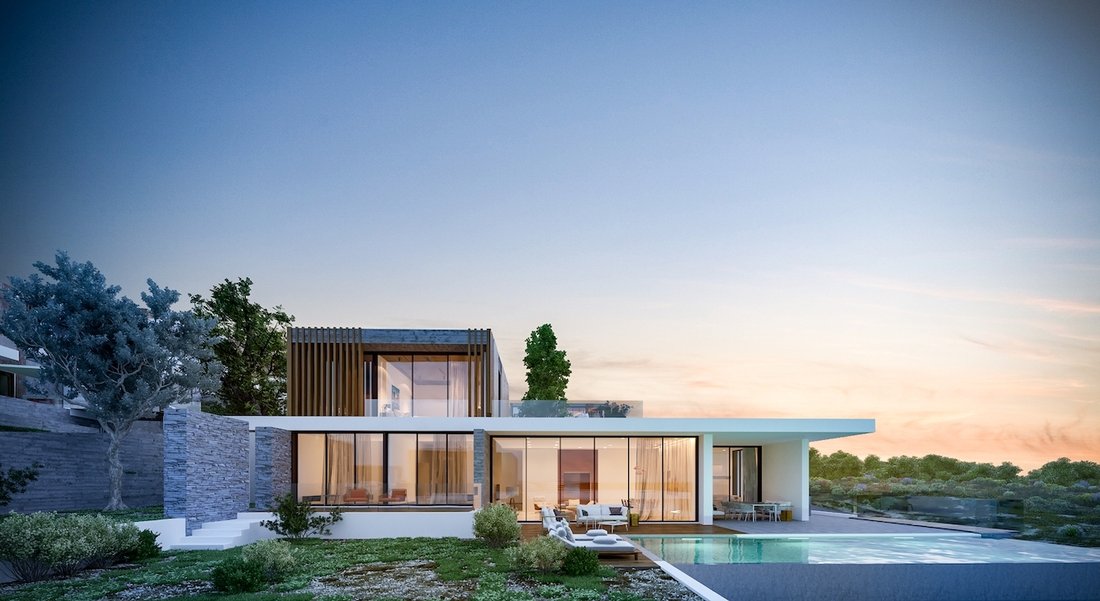 For Sale Cyprus Limassol Ready To Live Residences Aurai Luxury Villa 4 Bedrooms Panoramic Sea Views
$2,658,720
4 Beds
4 Baths
3,294 sqft
8,924 sqft lot
$807/sqft
FOR SALE, CYPRUS, LIMASSOL, READY TO LIVE, RESIDENCES AURAI, LUXURY VILLA, 4 BEDROOMS, PANORAMIC SEA VIEWS. BGPAU AVV3B

Luxury living in Limassol
Limassol is the cosmopolitan capital of C
FOR SALE, CYPRUS, LIMASSOL, READY TO LIVE, RESIDENCES AURAI, LUXURY VILLA, 4 BEDROOMS, PANORAMIC SEA VIEWS. BGPAU AVV3B

Luxury living in Limassol
Limassol is the cosmopolitan capital of Cyprus, its most important business district and a modern, dynamic playground. It is consistently ranked among the best cities in the world in terms of quality of life. Nowhere else in Cyprus is there such a rich mix of modern culture and fascinating heritage.

Limassol's enchanting promenade is located on the first boulevard of the waterfront. It is the ideal place to stroll, jog, spend time on the beach or take time for peaceful contemplation in the shade of a mature palm tree.

The city offers an active, vibrant and varied selection of restaurants, elegant cafes, bars and chic lounges.

Limassol's dining scene includes a delicious mix of fine and casual restaurants. It offers an international selection of cuisines as well as traditional local dishes.

Shopping: An abundance of global luxury brands cater to the exquisite tastes of the city's stylish residents and visitors. A wide range of high-end products are refined.

There is also an array of private schools (Greek, English, French and Russian).

LEISURE: A program of major international events is offered throughout the year.
Art galleries, historical sites, museums and theaters.

LIFESTYLE: Limassol is an important maritime center, a popular cruise destination and a private yachting center.

LIVING WITH HISTORY: It has a charming medieval quarter, a beautiful Byzantine castle and attractive colonial-era architecture.

Aurai Residences consists of 11 exclusive 3 and 4 bedroom villas, located in one of the most prestigious residential suburbs of Limassol. These contemporary villas offer magnificent views of the entire coastline.

This modern and luxurious villa has a living area of 306 square meters.

The entrance to this magnificent villa is accessed via a duckboard.

This one opens on a large living space, with a beautiful height of ceiling: In front of you, the Living room and the Dining room, both fitted out with immense picture windows illuminating all the surface and giving you access to the beach in Iroko wood. It is itself equipped with its relaxation area and its beautiful infinity pool.

A 180° panoramic view of Limassol and the sea awaits you.

On your right, you will discover the culinary sphere: A beautiful kitchen equipped with its central island, itself benefiting from large openings, on the 1st terrace equipped with its outdoor living room, the outdoor kitchen with barbecue and an external dining area.

The whole is opened on the swimming pool.

On your left, a water point with sanitary for the guests.
A distribution leads you to 3 magnificent Master Bedrooms, 2 of which have direct access to the wooden beach and to the pool, then the 3rd Master Bedroom with its private veranda.

Upstairs, the 4th Master Bedroom offers its own dressing room and access to a large private terrace with its own outdoor living room and landscaped garden.

The whole overlooking the property, with a spectacular 180° view.

2 parking spaces inside.

-Living space : 306 m²,
-4 Master Bedrooms,
-4 Bathrooms,
-Spectacular views,
-Total surface of the covered verandas : 54 m²,
-Total area of uncovered verandas: 131 m²,
-Enclosed land of 829 m²,
-2 covered parking spaces.

Your Consultant, Daniel BENAUDIS
The BENAUDIS Group fees are included in the price.
Price of the property : [hidden information]
Reference : BGPAU AVV3B
Price of the property excluding VAT, registration and publicity fees.

A VENDRE : CHYPRE, LIMASSOL. PRÊTE-À-VIVRE : RESIDENCES AURAI, VILLA DE LUXE, 4 CHAMBRES, VUES PANORAMIQUES. BGPAU AVV3B

Une Vie de luxe à Limassol
Limassol est la capitale cosmopolite de Chypre, son plus important quartier d'affaires et un terrain de jeu moderne et dynamique. Elle est régulièrement classée parmi les meilleures villes du monde en termes de qualité de vie. Nulle part ailleurs à Chypre, on ne trouve un mélange aussi riche de culture moderne et de patrimoine fascinant.

La promenade enchanteresse de Limassol est située sur le premier boulevard du front de mer. C'est l'endroit idéal pour se promener, faire du jogging, passer du temps sur la plage ou prendre le temps d'une contemplation paisible à l'ombre d'un palmier mature.

La ville offre un choix actif, dynamique et varié de restaurants, de cafés élégants, de bars et de salons chics.

La scène gastronomique de Limassol comprend un délicieux mélange de restaurants fins et décontractés. Elle offre un choix international de cuisines ainsi que des plats traditionnels locaux.

Côté shopping : Une abondance de marques de luxe mondiales, répond aux goûts exquis des résidents et visiteurs stylés de la ville. Un large choix de produits hauts de gamme, y est raffiné.

On y trouve aussi, un panel d'écoles privées (Grecques, Anglaises, Françaises ou Russes).

LOISIRS : Un programme d'événements internationaux majeurs est proposé toute l'année.
Galeries d'art, sites historiques, musées et théâtres.

LIFESTYLE : Limassol est un centre maritime important, une destination de croisière populaire et un centre de yachting privé.

VIVANT AVEC L'HISTOIRE : Elle possède un charmant quartier médiéval, un beau château byzantin et une architecture attrayante de l'ère coloniale.

Aurai Residences comprend 11 villas exclusives de 3 et 4 chambres, situées dans l'une des banlieues résidentielles les plus prestigieuses de Limassol. Ces villas contemporaines offrent des vues magnifiques sur toute la largeur du littoral.

Cette villa moderne et de luxe, bénéficie d'une surface habitable de 306 m².

Un accès avec caillebotis s'avance devant la porte d'entrée de cette magnifique villa.

Celle-ci s'ouvre sur un grand espace de vie, avec une belle hauteur de plafond : Face à vous, le Salon-séjour et la Salle à manger, tous 2 aménagés d'immenses baies vitrées illuminant toute la superficie et vous donnant accès à la plage en bois Iroko. Elle-même aménagée de son espace relaxation et de sa belle piscine à débordement.

Une vue panoramique à 180° sur Limassol et sur la mer, vous y attend.

Sur votre droite, vous découvrirez la sphère culinaire : Une belle cuisine aménagée de son îlot central, lui-même bénéficiant de grandes ouvertures, sur la 1ère terrasse aménagée de son salon extérieur, de la cuisine extérieure avec barbecue et d'un espace de Salle à manger externe.

L'ensemble est ouvert sur la piscine.

Sur votre gauche, un point d'eau avec sanitaire pour les invités.
Une distribution vous mène à 3 magnifiques Masters Bedrooms, dont 2 bénéficiant d'un accès direct à la plage en bois et à la piscine, puis la 3ème Master Bedroom bénéficiant de sa véranda privée.

A l'étage, la 4ème Master Bedroom offrant son propre dressing et, aménagé d'un accès sur une vaste terrasse privative et aménagée de son salon extérieur et jardin paysager.

L'ensemble dominant la propriété, avec une vue spectaculaire à 180°.

2 emplacements de parkings intérieurs.

-Surface habitable : 306 m²,
-4 Masters Bedrooms,
-4 Salles de bains,
-Vues spectaculaires,
-Surface totale des vérandas couvertes : 54 m²,
-Surface totale des vérandas non-couvertes : 131 m²,
-Terrain clos de 829 m²,
-2 emplacements de parkings couverts.

Votre Consultant, Daniel BENAUDIS
Les honoraires du BENAUDIS Group sont inclus dans le prix.
Prix du bien : [hidden information] €
Référence : BGPAU AVV3B
Prix du bien hors TVA, frais d'enregistrement et de publicité foncière.
Features
Indoor
High Ceiling
Kitchen island
Walk In Closet
Outdoor
Gate
Outdoor Living Space
Parking
Ask a Question

Daniel Benaudis
About the Building
Year built

2022

Floors

2

Property type

Villa

Emissions

A

Consumption

A

You have inquired about this property
The agent will contact you soon by
Listed by
About
The BENAUDIS GROUP is a professional real estate broker, serving Buyers, Investors, Builders and Developers of luxu
The BENAUDIS GROUP is a professional real estate broker, serving Buyers, Investors, Builders and Developers of luxury properties.

The group is composed of a small number of talented consultants.

The company closes over 100 sales per year and has negotiated many of the largest residential sales in Europe and the Indian Ocean, including many record breaking transactions.

With unparalleled experience and market knowledge, the BENAUDIS Group is the expert company in Marketing, Advertising & Promotion, for Luxury Real Estate.

As a leader, its long experience of the real estate markets has always naturally earned it the respect of its peers.

Each BENAUDIS Group employee is a shareholder of the company. They are at the heart of the group's activity and are part and parcel of its evolution.

Without respite, they show an unlimited devotion to the service of their clients, which allows them to build the necessary confidence to realize their real estate project.

They earn the respect of their clients by working hard and always offering the best advice and recommendations.

The success of the BENAUDIS Group, is essentially based on the positive opinions of their clients.
Registered on JamesEdition
2022
Address
Business Center - Drosia, Larnaca, Cyprus
Phone number
Listing Reference
BGPAU AVV3B