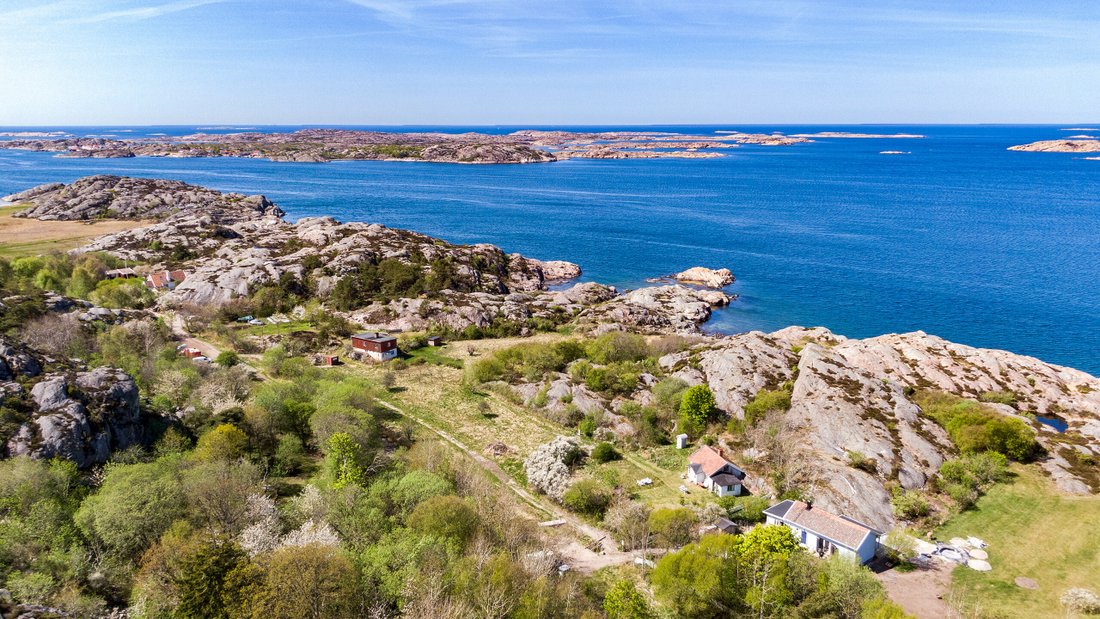 Röd 108
$684,352
Gåsevik - Unique estate where you are one of three co-owners of 6.8 hectares of land along the shore facing Skagerack on the Swedish west coast
Gåsevik, the seller's own story
Gåsevik - Unique estate where you are one of three co-owners of 6.8 hectares of land along the shore facing Skagerack on the Swedish west coast
Gåsevik, the seller's own story
90 minutes by car, 110 km (180 miles) from Gothenburg on the northwestern part of the island Skaftö there is a vast estate along the sea. An isolated, secluded oasis with sandy beaches, creeks, fields, cliffs, smooth granite rocks and your own natural harbor. This is Gåsevik (Goose Bay). The site is named after the shallow water – perfect for children's acquaintance with the marine life – which is part of a nature reserve, next to Sweden's only fjord Gullmarsfjorden, Sweden's only marine protected area. Here you will find everything that represent  the coastal part of the Bohuslan county, the granite cliffs, the sea with the swaying seaweed and the mile-wide view over islets, cobs and skerries. 
The beautiful estate has been with my family for almost 100 years.  In the past, the estate held a farm with a the white wooden cottage and a red barn. At that time the land was farmed by an old couple living in the cottage. My grandfather acquired the estate in the 1940's on the condition that the old couple would stay in the cottage throughout their lifes, while he built his own cottage a bit off. 
From this on until today the descendants of my grandfather - our parents and ourselves and then our children - enjoyed splendid summers in terrific surroundings. Here we have snorkeled and peeked at crabs, seashells and starfish, here we have picked fresh mussels and oysters which we barbecued on the beach. From the cliffs we have enjoyed sunsets over the mighty church of Lysekil town on the other side of the fjord. We have watched the raven family that lives on Kungsklippan (King's cliff), the seals that sunbathe out on the skerries and the large seabirds that glide above our heads. In the natural harbor we had our sailboats and snipes. In our common freshwater pond carp of different colors swim. On the fertile farm land we have had large kitchen gardens with fruit trees and grapes.
A couple of years ago, when Gåsevik's fifth generation - our grandchildren - entered into the world, we carried out a splitting of the property, which resulted in an approximately 6.8 hectare commonly owned land along the sea with three bays with rock baths and sandy beach, the natural harbor, fertile meadow land, freshwater ponds, forest groves and orchard, as well as three new estates with ~1500 sqm (16,000 sqft) gardens each.
Two of the new estates were sold last year, and now the last one, the old white cottage, with garden is for sale. We have lived in it for several generations with several children all summer long. No one knows who once built the cottage, but there is evidence that people lived in it as early as 1830. It consists of an attic sleeping loft, three rooms and a kitchen, where much of the original furnishings still remains, with a newly installed iron stove. The cottage is in need of renovation. Right next to the cottage is a natural freshwater pond, a stone wall root cellar and an outhouse. You can fetch your own, healthy fresh water from a common well, but nowadays it is also possible to connect the cottage to municipal water / sewage and hi-speed internet fiber. This small cottage can be preserved, maybe moved and replaced by a more modern house – it's all up to the buyer. For us this is the most beautiful and unique place on Earth  - Now we pass our treasure on to the next owner.
Explore the Area
Röd 108, Fiskebäckskil, O 45178, Fiskebäckskil, Västra Götaland County, Sweden.
View on Google Maps
You have inquired about this property
The agent will contact you soon by
Listed by
About
Ever since 1992, when we opened in Stockholm, our business has been permeated by a passion for real estate, and a s
Ever since 1992, when we opened in Stockholm, our business has been permeated by a passion for real estate, and a strategy that always focuses on the customer. Our values and long-term customer relationships are what have created our brand. When our services were also requested on the West Coast, we felt honoured. Our reputation had now reached all the way to Gothenburg. However, experience and knowledge of the local market is not something that can be obtained overnight; you have to earn it. That's why when our customers asked for our help, we couldn't immediately agree. Instead, we sought out the missing piece of the puzzle: someone who shared our values and feeling for real estate. We found four persons and inviting premises on Eklandagatan 3 with a scent of coffee and a warm smile. We found a family brokerage company that shares our commitment and ambition, and like us, always puts the customer first. The family company has 30 years of experience of both Gothenburg and the West Coast. Now its local expertise has been combined with the world's strongest brand in luxury real estate.
Registered on JamesEdition
2015
Address
Kungsportsavenyen 18, Goteborg, Västra Götalands län, Sweden
Phone number