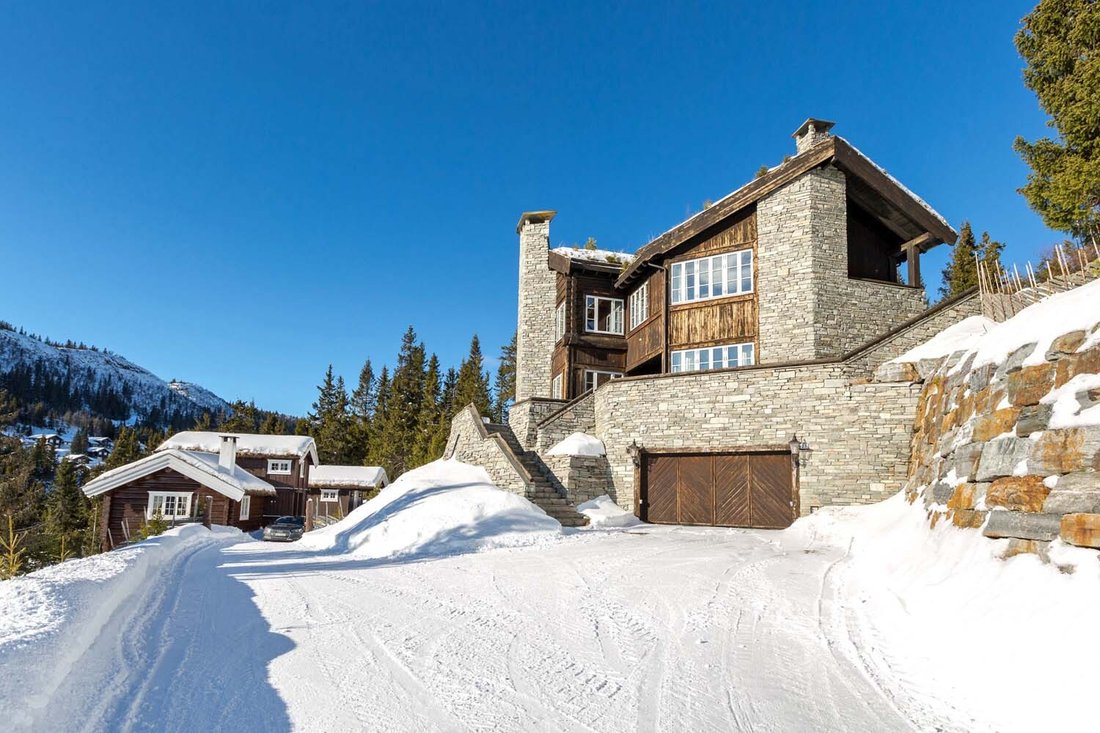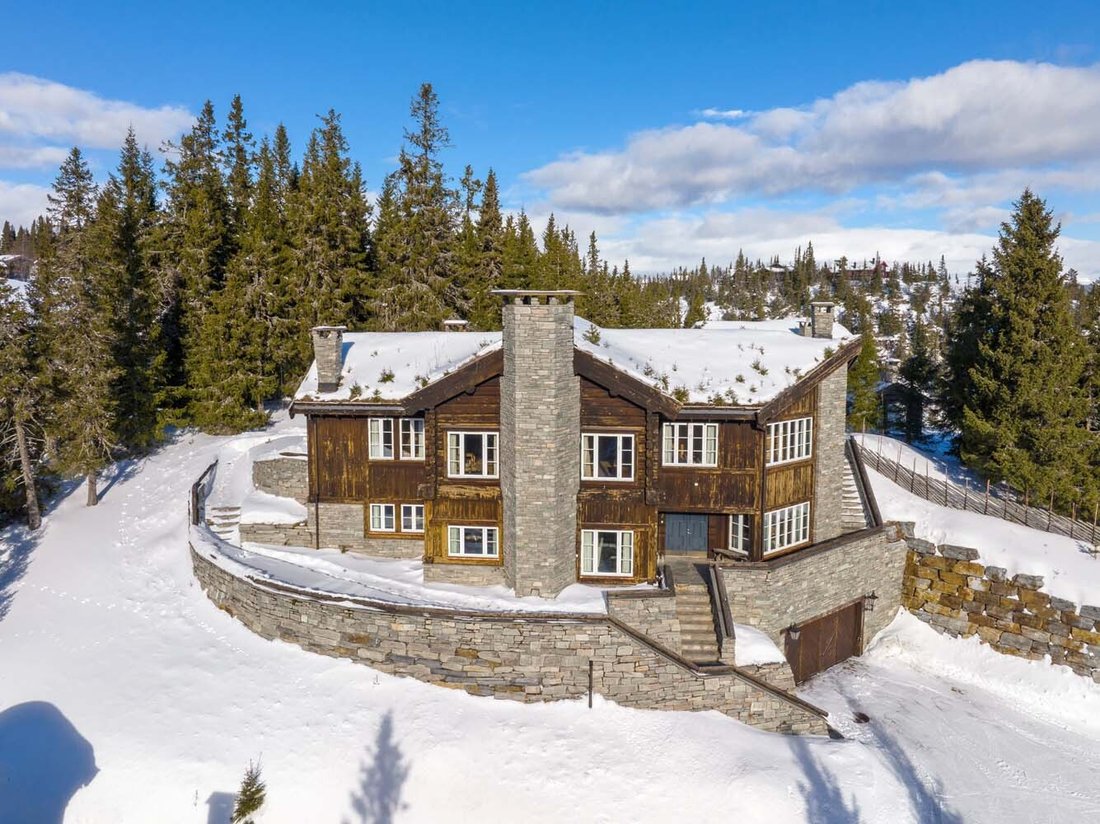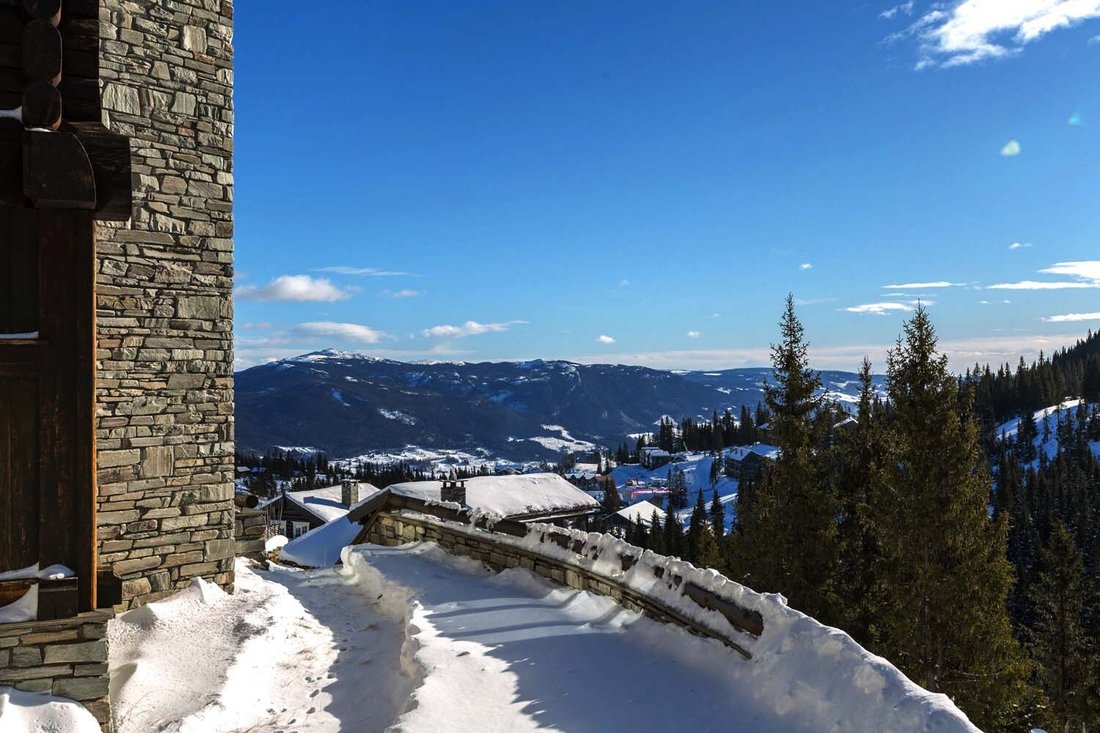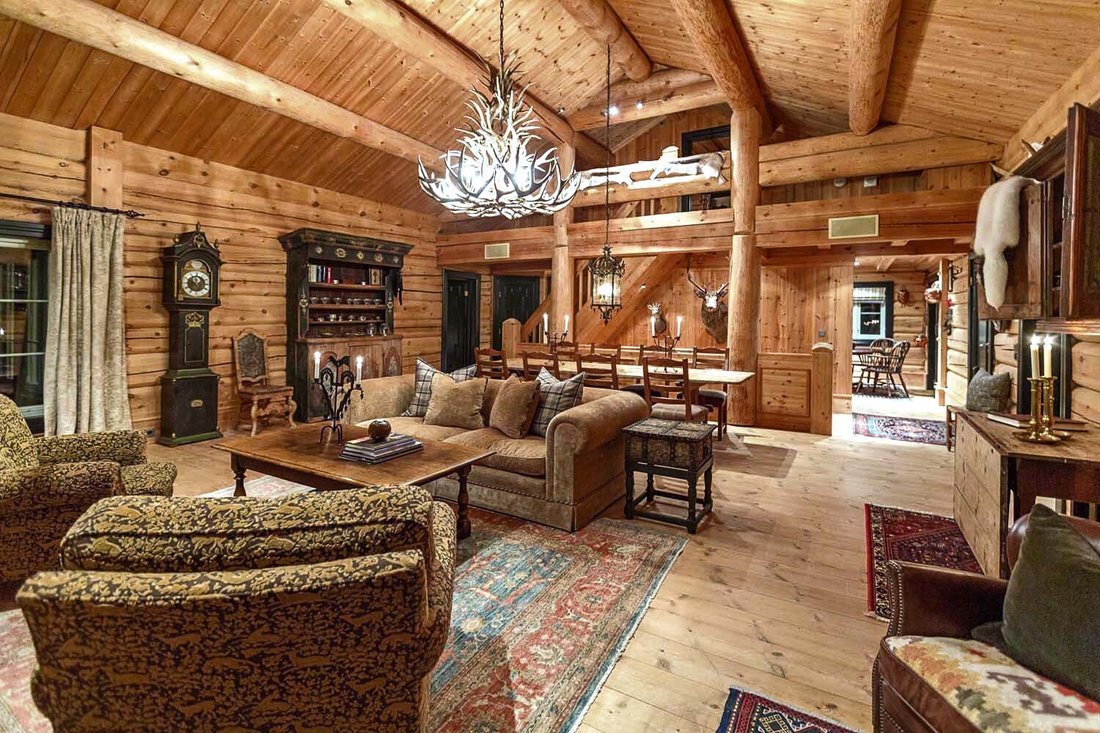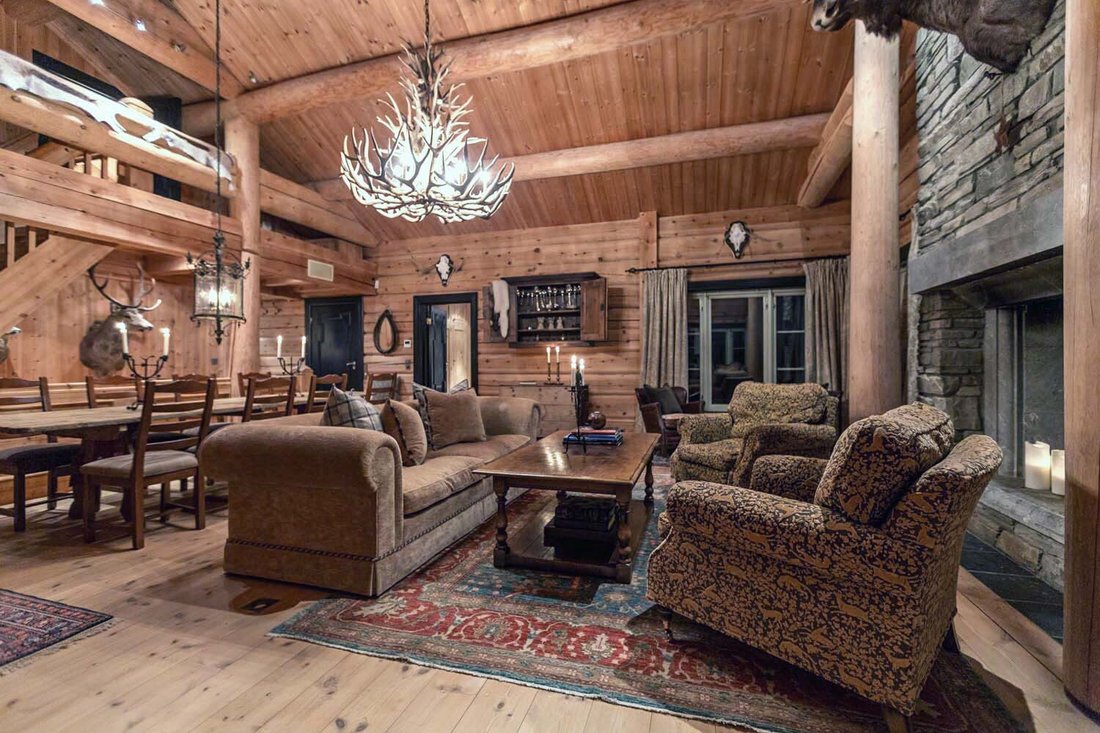 Spectacular Chalet With Breathraking Views. Ski Out Access To On Of Norway's Best Ski Resorts.
4 Beds
4 Baths
3,908 sqft
9,774 sqft lot
$551/sqft
CONTENT

Highly spacious architect-designed cabin with two full floors, in addition to a basement and loft.

The basement/underground level has a spacious garage, staircase/entrance ha
CONTENT

Highly spacious architect-designed cabin with two full floors, in addition to a basement and loft.

The basement/underground level has a spacious garage, staircase/entrance hall, elevator shaft, technical room, and storage room. The highest indoor ceiling height in the garage is about 3.6 meters.

The first floor contains an entrance, living room, 2 bedrooms, 2 bathrooms/showers, a toilet room, laundry room, technical room, and elevator shaft. The ceiling height in the living room under the beams is about 2.37 meters.
The second floor has a staircase, living room, kitchen, cold room, fireplace room, 2 bedrooms, and 2 bathrooms. Open smoke vent in the living room with a maximum ceiling height of about 4.42 meters.
Loft with a floor area of about 17 sqm. The area is not measurable due to low ceiling height. Maximum ceiling height is about 1.83 meters.

STANDARD

Beautiful and exclusive family cabin over two floors with a loft and garage facility!

The cabin is designed by architect Hille Melbye AS and built in the year 2000. Constructed in solid quality materials such as timber, wooden floors, natural stone tiles, slate, and wooden panels. The basement/underground level is externally clad with natural stone in the garage section. The building is heated by means of a waterborne ground source heat pump with its own central unit in the technical room in the basement.

FIRST FLOOR:

The cabin can be reached either via the garage basement with an elevator or via a cozy entrance with double doors leading to a hall with slate tiles on the floor. A built-in wardrobe with good storage options ensures a tidy hallway.

From the hallway, you enter a cozy fireplace room via double doors. The living room has slate tiles on the floor. There is a hidden TV installation and integrated speakers in the ceiling. The beautiful stove made of soapstone is strategically placed in the middle of the room and creates good warmth and the right cabin atmosphere. Stairs to the 2nd floor from the living room.

There are two bedrooms on this floor, at opposite ends of the cabin. Both rooms have space for a double bed and the possibility of an additional bed. The bedrooms have access to their respective bathrooms.

Both bathrooms are tiled with rust-colored slate on the floor and walls. Panel in the ceiling with recessed downlights and integrated speakers. Solid wood bathroom furniture with a recessed sink and mirror above. Equipped with a shower niche and wall-hung toilet.

In addition, there is a separate toilet room with tiled flooring. Otherwise, in the same design as the bathrooms. Furniture with sink and wall-hung toilet.
A practical laundry room with tiled floors with underfloor heating. Smooth paneling on the wall and painted panels in the ceiling. Recessed large downlights. A spacious white cabinet with smooth fronts for practical storage. Laminate countertop with inset steel sink. Shelves above the bench. Connections for washing machine and dryer. These can be included upon further agreement with the seller.

SECOND FLOOR:

The living room, located on this floor, is the heart of the cabin. With the generous ceiling height of 4.4 meters and large windows that provide a beautiful view of the ski slope and down the valley, this room is where you can find peace and the right cabin atmosphere. Here, you can sit down in front of the beautiful soapstone stove and get warm again after a long day outdoors. Plenty of space for a dining table and sofa group.

There is also a cozy living room that can be the ideal place to retreat. Here, one can sit in the comfortable armchair and enjoy either the view or a good book in peace and quiet.

The kitchen is located at the opposite end of the living room, with the fireplace and staircase up to the loft in between. The carpenter-built elegant kitchen from Os Trekultur is made of solid wood and painted blue. There is a pine countertop with a sunken sink, and plenty of cupboard and counter space. The appliances include a gas stove with oven from ILVE, an integrated dishwasher, and a spacious refrigerator with shelves. There is a cozy dining area by the windows, and a stable door leads out to the garden.

There are two spacious bedrooms, each with room for a double bed and accompanying furniture. Each of the bedrooms has access to its own bathroom. From the master bedroom, there is a door out to an outdoor area with a jacuzzi. This bedroom also has its own fireplace and TV setup. The room is of such a size that it can easily be used as an extra sleeping area if needed. Both rooms have built-in wardrobes.

The two bathrooms are of the same design, with tiled floors and walls. Each bathroom is equipped with a shower and a wall-mounted toilet. The main bathroom also has a built-in bathtub and is connected to the sauna. The walls in this bathroom have a combination of tiles and paneling. There is a door from this bathroom out to the jacuzzi located at the back of the cabin.

The sauna is equipped with benches and an electric sauna stove.

The garage in the basement is spacious, with a concrete floor, walls, and ceiling. The garage has a wide sectional door with an automatic opener and space for two to three cars. There is also plenty of storage space for ski equipment and other gear. The basement also includes a staircase and an elevator leading up to the main floors.

The loft has a furnished room with three beds. The floor area is 17 square meters, but the exact measurement of the space cannot be determined as the highest ceiling height in the room is 183 cm.

LOCATION

Kvitfjell is a popular skiing and winter sports destination located in Gudbrandsdalen, about 45 minutes north of Lillehammer and was built in connection with the Winter Olympics in 1994, and has since become a popular destination for both Norwegian and foreign tourists. In total it han 36 slopes, including 16 green, 10 blue, 7 red, and 3 black runs, which including the Olympic-slope which has been named one of the world's 100 best slopes by CNN. The highest point in Kvitfjell is Vestsiden summit, which stands at an elevation of 1,036 meters (3,399 feet) above sea level.

Kvitfjell has a long history of hosting major ski events, and are known as one of Norway's most recognized alpine destinations both national and international.

The most notable ones is the winter Olympics in 1994. Kvitfjell hosted the men's downhill and super-G events, which were won by Tommy Moe from USA and Markus Wasmeier from Germany.

One of the most famous competitions that has been organized at Kvitfjell is the Alpine World Cup. FIS World Cup has been a regular stop on Kvitfjell since 1993, and has hosted both men's and women's events. Here, the world's best alpinists have competed in a number of exercises, such as downhill and super-G. Kvitfjell has also organized the World Cup in snowboarding. The resort is particularly known for its downhill and super-G courses, which are some of the most challenging on the circuit.

Another big event that has taken place at Kvitfjell is the X Games. This major snowboarding and skiing competition attracts some of the world's best athletes in these sports. The competition includes exercises such as Big Air, slopestyle and halfpipe.

Kvitfjell ski resort also offers cross-country skiing facilities for visitors. The resort has a total of 600 kilometers (372 miles) of cross-country skiing trails that are suitable for all levels, from beginner to advanced skiers. The trails are well-groomed and maintained, and offer stunning views of the surrounding mountains and forests. In addition to the groomed trails, there are also several off-trail routes for those who prefer more challenging terrain. These off-trail routes are marked and maintained, but skiers should have some experience and be properly equipped for this type of skiing.

Kvitfjell also offers ski rental and instruction for those who are new to cross-country skiing or want to improve their technique. The resort has a ski school that offers group and private lessons for all ages and abilities. In addition to cross-country skiing, Kvitfjell also has several other winter activities available, including snowshoeing, ice fishing, and dog sledding. Visitors can also enjoy après-ski activities such as dining, shopping, and relaxing in the resort's spa facilities.

Overall, Kvitfjell's reputation as a world-class ski resort has been cemented by its hosting of these major events, and it continues to attract top-level skiers from around the world.

There are also plenty of activities to enjoy at Kvitfjell and Gubrandsdalen during the summer months, like hiking, mountain biking, hoursback riding, fishing, golf, zipline etc.
Kvitfjell is surrounded by beautiful mountains and forests, making it a great destination for hiking. There are numerous trails to explore, ranging from easy strolls to challenging climbs. The resort offers guided hikes and maps of the area for those who want to explore on their own. It is also variety of mountain biking trails, suitable for all levels of riders. The trails range from easy family-friendly routes to more challenging downhill and freeride trails. Kvitfjell is home to several rivers and lakes that are teeming with fish, making it a great destination for fishing enthusiasts.

Visitors can also explore the local culture and history of the region, with museums and historic sites nearby, as well as traditional Norwegian crafts and food to enjoy.
Overall, Kvitfjell offers a wide variety of activities for visitors to enjoy during the summer months, making it a great destination for outdoor enthusiasts and families alike.

The cabin is located approximately 240 kilometers (149 miles) north of Oslo airport, also known as Oslo Gardermoen airport. The drive from Oslo airport to Kvitfjell takes around 2 hours and 45 minutes, depending on traffic and weather conditions.
There are several transportation options available for getting from Oslo airport to Kvitfjell, including car rental, taxi, private transfer, or public transportation. The most convenient option is to rent a car or arrange a private transfer, as this allows you to travel directly to the resort at your own pace. However, if you prefer to use public transportation, you can take a train from Oslo Gardermoen airport to Lillehammer, and then take a bus or taxi to Kvitfjell from there. The train journey takes around 2 hours, and buses or taxis are available at the train station in Lillehammer to take you the rest of the way to Kvitfjell.

Get in Touch

Håvard Nilsen
Please provide the agent with the necessary listing details.
Ref no. 12787595
Chalet
in
Fåvang, Innlandet, Norway
$2,155,425
About the Building
Year built

2000

Floors

3

Property type

Chalet

Contact agent
Håvard Nilsen
You have inquired about this property
The agent will contact you soon by
Listed by
Registered on JamesEdition
2022
Address
Eternitveien 4, 3470, Asker, Norway
Phone number